Rota planning in hospitality: 8 steps to success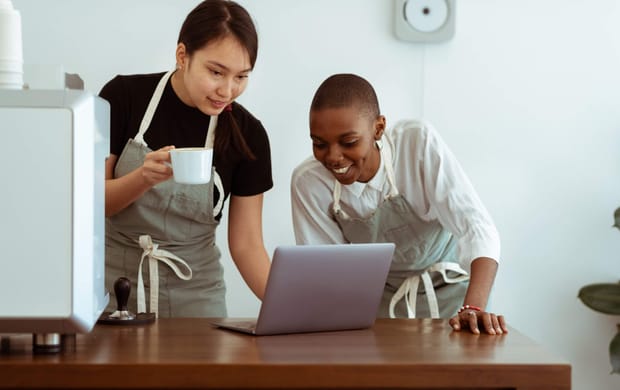 In the hospitality industry, people matter. And we don't just mean customers and guests.
Your employees are the heart of your business. Without them, it couldn't operate.
Exceptional staff provide exceptional service that delights first-time guests and keeps customers coming back for future visits again and again.
But even the best employees can't run a restaurant single-handedly on a Friday night. That's where rota planning comes in. A good bar, kitchen or hotel rota matches staffing resources to requirements as closely as possible, so that your budget is respected without compromising service.
Building a staff schedule that achieves these goals is easier said than done, however, particularly when you've got a business to run!
Here's our guide to building the perfect hospitality rota.
Why rota planning for hospitality can be tough
Hospitality businesses face unique rota planning challenges, thanks to:
A high proportion of part-time staff with different hourly contracts
A high proportion of temporary/seasonal staff
High fluctuations in staffing requirements within each day (e.g. lunch and evening service for restaurants)
Last-minute bookings that drastically change staffing requirements at short notice
The good news is, whether you're building a kitchen rota or a schedule for front-of-house staff, there are a number of tried-and-tested methods for planning staff rotas for hospitality staff.
Every bar, restaurant and hotel is different, but we've assembled some scheduling tips that we reckon can ease the rota planning headaches at many hospitality businesses.
Step 1: Build a rota template without assigning staff
Instead of slotting shifts in for each employee, build a rota template for the next week, two weeks, or month that matches your expected staffing requirements for that period.
Don't worry about being too precise with shift times at this stage — a rough draft will do.
You can build this template within rota planning software, a spreadsheet, or even on paper.
This gives you a rough template that forms the foundation of your rota.
Step 2: Separate rotas by role or location to improve visibility
Building a rota for dozens or hundreds of employees, from chefs and kitchen porters to receptionists and housekeeping staff, gets confusing quickly — both for you and your team. It can also make budgeting issues harder to spot.
To make things clearer, break your rotas down based on role or 'location' (say, front of house, kitchen, cleaning, etc). This is particularly effective if there's little to no overlap in roles (your front desk receptionist doesn't take their turn as a waiter or a room attendant, for example).
With separate rotas, you can also break down costs by role or location. This helps you detect under- and overstaffing issues, and resolve them quickly, while still staying within your budgetary constraints.
Step 3: Refine shifts based on hourly fluctuations
If you know how the needs of the business change within each day (point-of-sale data can be a big help here), start refining shifts based on these requirements. For example, you might need four wait staff on hand during the 6-9pm peak on a Friday, but that doesn't mean you need to schedule those four staff from 3-11pm.
Instead, stagger start times and shift lengths so that your needs are covered without increasing your staffing costs unnecessarily. For example, those four waitstaff could work shifts of 3-11pm, 5-11pm, 5-9pm and 3-9pm, respectively.
Make sure you've got shifts covering your restaurant's opening and closing, or 24-hour coverage for your hotel's reception, or whatever other requirements you have.At this stage, also begin thinking about staff preferences for shift lengths, and the number of contracted hours you need to aim for.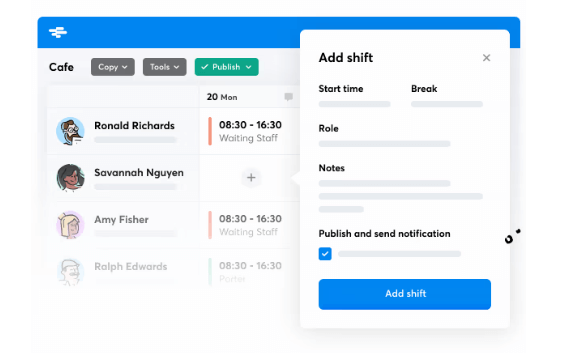 Simple rota planning for hospitality businesses
Drag-and-drop rota planning, easy leave management, on-screen availability and more. Try RotaCloud free for 30 days.
Find out more
Step 4: Consider the role of split shifts
Most staff dislike split shifts, as they often require sticking around at work without being paid. However, if you have some staff who live locally, split shifts might be more appealing.
Alternatively, you could leave it up to your staff to choose whether or not to take split shifts. Publish a set of 'open shifts' that aren't assigned to anyone, including what you imagine to be split shifts of, say, 10am-2pm and 4-10pm. Employees could claim both halves of the split shift or just one, depending on their preferences and circumstances. You'll need to use rota software if you want to do this efficiently.
If you have enough employees, you should find that all shifts are claimed. Test this system out for a couple of weeks; if you find that shifts are going unclaimed, you'll need to either hire more staff or force split shifts on your existing staff — that or tinker with the rota to reduce split shifts or do away with them entirely.
Step 5: Publish early
The sooner you can publish your rota, the better. You might need to tinker with it in the future (and you'll need a way of communicating these changes with staff), but giving your staff plenty of time to view their shifts is in everyone's interests.

With hospitality roles currently harder than ever to recruit for, providing your team with early access to their rota and keeping them informed of any updates is vital if you hope to provide a positive employee experience at your business — something that will have a big impact on your ability to hire, and retain, staff in the months and years ahead.
Besides, by sharing your restaurant or hotel rotas early, you'll have more time to deal with things like leave requests and shift swaps, and to resolve any clashes or mix-ups that might arise.
Step 6: Consider moving to "collaborative" scheduling
Building and managing a rota for so many staff can be incredibly time-consuming. One of the easiest ways to cut back on rota management is to have your employees do it for you!
This might involve employees arranging shift swaps between themselves, or claiming open shifts without you having to approach them.
For self-service rota management to work, you need to have a system in place that constantly communicates these changes to everyone affected — and that also gives you the final say over the rota.
If you're a spreadsheet pro, you could probably build a system that'll do just that — but for most managers, specialist staff scheduling software is a better option.
Take a look at our previous blog article about self-service rota planning to learn more about this time-saving method of staff scheduling.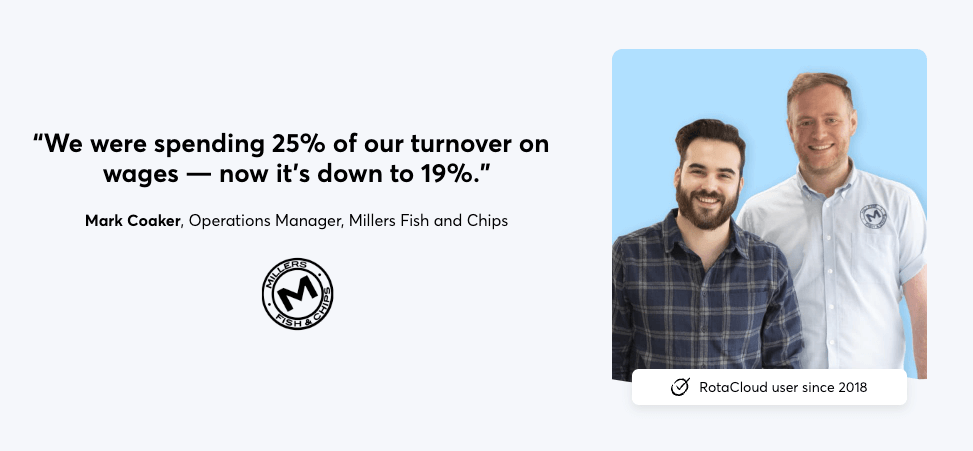 Looking to save on labour costs?
Millers Fish & Chips slashed their wage bill and cut rota planning time from 8 hours to just 1.5 hours a week by using RotaCloud.
Read the customer case study
Step 7: Build contingency plans
We've all endured staffing disasters where a member of staff doesn't show up and it takes you hours to find a replacement — if you're able to find one at all.
Take the time to figure out contingency plans for situations like this. For example, you could build a list of staff who live nearby and can work at short notice, or use rota software with a notification system whenever new shifts are up for grabs.
You won't be able to plan around every eventuality, but by using your experience of past incidents you can reduce the cost of your most common staffing disasters.
Step 8: Decide on rota systems and processes, and stick to them
Rota confusion occurs when different managers have different ways of managing the schedule, when employees aren't sure when they can expect their rota, and when staff don't know how they should request time off or communicate unavailability.
Wherever possible, work to counteract these potential mix-ups by standardising your rota systems. Ask yourself:
How far in advance can staff expect to see the rota?
Will the rota change each period, or will it be a "rolling" rota?
How will the rota be distributed?
How do employees submit holiday or unavailability requests?
How will employees find out if these requests have been approved or denied?
What happens if the rota needs to be amended?
How will these changes be communicated?
...and so on.
Get this information down in writing and distribute it to your employees and the other rota managers. If, like most hospitality businesses, you have lots of seasonal staff, having a document with all this info on will prove invaluable.
Wrap-up
We get it: rota planning is the last thing you want to do with your work day. But if you want to maintain your usual standard of service, needs must. After all, the more efficient your rota management is, the better — not just for you, but your employees and customers too.
Deciding on how and when rotas will be planned, together with who's in charge of distributing keeping them up to date will make a big difference to the happiness and efficiency of your team.
Above all else, communication is key when it comes to managing hospitality rotas. Sharing new rotas early, communicating changes when they happen, and giving your team some say over the shifts they work will set your team — and your business — up for success.
---
Want more rota management tips? Check out our complete guide to employee scheduling.
Management advice & insights, straight to your inbox.
Enjoying the RotaCloud blog? Tell us your email address and we'll be in touch whenever we publish a new blog.
---
---
---