Looked at from the outside, owning and running a cafe might seem like the ideal occupation.
Cafes, after all, are places where we go to unwind — places to socialise and refuel. Who among us doesn't enjoy watching the world go by while reading a book or sipping a caramel latte?
Speak to pretty much any cafe owner, however, and they'll tell you that running a cafe is seriously hard work, and that there are a great many pitfalls for first-time cafe owners to beware of.
We talked to Will Pearce, industry veteran and co-owner of top-rated cafe Robinsons, to get his tips for first-time cafe owners and those thinking about getting into the industry.
---
Having owned and run Robinsons for more than five years now, Will Pearce and his partner Rebecca Toppin have a wealth of experience under their belts.
We spent an hour with him on one of Robinsons' prep days, talking about everything from cafe equipment to marketing a cafe business, and came away with these five top tips for would-be cafe owners.
1. Be prepared for it to take over your life
"Running a cafe is all-consuming," Will tells us. "If you want your business to succeed, then you have to be prepared to let it take over pretty much every bit of your life — you have to let it become an obsession."
But surely, once you've found your footing, even first-time cafe owners can afford to take their foot off the accelerator, we asked?
"Maybe," Will replies with a smile. "But the thing is, me and [co-owner] Bex are five years in now, and we're only just at the stage where the days aren't as heavy as they used to be."
"In the earlier years, we used to shoulder a lot of the responsibility and the workload — when you're not physically working at the cafe, you're doing your prep, or taking care of the stock and the admin side of things. All this is necessary, especially at the start."
While Will concedes that bringing in extra staff certainly helps, during the early days, you'll want to remain as hands-on as possible to guide your business.
"It depends on what you want to achieve with your business of course, but if you want to be the best at what you do, you need to be prepared to be involved in the day-to-day of it."

"You could open a business and employ a team to do most of the work for you, and it'd probably do okay. But I don't think you'd be setting the world alight — you'd find that your business would be fairly average."
"It can be hard," he continues, "but the best thing about running a cafe is being able to have an immediate impact on the business.
"I can see if there's something looking tired, or if there's something that we can improve on, and I can fix it right away. So you never get tired of the general day-to-day."
2. Focus on consistency
"I think we've all had experiences where we've been to a place once and really enjoyed it, [but] when you go back the next week or month it falls short of your expectations," Will explains. "Consistency is something that I feel is really important for any cafe owner to keep on top of, especially at the beginning."
"At Robinsons, our main focus is our food — we've got to the point now where some of our regular guests don't even need to see the menu anymore; they know what they're having. So it's absolutely vital that the food is the same every time they're with us."

"That means our kitchen team have to be consistent to the point that it doesn't matter who's doing the cooking, every time a dish comes out, it's gonna be the same. We almost have a 'Robinsons spec', and everyone understands that this is the way it has to be every time.

"That also applies to the service that you offer to your guests as well. At Robinsons, we make sure at the start of every shift that our team are very organised and all have set positions for the day — I'll have somebody who's a host for the day, greeting the guests and sitting them down; then there'll be one person taking the orders, a few behind the bar making the coffees... "

"And the coffees are made consistently too — every single time one of your guests comes in, the coffee should be made to the same high standard."
"When you're establishing yourself, consistency is really important so that people know what you're all about," he adds. "You've gotta stick to your plan."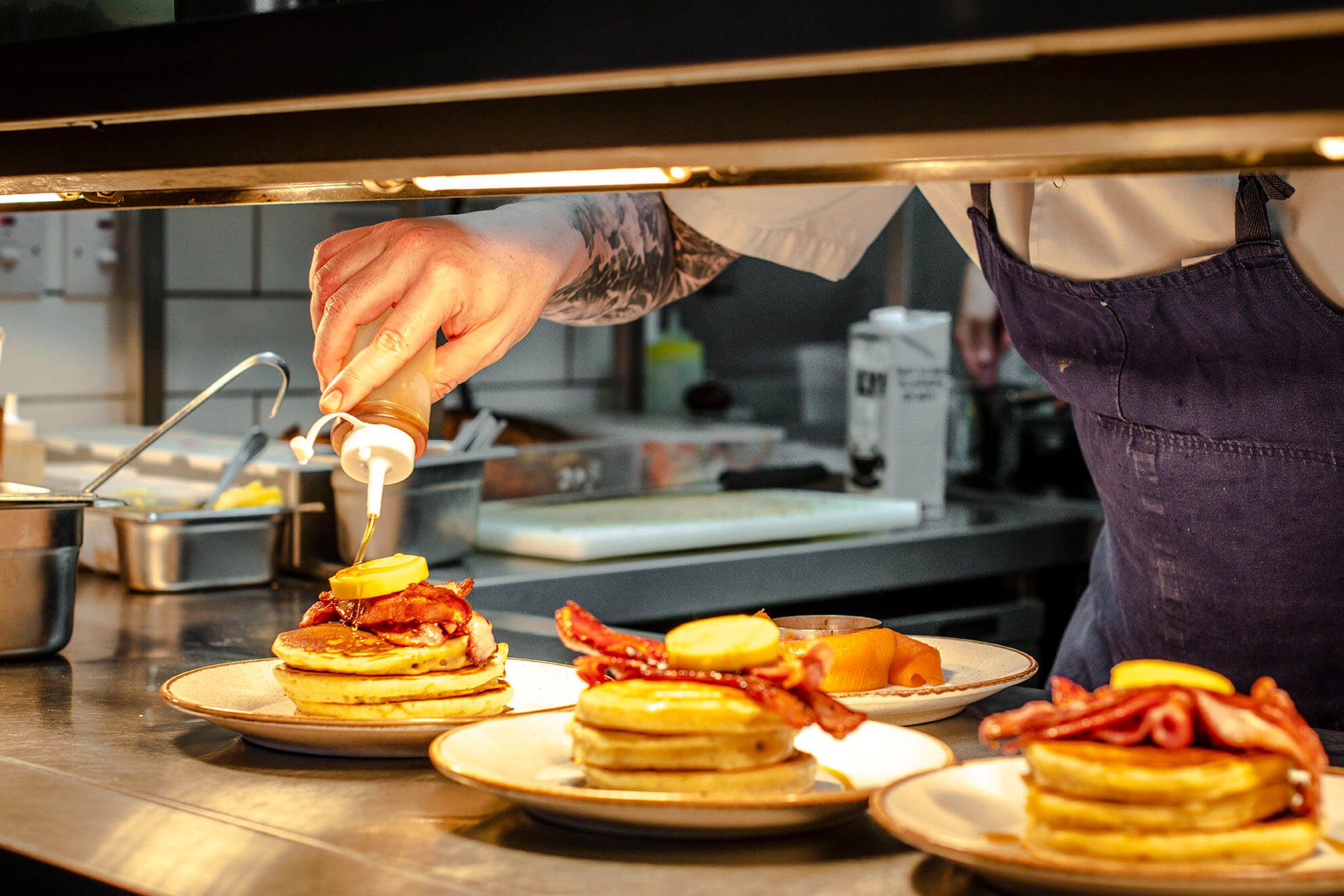 3. Don't waste money on advertising
Asked if he'd do anything differently if he could go back and do the early years over again, Will immediately pointed to advertising, advising first-time cafe owners not to invest too much of their money into the wrong kind of placement.

"At the start, we said yes to a lot of things that weren't necessary — mainly in terms of advertising.
"We never sought it out ourselves, but we were approached by a lot of local radio stations and the press to be a part of their award ceremonies and things like that. Of course, you had to pay a fee to attend the event…"

"At the time, we were flattered — it was a new business, and we'd never been nominated for something like that before, so we almost felt obliged to participate. But in reality, I think the best form of advertising for a business like ours is word of mouth, and maintaining a good reputation in your local area."
Asked whether he'd pay to attend a similar ceremony or be featured in an industry publication, Will is adamant that he'd rather hold onto his cash.
"We have a lot of magazines that will approach us saying they'd like to do a feature on Robinsons, so we say 'Yeah, brilliant.' But then they tell us it's gonna cost X-amount, and we just say "No, thank you".
"It's always an honour to be nominated for an award, but you should aim to be included on merit rather than paying to appear in these things — especially because of how hard it is to measure the return on your investment," he continues.

"You might spend £200 or £500 to appear in a magazine or be nominated for an award, but you have to ask yourself, are your clientele realistically going to see it? Will anyone really be influenced by it? Because, ultimately, this is money that you could be reinvesting in your business to help it grow."
4. Start small — but invest over time
It can be tempting when starting a cafe business to invest in high-end equipment early on, perhaps with the mindset that it'll pay for itself over time.
Will's advice, however, is to buy only what you need.
"Things like fixtures and fittings don't have to be expensive to begin with," he explains.
"We took on an existing [shop] unit, so it was fairly well set up for what we wanted to offer. But we still had to bring in all our own equipment — to begin with, we were cooking off portable induction stoves that cost less than £100 each — that was our kitchen."
"You needn't invest massive sums of money at the start — and you should consider hiring equipment rather than buying it outright to begin with."
"One thing we do as well at Robinsons is reinvest quite heavily in things like equipment and the building itself. Right now, in fact, we're having the front of the shop repainted."
Gradual upgrades, rather than splashing the cash to begin with, are part of Will's success.
"We've bought upgrades on equipment two or three times since we opened Robinsons — the juicer that we have for our fresh orange juice cost around £300, but the first one we bought was £12.99. And it worked for what we needed it to do."
"There were loads of things that we couldn't afford to begin with, or that we couldn't justify paying for. In the beginning, for example, we were just using domestic fridges — the sort that cost maybe a couple of hundred quid. But now we're at a point where we can spend maybe a thousand pounds on them."

But what of coffee machines, we asked? Surely a cafe needs to have high-end coffee-making equipment if it's going to compete with what people can make at home?
"Again, I'd say buy what you need, and don't get too hung up on pricey equipment when you're starting out. You can upgrade later."
"We've got a La Spaziale — we've had it for the whole time we've been here. Most coffee machines now are able to pour a good cup of coffee. And from there on it has more to do with the touch and feel and the skill of the barista."
"You just basically just want a workhorse that's going to remain at the set temperature," Will advises. "You can find some really good second-hand ones without spending a fortune."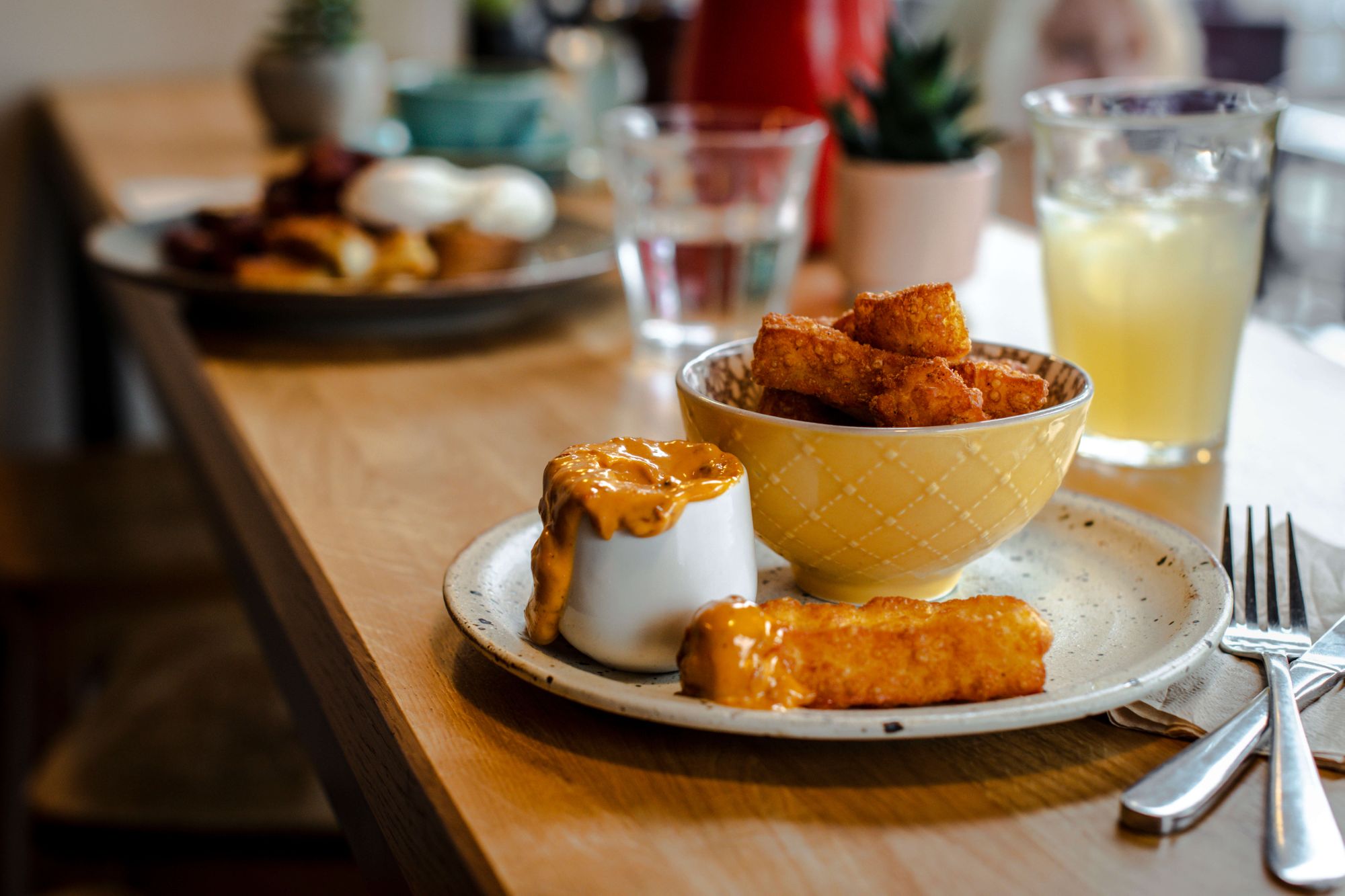 5. Cultivate your brand
Even after the espresso machine is cleaned and all the tables are wiped down, a cafe owner's day still isn't over. There's the behind-the-scenes preparation, and of course the careful maintenance of your brand.
"Bex always laughs because I've constantly got my phone in my hand," Will explains. "But I'm either responding to somebody who's asked the question through Instagram, or I'm reposting something that someone's put on about us, or I'm taking photos of the food."
Instagram alone keeps Will busy. With almost 6,000 followers on the platform, it's not only a tool for promotion, but a way to engage with customers and see what people are saying about his business.
There's more to a great cafe Instagram account than throwing up a few shots of espresso, however.
"You've got to think about the personality of your Instagram page. and keep your posts consistent as well — like I said, it all comes back to consistency — so that people can immediately recognise one of your posts," he explains.
"You'll notice, on our [Instagram account], it's all about the food for us. We could take more shots of the decor and other things like that, but I think that showing the food shows the confidence that we have in the product."
Of course, where there's social media, there are influencers. And with the biggest influencers now able to drastically improve the fortunes of a business simply by stopping by, we were keen to hear Will's thoughts on such collaborations.
"We've been approached by influencers in the past," he says, "but it's not something we'd ever pay for — and we don't give out free meals. Again, word of mouth will always be better than paying for advertising."
"If we had on day one what we have now at Robinsons, then sure, I would definitely be considering having a social media day — you know, inviting all the local people with the high Instagram following to promote it. But I wouldn't advise it for someone starting out or who's totally new to [the industry]."
Then, of course, there's the other side of social media: the posts people share and the reviews they write about your business — and over which you have very little control.
"It can be hard not to get emotionally involved with reviews, but you can read a hundred positive reviews or opinions, then read one negative review and it hurts," Will explains.

"It's all about rationalising it, understanding that you can't please a hundred percent of your guests one hundred percent of the time. If you find yourself getting too emotional, or wanting to respond straight away, it's better to park it and come back to it later without the emotion."

"Whether it's good or bad, though, when someone posts something [online] about your business, you need to know about it — because it's your brand, and you need to look after it."
Bonus tip: Hire based on personality
Before bringing our conversation to a close, we talked briefly about the subject of recruitment, in particular how to hire during the staffing crisis.
"I'd always say choose personality over experience," Will told us. "You should always try to be very specific about the kind of person you're looking for when you're hiring."
"Obviously, you shouldn't be discriminatory, but you can suggest in your job ad the kind of person you're looking for — whether you want someone who's outgoing, say, or whether the role would be better suited for someone who's just finishing school, for example."

Suggesting these things in your job ad, he says, makes the recruitment process much easier.

"Even reading through CVs takes a long time — it takes a while to build up a picture of the kind of person you're dealing with — so you want to shape the kind of applicants you get as early as possible."

"You should also hold your nerve until you find the right person," he concludes. "Don't panic and take someone on because you need to fill that gap in your team, because in the long run, that's not gonna help the issue."
---
Big thanks to Will Pearce for his time and for sharing his expert advice. You can find Robinsons at 7 Bishopthorpe Road, York, online via their website, or on Instagram. Photos courtesy of Will Pearce/Robinsons.


---
---