From assigning shifts, to recording annual leave, to trying to keep labour costs under control, managers have a lot on their plates when it comes to managing their rotas.

But that doesn't mean it's not worthwhile.
In fact, effective rota management can actually help businesses grow, boosting employee engagement, improving customer satisfaction, and helping to lower monthly wage bills.
Here's everything managers should know about rota management — from the elements that the term comprises, all the way up to how rota management software can make the task of people management significantly easier.
What is rota management?
Rota management, also known as rostering or staff scheduling, is the process of planning and maintaining work schedules for employees or teams of people.
More than simply a case of creating a list of shift times and assigning staff to them, rota managers must also consider a number of other important factors when creating and managing work schedules, including:
Only by balancing these factors can rota managers create schedules that work for everyone, helping their business to operate more efficiently while creating the kind of employee experience that helps to attract and retain staff.
💡
Rota, roster, or shift?
Used in relation to employment, the terms rota and roster are completely interchangeable — both refer to a chart or table consisting of times, dates, people, and roles or duties.
Shifts are slightly different. Appearing within a rota, these are the individual blocks of time that an employee is scheduled to work.
Check out
our glossary
for more about these terms and more.
Why rota management matters
Good rota management does more than just ensure that your staff show up at the right time.
Here's how smarter scheduling can benefit your business:
Better customer service & operations
A carefully curated rota sets your team up for success before the day has even begun — with just the right number of staff rostered on to meet demand, customers receive the level of service they expect without staff feeling overworked.
Lower wage bills
Along with rent and stock, labour costs are one of the biggest regular outgoings a business has. By basing rotas on past sales and shift data, managers can more easily spot opportunities to cut unnecessary shifts (or add on some more to capitalise on additional demand).
Happier, more engaged staff
By building rotas that take into account things like employees' working availability and preferences for particular shifts, staff are less likely to become frustrated or fatigued. This leads to a happier, more established team that sticks around for longer — reducing the need for costly training and recruitment.
In short, the time and effort that rota managers put into planning and maintaining their schedules almost always pays dividends. Staff are happier, operating costs are lower, and customers get the level of service they expect.

The problem, of course, is that time is an extremely precious resource for the vast majority of managers…
How rota management software can help
Rota management software, also known as rota planning software or rostering software, is a web and/or mobile application designed to make the scheduling and management of staff rotas significantly quicker and easier than when using spreadsheets or pen and paper.
Benefits for managers
Rota management software automates many of the repetitive and time-consuming tasks that eat into managers' time, allowing them to quickly do things like:
Schedule shifts for a variety of roles
Send rotas straight to employees' phones
Easily alert staff to schedule changes
Set budget caps to control labour costs
Process annual leave requests
Generate payroll reports based on attendance
More advanced rota management software like RotaCloud is cloud-based, meaning that managers can access their accounts from anywhere, regardless of the device they're logged in from.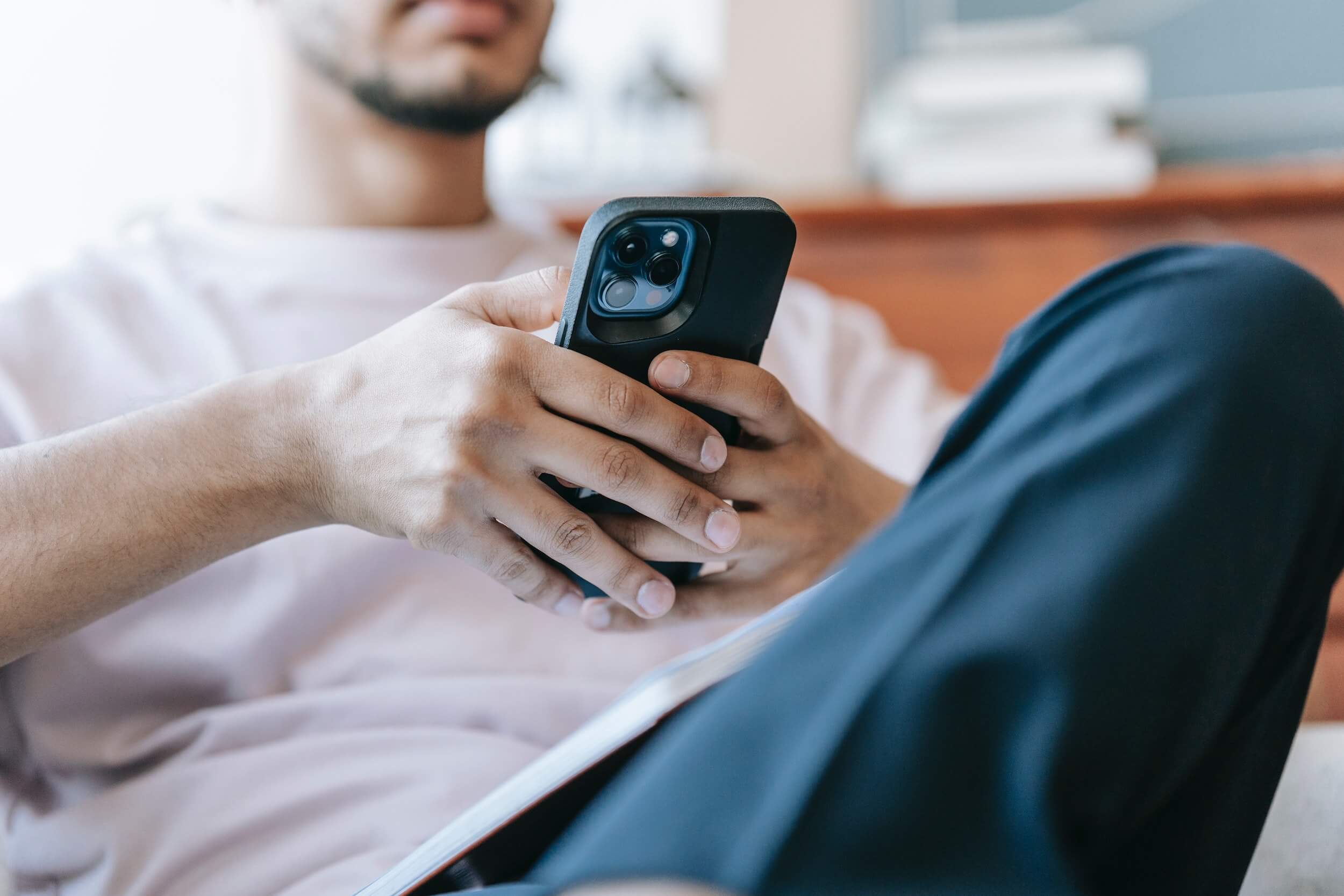 Benefits for employees
Rota management software doesn't just make life easier for managers; it's also hugely beneficial for your staff.
For instance, RotaCloud allows staff to:
Check their rotas anytime, anywhere
Receive mobile notifications about shift changes
Pick up additional, "open" shifts
Request annual leave and see their remaining holiday allowance
Arrange shift swaps and cover (with manager approval)
Clock in and out of shifts via a mobile device
Employers who use rota management software have reported reduced staff turnover, owing to the fact that their employees are more informed and feel more in control of their work-lives.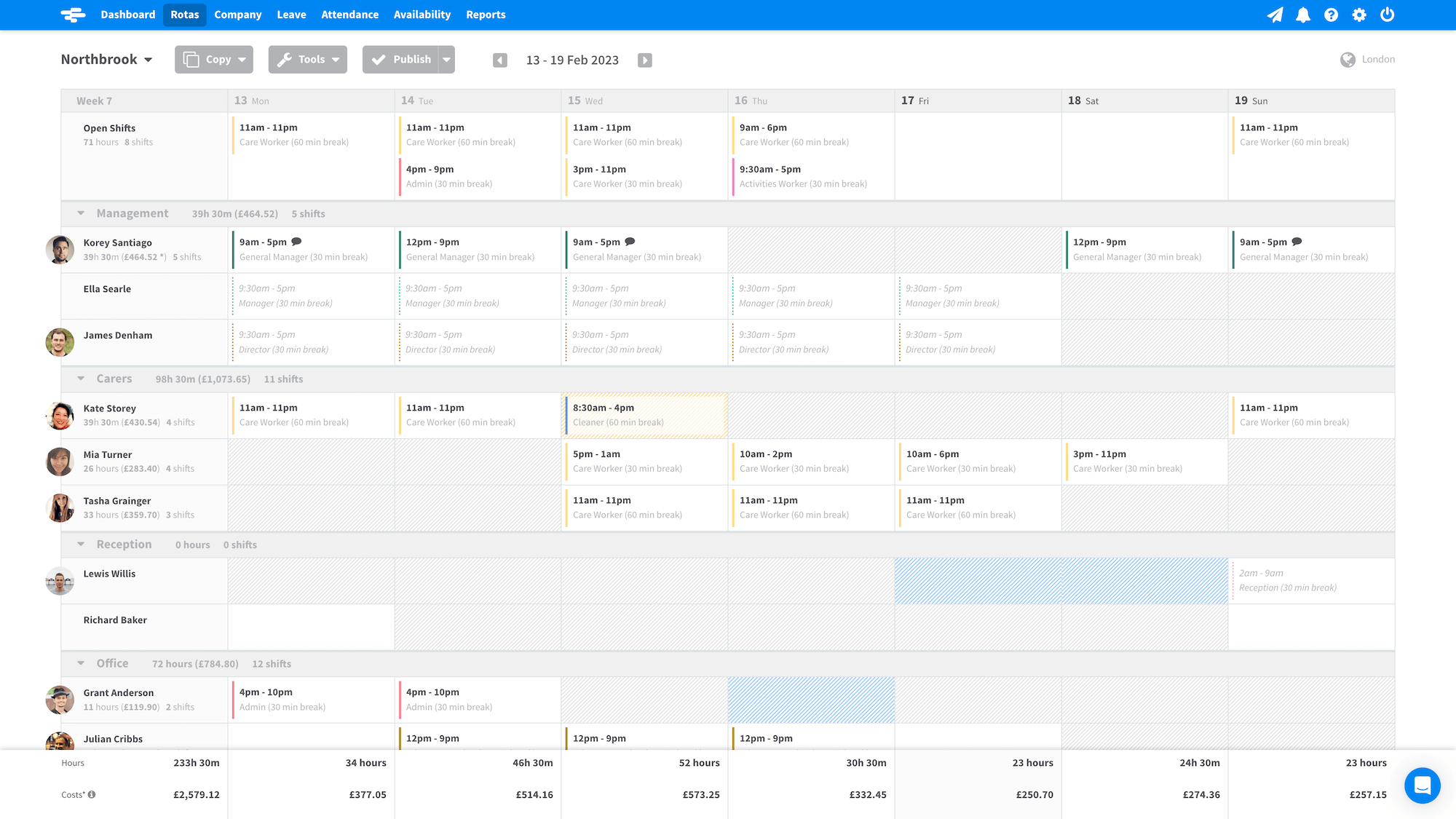 RotaCloud: Rota management made easy
Plan and share staff rotas in minutes, not hours, with RotaCloud's simple, drag-and-drop rota builder.
Explore RotaCloud
Key takeaways
Effective rota management can be the difference between a business that struggles and one that thrives.
With a schedule based on past revenue and shift data, and which accommodates staff availability and shift preferences, businesses can ensure that they have enough staff on duty to meet demand — but this can be incredibly time-consuming.
Rota management software such as RotaCloud can significantly reduce the time it takes managers to create, share, and manage staff schedules, helping them stay focused on other areas of the business while saving on labour costs.
Staff whose managers use rota management software also benefit from having anytime, anywhere access to shift information, helping them plan their own lives better.
---
---
---