The current hospitality staffing crisis is affecting most of the industry, with businesses all over the country struggling to hire and retain staff. The pandemic and Brexit have both contributed to workers leaving the industry in their droves, and a recent poll from job search site CV-Library suggested that 41% of all hospitality workers have left the sector since the start of 2020.
Data released last month by UK Hospitality showed that the UK needed nearly 200,000 more hospitality staff to make up for the shortfall, with shortages in front of house staff and chefs being particularly severe. In fact it's so severe that it's leading to business closures, with even Michel Roux Jr's Le Gavroche having to cancel its lunch service due to a lack of staff.
Here at RotaCloud we decided to do some research of our own too, and we asked our users in the hospitality sector how they are managing and coping with the situation. A huge 85% are currently recruiting, and of those currently recruiting, 77% are having difficulty finding staff.
Some of the comments hospitality business owners shared with us about the problems they're facing included:
That they're finding that staff no longer want to work unsociable hours — with many managers losing employees to regular '9-5' jobs instead.
That chefs specifically, and experienced staff, are particularly hard to find.
That their existing staff are having to work more hours to cover the deficit.
Some respondents even indicated that it seemed that many potential candidates had 'lost confidence' in the hospitality industry.
We also wanted to get an idea of the scale of the problem geographically. CV-Library was kind enough to share the location data of more than 10,000 hospitality job postings from January 2021 to date, so we could analyse the increases in demand by region. Looking at increases in job postings in isolation doesn't necessarily tell the whole story as there are obviously natural increases due to businesses reopening during this period, too. But if you combine it with the first-hand hiring horror stories we're hearing from up and down the country, it does give a good indication of which locations in the UK have the most unfilled roles.
Looking at data on the increase in job posting from March to May specifically, we can see that nowhere is getting off unscathed, with all parts of England seeing huge spikes in demand for hospitality workers. London saw the biggest jump with almost three times more live hospitality roles, but even the East Midlands, which had the lowest increase in hospitality job postings in England, still saw an increase of almost 40%.
It's businesses in the South of England that appear to be facing the biggest extremes, however. London, perhaps unsurprisingly, has seen the highest increase, but it's closely followed by the South West (171%), East Anglia (119%) and the South East (115%). On average, job postings have more than doubled country-wide (110%).


The heatmap below illustrates the scale of the issue: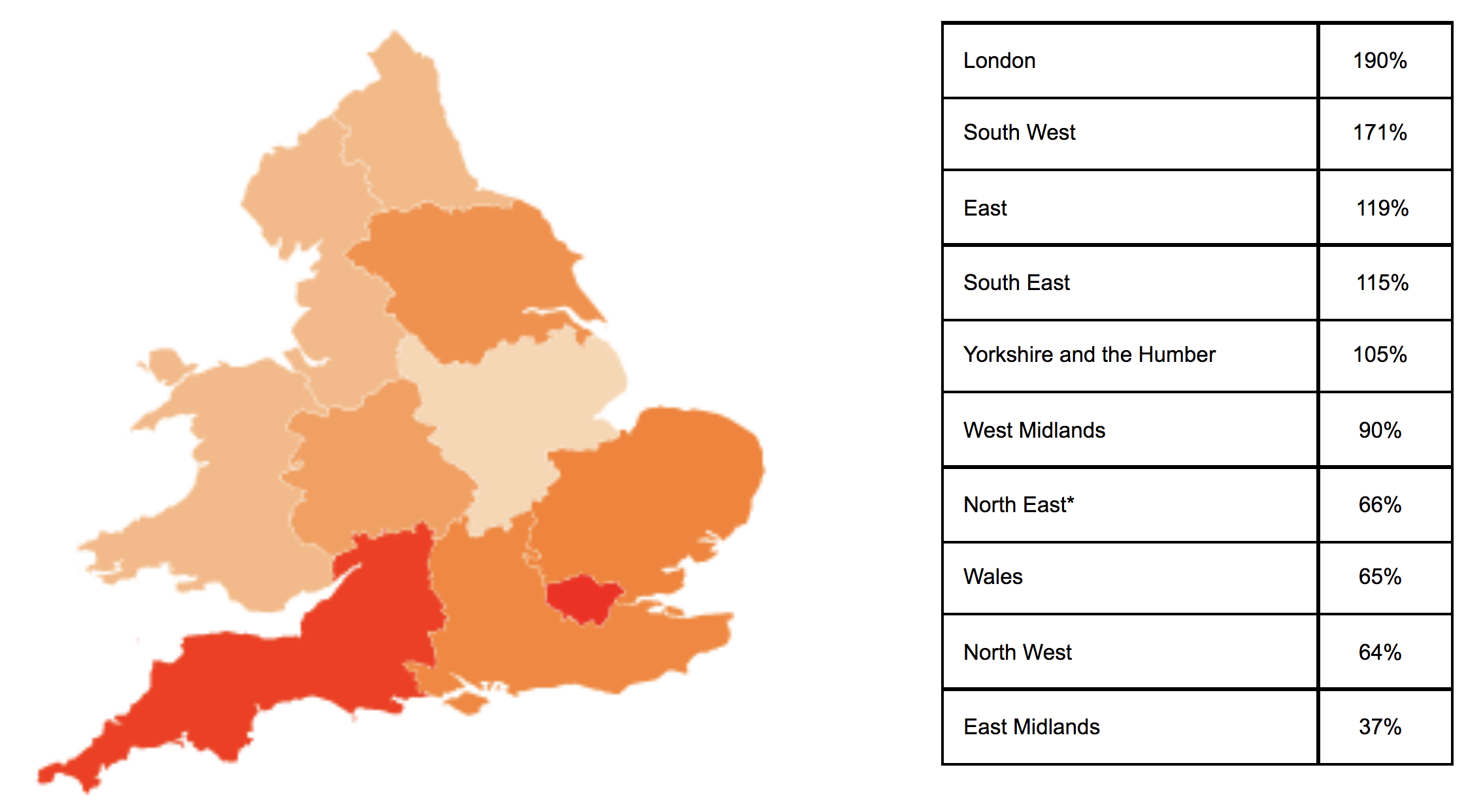 *Data for the North East is from a smaller sample size than other regions and should be referenced with caution

It's important to reiterate that with many hospitality venues reopening in April and May, organic recruitment will form part of these figures. However, it does appear that the figures are still rising. You might assume that, once businesses had reopened, job posting/hiring figures would stabilise. But instead May saw the highest number of job postings this year, with a 51% increase on April's numbers (compared to a 39% increase in April and a 26% increase in March). Some of the highest rates of increase are, again, in the South West and London.
It'll be interesting to see if these increases continue — and, if they do, both where the figures are rising the sharpest, and if the roles that are in highest demand change
---
Big thanks again to our friends at CV-Library for sharing their data with us to help inform this article.
---
---