No employee likes to hear that their request for time off has been denied. Nor do managers enjoy being the bearer of bad news.
But with the pandemic forcing employees to carry an unprecedented amount of unused holiday over into 2021, and with employees understandably itching to get away for a few weeks, managers all over the world are likely to be inundated with requests for annual leave over the coming months — and handling them all fairly isn't going to be easy.
Rejecting holiday requests can cause resentment and tension in the office — particularly if they're handled clumsily.
You need to keep your team happy, while somehow ensuring that you don't end up short-staffed.
With this in mind, today on the RotaCloud blog, we'll be taking a look at the best solutions to this ever-present HR headache, including:
Your legal obligations
How to use shift swaps and leave embargoes
How to prioritise multiple leave requests
UK holiday entitlement
Let's get the dull part out of the way.
Under UK law, employees are entitled to a certain amount of paid leave (dependent on working hours).
Employees who work five days a week are usually entitled to 28 days of holiday. Employers can choose to include bank holidays within this total.
The law also covers notice periods. Normally, the notice period for taking leave should be at least twice as long as the amount of leave the employee wants to take - such as two weeks' notice for a week of leave.
You can, however, set out a different notice period in your contracts with employees which overrides this general rule.
An employer must give as much notice as the amount of leave requested when refusing a request for time off. For example, if an employee wants two days off and the employer wants to reject the request, it must be refused at least two days in advance of the planned leave dates.
Most significantly, employers can refuse to give leave to all employees on certain dates, or insist on employees taking leave (say, on bank holidays).
These exceptions can be outlined in employment contracts or discussed at the office, but the employer must give notice of at least twice as long as the leave they want staff to take.
Although you're entitled to block leave requests across a certain period, you obviously can't stop workers from requesting leave at all.
Got all that?
It's worth noting that there's no legislation covering how to manage and prioritise leave requests. It's entirely down to the employer to decide on their leave request policies.
Avoiding clashes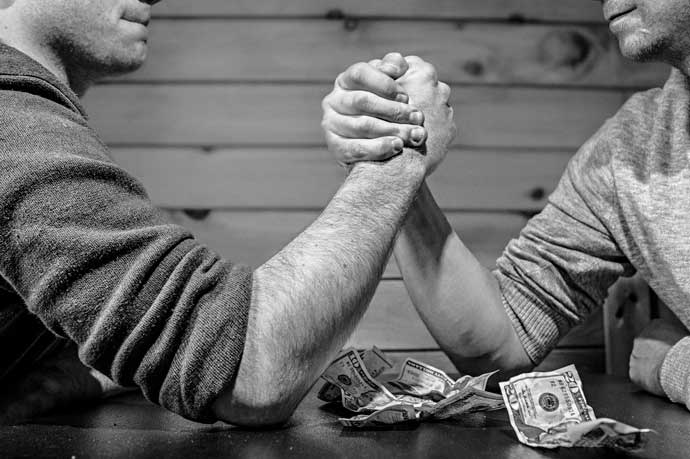 The way you manage leave at your business might well be the direct cause of your leave request headaches.
A few changes can certainly ease those headaches!
Leave embargoes
During the very busiest times of year, prevent all staff from taking leave. This harsh but fair approach means you'll have all hands on deck when you really need them! Remember to keep these embargoes as short and infrequent as possible else employees will start pulling sickies during them...
Shift swapping
Encourage employees to arrange shift swaps between themselves, with only final approval required from a manager. Short notice shift swaps are far easier to deal with than last-minute leave requests.
Notice periods
As we mentioned above, employers can set their own leave notice periods to ensure that last-minute holiday requests are kept to a minimum. Longer notice periods also give you more time to assess, reject and accept requests in a way that won't cause too many office arguments!
A single channel
To avoid confusion, settle on a single channel for leave requests. This could be done through RotaCloud, your HR platform, email, or on paper. This prevents miscommunication and also leaves a clear paper trail if there's a dispute.
Leave visibility
Periodically reminding employees of the leave they have left to take will nudge them to take time off. This simple tactic should help spread employee leave throughout the year.
In RotaCloud
RotaCloud simplifies the annual leave process by allowing staff to check their remaining leave allowance and submit leave requests directly through the RotaCloud mobile app.
These requests can be approved or denied in seconds — with the rota updated automatically depending on your decision. Managers can even set up bespoke 'leave request rules' to ensure that any requests that would leave them shorthanded are automatically rejected.
These methods can be used in combination to significantly improve leave management at your company. They won't entirely prevent leave request clashes, but they will make them easier to manage.
How to prioritise employee leave requests
Research from ERC found that by far the most used system for prioritising leave requests is first-come, first-served. However, if you've found that this system isn't working out, there are plenty of alternatives.
Let's take a look at the most common methods for prioritising leave requests, and the pros and cons of each.
First-come, first-served
Leave requests are considered in the order that they're submitted.
Advantages: This is a simple system that makes prioritisation easy and transparent. Employees will also strive to get their holiday requests in ASAP under this system, which helps you plan around absences far in advance.
Disadvantages: Employees who are unable to make plans months in advance will always lose out.
Seniority
Seniority is usually based on the number of years served. The most senior members of staff essentially get first dibs on the prime holiday periods.
Advantages: Rewards long-serving employees and therefore encourages staff to stick around. It is seen by many employees as a fair approach.
Disadvantages: Seniority is not necessarily a good measure of who deserves holiday priority! Therefore, junior employees may find this approach disheartening. And if your most senior staff are fixtures at the company, they'll have a stranglehold on in-demand holidays.
Rotation
Employees who had their leave requests denied during the last clash get their requests approved this time around. Employees take it turns to get time off on in-demand days.
Advantages: This system is, in theory, completely fair, and employees won't get too dispirited if they can't get time off on one bank holiday, because they know they can get the next occasion off.
Disadvantages: Occasionally, you may need to change the rota for whatever reason. Employees will feel aggrieved that you essentially went back on your word. Individual circumstances might also affect how fair a rota is.
The manager decides
With this approach, the decision is entirely up to individual managers. They can opt for any of the above approaches or merely take each case as it comes.
Advantages: The manager is arguably in the best position to understand which staff are required at any given time, based on their skills and experience. They'll also be aware of the personal circumstances of employees and will be able to prioritise requests accordingly.
Disadvantages: This method relies on a manager being fair and understanding. Accusations of favouritism could emerge, and this could cause tension in the office.
The team decides
Where there are multiple leave requests the team comes together to decide which leave requests should be approved. There may be some manager involvement.
Advantages: This progressive approach makes the team take responsibility for their workload. It helps improve awareness of the role that each employee plays in the day-to-day running of the team, whilst testing the ability of employees to problem solve and communicate effectively.
Disadvatanges: The process is likely to be chaotic in larger teams, and less assertive employees may struggle to get their argument across - meaning they always miss out on prime leave spots.
Company need
This method tends to overlap with several of the others, and it's largely self-explanatory! Leave requests are approved or rejected based on whether or not the company can operate without the employee. It takes into account skills, responsibilities and how busy your company is.
Advantages: This common sense approach to leave request management should ensure that you're never short-staffed. It also doesn't rely on arbitrary limits.
Disadvantages: Managers may misjudge company need and deny too many or too few leave requests. It might also mean that the most productive employees might struggle to get time off.
How to manage holiday requests fairly
Whichever method (or combination of methods) you want to use to prioritise leave requests and schedule employees, you need to administer them properly if they're to remain fair.
First off, create a written leave policy that sets out notice periods as well as how leave requests will be prioritised.
Having a policy in writing will help you resolve disputes if and when they arise. It'll also provide guidance to managers who may be unsure how to handle requests.
Next, you need to communicate clearly with employees. Make sure everyone has access to a copy of your holiday policy. Have a system for communicating the progress of leave requests.
Share your reasoning when rejecting leave requests. Employees will be more understanding of the situation if there's a good reason they can't take time off. Be sure to apologise, too.
Show your appreciation to employees who get the short straw - particularly if they have to work over Christmas. Buy a box of chocolates for the office kitchen or send them a thank you email after their shift. There are plenty of ways to show employees appreciation that cost very little (if anything!).
Finally, whatever you decide to do when leave requests clash, make your decision as soon as possible. Finalise the rota at the earliest opportunity so that every employee is aware of whether or not they'll be working. Leaving employees in the dark doesn't help anyone.
Final thoughts
When every employee in your team wants to take time off simultaneously, you're bound to upset someone.
Managing leave requests fairly isn't going to prevent that, but your employees won't harbour resentment if they think the reasoning for their rejected request was fair - even if they're disappointed in the short term!
Formalising a leave request system is smart for small businesses, particularly if you regularly have to deal with clashing leave requests.
(By the way, RotaCloud can help you manage your leave requests...)
---
---