Retail interview questions to ask to help you find the perfect employees for your team.
Finding great retail staff can be tricky.
Job candidates are often so used to answering the same old interview questions that they end up giving the exact same answers, making it difficult for managers to really get to know the person on the other side of the interview table.
If you're a manager looking to streamline your recruitment process and find the people for your business, be sure to ask these 15 questions during the interview proces:
15 questions to ask during retail interviews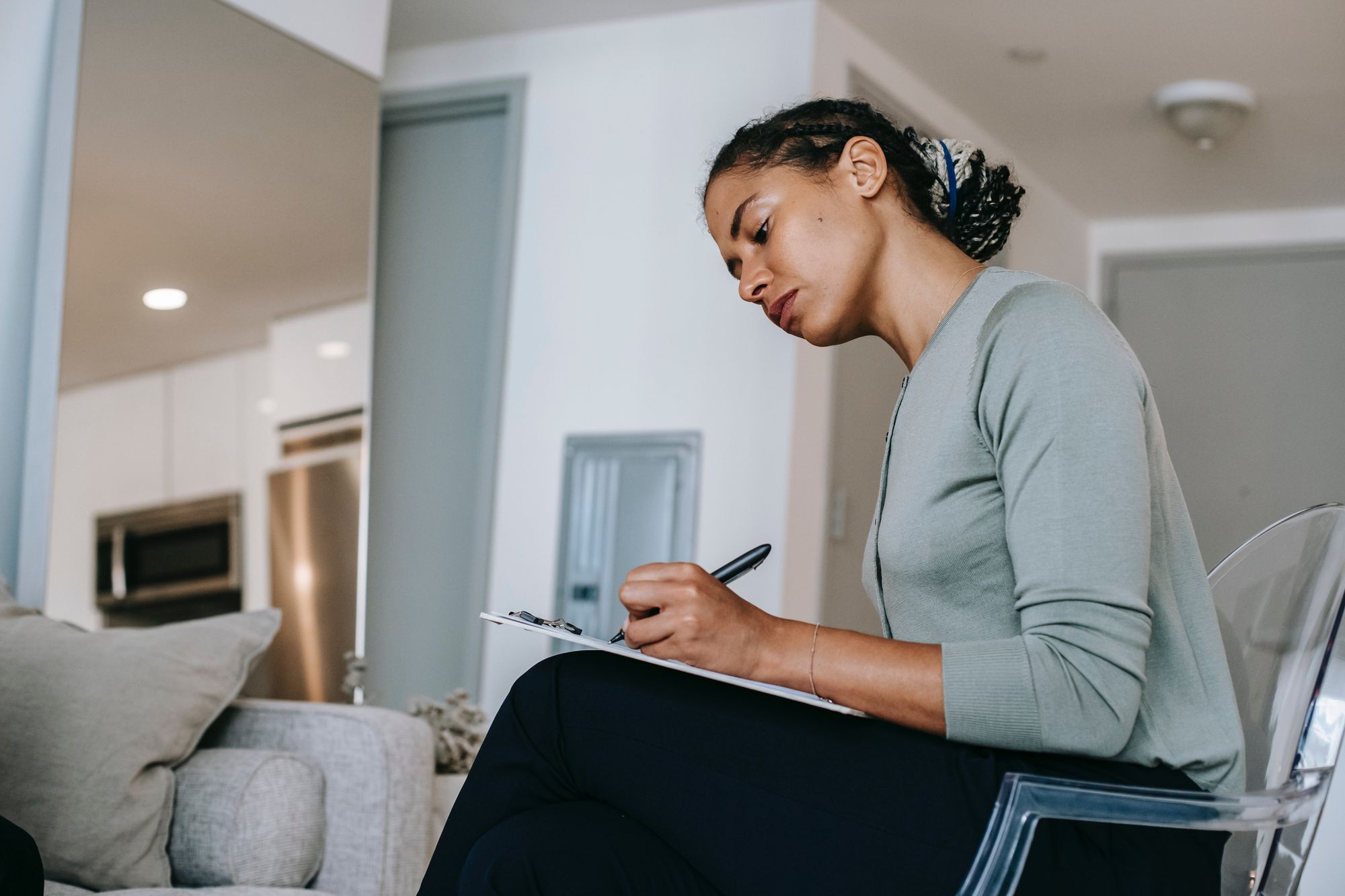 1. Why do you want to work here?
It's one of the simplest questions you can ask, but arguably the most telling.
Listen carefully to the answers your interviewee gives here: do they speak about enjoying or wanting to work in retail specifically? Do they mention enjoying working with people or the products that you sell?
There's no "right" answer here — the point is to discover your candidates' motivations for applying for the role as this will help you decide whether they're aligned with your business and values.
2. What can you tell me about our business?
An easy easy way to find out which of your candidates have done their research is to invite them to tell you what they know about your business.
Follow up with a handful of more specific questions, for example about your candidates' own experiences of your brand, and ask them to offer some constructive feedback — after all, job interviews can also be a great way to find out how people outside of your business perceive your brand.
3. Which days are you available to work?
A seemingly obvious question but one that many managers miss during the recruitment stages; retail managers need to know which days — and times — people are free to work, since this will impact the rota.
Keep in mind that, while it's fine to talk about someone's working availability, interviewers must never ask about things like a person's marital status or whether they have children or other dependents. These topics may well come up naturally in the candidate's answer, but that information must be volunteered by them rather than directly asked for.
If their working availability is likely to change from one week or month to the next, consider how you'll have them communicate this in advance and whether you have the capacity to work around it.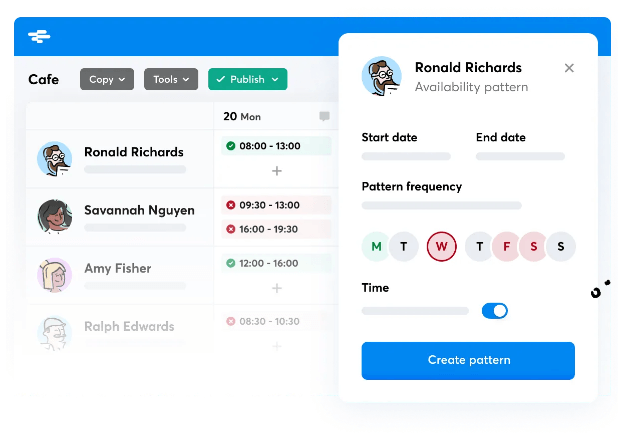 Self-service availability tools for your staff
With RotaCloud, your staff can communicate their working availability straight through the RotaCloud mobile app. When you sit down to plan you next rota you'll know exactly who's free to work and when.
Explore RotaCloud's availability tools
4. What qualities do you admire in a coworker?
The answer your candidate gives here will hint at the kind of worker they themselves are and their ability to integrate with your existing team.
Ideally, you're looking for candidates who list things like patience, good communication skills, punctuality, and professionalism among the qualities they like to see in their coworkers — although a good sense of humour doesn't go amiss either!
5. How do you develop positive relationships with the people you work with?
By asking job candidates how they form bonds with their teammates — for example, by introducing themselves to their coworkers, asking questions about their roles, and offering to help out.

You'll also get a better idea about whether your new potential hires possess the kind of confidence and interpersonal skills that a customer-facing role requires.
6. What would you do if the person you're supposed to hand over to at the end of your shift doesn't turn up?
As well as testing their out-of-the-box thinking, this questions gives you an opportunity to communicate what you expect of your staff in the event that a member of the team fails to show up on time for work on time.
The exact steps an employee should take in this scenario will vary from one business to the next, but you need to be confident that the people you hire will use their initiative and won't leave you hanging in the event that their teammate is running late.
This is also a good opportunity for you to talk about your company's policy for overtime and time off in lieu.
7. What would you do if you couldn't make one of your shifts?
As with the above question, this one is designed to give managers an idea of what they should expect from their new hire in the event that something unexpected happens — in this case them not being able to work one of the shifts they've been assigned.
A standard response to this question might be, "I'd call you as soon as possible." This is of course what many managers would hope for, but an even more proactive candidate might tell you that they'd also attempt to find someone to provide cover instead of simply coming to you with a problem to solve.
Look out for candidates who think on their feet and try to solve problems rather than simply going through the motions.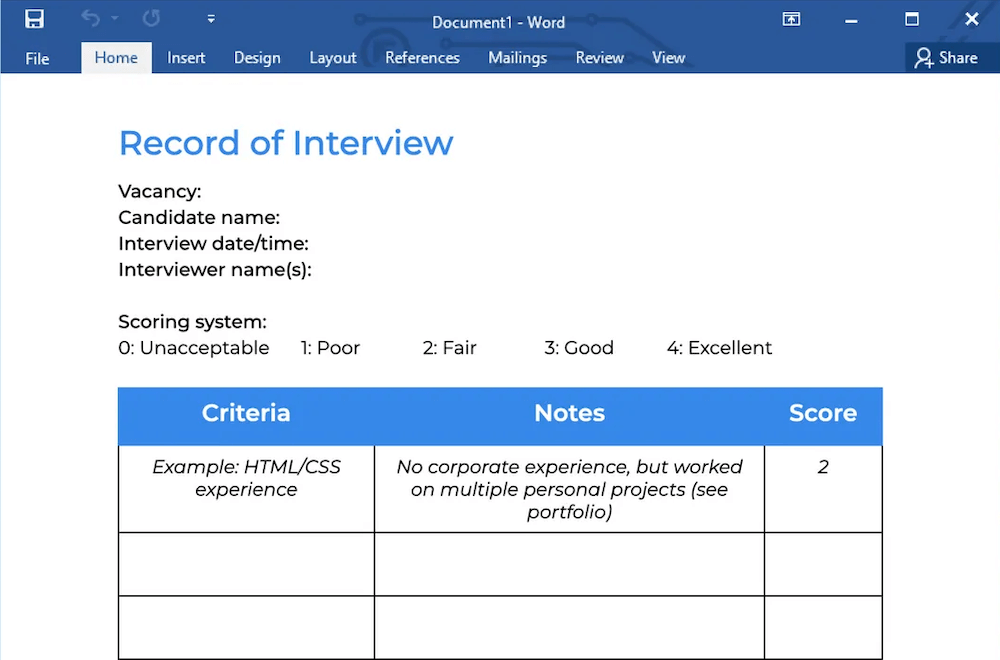 Free resource: Job interview record template
Keep track of your job candidates and record their performance during the interview stage with our free PDF download and editable Word document.
Download free
8. What would you say constitutes great customer service?
The answer your candidate gives here will be a reasonable indication of the kind of service they might provide to your customers — as well as give you an insight into whether they have an affinity for working in retail.
Follow up by asking them to provide examples of the best, and worst, customer service experiences they've had, and what they'd have done differently had they been the one providing it.
9. How do you determine a customer's needs when they come into the store?
Customer service is paramount in retail, but your staff also have a role to play in increasing sales at your retail business.
Experienced candidates should be able to give examples of occasions and ways that they've developed a rapport with customers and helped them find what they're looking for.
Do they usually start by making conversation with customers, or ask outright if there's something the customer is looking for? Do they make suggestions based on the items customers are looking at, or do they wait for them to approach and ask for assistance?

Use this question as an opportunity to assess whether candidates have a genuine affinity for sales — and the confidence to approach and assist your target customer.
10. How would you respond if a customer tried to return an item without tags or a valid receipt?
A common scenario, but one that few employees enjoy dealing with, is having to break bad news to a customer — especially an unhappy one.
You could even roleplay this to give the candidate an opportunity to speak to you as if you were the customer. Their responses should be warm and polite, but also leave no room for ambiguity, and ideally acknowledge that you'll have a policy on returns.
Continuing in your role of the dissatisfied customers, make a note of the ways your candidate tries to defuse the situation.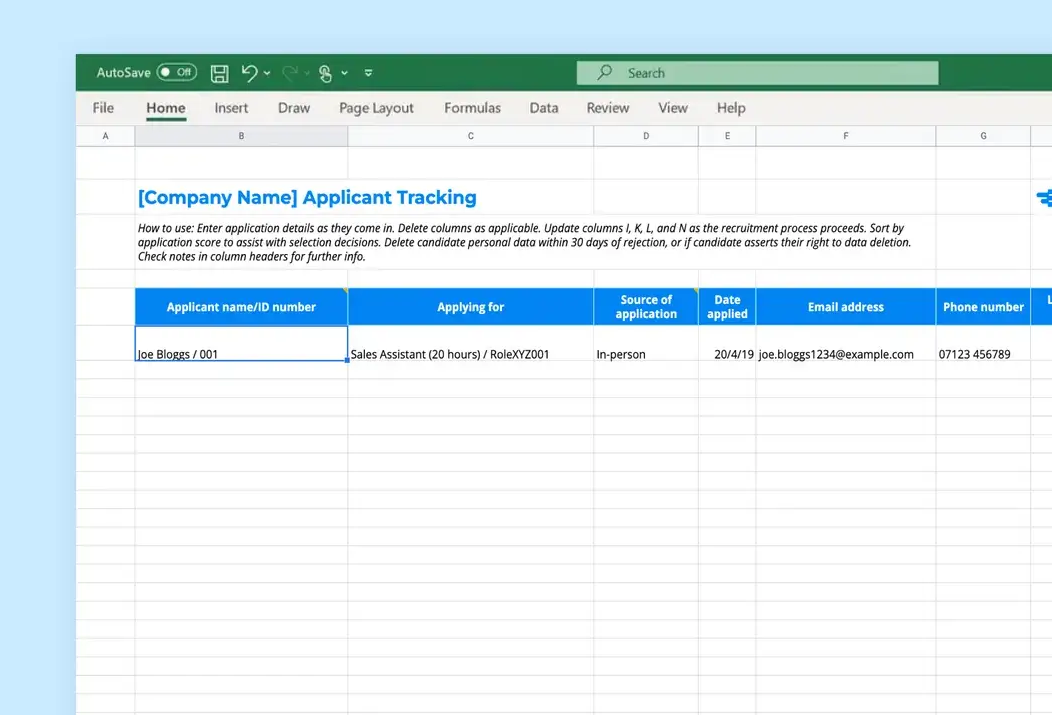 Free resource: Applicant tracking spreadsheet
Use our free applicant tracking spreadsheet for Microsoft Excel and Numbers to keep track of your potential new hires.
Download free
11. What experience do you have handling large sums of money?
The majority of sales are now made by credit and debit card, but it's still hugely important that your retail staff are confident handling cash, especially in large sums.

Do your job candidates have experience cashing up at the end of the day? Have they ever been accountable for cashing up or storing money in the company safe? Do they know the telltale signs of increasingly sophisticated counterfeit notes?
More experienced candidates will be familiar with best practices for handling money, but also what to do in the event that a card is flagged as stolen at the point of sale.
12. What experience do you have managing stock?
Many of the best retail workers are all-rounders: staff who, in addition to providing five-star customer service and handling transactions, also possess good organisational skills when it comes to stock.
This includes things like:
How to rotate stock (particularly perishables)
How to manage an inventory
How to label stock or record them on POS systems
How to work safely in dangerous environments such as warehouses
Try to find out whether your interviewee has experience handling overflow products or organising displays on the shop floor as this will help you determine the level of training and supervision they'll require if successful at interview.
13. What would you do during a slower shift?
Whether they're a salaried employee or you're paying them by the hour, you need to be confident that the people you employ will remain diligent and proactive when they're on the clock.
If the person you're interviewing has retail experience, ask them how they filled their time during quieter periods at their current or previous role. If not, ask them to imagine what they'd do to keep busy — for instance tidying stock; identifying low-selling items for a possible flash sale; creating content for the business' social media accounts to drive sales — and why.
14. What professional skills do you feel you could use more training for?
"Tell us your weaknesses" is about as cliché as interview questions come these days, but it's still important to know where your candidates might need a little extra help.
By asking what skills they lack or areas that they feel they could benefit from a little more training, you're giving your candidates an opportunity to be upfront about their weaknesses without feeling overly self-conscious.
Talk about ways that you might help your staff develop through training, shadowing, or career progression programmes and encourage them to discuss their short- and long-term goals.
15. What do you look for in a good manager or employer?
End the interview by bringing the conversation back to you. What do your candidates look for in an employer?
As well as helping you decide whether you'd be a good fit for each other, your candidate's answers will help you build up a bank of knowledge to help you create a workplace that will be more attractive to prospective job hunters.

Try to find out if you're on the same page and what they expect from you.
---
---