Working Hard or Hardly Working: What Your Staff Are Really Up To [Infographic]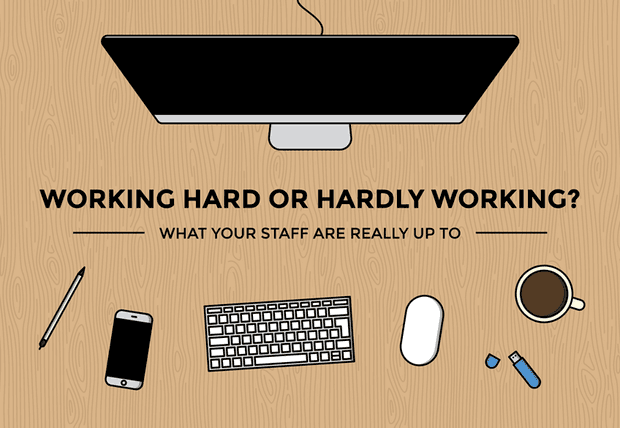 How do employees really spend their time at work? Let's look at the stats...
Labour is the largest cost for many employers.
Using rota and time and attendance software can certainly cut your wage bill, but the fact remains that the time employees spend at work costs you. It makes sense to do all you can to ensure that staff time is as productive as possible.
However, the figures suggest that very few employees are working as productively as they might.
In fact, only 45% of an employee's time at work is spent on primary job duties. The rest is filled with other tasks (such as dealing with emails and attending meetings), some of which may not be entirely productive.
Then there's the issue of employee time-wasting. One in five employees admit to wasting time at work because they're bored.
Disengaged employees are far more likely to covertly browse social networks and other sites during their time at work, so employers may wish to tackle to the root of the engagement problem instead of (or as well as) disciplining the employees in question.
Ultimately, many productivity problems are caused by the employer, rather than the employee.
Perhaps staff are having to use outdated software that's slow and unreliable, or morale is low because a colleague has been treated unfairly by management.
Sure, there's always bound to be the occasional slacker who'll procrastinate as much as they can get away with, but having a quick chat with them about how to make work more engaging gives them the opportunity to change their habits before you show them the door.
Are your employees working hard or hardly working? Check out our infographic below.
(Click the image to view a larger version.)
Management advice & insights, straight to your inbox.
Enjoying the RotaCloud blog? Tell us your email address and we'll be in touch whenever we publish a new blog.
---
---