Hot on the heels of our new Time Off in Lieu feature, we're excited to announce a pair of big updates for RotaCloud's leave management tools, built to make your workday even simpler.

Starting today, you can now quickly compare leave requests against previously booked leave — without having to navigate away from the leave request itself.
But that's not all: we've also added a new permission setting that allows employees who have hourly leave to suggest the exact number of leave hours they want to take when submitting a request.
Let's take a closer look...
New: See who's on leave
When adding leave for an employee or reviewing an incoming holiday request, it's important to know that approving it won't put undue strain on the rest of your team.
To that end, we've added the ability to see who's already on leave, right there on the Leave screen, before adding leave or approving a request.
On web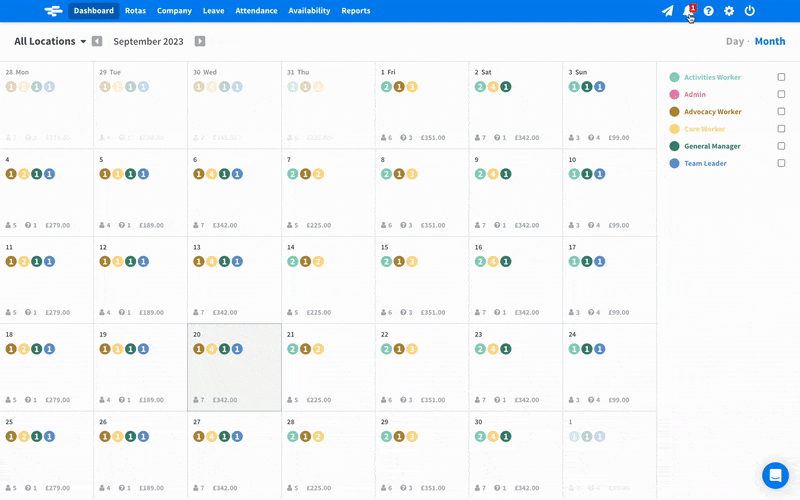 When clicking the blue plus button to add leave for a member of your team, you'll notice a new addition to the Add leave menu.
This is the Who's on Leave calendar, which lets you see at a glance which dates already have leave recorded on them, as indicated by a "People on leave" icon.
By clicking on any of these dates, you'll then see a breakdown of the staff who have already been given leave on that date, plus the leave type and the leave's start and end dates.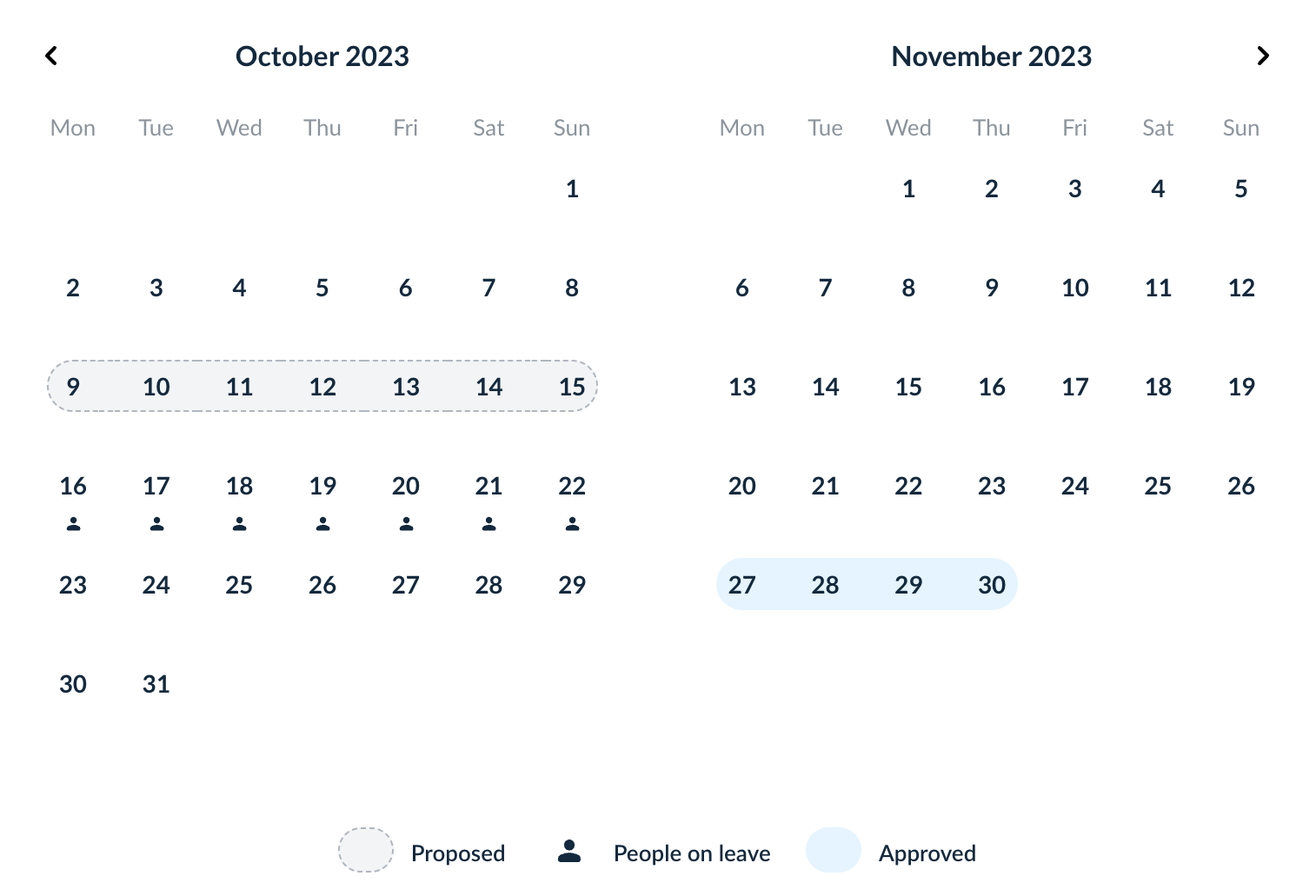 This same functionality is also available when processing incoming leave requests, so you can quickly check whether approving a holiday request would potentially impact other team members.
You'll be pleased to hear that we've added this feature to the RotaCloud mobile app too, so you can manage leave requests on the go...
On mobile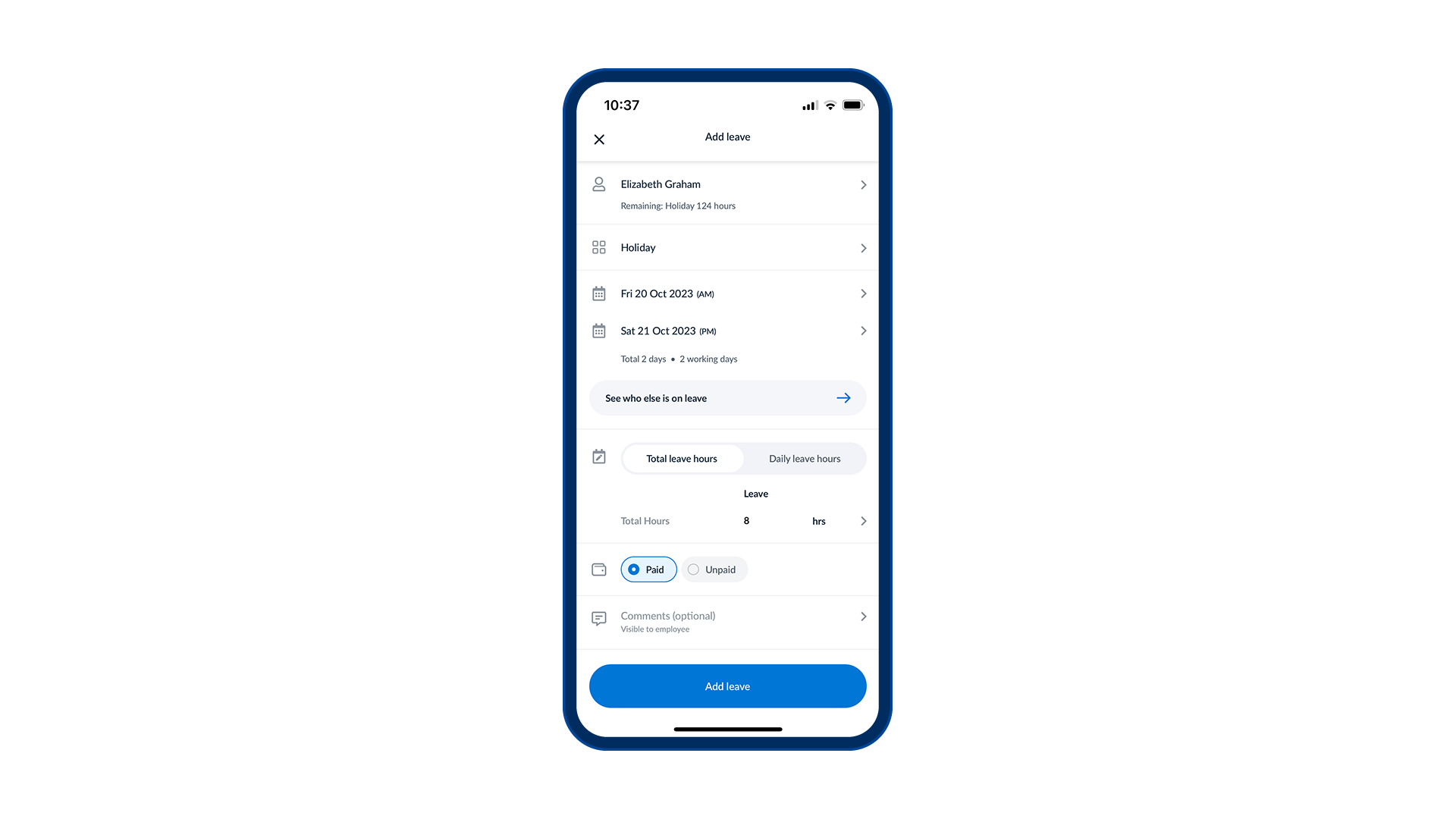 When adding leave via the RotaCloud mobile app, you'll now see a new button labelled "See who else is on leave".
Tapping on this brings up a similar leave calendar to the one on your web app, allowing you to see whether any employees already have leave on the dates you're adding leave for — or for any leave requests that you're processing.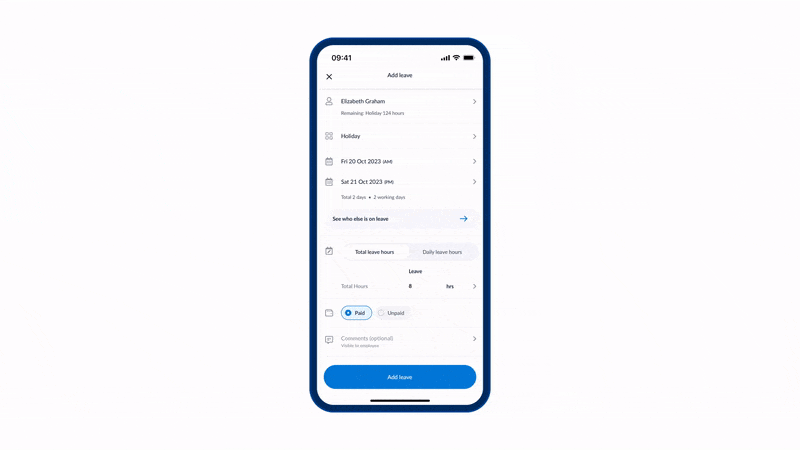 Your staff also have access to this feature when making leave requests, so —even if you're not already using our Leave Request Rules tool to limit the number of employees who can book the same day off — they'll have all the info they need before requesting time off.
But wait, there's more!
New: Add & request leave by hour
Our latest update to RotaCloud's leave management tools also includes something that many of you have been asking for: the ability for staff who are paid or receive their leave per hour to suggest a specific number of hours when making leave requests.
Provided that this permission is enabled in your account's settings, when requesting leave staff can now enter the total number of leave hours that leave request is for.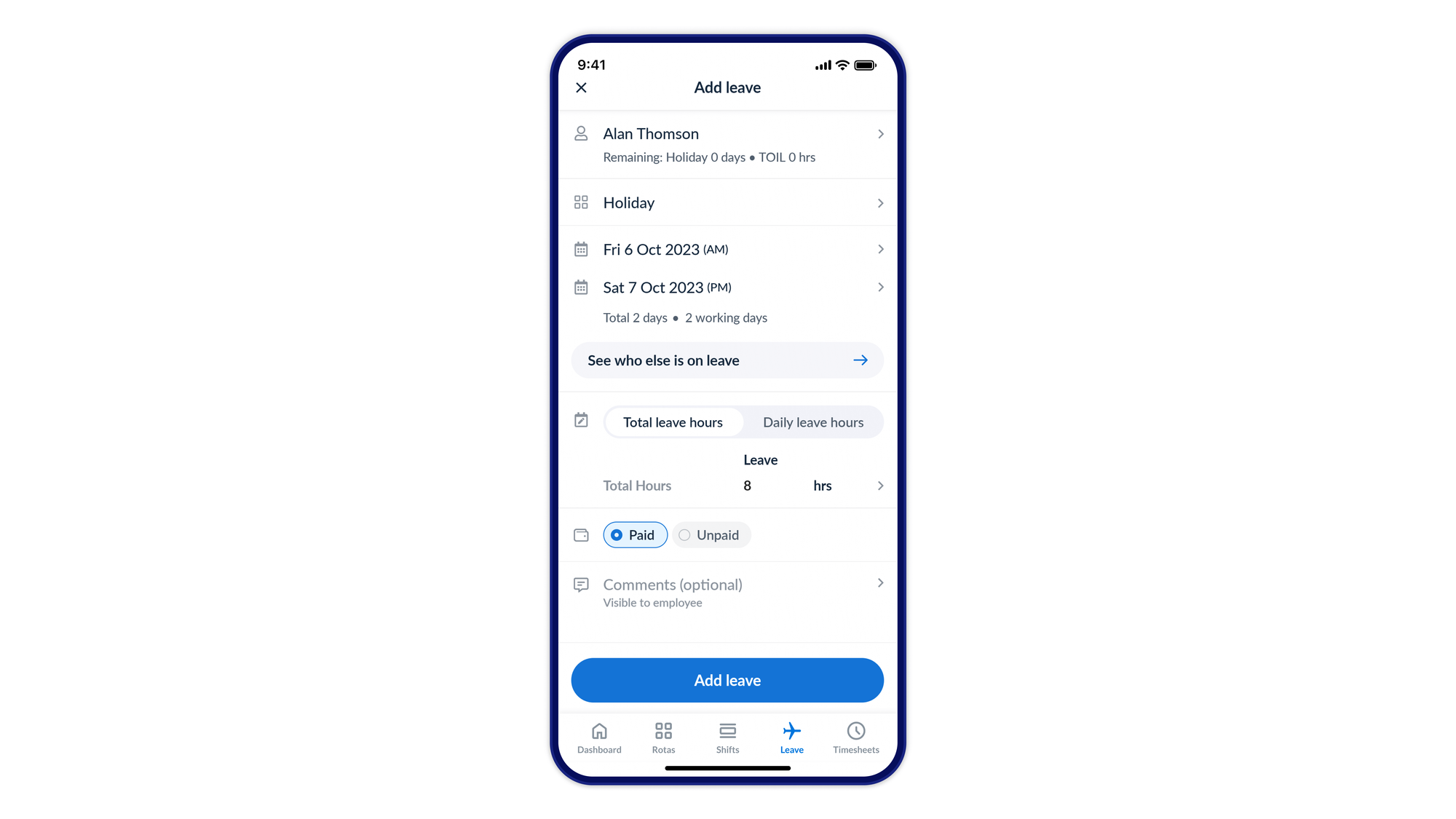 This number can be edited when you come to review the leave request, but by allowing your staff to populate this information themselves, it should make approving holiday much quicker.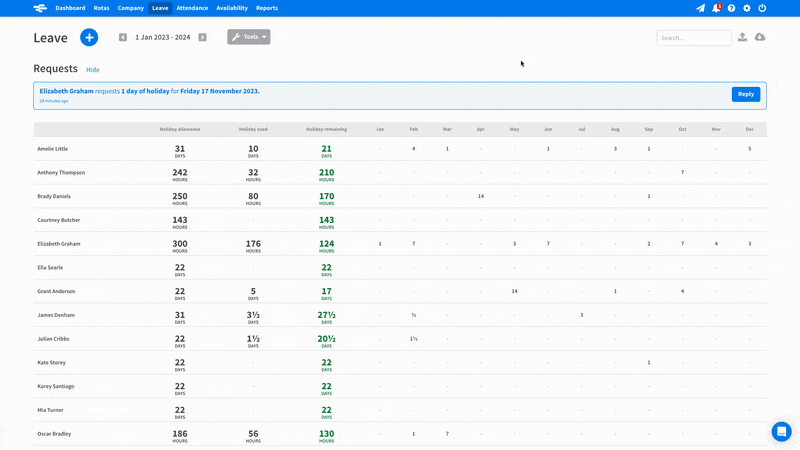 For information on how to enable this setting, take a look at our help article.
Like Who's on Leave and TOIL, this new feature comes as a result of both customer feedback and months of research and development by our Product and Customer Success teams, so we hope it provides the freedom and flexibility that you need to manage your team's annual leave efficiently.
Available now
These updates are available now for all RotaCloud users at no extra charge.
For mobile users, please make sure that your team have downloaded the latest version of the RotaCloud mobile app from the App Store or Google Play store to access these new features.
Not using RotaCloud yet? Check out our full range of tools and features or start your 30-day free trial and find out how much easier managing your team can be!
---
---