Keeping your employees up-to-date is a difficult task. We're hopeful that our latest optional add-on can make it that bit easier for you. Now, along with automatic email notifications you can also send automatic SMS alerts to your employees so they always know when and where they are meant to be.
How does it work?
Once you have added the SMS notification service to your account (more details on that below), the first step is to add a mobile number to the personal profile of each employee you wish to send SMS notifications to. Then, each employee must verify their mobile number by going to the notifications tab on their Account Settings. The system will text them a verification code which they can then enter on this page to link their mobile number to their RotaCloud account.
What notifications are sent?
The system sends automatic SMS alerts to an employee whenever one of their shifts is published or edited. They are also notified when:
Open shifts are available
A fellow co-worker requests cover for a shift
Their unavailability, cover and leave requests are approved or denied
When's my next shift?
SMS notifications are not just one-way. Employees can now text RotaCloud to find out when their next shift is. Once their mobile number has been verified they simply text the word SHIFT to get an instant update of when they are next due in to work.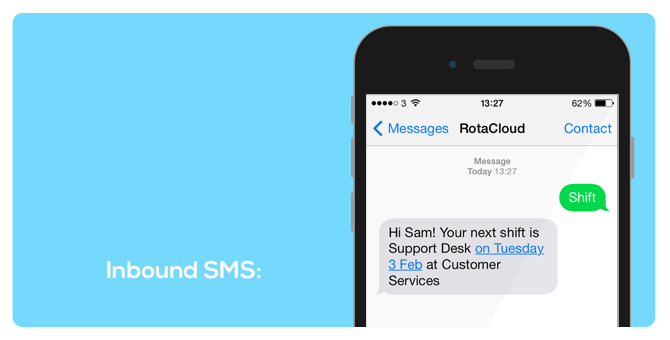 How much is the add-on and how do I enable it?
The new service is an optional extra to the standard monthly and annual subscriptions. You can check out our full pricing structure here.
If you are already subscribed to RotaCloud you can opt-in to SMS notifications on your billing page. Monthly subscribers will be charged on their next billing cycle. Annual subscribers will be charged on a pro-rata basis (e.g. if you have six months left on your 12-month subscription you will be only be charged for those six months).
If you are currently on our 30-day free trial, you will have the option to add this service during the upgrade process at the end of your trial period.
If you have any questions or feedback about this feature (or about RotaCloud in general) get in touch.
---
---