Managing annual leave can be a bit of a headache for small businesses. From juggling staffing requirements and trying to prioritise leave requests fairly, to communicating rota changes and calculating holiday pay, there's plenty for managers to think about.
But you also need to keep a close eye on your leave policies, too. As case law develops and new regulations come into force, the legality of your policies might change.
In this article, we look at some of the most common questions surrounding holiday entitlement and holiday pay, including rolled-up holiday pay, bank holiday leave entitlement, and pay in lieu of holiday.
Update July 2023: Although there has been no official announcement yet. it's believed that rolled-up holiday pay may soon become legal in the UK.
It's still unclear what conditions must be met by employers who wish to offer this to their staff, but the UK Government is expected to announce changes to employment law in the near future, based on case law.
Original article follows:
Q: Is rolled-up holiday pay legal?
A: No. Rolled-up holiday pay involves including holiday pay in an employee's hourly wages, so that holiday pay is paid out consistently throughout the year. This approach is sometimes used for casual workers or employees on short-term contracts.
In 2006, it was ruled that rolled-up holiday pay is unlawful. The UK government state that holiday pay should be paid for the time the annual leave is taken, and any contracts containing rolled-up pay should be renegotiated.
There are concerns that rolled-up holiday pay dissuades employees from taking time off — after all, there's no correlation between the amount of holiday pay they receive and whether they actually take time off.
Q: Can I allow employees to buy and sell annual leave?
A: Yes, but employees must always take 5.6 weeks of holiday (or the pro rated equivalent for part-time staff). You can't let employees sell holiday if it takes them below this amount of leave.
You can also let employees buy additional annual leave. This carries a tax saving for you if your employees take you up on it, as you pay out slightly reduced salaries as a result.
If you decide to do this, we highly recommend setting up a formal buy-back policy to apply limits to the number of days an employee can buy and sell, as well as some deadlines for when these requests must be made.
Q: How do bank holidays affect annual leave?
A: Employees don't automatically get bank holidays as paid leave, but many employers require full-time staff to take bank holidays as annual leave. You should count this towards their entitlement.
If you require employees to work on a bank holiday, there's no requirement to pay time-and-a-half or double pay — it all depends on what's set out in your employment contracts.
As for part-time workers, you must not treat them less favourably than full-time workers. The safest way to do this regarding bank holidays is to pro-rate their bank holiday allowance, regardless of when their shifts tend to occur.
Q: What happens if an employee is sick while on holiday?
A: Employees can choose to take annual leave at another time if they are sick during a planned holiday. This is the case regardless of when their sick leave started. That's because the purpose of sick leave and annual leave is different: the former is to help you recover from illness, while the latter is for relaxation and leisure.
Holiday entitlement also builds up while an employee is on sick leave.
Q: Is it lawful to pay employees in lieu of holidays?
A: No. You can't do anything that discourages employees from taking their full leave entitlement, including paying them for any unused leave.
The only exception to this is when an employee leaves the company — you should pay for any remaining holiday entitlement they've accrued and not taken.
Q: Can leave be carried over into the next leave year?
A: In some circumstances. Our detailed article on carrying over leave explains your options.
Q: At what rate does annual leave accrue for part-time workers?
A: In the UK, the typical leave accrual rate is 12.07%. For every 100 hours worked, an employee accrues 12.07 hours of annual leave. However, you may need to use a different rate to match your company's annual leave policy. Remember: part time workers must receive the same proportion of holiday as full time workers do.
Q: What happens to accrued holiday when an employee leaves?
A: If the extra accrued leave isn't taken during the employee's notice period, the employer must add this holiday pay to the employee's final pay.
If an employee has used up more holiday than they've accrued by their final working date, an employer can only reclaim that pay if it's previously been agreed in writing.
Q: Do I need to include commission in holiday pay?
A: Yes. Your holiday pay calculations should account for commission a worker typically earns, not just their basic pay rate.
Q: Does overtime need to be included in holiday pay calculations?
A: Yes, apart from overtime that is occasional and infrequent. A good rule of thumb is to provide holiday pay that reflects the overall pay employees normally receive while they're at work.
Q: Overtime, commission, and hours worked vary significantly at our business. What reference period should we use for calculating holiday pay?
A: The little case law we have at present suggests that employers should use a 12 week reference period. However, in highly seasonal businesses, a longer reference period may be more suitable.
Final thoughts
Managing leave and calculating holiday pay aren't the most exciting management responsibilities, but getting them right is critical to keeping your staff happy — not to mention staying on the right side of the law.
We're not lawyers, and this article isn't legal advice. If you're at all concerned that you're doing things wrong, get in touch with an employment law expert to set things straight.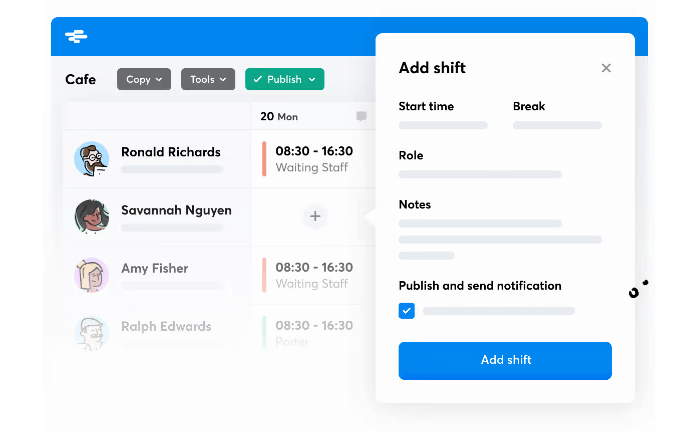 Ready to reclaim your workday?
RotaCloud users spend 66% less time planning rotas than those who rely on spreadsheets.
Find out more
---
---