29 little things you can do to make your staff happy
Happiness levels a little low in your workplace? Looking for a quick and easy way to perk your people up? We have just the thing!
Actually, let's make that 29 things...
It's unlikely that every single one of the following treats and perks will be practicable in your workplace, but we've endeavoured to prepare a good mix, so there's bound to be something that will fit your situation and budget.
1. Give your staff their birthdays off
Nobody should have to work on their birthday. Yes, your staff could use up some of their annual leave if they really didn't want to come in, but think how much they'd appreciate it if their boss gifted them the day instead. Happy birthday indeed!
2. Be flexible on start times
Lengthy commutes, rush-hour traffic and kids to drop off at school make it difficult for some people to get to work at the same time as everyone else. So why not let your staff decide a start time that works for them?
Allowing members of your team to begin their day an hour earlier (or later) than everyone else will help them organise their lives better, but they'll also be happier and more productive as a result. Even half an hour of leeway can make all the difference.
(Psst - use a clocking-in system like RotaCloud's Time and Attendance to track hours worked if you choose to eschew 9-5.)
3. Stock their favourite magazines
Conduct a staff survey once a year and take out subscriptions to the three highest-voted magazines. Leave them in the break area for people to enjoy — even more than normal since they didn't have to pay for them!
4. Set up a proper break room
Spend some time setting up a place where your team can relax. This could be anything from a quiet corner where people can chat or read a book, to an entire room where they can let off some steam.
Whatever style of break room you provide, make sure that it's well furnished and completely separate from your general work area. With time to relax and unwind, your team will come back from their breaks feeling refreshed, more alert and better able to focus on their work.
5. Throw lunchtime pizza parties
Pizza was made for sharing, so it's perfect for the workplace. Plus, it's a cheap way to fill your team up while still being tasty enough to be considered a treat — just be sure to add some vegetarian/vegan/gluten-free options and give your staff 24 hours' notice so that they don't bring in their own food on pizza day.
6. Hold a monthly prize draw
Once a month, hold a monthly prize draw and give away something cool to one lucky employee. Anything will do (a pair of concert tickets; a bottle of bubbly; a voucher for your local cinema...) just so long as it's actually worth winning.
You can also use the draw itself as a fun way to keep in touch with your entire team — minus the moans and groans that the words 'team meeting' usually inspire.
7. Let people use headphones at work
Some managers shudder at the very thought of their staff wearing headphones at work, but there's plenty of evidence to suggest that employees who are allowed to listen to their own music are happier and more productive as a result.
If you're concerned that communication will suffer, then you could always employ a 'one-ear-free' policy so that staff won't miss what's going on around them. Either way, giving your team the ability to tailor their own work environment with tunes of their choice will not go unappreciated, so don't be afraid to give it a try.
8. Have an open office day
Invite your staff to bring members of their family in for an afternoon and give them a tour, welcoming them with tea or coffee (or something bubbly if you're feeling fancy) and encouraging people to mingle.
An open office day doesn't have to be a grand event, but it's rare that we get to show our families where we work and what we do all day — and it's fun for coworkers to meet the people they often hear about, so many will jump at the chance.
9. Ditch the dress code
You might want your staff to maintain a professional image in public, but does your entire team meet with your customers or representatives from other businesses on a daily basis?
The ability to wear a suit and tie does not equate to putting in a good performance at work. In fact, your team are more likely to do their best work when they're feeling relaxed and comfortable, so invite them to wear their street clothes to work on days that they're not meeting with clients or expecting guests.
10. Supply free biscuits
An army marches its stomach. Keep your biscuit barrel stocked and your people will be forever happy.
11. Bring in a therapy dog
You know who else likes biscuits? Therapy dogs!
Most commonly seen in hospitals and retirement homes, therapy dogs are often brought in to help those with stress, anxiety or mental disorders. The mere presence of these patient, well-trained pooches has been found to lower stress levels, and they never fail to put smiles on people's faces.
Do some research and see if you can find a therapy dog centre in your area — or perhaps just a local animal shelter with a few older, well-behaved dogs that would benefit from a day out — and invite them in one afternoon. Just make sure that none of your team are horrendously allergic to pet hair beforehand...
12. Allow staff to work remotely
If their roles allow it, consider letting your staff work remotely from time to time.
Yes, it can be scary letting them go at first, but the positives of allowing your staff work from home are numerous — plus, working remotely can be an absolute lifesaver for those who suddenly have to take care of a sick child or wait in for the gas man when their boiler breaks.
13. Let your staff watch major sporting events at work
When there's a big game, a cup final, or perhaps the latter stages of an Olympic event being held, cut your team some slack and let them watch it in the break room. If they're major sports fans, they'll probably be sneakily watching it on their phones anyway, so you might as well bring them together as a team.
14. Encourage project time
During the quieter periods of the year, why not take a leaf out of Google's book and allow your team to spend a portion of their day working on a project or work-related activity of their choice?
Perhaps you have someone on your team who could benefit from a little more HTML knowledge. Or maybe one of your programmers has expressed an interest in learning Photoshop or Illustrator.
Encouraging lifelong learning in the workplace is a great way not just to keep your staff motivated, but to help them develop skills that they might not have realised they had. Your team will appreciate being given the chance to learn, and will feel that they have room to develop their careers within your company beyond their assigned roles.
15. Have 'early finish Fridays'
You know how hard it can be to focus when there are only a few hours left until the weekend begins. So why not be the people's hero by letting your staff head off half an hour early on the last day of the week, providing that they're on top of their work?
16. Get festive
A quick change of scenery does wonders for office morale. You might not want to switch up your office layout too often, but encouraging your team to decorate the place for big events like Christmas and Halloween as well as exciting company milestones is a fun and easy way to inject a little energy into the group.
17. Surprise staff with new equipment
Set aside some of your office budget to treat your employees to some unexpected upgrades or new gear. If you're feeling generous, surprise staff with new monitors or a standing desk. More affordable (but nonetheless welcome) surprises might include some fancy stationery or a software subscription.
These upgrades need to be customised based on the employee's wants and needs - there's no point spending the money on heart-shaped Post-its for your programmer if they haven't used a pen since their school days.
18. Offer discounted gym memberships
Exercise has been found to reduce sickness rates and increase productivity in employees, so it's always a good idea to encourage your team to keep active in their spare time.
Gym memberships don't come cheap, however, especially when you work Monday to Friday and can only visit during peak hours.
Get in touch with your local health club or swimming pool and ask about company membership deals. They'll sometimes offer discounted rates if you can bring in several new members in one go, meaning that your staff will benefit from much cheaper membership than if they joined up by themselves.
19. Host a games night
Pretty much everyone has played a few rounds of Tetris or Street Fighter at some point, and even those who haven't are capable of button-mashing their way to victory, so put that break room of yours to use and host a video game tournament after work.
Games nights are a cheap and easy way to bring your staff together. Throw in some snacks, drinks, and maybe a prize for the grand champion, and it's hard not to have fun, whether or not you're a gamer. Check out my post on video games that staff can play together over on Medium if you're in need of a little inspiration.
Don't forget board games, either!
20. Encourage workspace personalisation
There's nothing unusual about people bringing in their own mugs or the odd novelty stress ball, but asking staff to spend some time tweaking their setup will help them feel at home. Make this a part of your onboarding process by requiring all employees to bring in at least two items of their own — they'll get a kick out of it and you'll get a peek into their private life.
21. Get some plants
Plants don't just make the place look nicer — they clean the air, reduce noise levels and have a proven calming effect on staff.
Here at RotaCloud, we have a whole host of houseplants dotted around the office, from cacti and chilli plants to aloe vera and venus fly traps. Different people look after different plants, taking care to water them and make sure they don't get too much direct sunlight. Our plants have become such a big hit, in fact, that some of us have started getting quite competitive about the condition of our greenery...
22. Set up an employee referral program
We value the recommendations of our friends and family members far more than anything a commercial message tells us. The same is true at work, with managers more likely to go with a candidate if they're recommended to them by an existing member of staff.
By setting up an employee referral program, not only could your business benefit from shorter recruitment processes, but your existing staff will feel like a more integral part of the company and be more likely to stick around.
23. Invest in a proper coffee machine
They don't come cheap, admittedly, but purchasing a decent coffee machine for your office is bound to please a lot of people.
It'll also get your staff to work earlier as they won't be tempted to stop off at Starbucks or Costa for their morning caffeine fix, and know that there's always a fresh cup of joe awaiting them at work!
Coffee pods are no friend to the environment, so it's better (and cheaper) to choose a model that grinds beans rather than uses pods. Plus, your green-fingered staff can take the valuable coffee grounds as fertiliser for their gardens.
24. Ask for ideas beyond your department
When you're making a company decision, big or small, it's sometimes helpful to gain a perspective from a fresh pair of eyes. Short of ideas for your next seasonal marketing campaign? Unsure which of your new logo designs work best? Ask employees who aren't directly involved in these areas of your business.
You might just be surprised at the quality of responses you receive!
Afterwards, be sure to thank employees for their contributions and mention specific staff who provided particularly valuable feedback.
This approach goes a long way to building a more open, transparent culture at your company. It also breaks down barriers between departments and helps all employees feel invested (and involved) in the direction of the company.
25. Celebrate staff anniversaries
You might be keeping track of your staff's birthdays, but do you know when they joined your company?
Take the time to thank your staff on the anniversary of their employment and show your appreciation for what they've achieved during their time with you. This could be as simple as an email or a post-it note or as elaborate as a card and a cupcake awaiting them on their desk in the morning — it's just nice to know that your boss appreciates you!
26. Reward long-serving staff
There are some employment anniversaries, however, that require a little more celebration.
High levels of staff turnover can break a business, so it's important to celebrate the people who stick around for a while.
Push the boat out for those team members who have been with the company for five, 10 or 15 years and reward them with a special gift. Treat them to a meal out, a trip to a health spa, or perhaps a small bonus. If you're feeling extra generous, you could even grant them a sabbatical of sorts, giving them a couple of weeks off to spend time with their family.
27. Start a cycle-to-work scheme
Cycle-to-work schemes are a UK Government initiative that aims to reduce pollution in urban areas while promoting a healthier lifestyle in salaried employees. A non-taxable loan scheme, the schemes make buying a bike and equipment far more affordable for staff and can make a big difference to their lives.
Even if only a handful of your people actually take you up on the offer, cycle-to-work schemes are always worth bragging about on your company website and when recruiting, so get involved and show your current and future employees that you care about their wellbeing.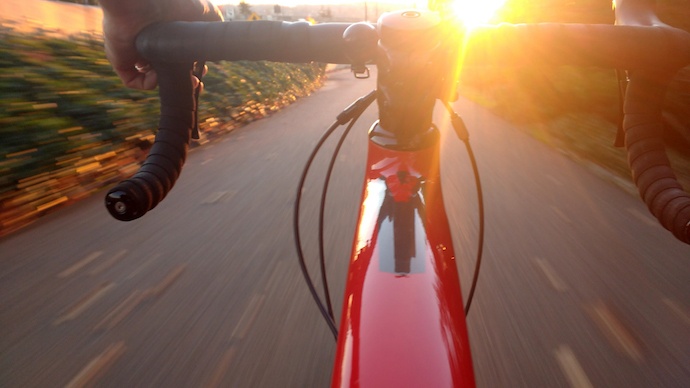 28. Quality company merch
Everybody loves a bit of free company merch, but why stop at boring old mouse pads and paperweights?
Invest in some fun and interesting items that your staff won't be embarrassed to use outside of work. There are dozens of websites where you can order a wide variety of goods, from umbrellas to hoodies to tote bags with your company's logo emblazoned on them, so think outside the box and have a treat your staff to some cool stuff that only employees can get their hands on.
29. Regular face-time
Our last tip might not be quite as fun as the others, but it's probably one of the most beneficial things you can do for your staff.
Taking the time to catch up with the members of your team will mean a great deal to them. Annual appraisals are one thing, but sitting down for a one-to-one chat every few months will allow you to nip problems in the bud, as well as help you identify candidates for promotion and those who would benefit from additional training.
There are few things worse than a boss who is distant or who fails to take an active role in getting the most out of their people. Keep your people close and make time just for them on a regular basis — it won't go unappreciated.
---
Be sure to leave us a comment if there's a great perk that you think we're missing or that has proved popular at your company or workplace!
Management advice & insights, straight to your inbox.
Enjoying the RotaCloud blog? Tell us your email address and we'll be in touch whenever we publish a new blog.
---
---