Essential cloud-based software for hybrid working teams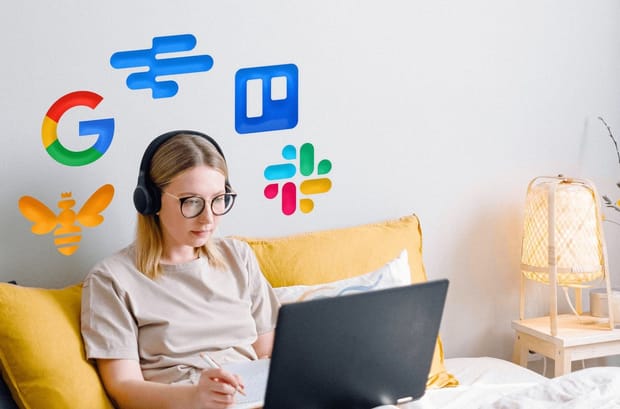 Whether you love the flexibility that hybrid working brings or miss the days when the whole team worked from the office from Monday to Friday, it looks like hybrid working is here to stay for a long while yet.
For managers especially, hybrid working is not without its challenges. Keeping track of your staff (Is Jeff coming in today? Did Emma say she was working from home this morning?) and ensuring that communication doesn't suffer can be a real struggle.
The good news is, with the right software in place, hybrid working is not only achievable, but can actually be a more productive way of working than gathering everyone together in the office.
Today, we're talking about the cloud-based software that we — a team of 50 who were once completely office-based — use on a daily basis and that we think no hybrid-working team should be without.
---
Why cloud-based?
Before we delve into our top picks for hybrid-working teams, we should talk briefly about cloud-based software in general and why it's so beneficial to businesses.
Unlike "traditional" software, which requires downloading and installing enormous files and programs onto your employees' computers, cloud-based software can be accessed and used anywhere you have an internet connection, often with nothing to install.
Not only does this make it quicker and easier to roll out, but also means that your team, whether they're in the office or at home, can easily access their documents and files — and collaborate on them without having to create and share duplicates.
Now, on to our top software picks for hybrid-working teams…
1. Slack

What it is
Slack is a workplace chat app that lets teams communicate via their computers and smartphones.
Why you need it
We've used Slack at RotaCloud ever since our startup days and we absolutely love it. In fact, it's hard to imagine our company without it!
Unlike email, where conversations can take days to unfold and important messages easily get buried in inboxes, conversations on Slack are lightning-fast and can be held in a variety of ways.
Combining direct messaging, group chat, voice and video calling and more, Slack allows teams to communicate as if they were sitting right next to each other in the office, making it ideal for teams who are working fully remotely or have members who come in only occasionally.

Conversations are clear and easy to follow, and with customisable "channels" for every group, project, or conversation, team members can easily stay in the loop without having to wade through long email chains to see if there's anything relevant to them.
Add to that the fact that staff can share their screens with one another (no more attaching screenshots to emails!) and you have a tool that's absolutely perfect for teams who are working remotely.
Key features
Text-based messaging (private and groups)
Voice & video calls
Channels
File sharing
Integrations with other apps (Google Docs, Calendar etc)
Desktop and mobile apps (or use via your web browser)
Plans to suit every budget (including a free option!)
2. Trello

What it is
A cloud-based project management tool for teams, Trello makes it easy to track progress and stay organised when working remotely.
Why you need it
Spreadsheets are great, but when it comes to project management, teams need something a bit more visual. That's where Trello comes in.
There's no coding or Excel-style formulas to remember here — just clear, customisable columns known as "lists", each containing cards representing tasks. Cards can be expanded by clicking on them, revealing comments from the staff (and their managers) who are working on that particular project, keeping each other up to date or asking questions.
Users can tag one another in comments when they need to draw someone's attention to something in particular, and Trello will automatically notify that person, stacking up a list of any unread notifications in the top-right corner for catching up with later.
Managers can also set due dates, add coloured labels to cards to denote topics, themes, or importance, and even set custom permissions — such as who can access a particular board and how.
Trello helps staff get things done and lets their managers see at a glance where projects are up to — without having to poster their teams for updates. It's incredibly user-friendly and, since it's cloud-based, can be accessed from anywhere.
Key features
Simple, drag-and-drop interface
Create lists to show project progress
Set deadlines and create checklists
Colour-code for clarity
Attach and share files
Flexible user permissions
Free and paid plans available
3. RotaCloud

What it is
RotaCloud is cloud-based workforce management software that combines staff scheduling, clocking in, leave management, and more.
Why you need it
Back when everyone came into the office, it was easy enough to know who was 'in' and who wasn't — you simply had to take a quick scan of the room.

Today, with staff working from home on some days, coming in the next, or sometimes working entirely remotely, keeping track of your team can be a massive headache.
With RotaCloud, staff clock in and out of their shifts using their mobile phones. Employees' clock-in locations are shown on a map for their managers to see, while staff who come into the office can clock in using a fixed terminal.
Clocking in from home might seem odd, but our team have found that this helps them manage their time better, enabling them to effortlessly communicate that they've started work for the day as they clock in, and draw a line under their day as they clock out.
If you have staff who come in only occasionally, or if desk space in your office is limited due to social distancing, then RotaCloud's Rota Planner also comes in handy. With it, managers can easily create rotas for their team, delivered direct to employees' smartphones or email inboxes, so they'll always know who's in and who's working from home.
Finally, staff can use their RotaCloud account to do things like request time off (no more emails or memos on the boss' desk!) and keep track of their remaining annual leave without having to pester their manager. Win-win!
Key features
Clock in and out of shifts, on-site or off
GPS restrictions and clock-in records
Drag & drop rota planning
Manage holiday requests via the app
Automatic timesheets show the hours your team worked
Online document storage
Flexible pricing
4. Google Workplace

What it is
A cloud-based software package from software giants Google, comprising word processing, spreadsheets, presentation software, email, document storage, video conferencing and more.
Why you need it
Google Workplace allows teams to perform pretty much any work-related task from anywhere in the world, without downloading a thing.
Documents can be created, shared, and collaborated on in real-time by multiple team members at once, with comments added, sections highlighted, and tweaks to text accepted, rejected, or reverted to with a single click.
Of course, because all of this takes place online, there's no emailing of documents required. Nor are there ever conflicting versions or instances of files getting corrupted or lost on employees' hard drives.
From a data security perspective, too, Workplace has got your business covered. Since everything is stored online rather than on local drives, you can be confident that a staff laptop getting lost, damaged, or stolen, shouldn't result in important data being lost.
Finally, Meet — Google's take on Zoom — is a powerful, easy-to-use video conferencing solution for teams working remotely. Calls are securely hosted, with a variety of user permissions to prevent anyone from outside your team joining or listening to your conversations.
For hybrid-working teams, Google Workplace really is the whole package.
Key features
Docs (word processing)
Sheets (spreadsheets)
Slides (presentation software)
Calendar
Drive (personal and shared online file storage)
Gmail (email)
Meet (video conferencing)
Real-time collaboration
Flexible user permissions and file-sharing options
5. Kandji

What it is
Kandji is remote device-management software for teams who use Apple hardware (macOS, iOS, iPadOS, and tvOS) for work.
Why you need it
This is easily the most niche of all our suggestions today, but if your team use Apple devices for work, then we can't recommend Kandji enough.
When staff take hardware home with them for work purposes, businesses immediately open themselves up to risk. What's to stop your staff downloading unauthorised apps on their laptops? What about third-party browser extensions that might infect the machine and risk important client data?

Sure, your resident tech wizard could just put a total block on installing absolutely anything without your permission. But when a remote-working employee needs access to a particular app to do their job, or there's an important software update they urgently need but that requires an admin password to install, then you run into problems.
Kandji allows business owners to create profiles, known as "blueprints", for different types of employees based on their roles and responsibilities, giving them access to a self-service portal containing all of the manager-approved apps and services that they might conceivably need to do their job. If staff need access to a different app, they get in touch with their manager and their manager adds it to their portal, ready for install. Simple.
Important updates are allowed through automatically, too, so staff don't need to pester their boss for permission or admin passwords, while potentially dangerous user behaviour (for example, accidentally turning off security features like firewalls) are both prevented and logged.
In a nutshell, Kandji allows business owners to manage their remote-working employees' devices without being so restrictive that it makes their workday miserable. It also gives less tech-savvy staff the reassurance they need that they can't accidentally delete something that they shouldn't from their company laptop.
Key features
Easy, remote installation
Self-service tools for staff
Customisable user permissions
Installation notifications & records for admins
Wrap-up
With the right software in place, switching your team to a hybrid, or even fully remote work model shouldn't result in any loss of productivity or company culture. In fact, it could actually be preferable to having everyone come into the office every single day of the year.
Like so many businesses, at the start of the pandemic we at RotaCloud switched from being entirely office-based to letting our team work from pretty much anywhere. Cloud-based software played a huge role in this, letting us work, communicate, and collaborate just as easily from our home offices as when we're working from RotaCloud HQ — without any risk to customer or company data.
As a result, the software that we've recommended today isn't just tried and tested — it's become the backbone of our business, and we couldn't imagine working without it.
Drop us a line if you have any questions about how our own cloud-based scheduling and attendance software works and how it could benefit your business — we're always here to chat!
Management advice & insights, straight to your inbox.
Enjoying the RotaCloud blog? Tell us your email address and we'll be in touch whenever we publish a new blog.
---
---