Employee Motivation During Christmas: A Tale of Two Sectors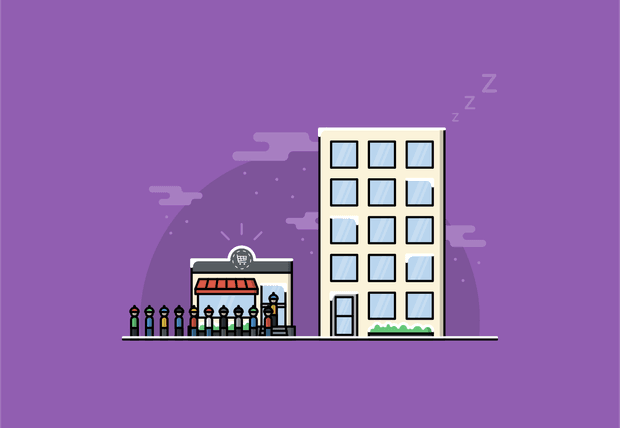 At Christmas, the average retail store looks very different to the average office.
While one sector practically hibernates during late December, the other is facing its busiest period of the year.
Staff motivation is difficult in both these situations. Bored office workers might envy the busyness of retail at this time of year, while retail workers would definitely prefer to be bored!
The usual staff management rules are unlikely to apply in these situations - so how should you motivate employees in these two sectors over Christmas?

Retail
To say that your store is hectic is an understatement.
At the height of the Christmas shopping season and during the Boxing Day sales, it's all hands on deck.
This period is critical to your business so you can't afford to make a mistake.
You also can't afford for staff to be unmotivated or lazy.
There's no single motivator that works for everyone. As a manager, you need to figure out what makes individual staff tick. That's not easy - particularly when you're managing temporary Christmas staff.
If you're stuck, apply these general rules to help motivate your retail employees over the Christmas period:
Understand that burnout occurs and empathise with front-line staff. Productivity plummets when employees are stressed or exhausted. Ensure that employees understand that it's OK to take a day off if they're overloaded. If they feel under pressure to work while stressed, they will - bringing the rest of the team down with them.
Get stuck in. Although managers must always work to coordinate employees and solve problems, during the busiest periods it never hurts to get stuck in and help your staff at the tills. Your front-line employees will be pleased that you're on their side and willing to put in hard work to help them out.
Allow employees frequent breaks. This one's a little trickier - when the shop floor is working at capacity, a five-minute break every couple of hours can seem like a luxury you can't afford. However, a five-minute breather can refresh employees and give them a boost. These breaks only work if everyone takes them - otherwise employees who don't stop working will resent those who take their breaks even when it's very busy.
Deal with rude customers. In a stressful retail environment, a customer who is being unreasonably angry or difficult can be the final straw for many employees. Managers should stand up for employees who are being unfairly berated by a customer instead of parroting 'the customer is always right'.
Recognise hard work. Even if your management style isn't known for being friendly, during the busiest part of the year it's wise to make an exception and recognise the efforts of your employees. Recognition can be as simple as a 'thank you', a quick email or note, or a stash of chocolate in the break room. You should also recognise staff if and when they reach certain sales targets.
Consider offering employee benefits during the new year. You might not be able to let staff take paid leave during the Boxing Day sales, but you could offer to carry over any outstanding leave to the new year - if head office approves. You might also offer flexitime, pay rises or bonuses, and additional staff discounts. This'll help employees see the light at the end of the tunnel!
It's never going to be pleasant to work in retail over Christmas, but by managing your employees fairly and supporting struggling staff, you can help motivate them during this stressful period.
Offices
In stark contrast, most office workers will be expecting Christmas to be very quiet. A good proportion of the workforce will be on annual leave, the sales team doesn't have much work to do, and clients are also winding down for Christmas.
For the employees remaining in the office, productivity is at an all-time low. In fact, 43% of employees admit that they 'switch off' for Christmas by the third week in December.
These employees might have lost the annual race to take time off immediately before Christmas. They might be missing out on Christmas with their family so that they can keep things on track during December.
In other words, few employees want to be in the office around Christmas.
Often the Christmas music, decorations and Christmas jumper days make things worse - the office festivities are a constant reminder to employees that they'd rather be celebrating somewhere else.
To motivate the employees who are on duty during the festive period, try the following approaches:
Relax rules. Take your dress code down a notch. Let employees be flexible with their hours. Allow for longer lunches. Suggest that employees take occasional early finishes or start late tomorrow. These small changes will go some way to making disgruntled employees more content with being at work.
Find out if staff want to be paid early. Don't just assume that staff want their December pay to come earlier than usual. Some employees may prefer to stick to the usual schedule to help with budgeting. Ask, and see which options your employees like best. This small gesture shows employees that their employer is willing to listen to them.
Evaluate the current year and plans for next year. Use this slow period to look back at your team's achievements and set targets for next year. By making the most of this downtime you'll ensure employees feel a sense of accomplishment for this year's work, and also set their focus for next year.
Work on non-essential projects. The routine office tasks aren't very appealing over the festive period, and as it's so quiet you don't have enough work to fill your time. It's the perfect moment to start work on those projects you've always been putting off because they're non-essential. These tasks will provide welcome variety to your employees' work days.
Offer learning and training opportunities. Let staff dedicate a couple of hours each day to teaching themselves a new skill. Alternatively, implement a work shadowing or job swap program to improve the flexibility of your workforce in the long term while providing a helpful change of pace for your staff.
Above all, managers should be willing to accept that employees aren't going to be as productive over Christmas as they usually are.
However, your approach to keeping staff (reasonably) productive should be through inspiring motivation rather than acting the taskmaster.
Final Thoughts
Motivating employees is a challenge at the best of times, but over Christmas it can seem impossible to keep your employees invested in your business. Either they're overwhelmed with work, or they're twiddling their thumbs and counting down the minutes until 5 pm.
By switching your management style and making a few changes to how your business operates over the festive period, you might just be able to keep staff motivated.
Management advice & insights, straight to your inbox.
Enjoying the RotaCloud blog? Tell us your email address and we'll be in touch whenever we publish a new blog.
---
---