Introducing The Employee Lateness Alarm™  (Happy April Fools' Day!)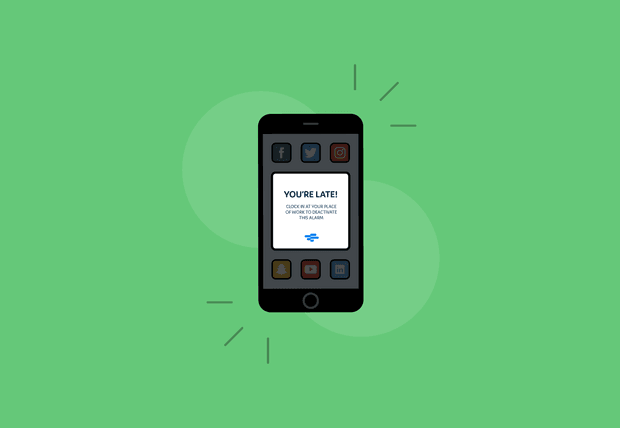 Sick of your staff showing up late for work? Wish you had some way of guaranteeing that your team turn up on time?
We've got just the thing!
The Employee Lateness Alarm™ is an exciting new feature for RotaCloud's Time & Attendance tool that's sure to get even your laziest staff to work on time, every time.
Impossible to Ignore!
The Employee Lateness Alarm™ is a powerful new tool built by RotaCloud's top computer boffins with one simple goal in mind: getting people to work on time.
It's designed to deter employees from coming in late by sounding an ear-splitting alarm on their smartphones the moment their shift starts and they have yet to clock in.
Whether they're tucked up in bed, casually slurping on a cappuccino in Costa, or chilling at the back of the bus, the Employee Lateness Alarm™ will tell your employee — and everyone within a 20-foot radius — that they're late for work.
Better yet, the alarm can't be switched off, and will even lock the employee's smartphone screen until they finally show up!
Finally, a terrifying, impossible-to-ignore incentive to be on time.
Dozens of Horrible Sounds!
RotaCloud account administrators can activate the Employee Lateness Alarm™ by heading into their account settings, clicking on 'Time & Attendance' and selecting 'ELA' from the menu.
From there, you can decide whether to turn the alarm on for all employees, or select just those who have a habit of turning up late. The next time they fail to arrive in time for their shift, the alarm will sound — and won't stop until they clock in!
As an added bonus, we've included a variety of horrendous alarm sounds to choose from.
Here's just a small sample of what's available:
A quick-march rhythm with accompanying whistle:
A horrendous air horn:
A perpetually bleating sheep:
A Cinderella-style clock chime:
The dulcet tones of a 1980s fax machine:
A constantly bellowing fog horn:
Headache-inducing roadworks:
A blaring siren:
And many more!
You know your staff better than we do, so be sure to choose an alarm that will really get them moving!
Try it Today!
The best news is, this fantastic new feature comes at no additional cost whatsoever and launches today, April 1st.
Consider it a gift from RotaCloud to you, the hardworking small business owner who has had it up to — HERE — with staff turning up late.
Enjoy!
Love,
The RotaCloud Team
Management advice & insights, straight to your inbox.
Enjoying the RotaCloud blog? Tell us your email address and we'll be in touch whenever we publish a new blog.
---
---