Free job offer letter template for businesses
New to the recruitment process? Need some help writing a formal job offer letter? Download our free template and present your business in the best possible light.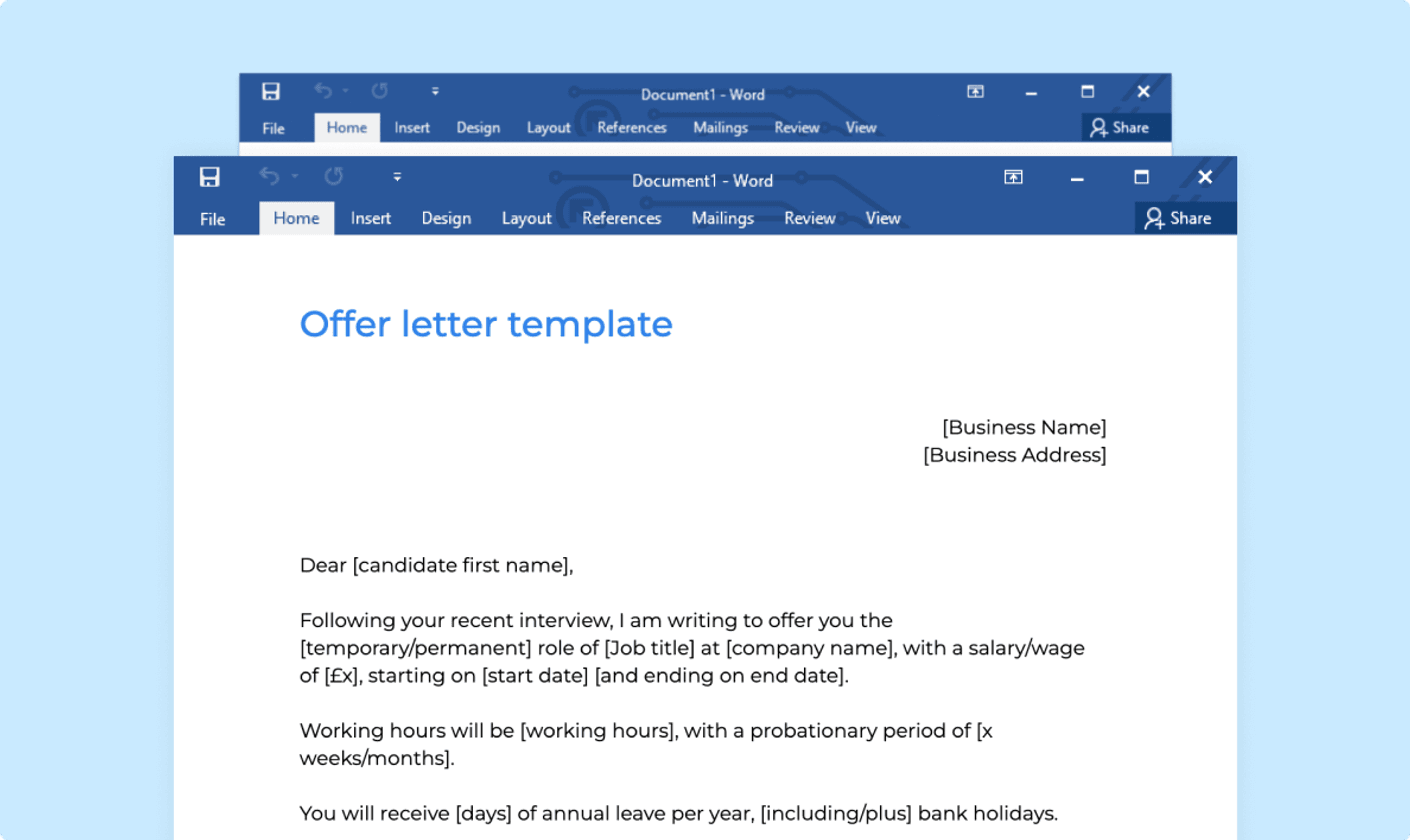 What is a job offer letter?
A job offer letter (sometimes called an employment offer letter) is exactly what it sounds like — a document addressed to an individual, formally offering them a job.
But there's a good reason why employers need to take extra care when writing them.
Once a job offer is formally accepted by a candidate (usually in writing), the job offer letter itself forms part of a legally binding agreement between a business or organisation and their soon-to-be employee. For this reason, it's vital that any job offer letters or emails you write are clear, unambiguous, and include all the relevant information.
It's also worth mentioning that verbal job offers can be binding in the exact same way. There's currently no legal requirement for employers to provide a formal job offer letter, but best practice is to follow up any verbal job offers you make with a written one so that the details can't be contested by either party afterwards.
How to write a job offer letter
There's no set criteria for the things that must be included in a formal employment offer letter, and yours may vary depending on the nature of your business.
Even so, the following is a good place to start:
The name of your business
The position/job title being offered
The type of employment (full/part time; hybrid working etc)
The employee's responsibilities
The salary per annum or per hour (before tax)
Any bonuses and when these are paid
The number of days' annual leave
Work schedule and employment type
A mention of any conditions and probationary periods
A deadline for responding to the offer
Don't worry — we've included most of these in our free job offer letter template, which is easy to edit. Use the download button at the top of this page to access this sample letter in docx format, which is compatible with Microsoft Word and Pages for Mac.
You might also choose to include additional details in your letter such as the number of sick days you offer, how part-time workers accrue leave, and any employee benefits your company offers, but these more commonly appear in employment contracts than in employment offer letters themselves.
Questions & answers about this free resource
Who can use this job offer letter template?
This template is intended primarily for managers and business owners, and can be used for making offers of both full-time and part-time employment. It can be sent to applicants as an email attachment or printed out and sent by post.
Can I open this offer letter template work on a Mac?
Yes. The template has been saved as a "docx" document, so it's compatible with the majority of Mac and Windows-based word processing software.
Once you've downloaded and opened the file, it can be edited in the usual way. Some fonts may appear slightly differently depending on the device and software you use to open the template, but all of these can be customised to meet your personal preferences.
Is this job offer template free to download?
Absolutely. This is a completely free resource for managers and business owners — there's no need to sign up for anything or give us your contact details to access it. You're also free to make as many copies of this template as you like.
Why are you giving this resource away for free?
Helping people managers is what we do. At RotaCloud, we build tools and software that help managers organise their teams, simplify their admin processes, and leave them with more time to focus on their business.
Check some of our other free resources.