Q&A: Retail Expert Debbie Hauss on Using Technology to Achieve Customer Service Excellence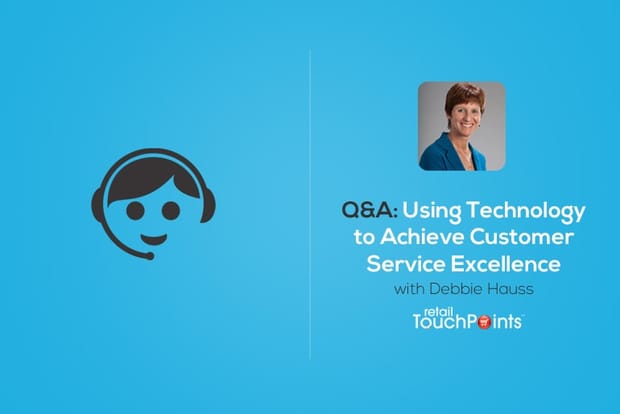 Social media and mobile technology have turned customer service on its head.
More and more customers are turning to social channels to pose their questions, report satisfaction and voice their complaints.
This public platform presents a great challenge, but also a great opportunity, for retailers to address issues while increasing customer loyalty and driving sales.
I asked retail expert and Editor-in-Chief of retailtouchpoints.com, Debbie Hauss, about current trends in the retail industry and how recent technological advances have affected the way companies operate. Here's what she had to say:
Q: Firstly, tell us a little about Retail TouchPoints. When did it start and who is it for?
A: Retail TouchPoints was launched in 2007 as the go-to digital resource covering the customer-facing aspects of retail. We post fresh, original content every day focusing on the latest retail trends and insights.
We also publish exclusive survey reports, features, case studies and special reports regularly. We have four awards programs during the year and we are hosting the Retail Innovation Conference in June 2015 in New York City. Today the Retail TouchPoints weekly newsletter is delivered to more than 30,000 retail executives.
Q: What do you feel makes the site stand out from others?
A: First, our combined experience covering the retail industry is unmatched. We are dedicated to producing fresh, original content with unique perspectives to help all retail organisations improve their businesses. Second, our redesigned site (as of February 2014) offers easy access to multi-media content in a graphically pleasing way.
Q: What are some of the current hot topics in the retail industry?
A: Here are some buzzwords: Beacons, Omnichannel, Digital, Security Breaches, Mobile Payment, Mobile Commerce, Inventory Fulfilment, Dynamic Pricing, Analytics, Personalisation, Location-Based Technologies.
Q: You often write about mobile and social media - how have these modern technologies affected the delivery and quality of customer service?
A:Both mobile technologies and social channels continue to significantly impact the way retailers do business. Retail organisations are constantly striving to improve their ability to interact with shoppers at every touch point. You'll see more implementations of mobile technology in-store to improve associate-shopper interactions, product information and tracking, and mobile payment.
Retailers know they need to be in the conversation with shoppers via social channels and most are implementing social communications strategies. But social commerce is another challenge that continues to baffle the retail industry. Facebook's initial foray into commerce was arguably a failure. Will Twitter commerce succeed? We're watching!
Q: How important is customer service in retail? Why?
A:I don't think there is a generation in the history of retail that would argue that customer service is not important, but the retail tables have definitely turned regarding product choice, availability and fulfilment.
In decades past, it was a "push" culture – retailers and brands would make the decisions about which products consumers should buy. Today the customers are running the show. Therefore, retailers must be more acutely tuned into customer wants and needs in order to sustain business success moving forward.
Q: What are the most important attributes an individual needs when providing a good service?
A: Motivation. Knowledge. A good attitude. Up-to-date technology and tools. Support from the organisation.
Q: If a company wanted to improve the quality of their customer service, where should they start?
A: Start by discovering where shoppers first come into contact with the brand – it could be in the store with associates, online with the e-Commerce site, on a mobile app, or in an interaction with a social media peer.
Be sure the first impression is a good one and be committed to maintaining a positive experience throughout the entire customer journey. And don't ignore shoppers after they purchase. Be appreciative of their business and encourage them to come back!
Where can our readers find out more?
Learn more at Retail TouchPoints or on Twitter by following @RTouchPoints and @DHauss.
---
Management advice & insights, straight to your inbox.
Enjoying the RotaCloud blog? Tell us your email address and we'll be in touch whenever we publish a new blog.
---
---