The 3 Things You Need To Know To Rank Number 1 On TripAdvisor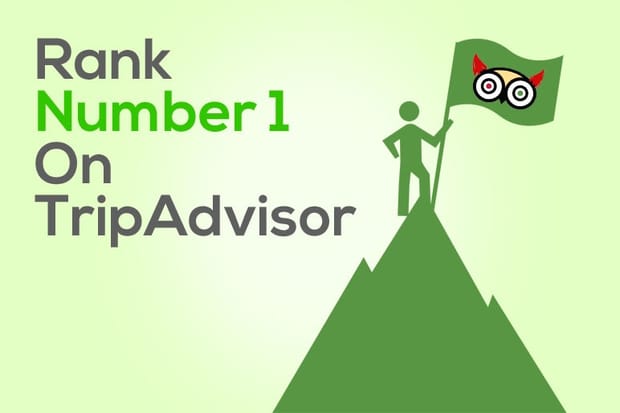 Running a restaurant is stressful. There are so many plates that need to be kept spinning (pun intended) that you rarely get chance to think about where your next customers are going to come from. Failing to market your business is a mistake made by many and is one of the reasons 60% of new restaurants don't reach their first birthday.
There are hundreds of ways to market a restaurant both online and offline. Online marketing is all about finding where your ideal customers hang out on the web and putting yourself in front of them.
One sure-fire place people are going to visit when they are searching for local restaurants is TripAdvisor. TripAdvisor is the world's largest travel site boasting an astonishing 320 million reviews. These reviews are what attracts the site's 350 million unique monthly visitors, eager to find the best eateries to visit or hotels to stay in.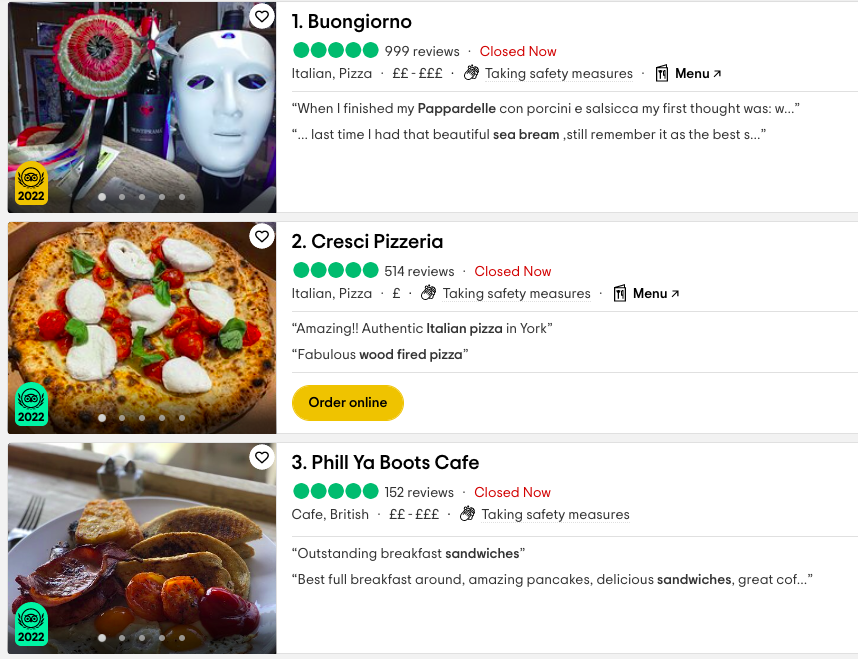 Crack the top 3 and expect a steady stream of eager hungry customers
With so many eyes on the website every minute, a high TripAdvisor ranking can be the key to reaching floods of customers, eager to try what you have to offer.
It can also be the final nail in the coffin of a struggling establishment.
Your ranking on TripAdvisor may seem completely out of your control, but with just a little effort you can soon improve your ratings and, in turn, your overall ranking for your area.
Restaurants and hotels are listed according to TripAdvisors own popularity index.
This is a special algorithm that takes into account a certain factors to sort each business in order of traveller satisfaction.
These factors are review quality, quantity and recency.
Quality - This is fairly self-explanatory: the quality of the review on a 1-5 scale. While there are ways to minimise bad reviews, the best way to improve your review quality is to improve your service and give the best customer experience you can.
Quantity - Again, this is exactly as it sounds. The more good reviews you are pulling in, the higher you will rank.
Recency - This is TripAdvisors measure of consistency. A consistently good restaurant will produce a steady stream of happy customers so getting 50 great reviews one month and only 5 in the next will cause your ranking to drop. Similarly, if your most recent reviews are all bad, TripAdvisor will see this as a reflection of your current performance and these will influence your ranking much more than hundreds of 5 star reviews 6 months ago.
So there you have it. You now know how to improve the quality of your ratings and your overall ranking. Put this into action and you could see yourself gracing the number one spot - and reaping all the benefits that come with it.
Have you tried to improve your ratings or ranking? What effect has it had on your business? Let us know in the comments below!
Management advice & insights, straight to your inbox.
Enjoying the RotaCloud blog? Tell us your email address and we'll be in touch whenever we publish a new blog.
---
---