We're officially halfway through 2023 and the months are flying by — but that doesn't mean we haven't been busy!
On the contrary, over the last six months alone RotaCloud has received a huge number of updates, improvements, and new features built to make our users' working lives simpler than ever.

Here's a roundup of everything we've added to RotaCloud this year so far.
---
Web app updates
We'll begin this roundup with all the updates we've released for the web version of RotaCloud.
If you'd rather see what's changes on our mobile app, click here to skip ahead.
Document Signing & Document Acknowledgement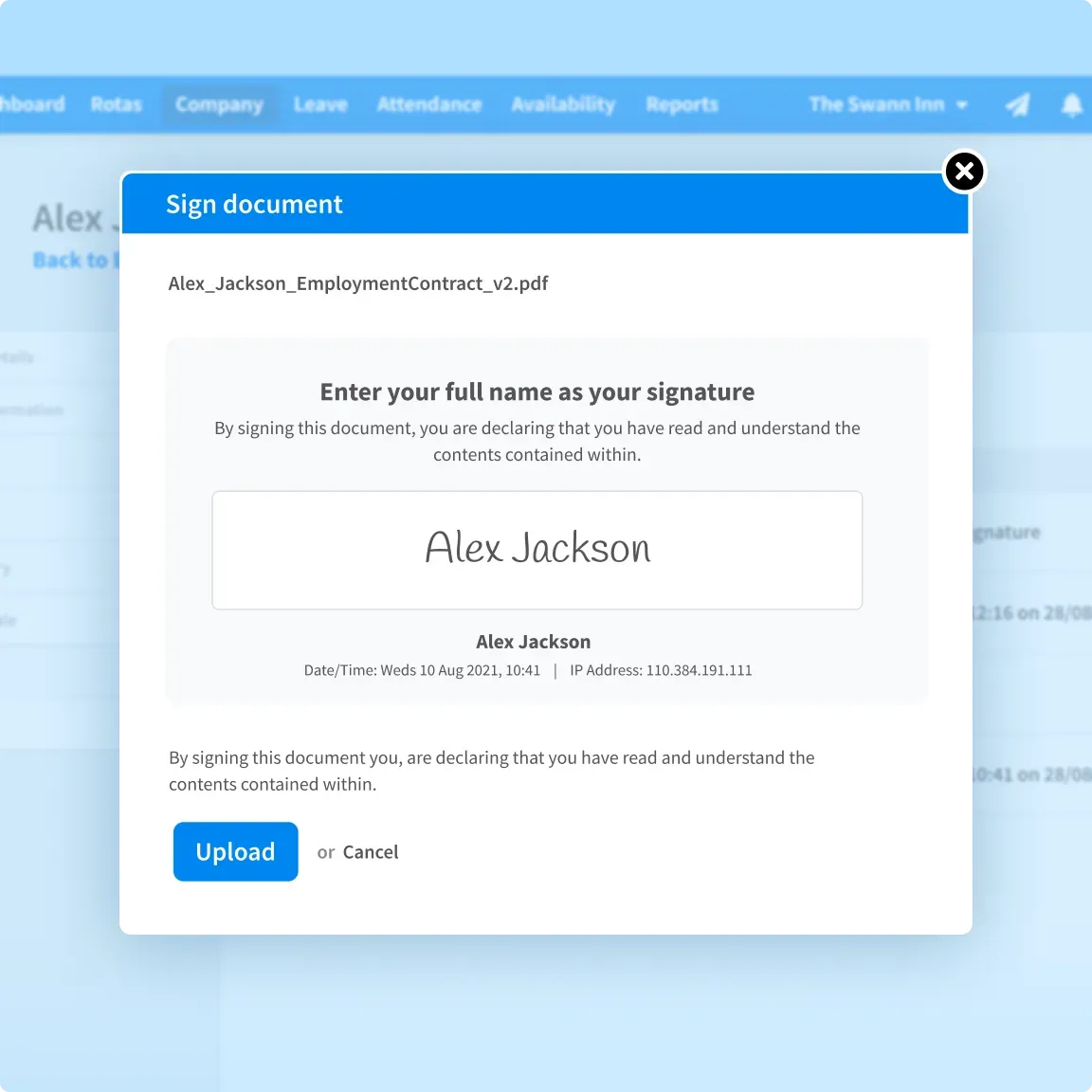 Two of this year's most well-received features come in the form of Document Signing and Document Acknowledgement.

Building on our hugely popular Document Storage feature, Document Signing allows employees to sign work-related documents digitally, without the need for print-outs or fiddly email attachments.
From now on, whenever you have a document that requires a signature, employees will receive an email containing a unique link to that document uploaded to their RotaCloud profile. After following this link, staff can quickly read and sign the document simply by typing their name — done!
Document Acknowledgement, meanwhile, provides managers with a reliable method of ensuring that important documents — for example, company-wide memos or changes to company policy — have been read by their staff, even when they don't require a signature.
It's a great way of keeping your team on the same page and ensuring that you've covered all of your legal bases.
More about Document Signing & Acknowledgement >
Improved holiday accrual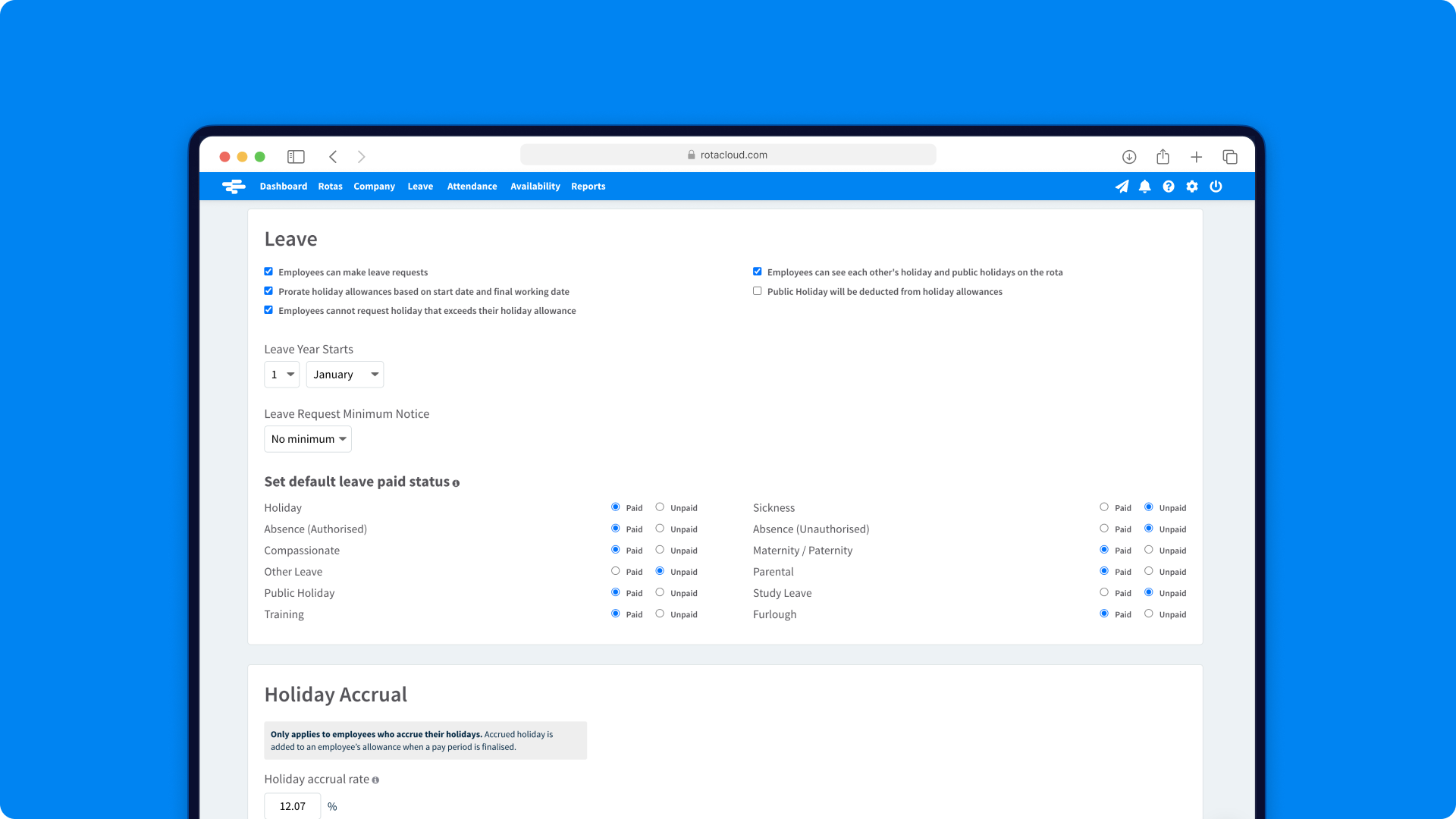 In February this year, we updated our hugely popular Holiday Accrual feature so that managers can now choose exactly which types of leave are included in their employees' holiday accrual calculations.

In addition to regular annual leave, managers can now set up their RotaCloud account so that staff can also accrue:
Sickness leave
Authorised absence
Compassionate leave
Parental leave
Training leave
With any of these additional options selected, staff who accrue their leave over time will also accrue these additional types of leave at the same time.
Explore holiday accrual in RotaCloud >
Open shift reminders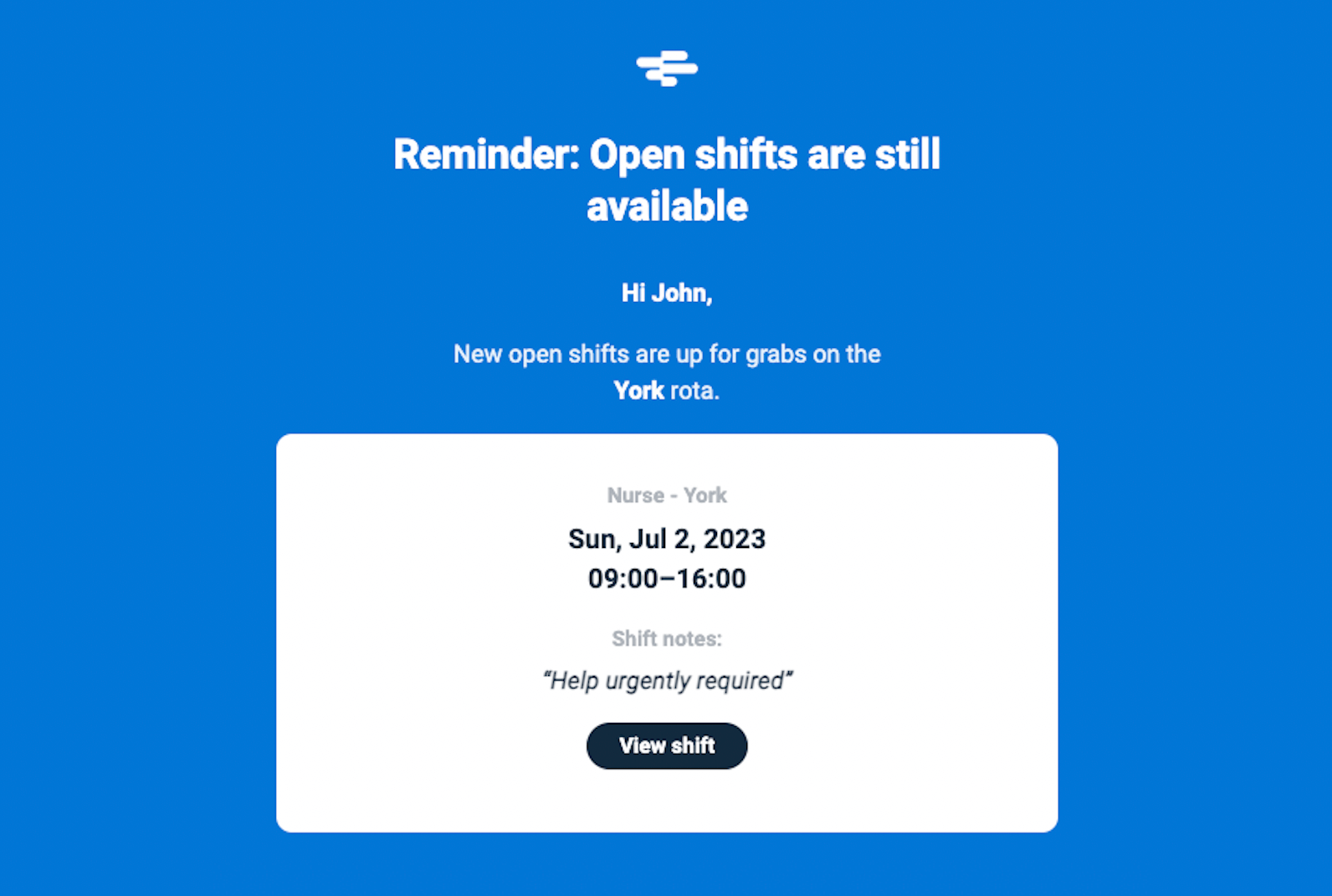 RotaCloud's Open Shifts feature lets managers publish shifts for eligible members of staff to claim on a first come, first served basis.
It's quick, it's easy, and it gives your staff the freedom to choose the shifts that work best for them.
But what if a shift goes unclaimed and falls off your team's radar?
To reduce the chances of this happening, in March this year we released an updated giving managers the option to turn on automatic open shift reminder emails, which contain a list of any open shifts that have yet to be picked up, together with links to claim them.

Reminder emails are sent only to staff who are able to claim the shifts (i.e. if they're not already scheduled to work, and they've been assigned the same role type), so there's no need to worry about spamming your team with unwanted messages.
Missed clock-out notifications for managers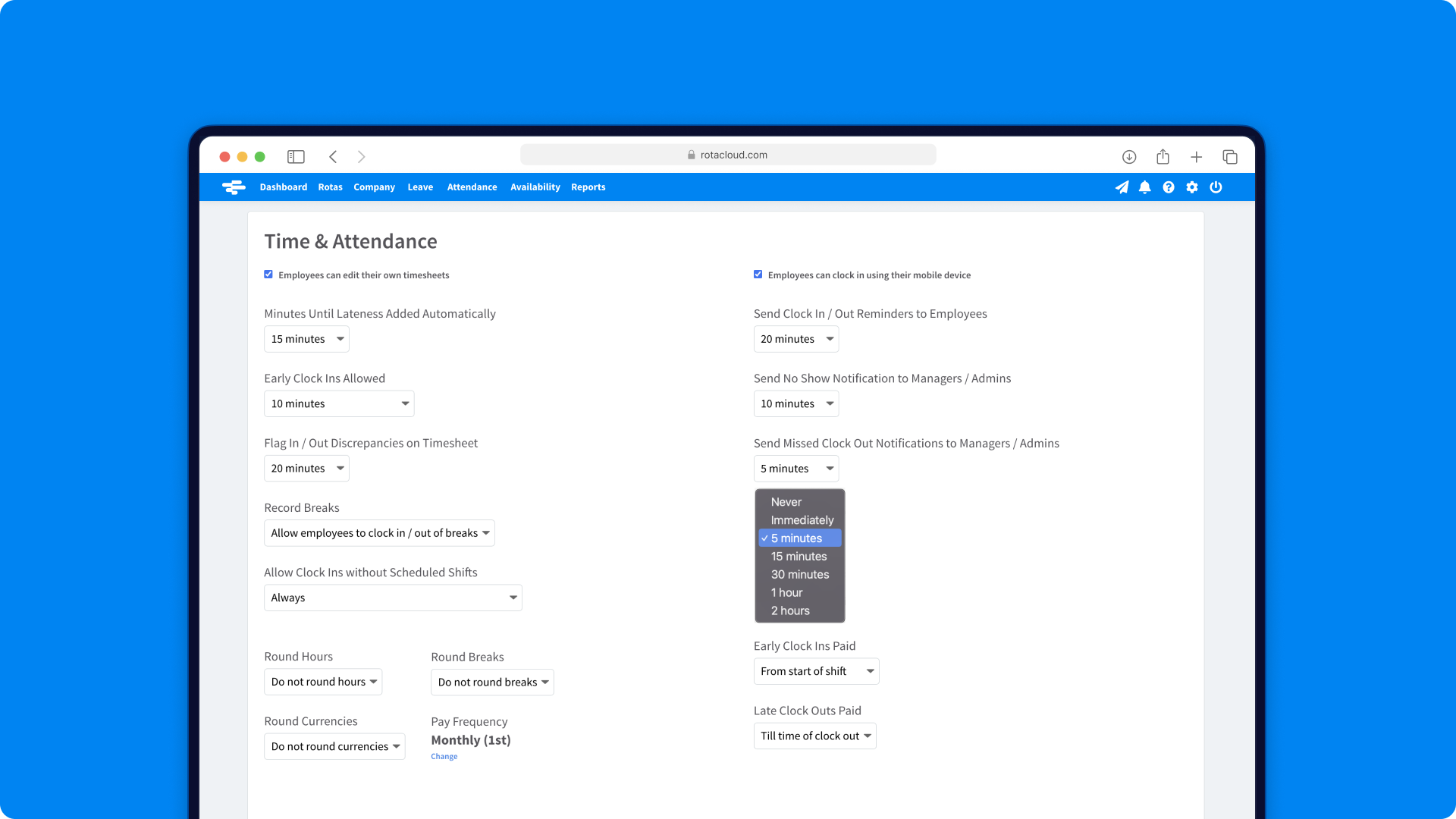 Clocking in and out with RotaCloud is easy: staff can use their own phones running the RotaCloud mobile app, or quickly tap in and out via a dedicated terminal.
Thanks to our March update, however, in the event that an employee forgets to clock out at the end of their shift, RotaCloud will now automatically send you as their manager a notification.

Managers can choose to receive these notifications immediately after the shift's scheduled end time or after a set amount of time has elapsed, ranging from five minutes to two hours, helping you keep your team's timesheets tidy and accurate.
Explore clocking in with RotaCloud >
Weekly Digest email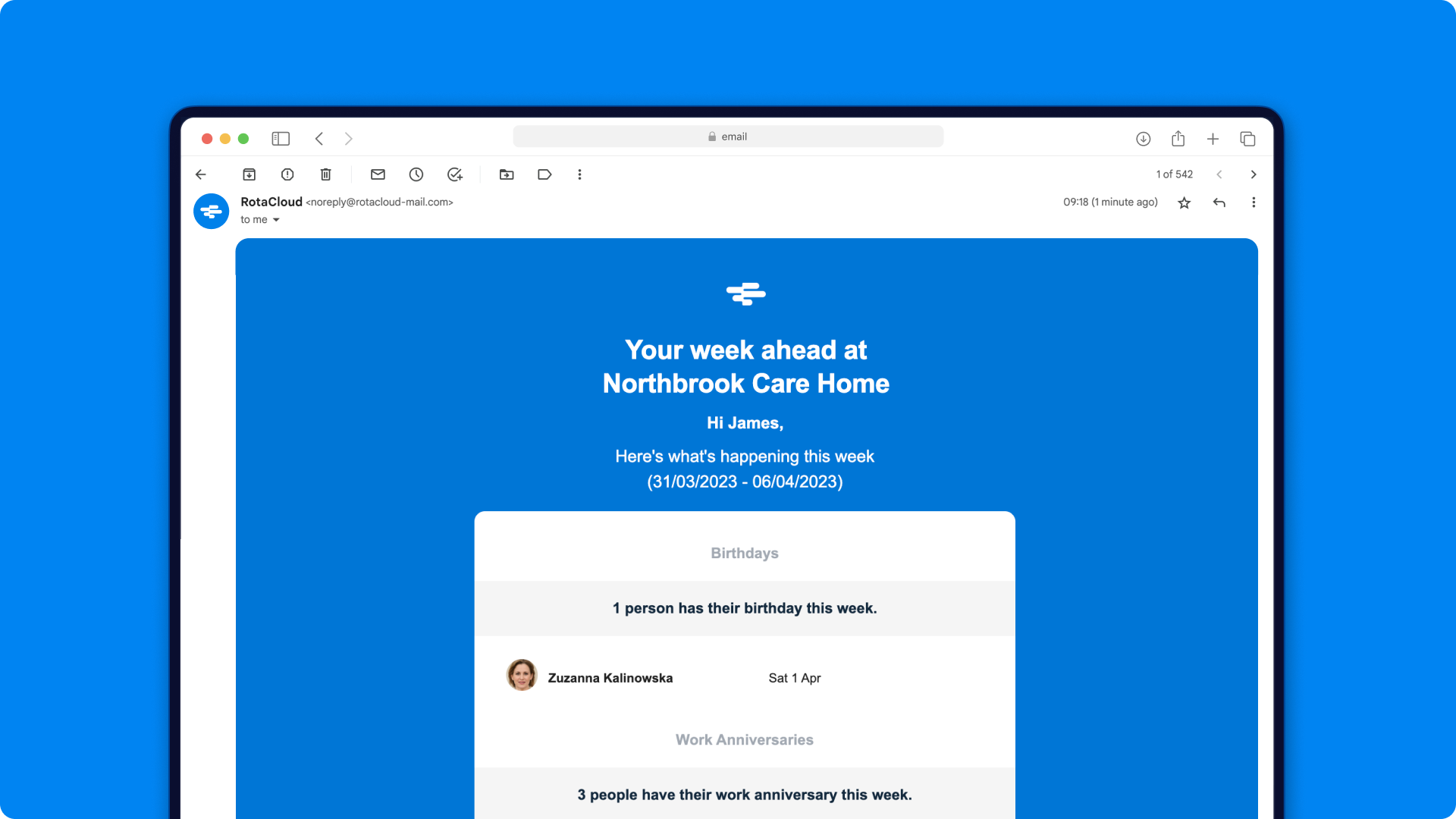 Finally for web, the new Weekly Digest email is a great way to prepare for the week ahead and keep up morale.
Sent straight to your registered email addresses, the email contains a bunch of useful information, including:
Any booked annual leave
Team members' upcoming birthdays
Work anniversaries
Anyone who's joining the team that week
Anyone who's leaving the business
The Weekly Digest email helps you start your week right, with all the information you need to keep your business firing on all cylinders.
---
Mobile updates
Since releasing our brand new mobile app at the end of 2022, we've been hard at work adding new features and more functionality.
Here's what's new on mobile this year so far.
Onboard & edit employees on mobile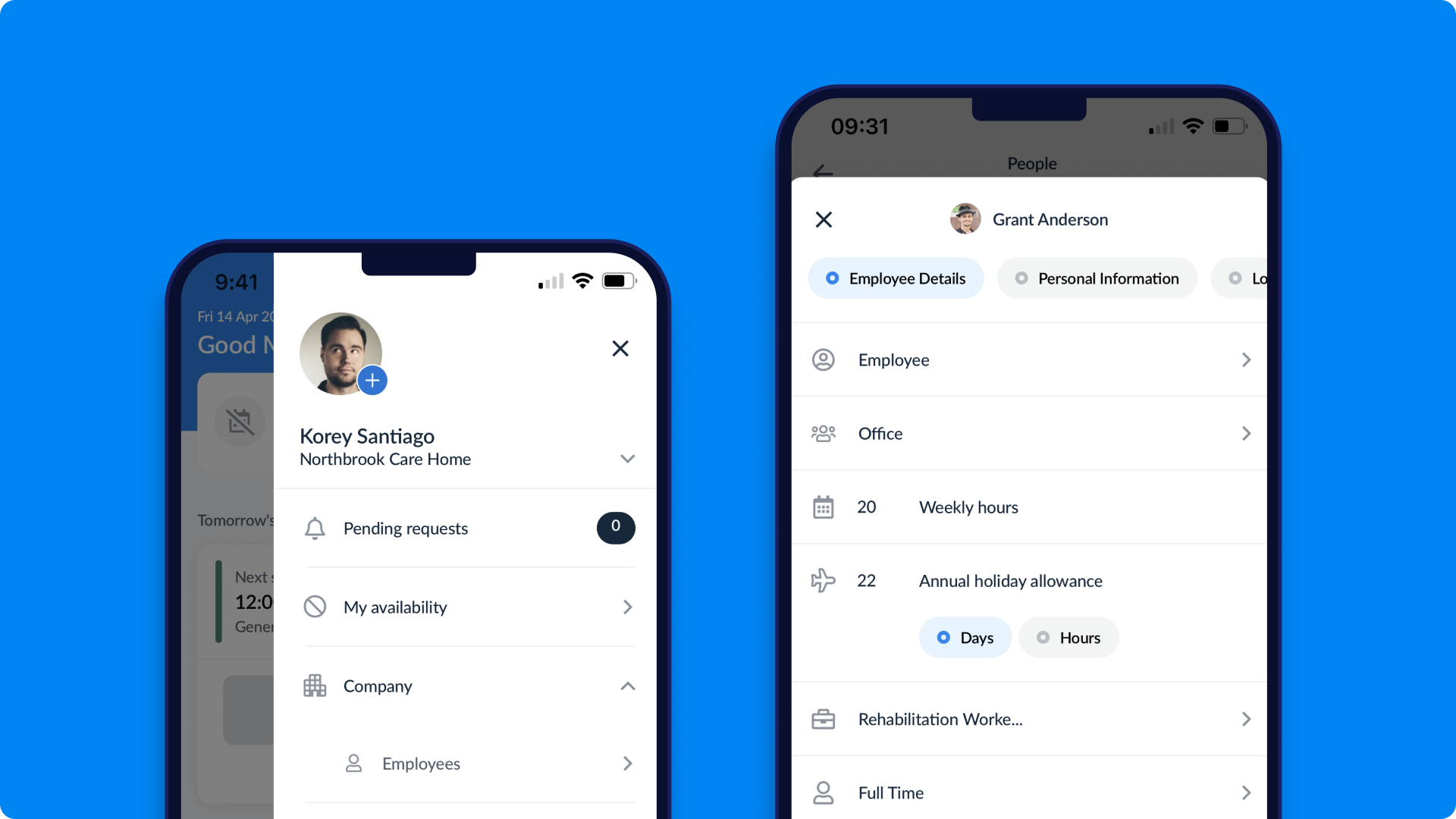 April saw a great new update for our new mobile app: the ability to add and edit employees direct from your mobile device.
It's perfect for making quick changes on the go, and makes managing your team even easier since you're no longer tied to your desk when admin strikes!
Add notes & record lateness on mobile timesheets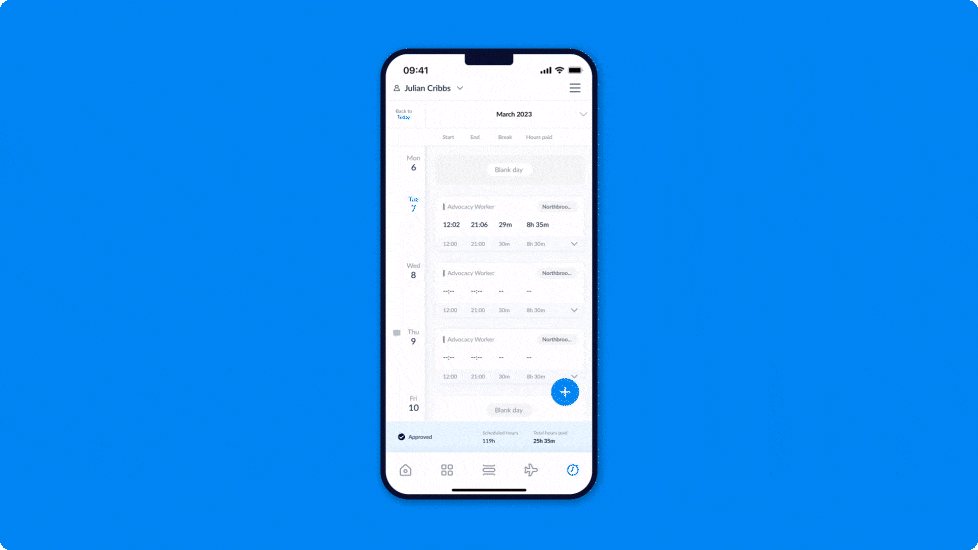 When staff clock in and out using RotaCloud, any instances of lateness are flagged automatically, helping you keep tabs on tardiness and ensure that you're paying staff the correct amount.

This new update for mobile, however, allows you to mark a shift as late — as well as add notes and explanations to timesheet records — from anywhere.
This is incredibly useful for keeping records of lateness (and the reasons for it!) while they're still fresh in your memory — removing the need to investigate at the end of the pay period.
Read more about timesheets in RotaCloud >
Add & update profile images via mobile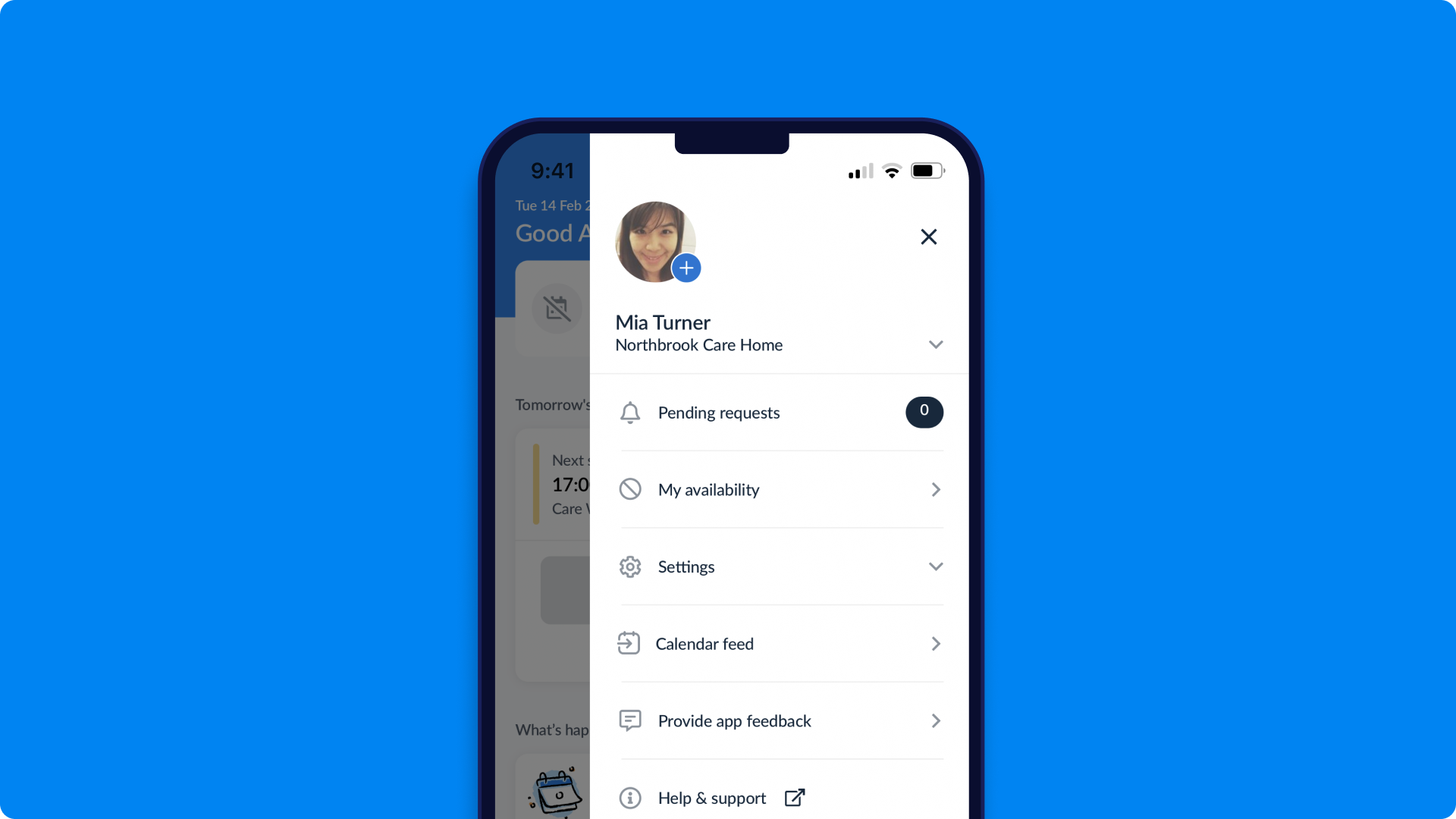 Scanning your rotas is a lot easier when everyone on the team has a profile image attached to their name, so we've made it even easier to upload one.
Whereas previously staff were required to log in to the web version of RotaCloud to add or change their profile image, users can now do this directly via the RotaCloud mobile app with a few quick taps.
Time to warm up that selfie camera!
Mobile calendar feed
In order to provide our users with an even greater level of accessibility and oversight, we've added the ability to sync your shifts on RotaCloud to your favourite calendar app.
With this option enabled, shifts will also appear in your Google Calendar, Outlook Calendar, or Apple Calendar — and they'll be updated if there are any changes to the schedule in RotaCloud.
This is particularly useful for sharing with friends and family who aren't RotaCloud users, so that they can easily see when you're working and when you're free.
More about RotaCloud's integrations >
List view returns!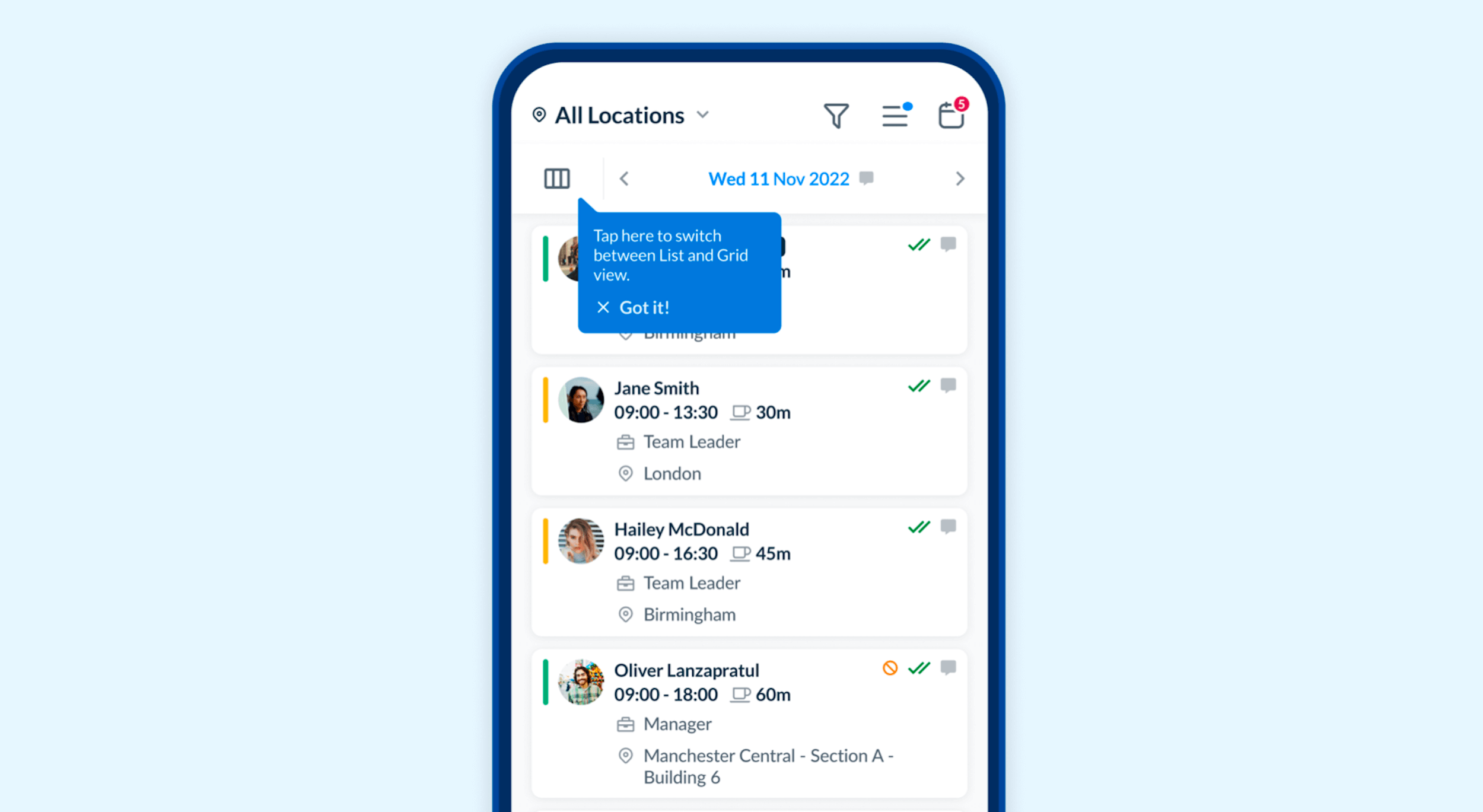 In January this year, we re-introduced the ability for mobile users to view their rotas as a vertical list of shifts, rather than as a grid-style rota that users of the web version will be more familiar with.
This update was based on some fantastic feedback from our mobile app users, who made it clear that, although some enjoyed being able to quickly check staffing levels for the entire week using the horizontal grid view, others preferred being able to see their rota presented as a vertical list, one day at a time.
The good news is you can now do both, simply by tapping the toggle icon in the top-left corner.
More about the RotaCloud mobile app >
Add & edit day notes via mobile
Day notes are a great way to keep your team in the loop about important things happening at your business on particular dates. In fact, they're so useful that we decided to give you the ability to add and edit them via mobile too.
Admins and managers can now tap a date on their rota in either list or grid view to add a day note that's visible to your team — or just staff assigned to a particular location, if you prefer.
You can also edit existing day notes in the same way, making it easy to update your schedule and attach important information, even when you're away from your computer.
See shifts & leave on the shifts calendar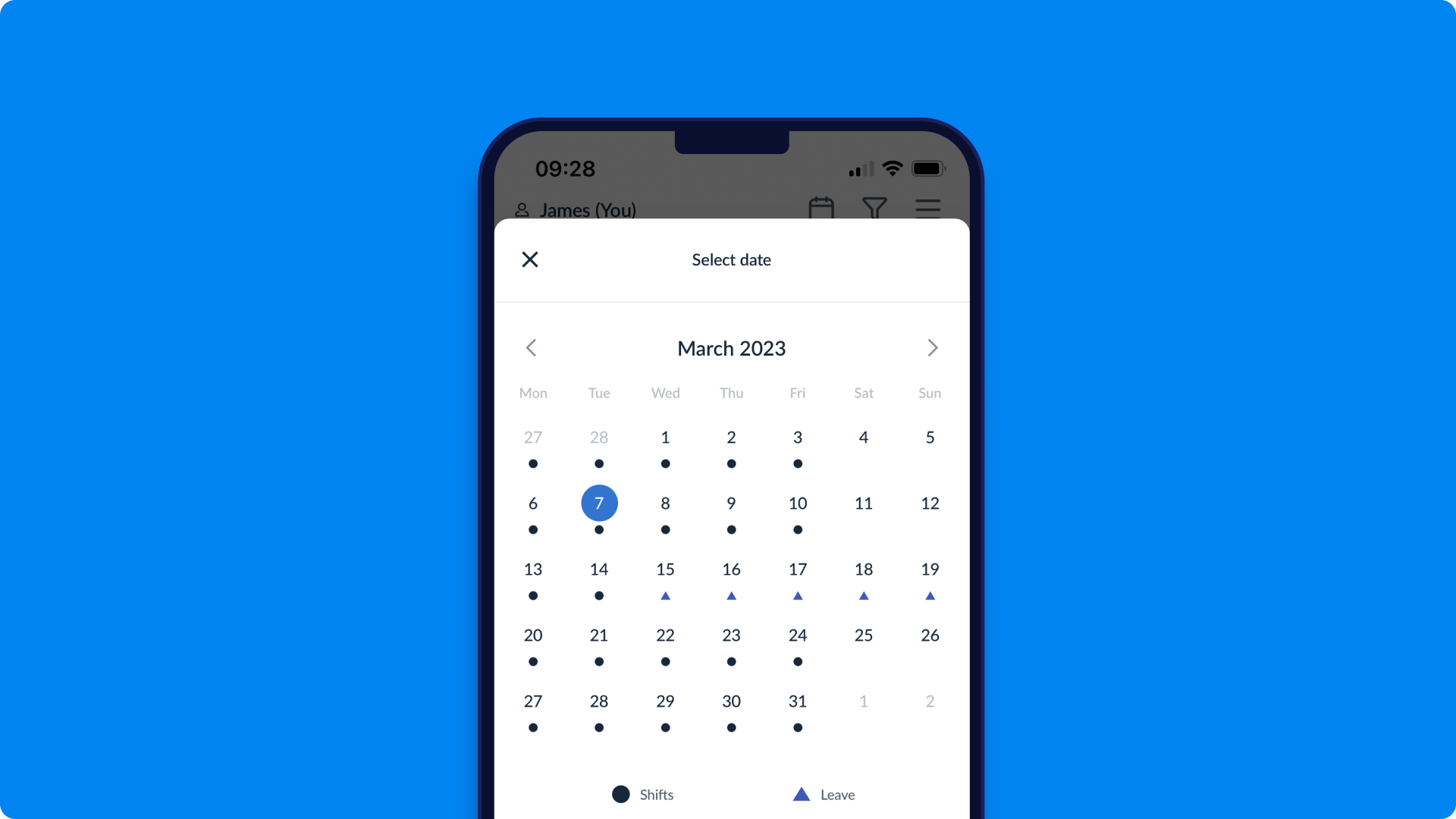 Another minor update that was met with big smiles was the addition of shift and leave icons on the calendar view.
Accessible via the Shifts tab, tapping the calendar icon allows users to see any scheduled shifts or annual leave represented as blue dots right there on the calendar — it's like a snapshot of the entire month, and great for giving you a top-level view of what's happening at your workplace.
Admins and managers are given even more functionality as they're now able to see individual employees' shifts and leave marked on the calendar simply by accessing the same tab via an employee's name on the rota.
Filter leave by type
Keeping track of your team's leave can be tricky, especially on a smaller screen, so we've added a new filter to the Leave screen on mobile.
With this update, all RotaCloud mobile users can filter the information on their Leave screen by:
All leave
Holiday
Sickness
Maternity/paternity
You can also sort instances of leave in either ascending or descending order to make it easier to find the record you were looking for.
View employees by group on mobile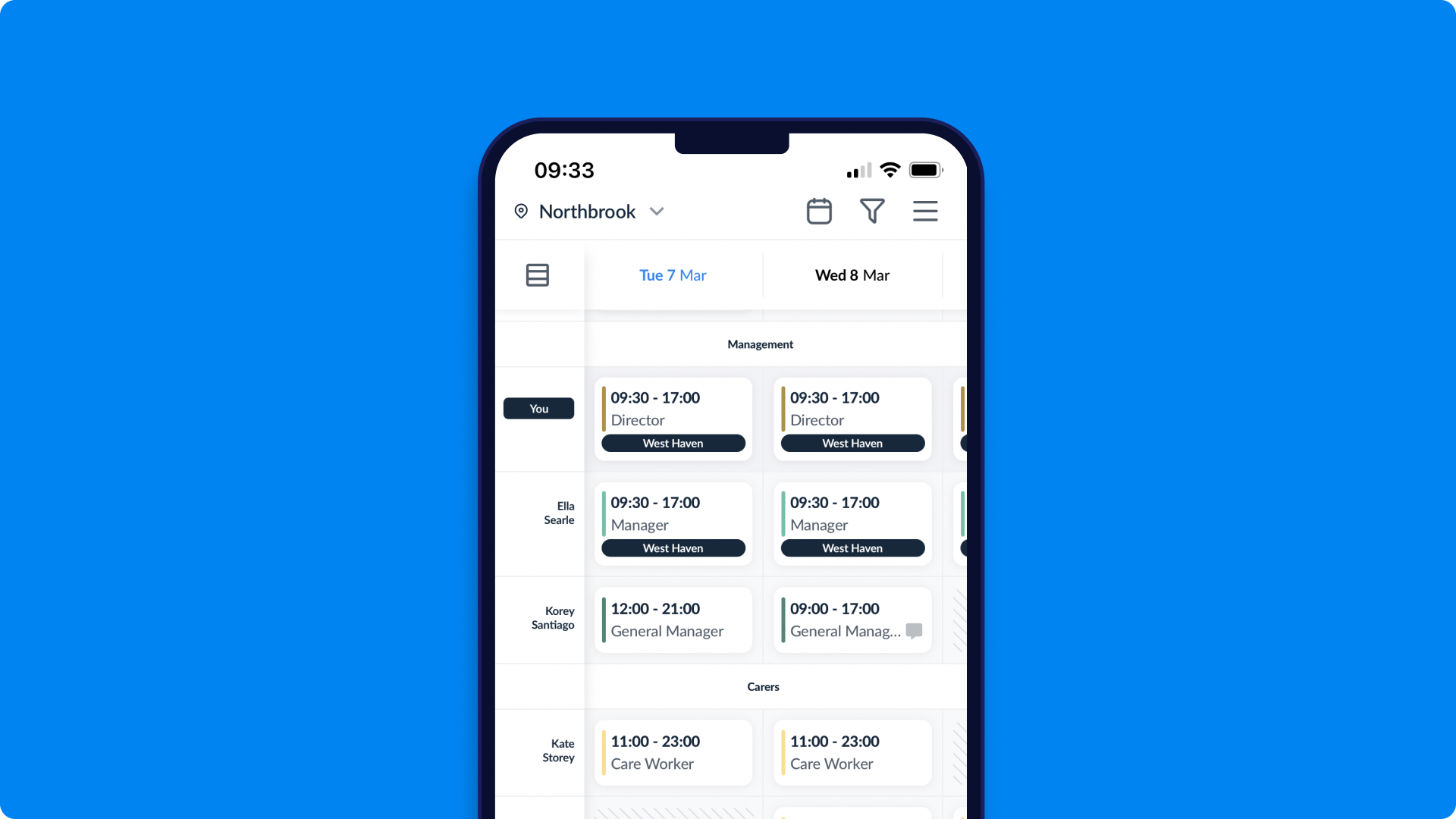 RotaCloud's Groups feature makes it easy to segment your rotas by department, making it easy to ensure that you have all your bases covered.
In March this year, we released an update that allows all team members — admins, managers, and even employees — to sort and filter rotas on the grid view of the RotaCloud mobile app.
This simple change makes it easier for managers to check staffing levels even on a smaller screen, while employees will enjoy being able to quickly see who they'll be working with on any given day.
The "People Working" screen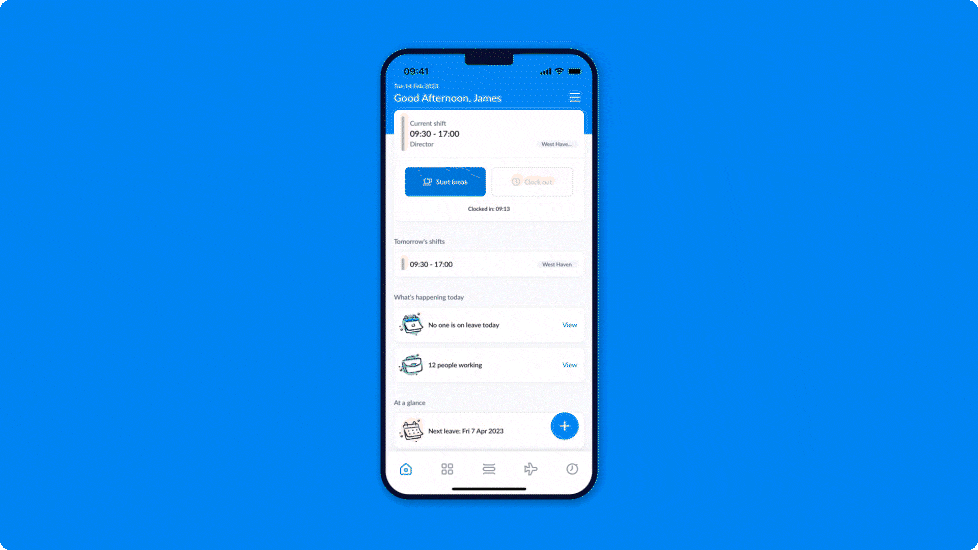 Finally, a new feature built to give you a snapshot of your business, even when you're working off-site: the "People Working" screen.
This handy new addition to your mobile dashboard makes it easy to quickly see which members of your team have clocked in — and who hasn't — from anywhere.
Accessed via the mobile app's dashboard, the People Working screen provides an at-a-glance breakdown of how your team is looking at any given time, including:
Who's currently clocked in
Who has missed their clock-in time
Staff who are due on shift later that day
It's a great way to get an overview of your team's status and take remedial action where needed — whether you're on site or not.
---
We're not done yet!
We're constantly working to make RotaCloud the best people management platform on the market, so keep a close eye on the updates feed in your RotaCloud account to be the first to know when new updates and features become available.

Thanks as always to all of you who've provided invaluable feedback and feature requests. There's plenty more to come!

— The RotaCloud team

Not using RotaCloud yet? Start your 30-day free trial and see for yourself how much easier managing your team can be.
---
---