10 podcasts for a happier, more productive working life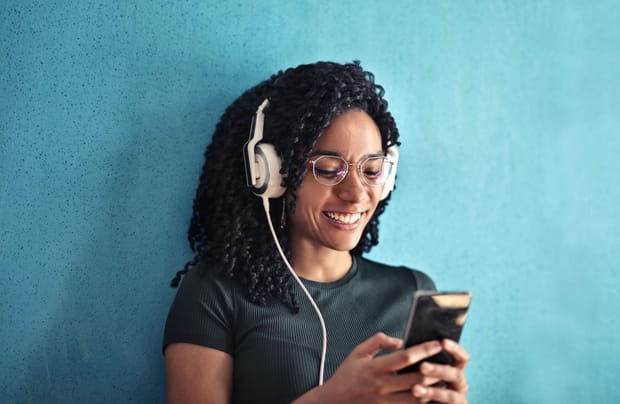 You'll spend roughly a third of your life at work — possibly even more if you own or run a business — so it makes sense to be happy while you're doing it.
Whether you're a manager, a business owner, or an employee at a company, it's important to take a step back every so often to rest, recuperate, and put everything into perspective.
With that in mind, we've curated a list of 10 of the best podcasts for improving your working life, helping you to be happier, healthier, make better decisions, and even get better sleep at the end of a long, hectic shift.
Grab your earbuds, fire up your podcast provider of choice, and get ready to explore 10 podcasts guaranteed to improve your working life.
---
1. The Knowledge Project
Great for:
Decision-making | Innovation | Leadership
What it's about:
The Knowledge Project is hosted by Farnam Street Media founder Shane Parrish and features interviews with big-name guests across a wide variety of disciplines, from tech leaders and artists to authors and financial experts.
The Knowledge Project is a firm favourite with the RotaCloud team, offering up actionable, zero-fluff advice for work, life, and everything in between — perfect for managers and employees alike.
Listen on: Apple Podcasts | Spotify | Website
Our top pick: Diana Chapman: Trusting Your Instincts
2. The Yes Theory Podcast
Great for:
Creativity | Self-improvement | Wellbeing
What it's about:
Founded on the notion that personal growth and success come only as a result of discomfort, The Yes Theory Podcast is a spin-off from the YouTube channel of the same name, which documents co-founders Thomas Brag, Ammar Kandil, and Matt Dajer's adventures as they throw themselves into everything from launching a matchmaking business to enduring ice baths with Wim Hoff.
The Yes Theory Podcast is a collaboration with mindfulness experts Headspace (more from them later), and shares behind-the-scenes stories and talks with expert guests offering advice and insights to take away with you. Each episode is dedicated to self-improvement, making The Yes Theory easily one of the most entertaining — and inspirational — podcasts out there.
Listen on: Apple Podcasts | Spotify | Website
Our top pick: Our Secret Weapon for Long-Term Success
3. Happiness at Work

Image: Spotify

Great for:
Happiness & wellbeing | Leadership | People management
What it's about:
A podcast entirely dedicated to happiness at work, management resource site Management 3.0's podcast features interviews with authors, business owners, coaches, and industry experts to find out how they're fostering happiness in their respective workplaces.
The podcast has been running since 2016, so there's tonnes of content to explore, but you can expect to find discussions on topics including company culture, making tough decisions at work, empathy, self-awareness in leadership, and much more. Highly recommended for managers and team leaders.
Listen on: Apple Podcasts | Spotify | Website
Our top pick: The Secret to Advocating for Yourself
4. The Long Time Academy
Great for:
Time management | Gaining perspective | Wellbeing
What it's about:
Always short on time? This is the podcast for you.
An audio project from the people behind the similarly named Long Time Project, The Long Time Academy focuses on "finding new ways to help us care about the long-term future, so that we take responsibility for it in the short-term". That might sound rather grandiose at first, but dive into any of this podcast's 13 episodes — expect discussions on systemic racism and inequality, pop culture, "fairy tales for economic growth", and more — and you'll be hooked.
What's most striking about The Long Time Academy is its ability to put life into perspective. It's easy to feel that the work we do is all-consuming sometimes — especially if you own your own business and teams of people to manage. Insights like those offered up by The Long Time Project provide some much-needed perspective and respite, helping listeners to clear their heads and focus on what really matters, which in turn leads to better decision-making, more empathy, and, hopefully, being happier in the work we do.
Listen on: Apple Podcasts | Spotify | Website
Our top pick: How to Stretch Time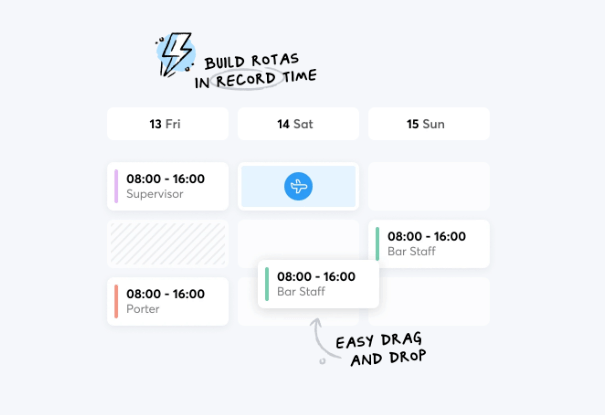 Work rota stressing you out?
Try RotaCloud. It makes planning and sharing staff rotas quick and easy, and lets staff check their work schedule anytime, anywhere.
Explore RotaCloud's features
5. The High Performance Podcast
Great for:
Decision-making | Motivation | Wellbeing
What it's about:
Hosted by British sports broadcaster Jake Humphrey and psychologist Professor Damian Hughes, The High Performance Podcast aims to provide "an intimate glimpse into the lives of high-achieving, world-class performers who have all excelled in their field". It features inspiring interviews with high-profile people from the worlds of sport, music, business, and entertainment, with new podcasts weekly — sometimes even more.
Expect to be inspired by such names as film producer Greg Hoffman, YouTube fitness sensation Joe Wicks, Olympic legend Angela Ruggiero, F1 veteran Jenson Button, comedian Russell Kane, former FBI negotiator Chris Voss, and a whole lot more.
Listen on: Apple Podcasts | Spotify | Website
Our top pick: Why Being Bored Can be Good for You
6. On Purpose
Great for:
Inspiration | Productivity | Work/life balance
What it's about:
The On Purpose podcast is an absolute must-listen for anyone who's ever found themselves searching for meaning in the work they do or seeking more purpose in their life.
Hosted by author, life coach, and former Hindu monk Jay Shetty, On Purpose digs deep into the kind of issues that affect us all on a daily basis — both in and out of work — and arm us with the tools and knowledge to tackle them. Struggling with imposter syndrome? There's an episode on that. Coping with anxiety? Ditto. Problems with procrastination? Sorted.

With celebrity guests including Alicia Keys, Jessica Alba, and Kobe Bryant, plus a number of industry experts and thought-leaders, it's not hard to see why On Purpose has been downloaded over 64 million times to date, and is showing no signs of slowing down anytime soon.
Listen on: Apple Podcasts | Spotify | Website
Our top pick: 3 Myths About Work Life Balance & 5 Ways to Really Create It
7. Beyond the To-Do List
Great for:
Productivity | Motivation | Entertainment
What it's about:
Wish you could get more done in a day? Struggling to prioritise tasks at work? Beyond the To-Do List is the podcast for productivity, and is absolutely packed full of actionable advice and tips to try.
In each episode, host Erik Fisher chats with productivity experts across a variety of industries as they share their own strategies and tips for getting things done both in and out of work. This is relatable, no-nonsense advice that's both useful and entertaining in its own right. Don't miss it.
Listen on: Apple Podcasts | Spotify | Website
Our top pick: Overthinking, Decision-Making, and Self-Awareness
8. How I Built This with Guy Raz
Great for:
Entrepreneurship | Inspiration | Leadership
What it's about:
Hosted by journalist and radio host Guy Raz, NPR's How I Built This provides intriguing, behind-the-scenes insights into some of the world's biggest companies — and their founders — and how they got where they are today.
How I Built This is an interesting listen in its own right, but the main reason we included it in our roundup today is because of what it serves to remind us with each episode: work is full of ups and downs, and success doesn't happen overnight.
Through honest, open conversations with his guests, Raz lifts the curtain on brands and business owners, helping us learn from their mistakes and providing replicable tips for success. It's a humbling, informative resource for both staff and managers, guaranteed to have a positive impact on your approach to work.
Listen on: Apple Podcasts | Spotify | Website
Our top pick: HIBT Lab! WeWork: Miguel McKelvey
9. Nothing Much Happens
Great for:
Rest & relaxation
What it's about:
At the end of a long, hard day at work, it can sometimes be difficult to switch off. Without proper rest at night, however, you'll never be at your best during the day, which in turn can lead to forgetfulness, an inability to concentrate, irritability, and even anxiety.

Enter: Nothing Much Happens.
Billed as "bedtime stories for grownups", Nothing Much Happens is a series of podcasts — or sleepcasts, to use its preferred monicker — intended to be listened to in bed, helping you nod off. Newcomers to this genre might imagine the idea of listening to a podcast while trying to fall asleep to be counterintuitive, but Nothing Much Happens' content is written and delivered in such a way that it's just interesting enough to hold your focus (thus preventing invasive, anxiety-inducing thoughts) while being gentle enough to help you fall asleep.
Each episode is expertly read by creator Kathryn Nicolai, with stories ranging from dog walks, to bakeries, to building pillow forts. Each one is utterly delightful, but you're bound to find your own favourite before too long — and with it, a better night's sleep.
Listen on: Apple Podcasts | Spotify | Website
Our top pick: People Watching and The Coffee Shop
10. Headspace (Sleepcasts & Meditation)

Image: Headspace

Great for:
Anxiety | Sleep | Unwinding
What it's about:
We couldn't create a rundown of happiness and work-life boosting podcasts without mentioning Headspace. Sure, this is a paid app, but the volume and quality of the content on offer here is seriously impressive.

Headspace is split into meditation (both courses and one-off sessions), sleep (sleepcasts, soundscapes, wind-downs), and movement (yoga sessions, mindfulness and gentle workouts). The guided meditation courses are suitable for all levels and abilities, and include sessions designed for handling all manner of situations including stress and anxiety, dealing with loss, relaxing the mind for better focus, and more.
Headspace's sleepcasts, meanwhile, are similar to those from Nothing Much Happens, albeit with a wide selection of narrators and dozens of scenarios to enjoy. Cleverly, the sleepcasts are also subtly different each night, meaning that even if you listen to the same one every single day, it will never become so predictable that your mind wanders to other things. For busy minds especially, Headspace is an absolute game-changer.
Listen on: Headspace app (Android / iOS) | Website
Our top picks: Rainday Antiques, Night Town, Midnight Launderette
---
Have a happiness, productivity, or motivational podcast that you'd like to recommend? Drop us a line on Facebook, Twitter, or LinkedIn.
Management advice & insights, straight to your inbox.
Enjoying the RotaCloud blog? Tell us your email address and we'll be in touch whenever we publish a new blog.
---
---