New feature announcement: Holiday Accrual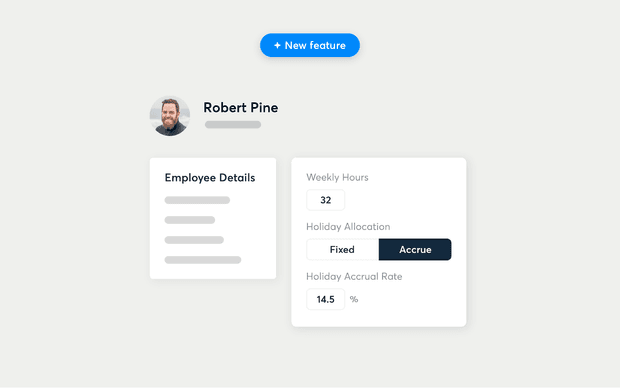 We're excited to announce the arrival of our newest time-saving feature: Holiday Accrual.
This great new feature takes the hassle out of recording hourly employees' accrued holiday by automatically calculating it based on their attendance data — no spreadsheets, data entry, or calculator required!
Even better, it's available now — at no extra charge — for all users of our Time & Attendance package.
---
Setting accrual rates
From today onwards, account admins (and managers with the relevant permissions) will find a new 'Holiday Allocation' field in their employees' individual profiles.

Here, you'll be able to select whether an employee receives either a fixed number of holidays per year or accrues them over time.
When the 'Accrue Holiday' option is selected, you'll then be able to enter a holiday accrual rate (based on a percentage of any hours worked) for that employee.
Or, if you'd prefer, simply head into Settings > Holiday Accrual, to set an accrual rate for all hourly staff on your team.
Accruing holiday
Once their accrual rate is set, RotaCloud will begin to automatically calculate the amount of holiday an employee has earned based on timesheet data.
Don't worry; holiday won't be added to an employee's allowance until after the pay period is finalised, giving you a chance to check over our staff's timesheets and handle any anomalies in the normal way.
When finalising the Payroll Export report for the period, you'll see a pop-up menu similar to the one below, summarising how many hours of holiday each of your employees has earned. You can also view this summary by clicking the 'View holiday accrual' link at the top of the Payroll report.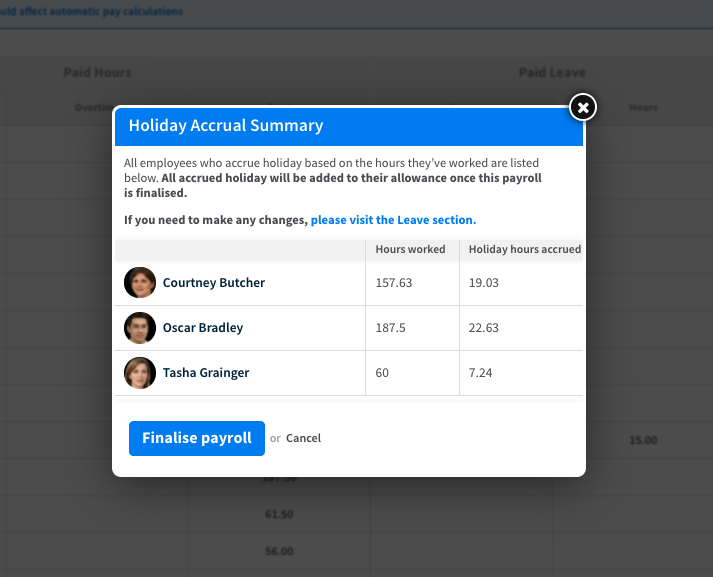 After clicking 'Finalise payroll', all relevant employees' allowances will be automatically updated and reflected on the Leave page of your RotaCloud account.
Job done!

Need a bit more info? Here's Holiday Accrual in action.
---
We're always working hard to bring new, time-saving tools to your RotaCloud account, and are confident that Holiday Accrual will make life easier for those of you whose staff earn their holidays over time.
As ever, if you have any questions or feedback about this, or any of RotaCloud's tool and features, feel free to drop us an email or start a live chat with a member of our team — we're always happy to hear from you.
Happy scheduling!
Management advice & insights, straight to your inbox.
Enjoying the RotaCloud blog? Tell us your email address and we'll be in touch whenever we publish a new blog.
---
---