Today, we're very excited to officially announce the release of our brand new mobile app. If you're a RotaCloud user already, you may already have the app on your phone — if not, check the App Store or the Google Play store and download the latest version to get it.
Our new app has been in development for more than two years and has been rebuilt from the ground up. We think you're going to love it!
Let's get straight into what's changed.
What's new?
Our new mobile app boasts a sleek new visual design, but this update is far more than just a fresh coat of paint.
There's a brand new dashboard; a completely revamped rotas section with multiple views, filters and building functionality; leave and holiday management; overhauled availability, time & attendance and much more.
Let's take a closer look…
Your new Dashboard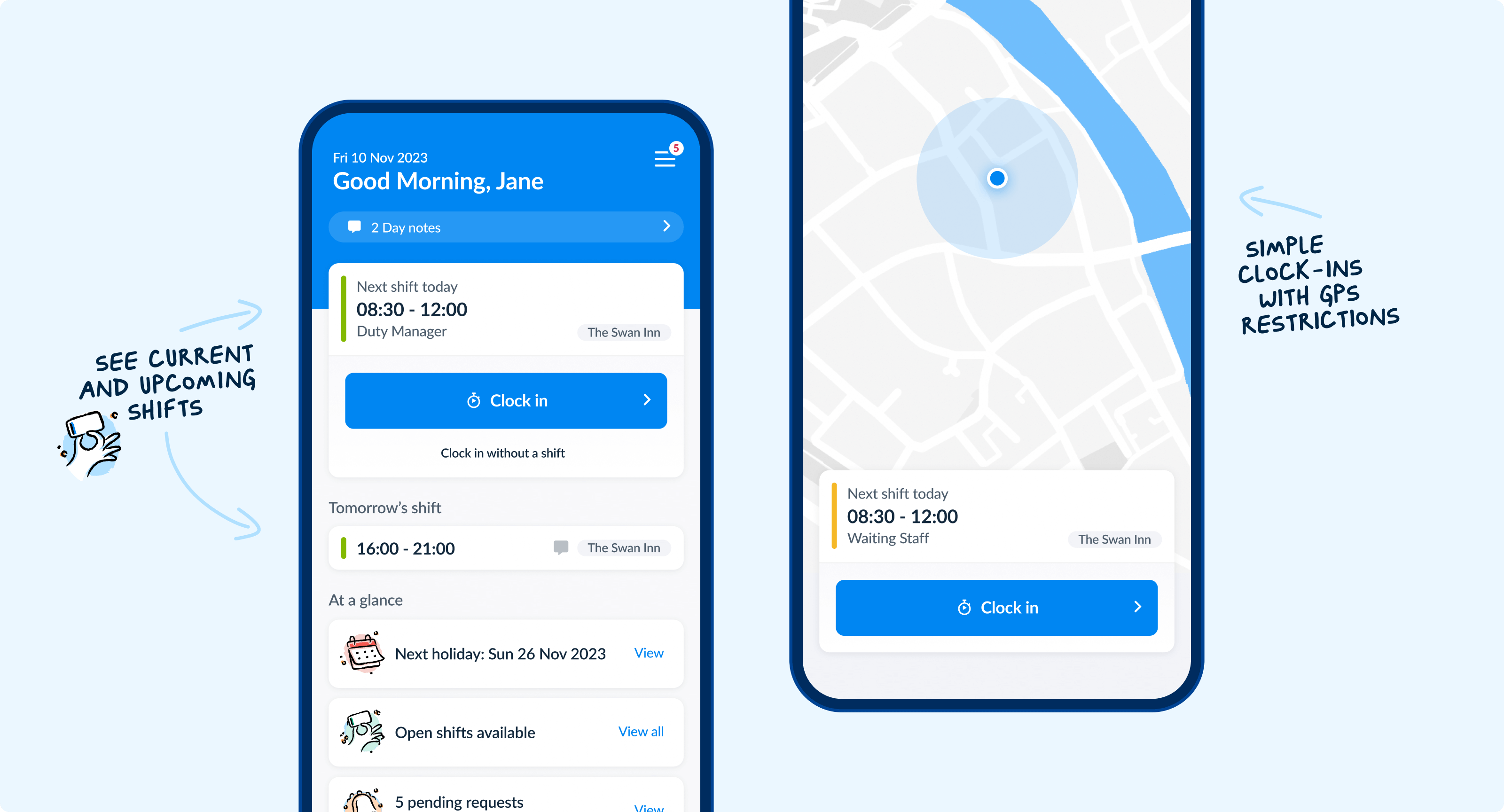 Just like with the previous version of the RotaCloud app, the Dashboard is the first screen you'll land on after logging in.
Now, you'll see a collection of useful pieces on information designed to help you and your team hit the ground running every day.
From the dashboard, you'll immediately be able to see your current shift, along with your next scheduled shift and a section called "At a glance". Here, you'll see a breakdown of everything from your next booked leave, to currently open shifts, to pending requests for you to process, and a list of who's on leave that day. Your team can even claim open shifts they like the look of, straight from their dashboard.
The clocking-in button (for those of you with Time & Attendance enabled) remains at the top of the dashboard for quick and easy access at the start and end of your day. Our engineers have also worked their magic in the clocking in process, making it much quicker than before.
Revamped rotas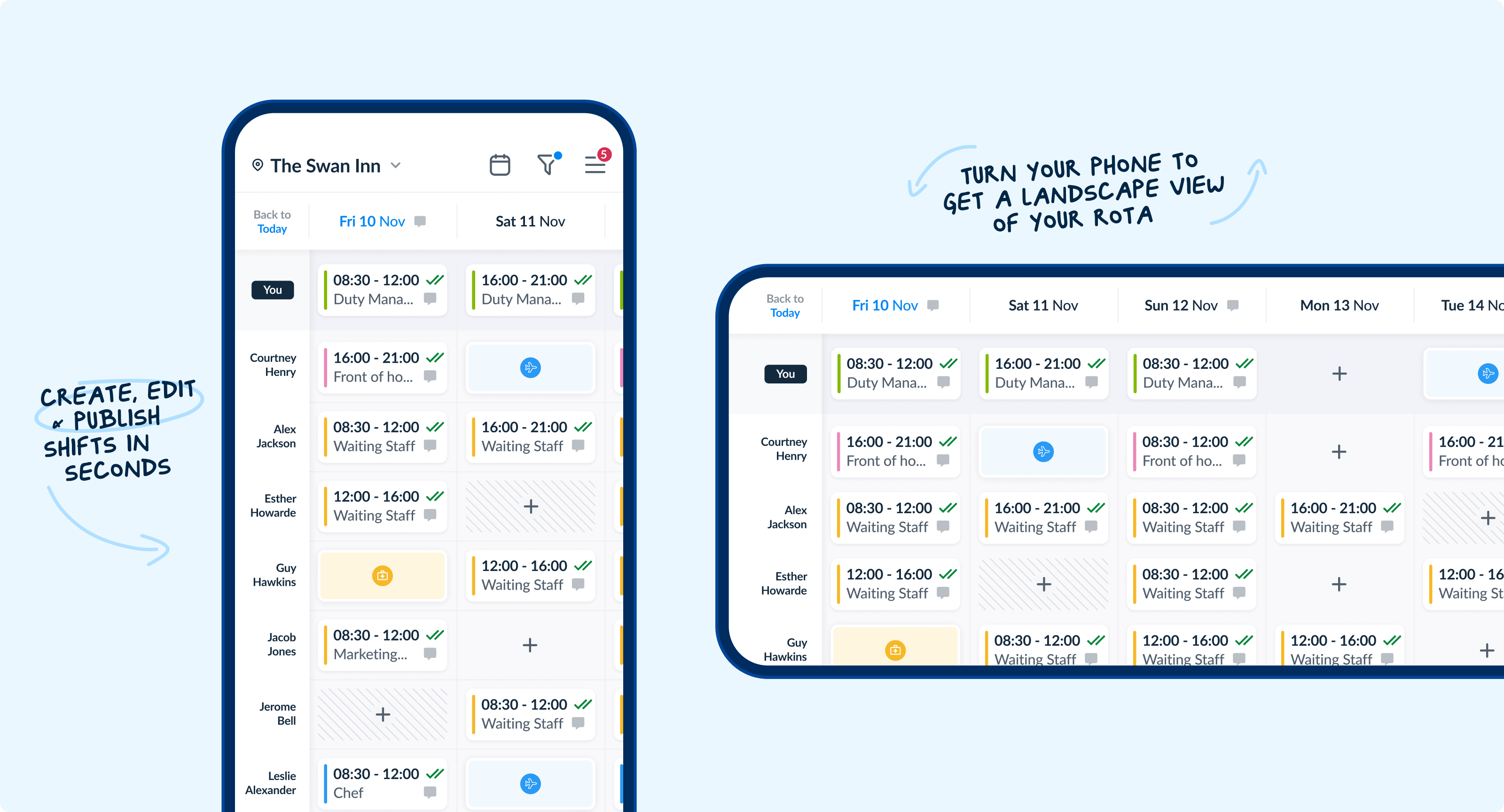 If you're the person who builds and manages the rota day to day, this one's a game-changer.

Rotas in the mobile app are now much more similar to those you'll find in the desktop version of RotaCloud, for the first time ever on mobile, you and your team have access to a full, grid-based rota that can be quickly scrolled through, horizontally and vertically, for total visibility.
We've also added a landscape view for those of you who need to see the bigger picture.
But the good news doesn't stop there! Brand new on mobile is the ability to see shifts for multiple locations at once on the rota, just like on desktop. If a member of your staff has a shift at a separate location, your rota will display this with a small pill icon, so you can add and edit shifts with confidence.
Other new additions to mobile rotas include:
Add and edit shifts in seconds via a brand new interface
Quickly access employees' profiles by tapping their names
See shift notes marked on individual shift cards on mobile
A "day summary" showing the total number of staff working or on leave for a particular day, showing any day notes
Easily apply filters including availability, open shifts, sorting by A-Z or Z-A, or your custom ordering — just like you have it on the web version of RotaCloud
There's even more in the works, but we're confident that managers and employees alike will absolutely love these new mobile rotas.
A simplified shifts screen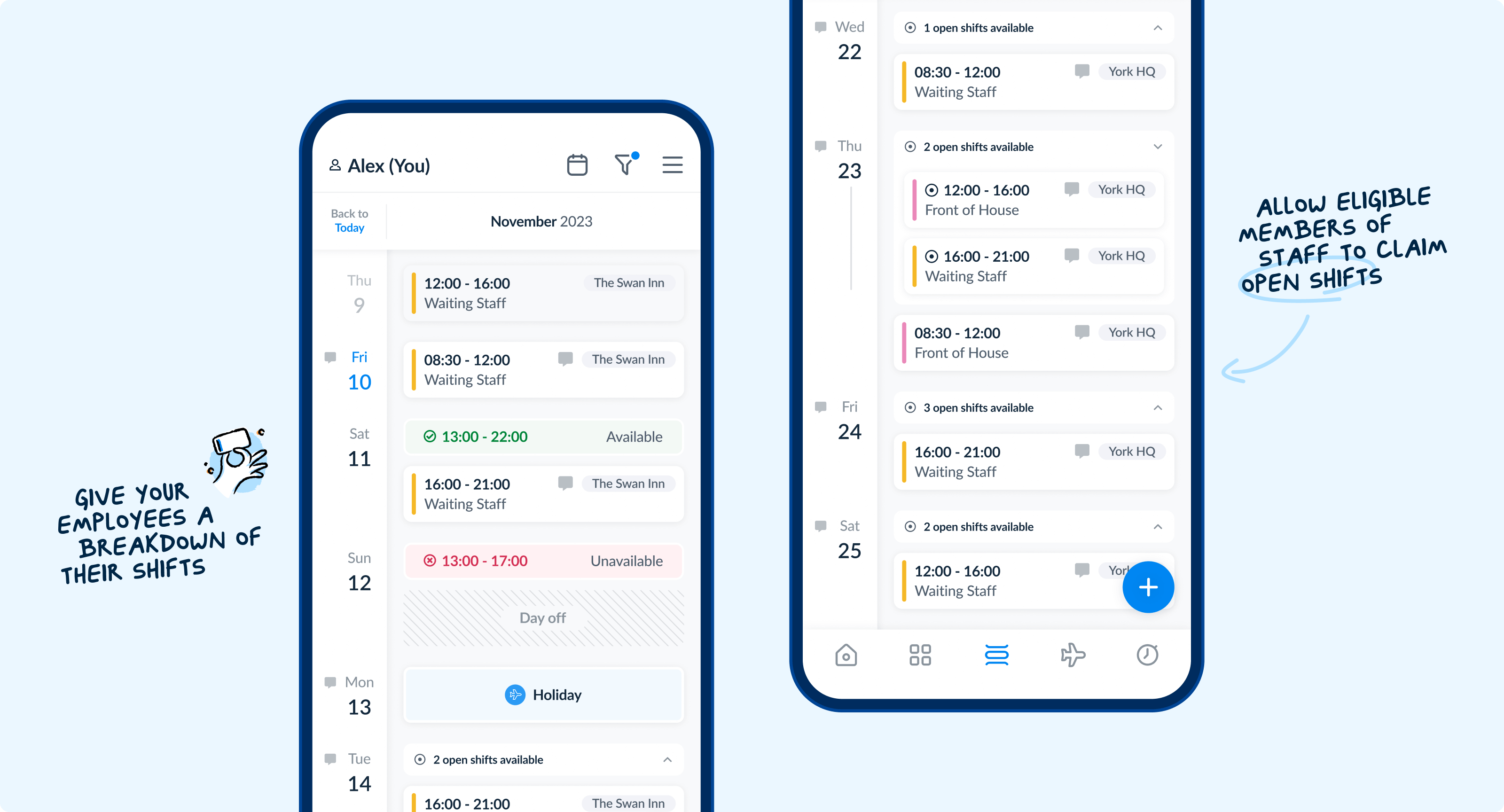 It's not just rotas that have been given a new look — the Shifts tab has been redesigned to allow your staff to quickly access a list of their scheduled shifts, without the clutter of everyone else's info.
Admins and managers, meanwhile, can filter these lists on a per-employee basis, as well as being able to quickly access a breakdown of just their own shifts from within the same screen.
We've also included staff holidays and availability and unavailability (more on availability later) on the shifts screen, making it easier for managers to check which days and dates members of their team are free to work, without having to scroll through the entire rota.
Mobile leave management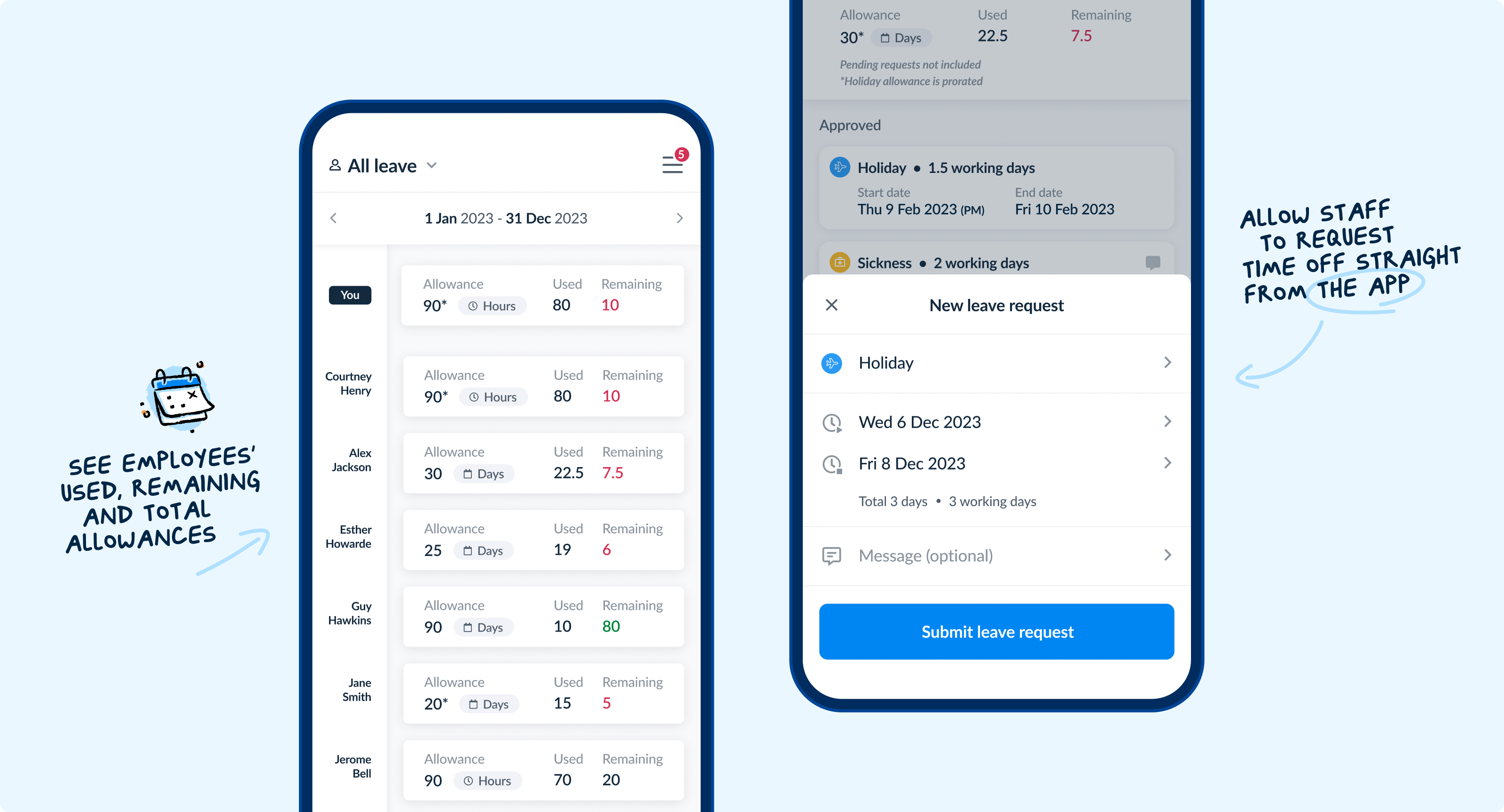 We know how important it is for you to be able to process annual leave requests and record staff absence without it interrupting your day, so we've given the Leave tab a complete overhaul.
Admins and managers can now filter leave records on a per-employee basis, letting you quickly see each team member's used, remaining, and total annual leave allowance, as well as any instances of pending and approved leave.
Adding leave on your employees' behalf can be done in a few quick taps, while your staff can continue to check their booked and remaining leave, and request time off — anytime they like and from virtually anywhere in the app — by tapping the + button.
And of course, leave is now clearly visible on your rotas as well.
Tuned-up timesheets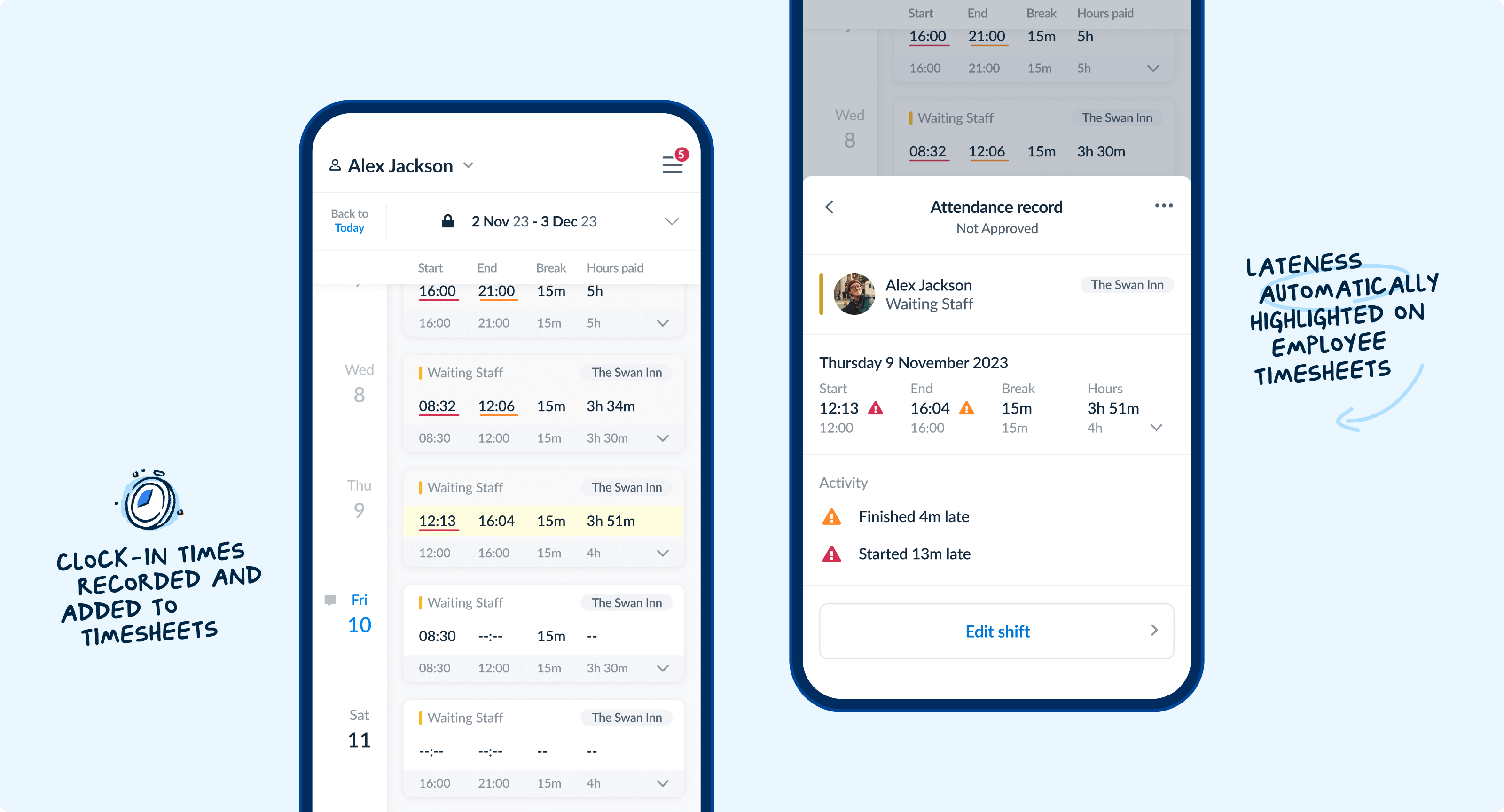 We'd be the first to admit that managing timesheets on our old app wasn't the greatest experience. But with the new RotaCloud app, navigating your team's timesheets is an absolute breeze.
In addition to being much easier to scan, each employee's timesheet now clearly displays their start, end, and break times, as well as hours paid — even on mobile. Each record shows the hours an employee has worked alongside their originally scheduled hours, while the total number of scheduled hours and hours paid appear at the bottom.
Filters can now also be applied to timesheets to see scheduled or worked hours, and each timesheet record can be tapped on to get an expanded view.
You'll also find all the lateness, overtime, and manual adjustment highlights you'd expect to see on the desktop version of RotaCloud, making it easy to see which clocking-in records require your attention when on mobile.
An all-new availability tool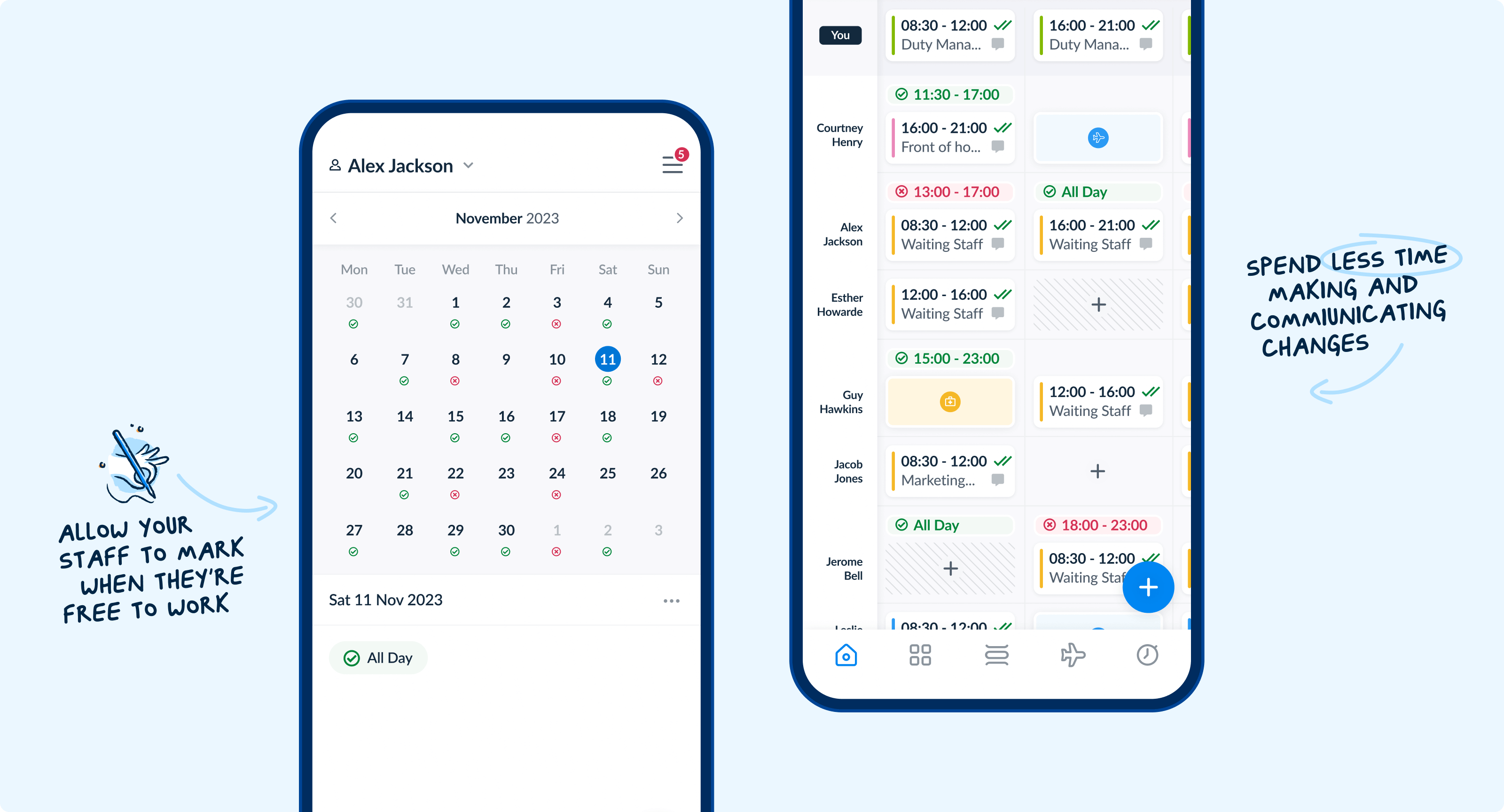 We've saved this one until last since we know it'll make quite a few people's day. Availability has been completely redesigned for mobile.
Marking availability was once pattern-based and — let's face it — kind of fiddly, the all-new Availability experience on mobile is as simple as can be.

Employees (or managers marking availability on their behalf) can now add when they are and aren't available to work using the built-in date-picker. When setting availability, staff simply choose between "one-off" for occasional instances they want to highlight, or "repeating pattern" for when they need to mark days or dates when they're regularly available — or unavailable — to work a shift.
Managers will also be pleased to hear that marked availability now appears on the Rota and Shift tabs on mobile, clearly visible with colour-coded dots.
Wait, there's more!
Just because we've released our new app doesn't mean we'll be putting our feet up. We'll continue to add to and improve our new mobile app, and already have a tonne of new features in the works.
Over the next few months, you can also expect to see:
The ability to add and edit day notes straight from mobile
A "long-press" function to perform quick actions within the Rota, Shifts, Leave and Timesheets sections
The ability to compare leave requests against booked leave before approval
Who's clocked in/clocked out today (for those with Time & Attendance)
A list of who's working today
A quick summary of your shifts and leave each month via the calendar on the shifts page
iCal feeds for both leave and shifts.
Plus, other useful features that we can't wait to show you.
Over to you
Our new app was built based on tonnes of research, user-feedback, and lots and lots of testing, so we're confident you'll find it to be a huge improvement over the previous version.
The real test, however, is what you think.
Once you've had chance to put our new app through its paces, we'd love to hear any questions, suggestions, thoughts and feedback you might have. If there's something you'd like to share about the new app, just tap the menu icon on the top-right corner and follow the "Provide feedback" link.
Enjoy!
---
You can download the brand new RotaCloud mobile app, which comes as a free update for existing users, via Google Play and the App Store now.
---
---