Seven things we learnt from retailers at the National Convenience Show 2019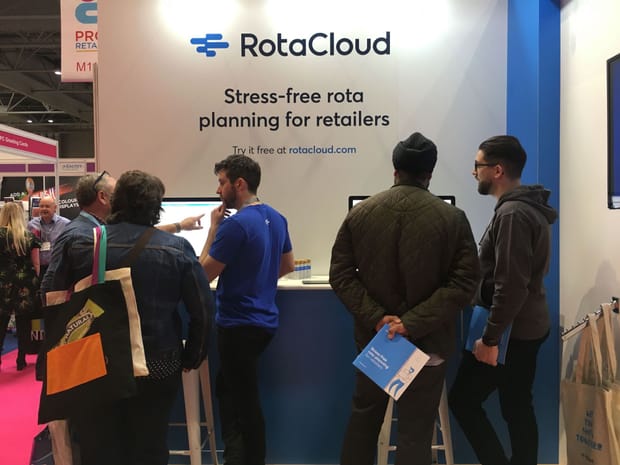 Earlier this month, the RotaCloud team attended the National Convenience Show (NCS) for the first time. Co-founders James and Joel were joined by our project manager Martin and customer success manager Maisie for three days of spreading word about RotaCloud and chatting to hundreds of enthusiastic retailers.
The NCS is the largest trade show we've ever exhibited at, so this was a big learning experience for us. But we also learnt a tremendous amount about the UK retail industry's trends — and how RotaCloud might play a role.
These are some of our findings.
Common problems British retailers face
We talked to hundreds of store managers, directors and business owners at the show, and were keen to hear of the kinds of scheduling-related problems they're currently facing.
Here's just a sample of the points that were raised:
1. Scheduling on a knife-edge
A large number of the retailers we talked to at NCS 2019 stressed how tight their budgets were. For this reason, many stores operate with only a skeleton staff, meaning that even a single staff no-show or an employee running just a few minutes late can have a huge knock-on effect.
Retailers simply cannot afford for rota-related mixups to occur, so managers have to ensure that their schedules are accurate, delivered to staff well in advance, and that people show up when they're supposed to.
2. Rotas are largely stuck in the dark ages
Despite embracing sophisticated technologies like contactless card and smartphone payments, and top-of-the-range POS systems, a startling number of retailers are still relying on pen and paper when it comes to planning their staff rotas.
Others we talked to were slightly more tech-savvy, saying that they used Excel spreadsheets to plan their stores' schedules, but nearly all complained about the lack of flexibility and connectivity that Excel afforded them.
Either way, each method frequently led to costly staffing mix-ups, with changes not being communicated and staff showing up either too late or early for shifts.
3. Lacklustre solutions let the side down
While still on the subject of software, a handful of retailers said that, while they did use the scheduling systems built into other platforms such as their EPOS software, many found these tools quite clunky and lacking in options.
There is potentially money to be saved in using all-in-one platforms versus a handful of best-of-breed software. But unless the former's features are genuinely useful to managers, then one could argue that the savings are nowhere near as great as they might appear on paper.
4. Forecasting is hit-and-miss
When asked why they hadn't considered using scheduling software to build, share, and manage their rotas, many retailers said that their main focus was on increasing sales to maximise profits, and that they couldn't justify spending money on scheduling software.
When asked how they forecasted for busy periods, however, many retailers said that they did this mainly from memory.
Without past sales or shift data on which to base their rotas, these managers are actually missing out on opportunities to increase earnings by ensuring that they have enough staff around to meet demand. Similarly, by using past scheduling and sales data combined, they could actually be saving money by putting fewer staff on the rota during quieter periods.  
5. Flexible rotas are the holy grail
One of the biggest rota-related problems that store managers told us they have is that changing their rotas can often result in confusion and even staff missing shifts entirely.
This issue largely stems from the fact that keeping employees abreast of scheduling changes can be difficult when working from a paper or spreadsheet-based rota, since these often require managers to phone around or send out emails and hope that they're received in time.  
6. Zero-hours contracts are still important
Zero-hours contracts have come under a lot of criticism in recent years, but they remain important to many retailers. By being able to cut and increase staff hours as required, employers are able to respond to demand at the drop of a hat, thus keeping a tighter rein on spending.
Arguably, however, many of these same retailers would benefit from using staff scheduling software that provides them with reports and past data on which to build their rotas in the first place.
As well as eliminating the need for guesswork, this would also go some way to encouraging staff to stay with the business for longer by providing them with more stability regarding their shift patterns.  
7. Sign-in sheets aren't reliable enough
While some might be happy to use paper rotas, a number of retailers we talked to at NCS expressed their frustrations with their clocking-in systems.
In stark contrast with the retail technology on display at the show, a number of retailers said that they generally keep track of their staff's punctuality either by glancing at the clock when they arrive for work, or asking them to sign in an out of their shifts using a ledger.
Regrettably, paper timesheets are often open to abuse, with staff able to write pretty much any time they please in the sign-in book — either to avoid reprimand for showing up late, or to squeeze a few extra pounds out of their employer by extending their shift artificially.
Working to such tight budgets, managers require much more visibility over lateness, both so that they can ensure that they're paying staff only for the hours that they've actually worked, and so that they have hard data on which to base difficult decisions like whether to issue warnings about tardiness.  
A dedicated time and attendance platform, combining PIN-entry with photo-taking and auto-populating timesheets, would combat this problem, giving managers peace of mind — and potentially reduce their wage bills at the end of each month.
Final thoughts
It's only natural for retailers to be wary of overspending when they work to such tight budgets.
But by ignoring technologies like rota planning and attendance software, these budget-conscious retailers are potentially missing out on opportunities to save money, rather than just making it through sales.
Given that wage bills can amount for a large chunk of any shop or retail business' budget, managers cannot afford to have rota-related mixups or leave themselves open to time theft. Perhaps it's time that retailers brought their rotas out of the dark ages and starting making them work for them rather than against them.
Management advice & insights, straight to your inbox.
Enjoying the RotaCloud blog? Tell us your email address and we'll be in touch whenever we publish a new blog.
---
---