With so many businesses currently requiring their staff to work from home — and even more considering allowing their staff to continue doing so after the immediate threat of COVID-19 passes — it's fair to say that we're in somewhat uncharted waters at the moment.  
Working from home is not without its perks. But most would agree that it can be difficult to maintain a sense of camaraderie and team spirit when said team's members are tens, sometimes even hundreds, of miles apart.
Without the little interactions that we're all so used to, staff can quickly start to feel like lone workers, going hours at a time without saying a word to anyone other than perhaps their pet,  housemate, or their immediate team.
So what can managers and business owners do to keep company culture strong and teams feeling connected, even when employees are working remotely?
Today on the RotaCloud Small Business Success Blog, we'll be talking about just that — as well as sharing seven ways we, as a team that's been working from home since March of this year, have been keeping our spirits up and our team tight this whole time.
---
Company culture & remote work
We've talked before about why company culture matters, but it's never been truer now that so many of us are working remotely.
In our offices, friendships are made, problems are solved, and we share both our wins and losses as a team. The work itself is often done just as easily at home, but without spending time with our coworkers, it's easy to feel disconnected. We log on, do our work, then log off again. Repeat this process for too long, and once-contented employees start to feel isolated, and in some cases start looking elsewhere for a greater sense of belonging.
So, regardless of whether you intend to call your team back to the office after the threat of COVID-19 passes, or are currently debating allowing your staff to continue working remotely years into the future, it pays to keep your team connected.
Here are just a few ways to do that — based 100% on our own experiences here at RotaCloud.
1: Hold daily morning "stand-ups" online
At RotaCloud, we start each day as we mean to go on — communicating.
Every morning since we've begun working from home, we hop on a quick voice chat using Slack (our choice of workplace messaging platform) with the people from our respective departments — which is usually those we ordinarily sit near to in the office.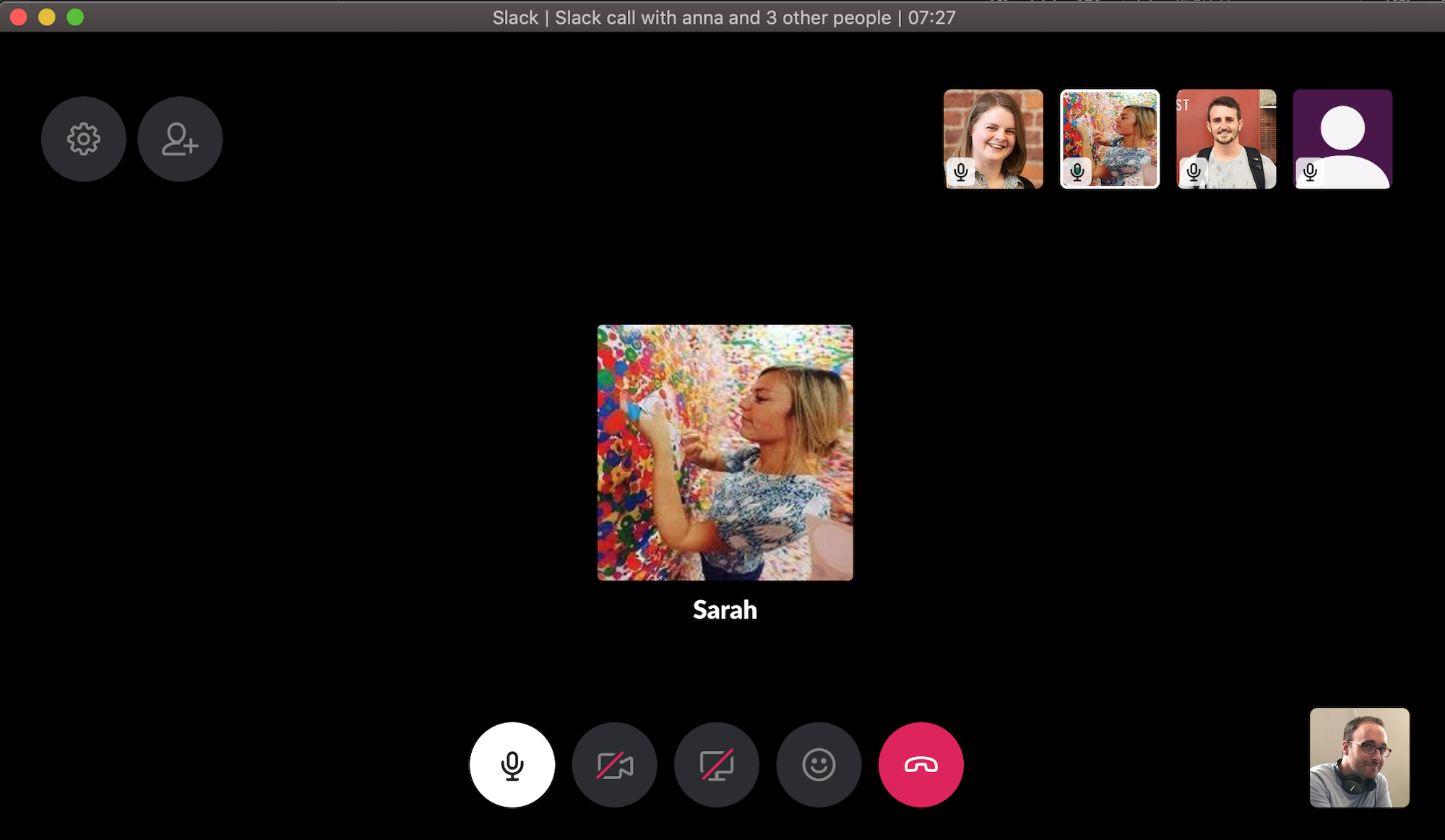 These meetings usually only last for 5–10 minutes, but they give us a chance to coordinate and talk about what we'll be working on that day. There's no "work chat only" rule, however — we're free to talk about anything that's on our minds, much like we would in the office, and it's proved to be hugely beneficial to us.

We know that stand-ups aren't anything special to any developers out there, but for the first time, we're using them across every single team — because sometimes text-based Slack messages aren't good enough. Be sure to make them a part of your day, too.
2: Get your team engaged in something fun
Company culture is about more than just repeating your core values and wearing the same colour t-shirts; it's about people connecting — and feeling connected.
One way we've done this during our now many months of working from home is by running some silly (but undeniably important!) contests to give our team something to get excited about and get them talking.
For us, it all started with the 'World Cup of Crisps'.
In a slight tweak to the format originally conceived by quizzing legend Richard Osman, the RotaCloud World Cup of Crisps began with a simple request for top crisp nominations, with nominators required to present not just brands but specific flavours in order to be considered for the playoffs.
Once we had a whole stack of edible entrants, the 16 varieties were put through rounds of playoffs, with each round decided by way of a Slack poll (strictly one vote per person).
You'd be amazed at how much excitement and debate a simple question like "Pickled Onion Space Raiders or Thai Sweet Chilli Sensations?" can generate…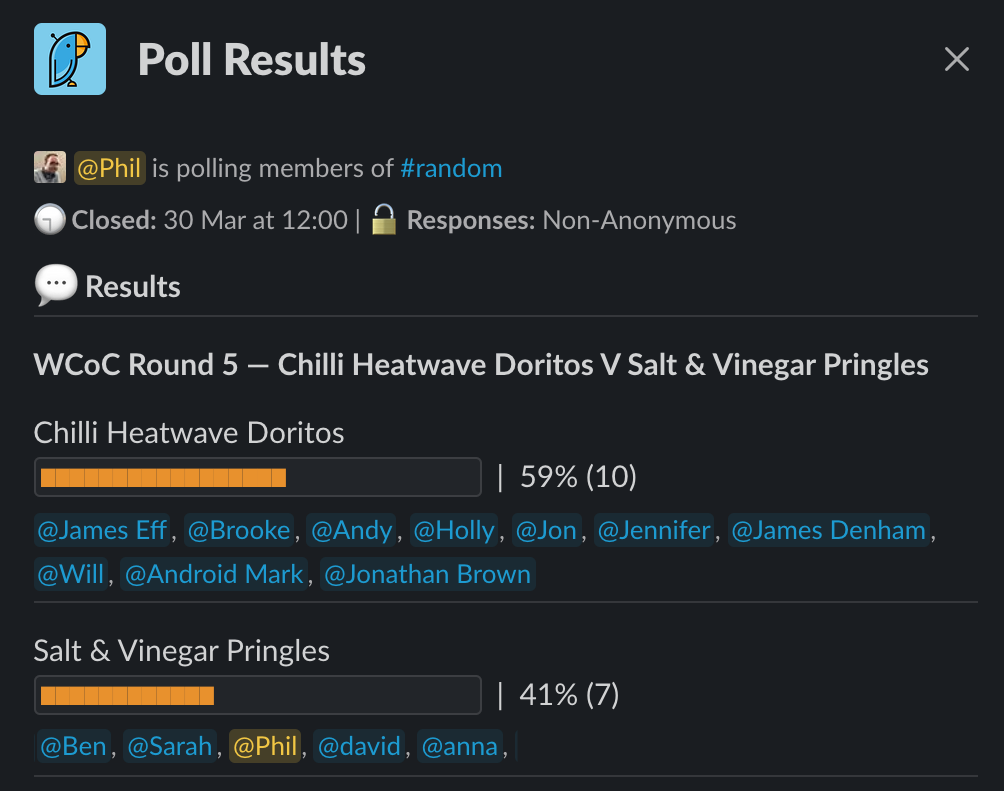 In truth, the nature of the contests or quizzes you run does't really matter — the point is that you provide opportunities for your staff to meet, talk, and get excited about something other than work-related matters.
Participation doesn't have to take too long, but it does give staff something to talk and bond over, especially if it's something they can easily relate to.
3: Keep each other entertained outside work
Extended periods of isolation can have a big impact on our mental health, which in turn can make us feel even more lonely and isolated.
As a way of keeping boredom at bay during the long weekends and evenings at home, we at RotaCloud decided to set up a dedicated channel on our Slack workspace called Entertain Me. In it, team members can offer up suggestions for fun things to watch, read, listen to, and do while stuck indoors.
Suggestions so far have ranged from criminally underrated sitcoms and book recommendations, to recipes and games to play with kids after work — made all the better by the fact that they come from people we work with, bringing us closer as a team and giving us plenty to chat about in the future.
If your team aren't big TV watchers or movie buffs, you could instead run a book club, inviting your team to share reading recommendations and get together online after work to have discussions — it doesn't matter what the topic of discussion is, just so long as you keep your team talking.
4: Share a work-from-home playlist
Back at RotaCloud HQ, we have wireless Sonos speakers set up around the office playing upbeat music to keep us all going throughout the day. In an effort to mimic that — and provide a slight competitive element — while working from home, we've started creating 'RotaCloud Homeworking' playlists on Spotify.
Each week, a member of the team puts together a unique playlist for the whole team to listen to, evoking our usual office mood — albeit with a dash of the compiler's own personality. This is then 'released' by way of a Spotify share link so we can all listen along from home, then either thank or complain to the person who compiled the playlist — just like we did in the office!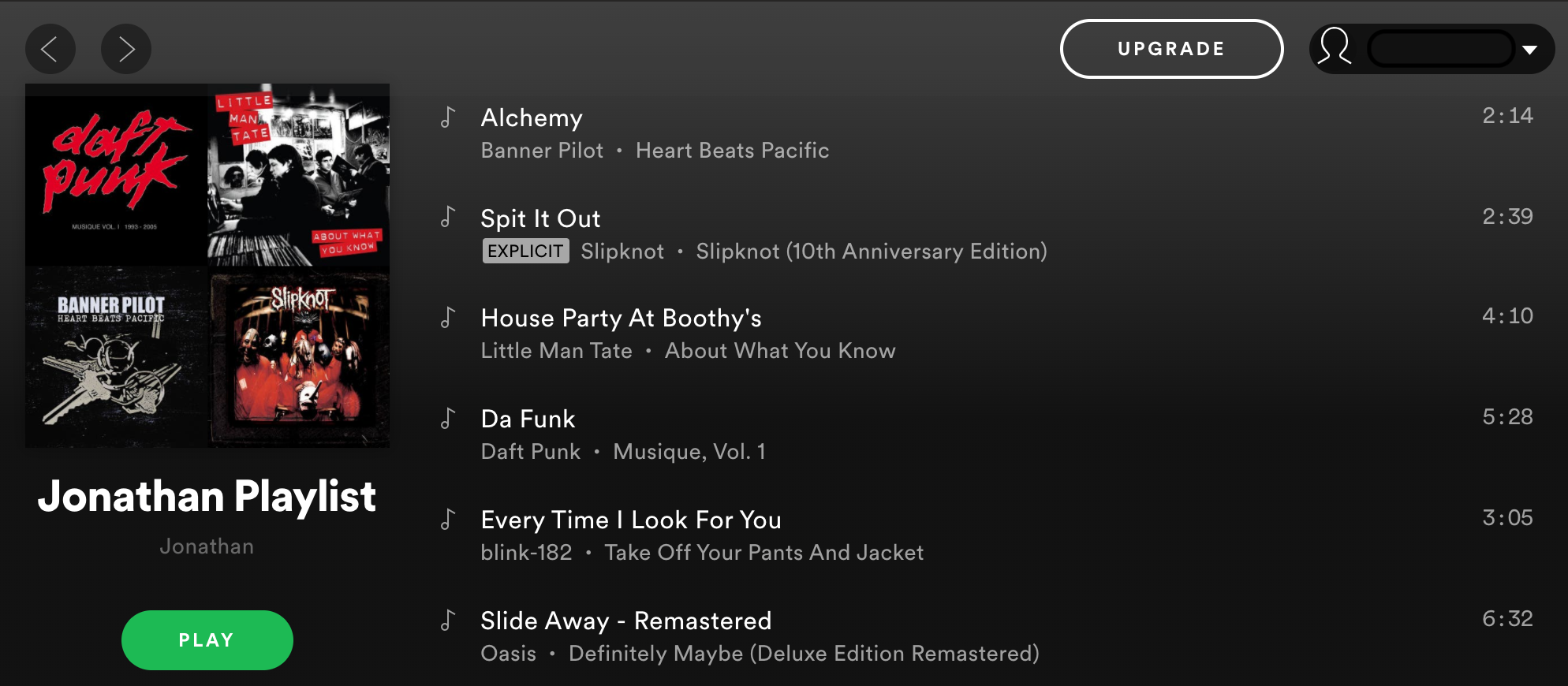 5: Break for 'fika' time
There are only two things that can ever make teabreak better: biscuits and company.
We've been holding our Swedish-style 'fika' coffee breaks for about a year now, gathering people together for a biscuit and a brew once a day, partly as a way of getting some time away from our screens, and partly as a way of encouraging people from different departments to mingle.
Working from home hasn't stopped this. Now that we're remote-working, our fika breaks have moved online, with staff gathering at a predetermined time for brief Zoom-style calls to enjoy a cuppa in one another's company.
As a manager, you'll probably need to be the one to instigate these coffee breaks if you decide to have them (staff won't want to give the impression that they're slacking off!), so it's a good idea to agree a time or times when people can dial in to a fika break and catch up with their coworkers — whether you provide the biscuits through the post is up to you!
6: Playing games together online
Ever since we were a tiny startup, we've made time to play video games together. After all, you only truly know someone when you've seen how they respond to being blue-shelled yards from the finishing line in Mario Kart...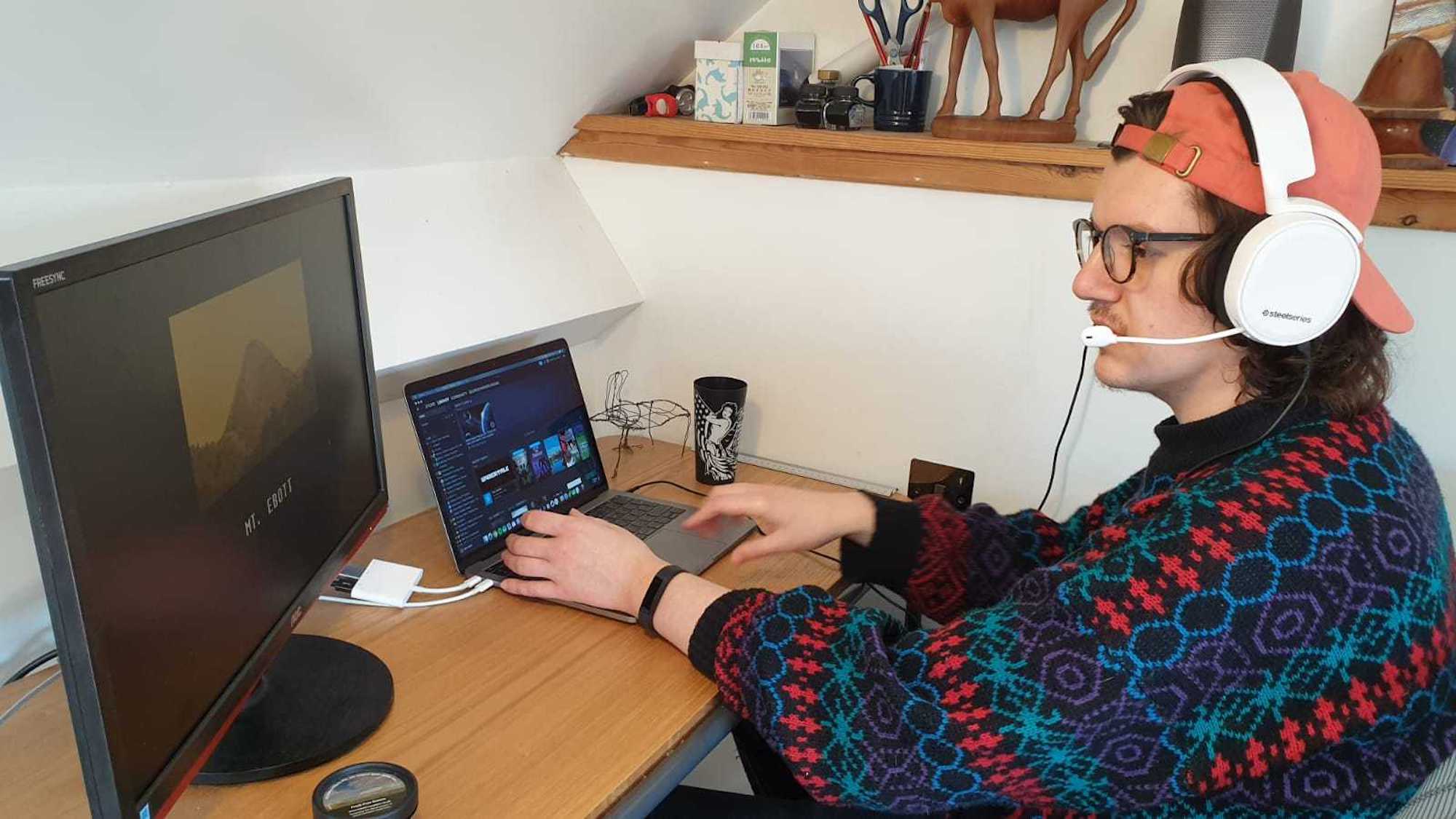 Since working from home, our team have done their best to continue this gaming tradition, by sharing their PlayStation, Xbox and Steam usernames, and booking in time to play together over their lunchtimes and in the evenings.
Remember: the team that plays together, stays together!
7: Hold weekly or monthly roundup meetings online
We were initially concerned that our monthly team catch-ups wouldn't be possible while working from home, given the sheer number of staff we have at RotaCloud these days, but Google's Meet came through for us admirably.
Meet allows up to 100 people to attend voice- and video-conferences all at once, with the clever online software switching the feed to whoever's speaking at that time. This has meant that our usual 'final Friday' meetings have been able to go ahead as usual, keeping absolutely everyone in the loop.
While morning stand-ups are a great way to kick off your day, weekly or monthly roundup meetings serve as a reminder that you and your entire team — not just the people they interact with daily — are working towards a shared goal, so be sure to schedule them early and make ample time for them.
---
Wrap-up
Remote working isn't without its challenges, but with the right tools and processes in place, it can be a viable alternative to working from an office.
The key to maintaining your company culture while doing so, however, is to communicate as much as possible, and to provide opportunities for people — managers included — to do so.
Remember: there's no such thing as over-communicating when your team are working from home. Keep your team talking and keep them engaged.
What are you doing to keep your team connected while working from home? Leave us a comment below or tag us on socials with your most creative and effective ideas!
---
---