How to make your pub, restaurant, cafe or hotel more dog friendly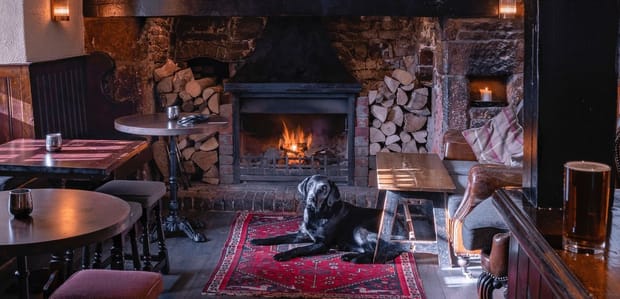 "Such short little lives our pets have to spend with us, and they spend most of it waiting for us to come home each day." - John Grogan (author of 'Marley & Me')
In the UK we've long considered ourselves a nation of dog lovers, and this only seems to have increased during the pandemic, with more of us inviting pups into our homes during lockdowns or because of remote working. According to Statista, "pet ownership levels peaked to an unprecedented high of 59 percent in 2020/21". People and dogs are now navigating this ever-shifting world together, often experiencing separation anxiety when we have to be apart.
So during the traditionally downcast month of January, we thought we'd focus on something to cheer up people and pooches. We explore the options for making your pub, restaurant, cafe or hotel more dog friendly — giving owners the chance to do more with their pooches in tow and making everyone happy.
Identify your audience
This can depend a lot on your location and business offer, but it's a good idea to know what sort of people (and dogs!) you're catering for, or hoping to attract, before you make any changes to your business.
If you're a semi-rural pub, your target audience is probably walkers and ramblers with muddy boots (and paws), in search of warmth, a hearty meal and a pint. But if you're a daytime cafe on an urban street, you might be hoping to attract parents and pups post-school run — all very much in need of coffee, cake and a quiet place to relax.
Knowing who you're appealing to will help you decide how doggy-friendly you become (are you setting aside an area or going 'the full dog'?), and assist when promoting to attract more business.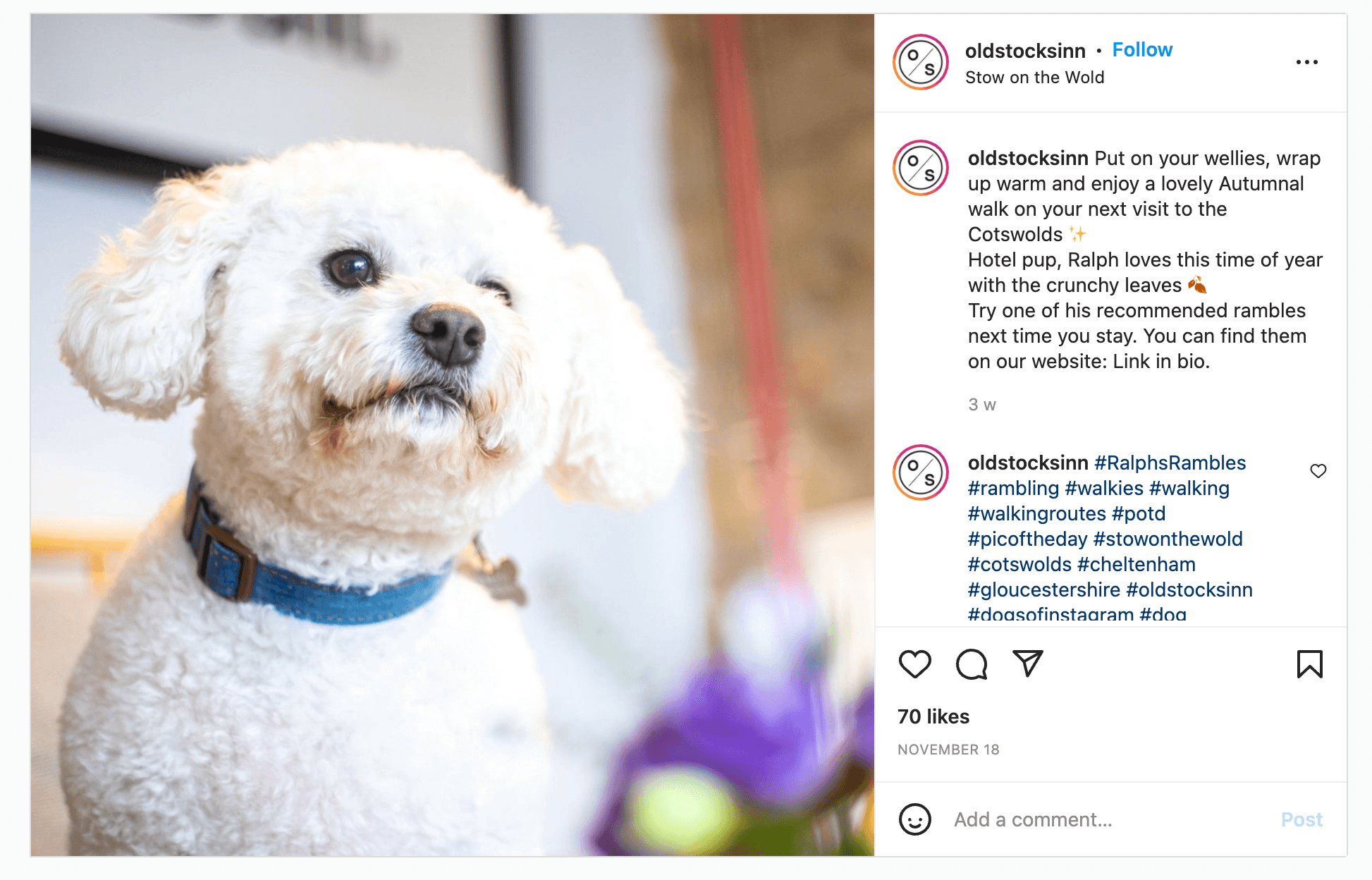 Decide how dog-friendly you want to be
You may choose to make part or all of your venue dog-friendly, and this will depend on several factors, including your current customer base.
You probably innately know the level of demand through local competition or requests from passers-by, but the beauty of creating a dog-friendly area is that you can assess popularity before making a bigger, permanent commitment. This also takes your dog-free (or perhaps dog-wary) customers into consideration and avoids alienating them.
The Old Stocks Inn in the Cotswolds has gone for this mixed approach — giving their clientele the best of both worlds:
"We have always been dog friendly in our Garden Rooms, which are small, 'cottage-like' rooms. We also have two holiday cottages, which we decided to make pet friendly." - Charlotte Tuck, Business & Brand Development Manager
However much space you devote to dogs, make it clear so that everyone feels comfortable from the get-go. Signage and staff will help your customers better understand the space, so ask yourself the likely questions, provide the answers upfront and make sure your staff are clued in too. Do dogs need to be kept on leads or are they only allowed in certain areas, for example?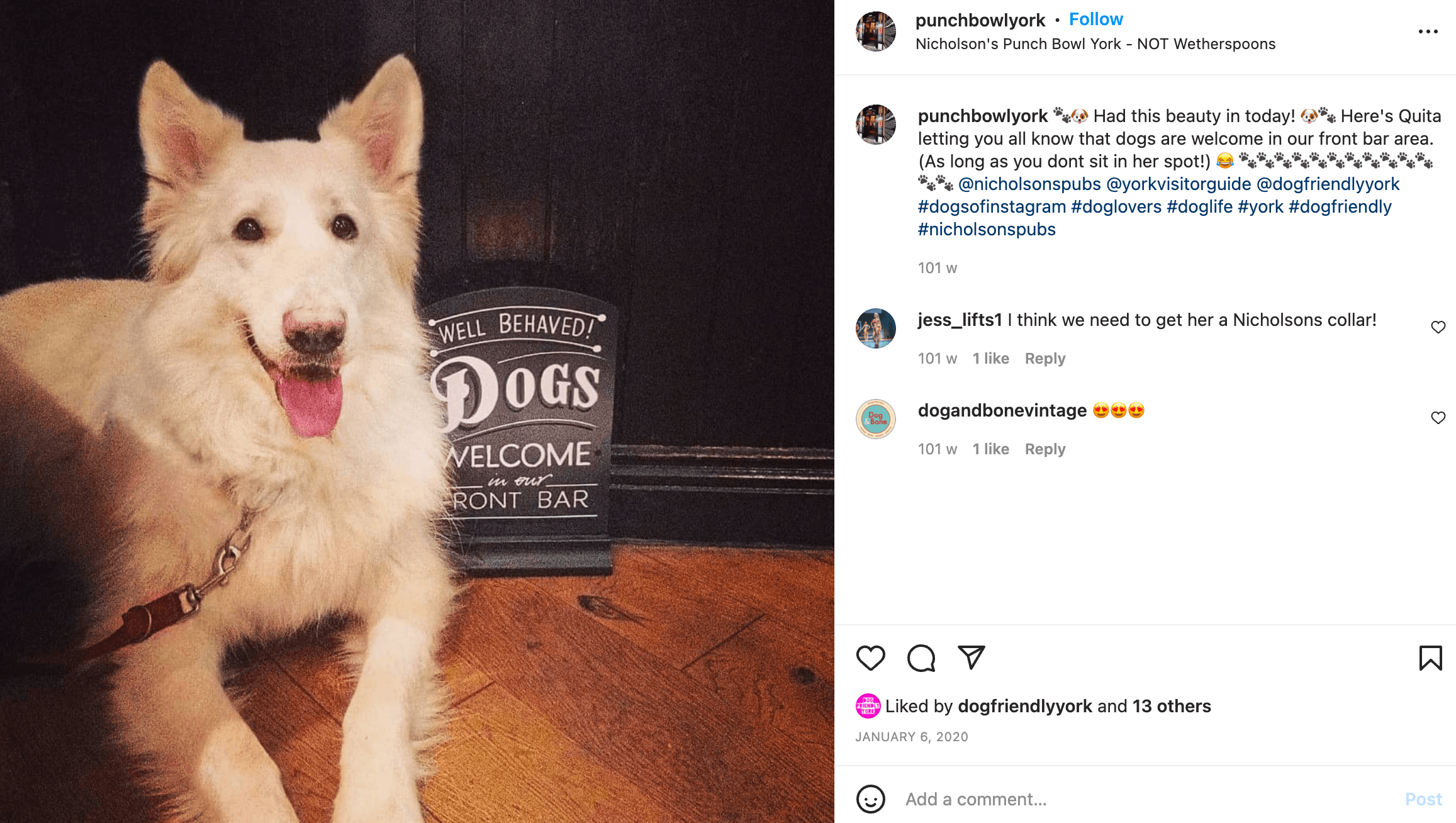 Provide creature comforts
Be the sort of place that people want to tell their friends about. Doggy people trade hints and tips all the time, so it won't take long for word to spread if you're doing it right.
Anything visible to welcome your two- and four-legged customers will go down well (and may also end up on social media). Here are a few of our favourite, tried and tested ideas:
Treat Jar on the Bar - sets the scene and makes everyone smile
Canine Wall of Fame - a dedicated wall of photos of your puppy patrons (also good for generating pics for social media)
Puppy Bar - with water or dog 'beer', great for courtyards and gardens
Blankets for benches or seats - protects furniture from claws and fur, and ensures maximum cosy factor (people are likely to stay longer if their dogs are comfy)
Pupcakes - otherwise known as dog cupcakes and often made with peanut butter (we like this recipe from Barking Heads dog food)
Towels for dirty paws - a little touch that owners will love, and saves on cleaning for you!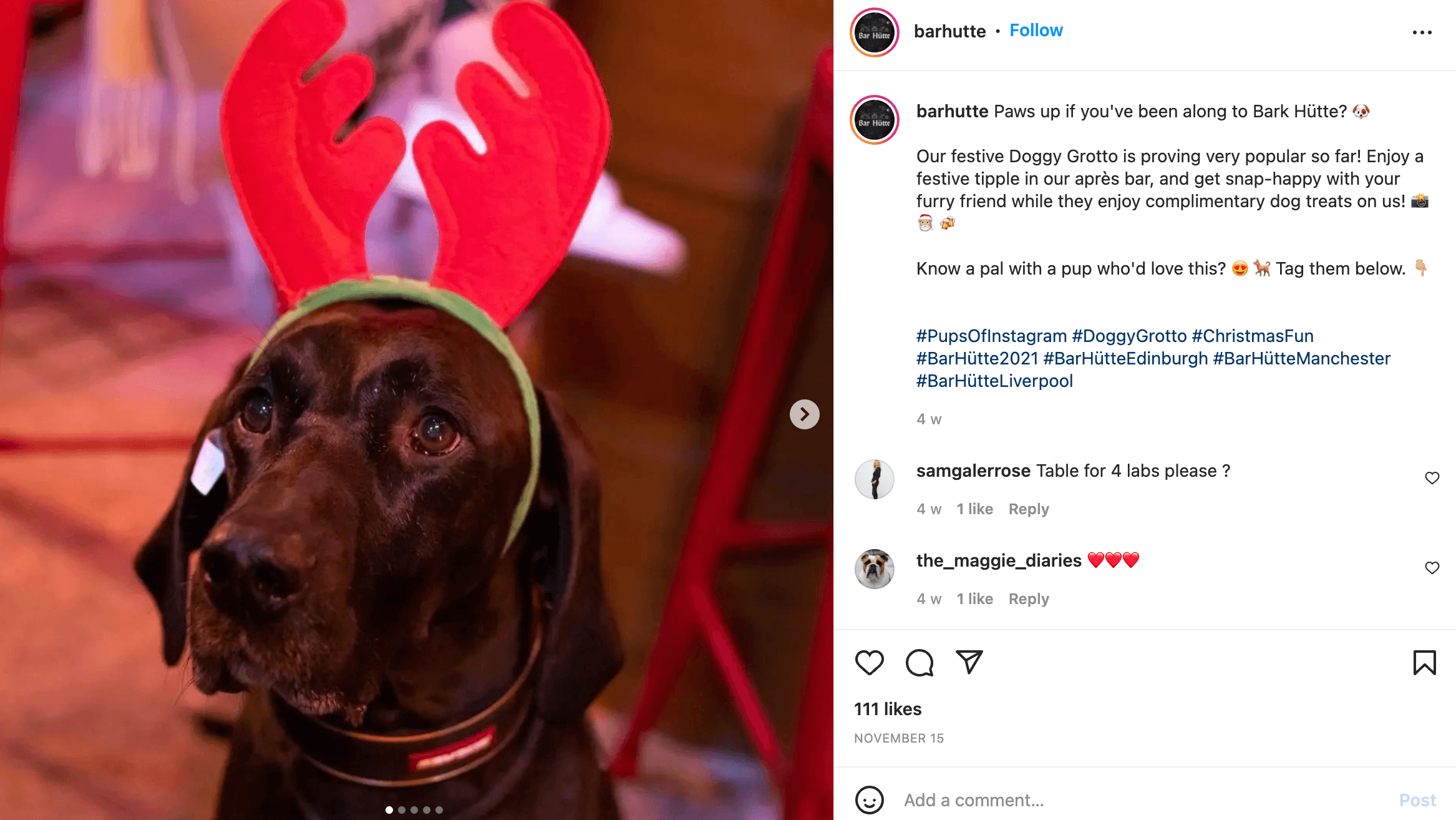 Whatever you choose to offer, create something that supports your business and encourages return custom. You could even make it seasonal, like Bar Hütte in Liverpool who created a Santa's Grotto for 2021 where dogs could "have their picture taken and enjoy a 'paw-secco'". Not only was this brilliant idea a hit with the customers, it also got them featured in the Liverpool Echo.
Go the extra mile
It doesn't take a lot to make your customers feel special, so a little care can go a long way. From attentive staff who love dogs and make a fuss of them to little touches that tug at patrons' heartstrings, it's possible to stand out from the crowd in all sorts of cost-effective ways.
The Spa Hotel at Saltburn-by-the-Sea reserves breakfast tables in their restaurant with the names of the dogs staying there (rather than the people) — a small gesture that absolutely delights their guests. What sort of person could fail to share the anecdote upon returning home? And we'd bet money that photos of their handwritten table signs find their way fairly quickly onto Facebook and Instagram as well.
The team at The Old Stocks Inn also go out of their way to create a memorable stay, and confirm it makes a big difference to their guests and their business:
"The fuss we make of the dogs, the luxury beds they get to sleep on, the treats freely given in the bar…  Plus, there are usually lots of doggie friends to meet in the area and staying at  the Inn. The Garden Rooms are always booked and are very popular as a result."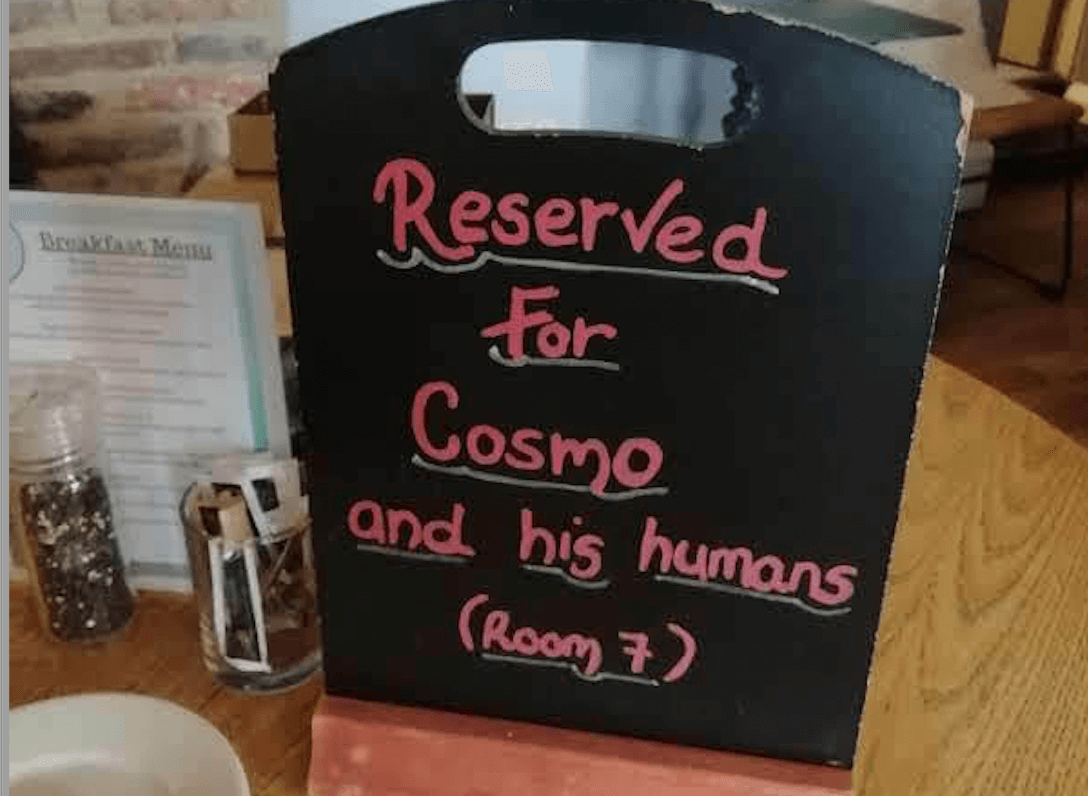 Bark about it!
Your offer is guaranteed to get people talking, both on and off social media, but don't fall into the trap of not promoting it yourself — especially in our current climate, when people are more likely to be 'staycationing' in the UK and bringing their dogs with them.
Whether it's via email, on your website, in your window, on a board out the front or splashed all over the socials, regular reminders that you are dog-friendly could be the difference between someone picking you or going with the place next door.
We love how Spark (a community space that's home to food, retail and social enterprise start-ups) frequently and authentically mentions dogs on their Instagram feed, helping them to stay front of mind for dog-friendly venues in York.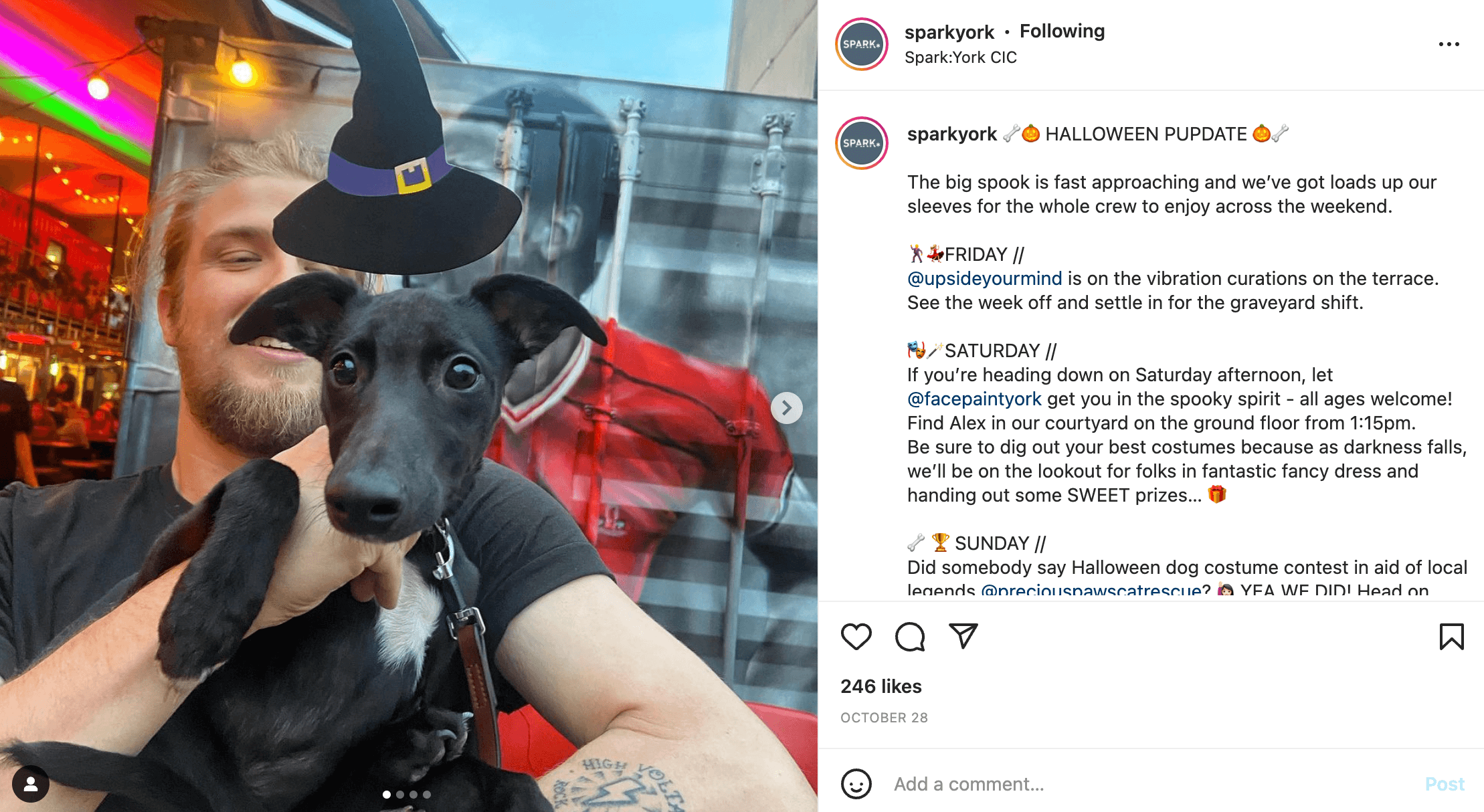 When promoting on social media, be sure to tag dog-friendly accounts and use hashtags to help the word spread further. It's almost guaranteed that these will exist online for your town or region, so link to them every time you post about being a welcoming place for dogs. Search 'dog friendly [insert place or town name]' within each social platform and see what profiles and hashtags come up.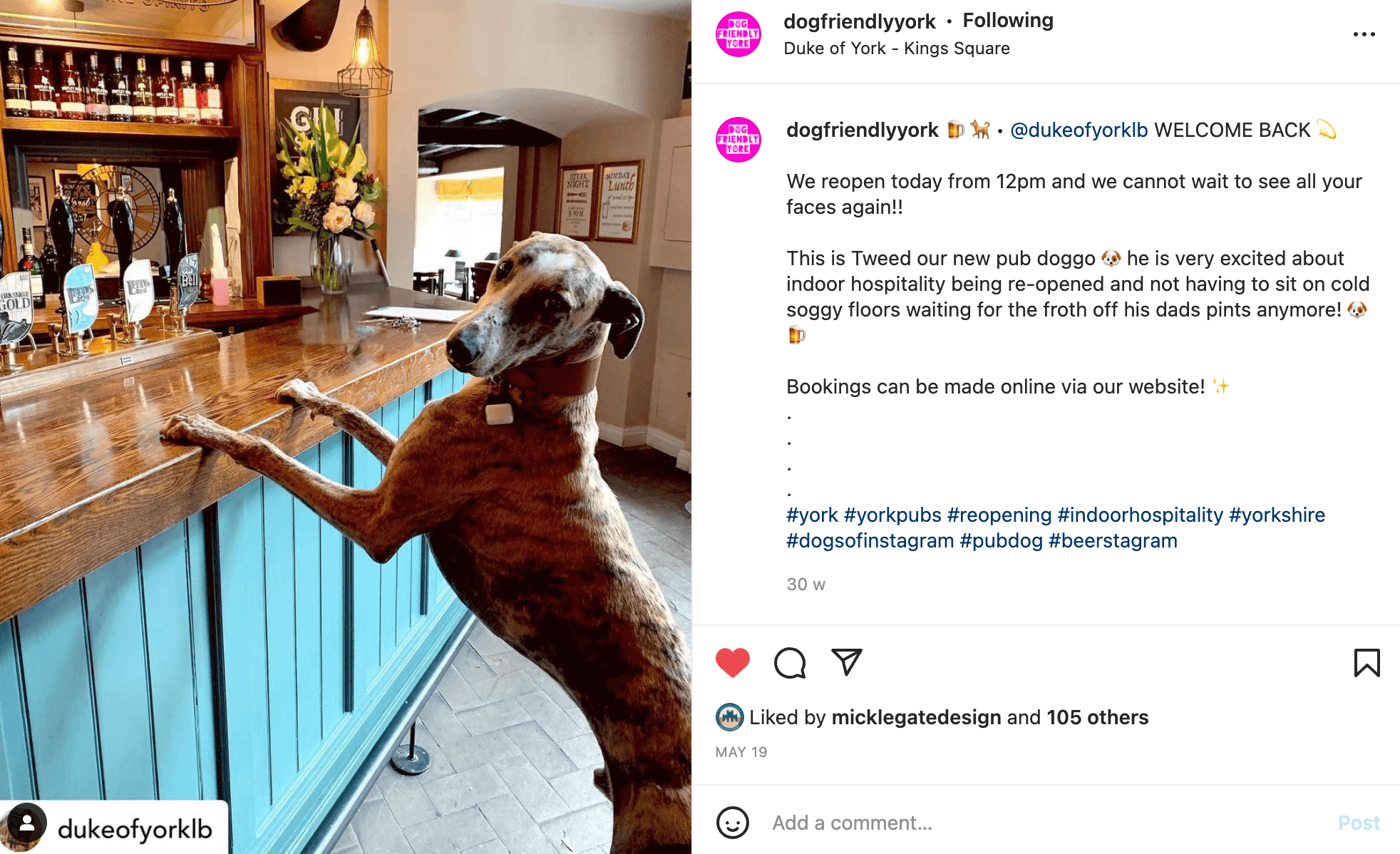 And if this blog has inspired you, then tag us on social media and we'll promote you too.
If you've ever thought about making your business more dog-friendly then perhaps 2022 is the year to see what's paws-ible (we couldn't resist). We'd love to hear what you decide to do.
Management advice & insights, straight to your inbox.
Enjoying the RotaCloud blog? Tell us your email address and we'll be in touch whenever we publish a new blog.
---
---