What we learnt at the Health + Care Show 2019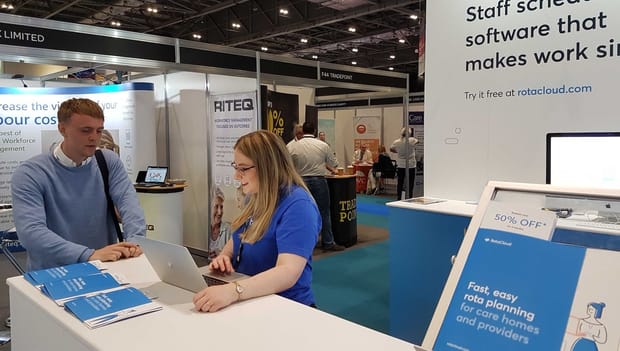 You may have bumped into the RotaCloud team recently at the Residential and Home Care Show, part of the Health + Care Show. Patrick, Maisie, James and Joel took the trip to the ExCeL in London to meet professionals from the residential care and home care sectors, and bring RotaCloud to a wider audience.  
We talked to hundreds of experts from the care sector, and learnt a great deal about the challenges and opportunities faced by care providers and care homes. We also spoke to plenty of existing RotaCloud customers who popped round to speak to us at our stand!
Here are the topics we talked about the most:
Enthusiasm about tech in care
Some sectors are known for their slow adoption of technology — including the health and care sector. The King's Fund report (pdf) that these changes have stalled because of the severe pressure care services are under — implementing new tech could cause disruption and carry a cost that is tricky to justify.
However, our experience at the Health + Care Show (and the Residential and Home Care sub-show) showed us that leaders in the care sector are very enthusiastic about the role of technology in their organisations, and are keen to look for new solutions.
Amongst the attendees we spoke to, there was an acknowledgement that typical care technology was ineffective, outdated, and expensive — and newer tech needed to replace it.
Understanding the challenges ahead — and the solutions
We all know that the care sector faces testing times, with publicly funded care fees barely covering costs for providers, the potential impact of Brexit on carer availability, and an ever-growing demand for care in the UK as the population ages.
Instead of despairing over these significant challenges, visitors to the RotaCloud stand were optimistic about the solutions. Affordable, flexible, cloud-based technology can play a significant role, unlocking efficiency benefits that have so far been unexplored. For example, HR and rota planning software both provide self-service elements, allowing staff to change their contact info, swap shifts and even edit their timesheets directly through the platform. This collaborative approach was mentioned by several attendees as a way of improving outcomes like employee turnover and even care quality.
Staff turnover is a big concern
We know that the vacancy rate in the health and care sector exceeds the average. In other words, it's difficult to replace staff when they leave. If replacements can't be found, expensive agency staff are often needed to fill the gaps.
The easiest way to prevent these extra costs is to stop staff leaving in the first place! Visitors to the RotaCloud stand told us how important reducing staff turnover was to their organisations. Using efficient technology that genuinely improves the working lives of employees is a great place to start.
All-in-one software is popular, but has its drawbacks
When speaking to visitors about their current setups, many told us that they preferred to use all-in-one software packages that incorporated every aspect of care management into one place.
While these systems do have some benefits, they tend to be expensive, difficult to use, and often don't live up to their promise. With specialist software like RotaCloud offering increasing numbers of integrations and data export options, it's becoming a more appealing alternative to all-in-one care software.
Ease-of-use is key
Continuing on the software front, pretty much everyone we spoke to agreed that care software must be easy to use — both for managers and carers.
Complicated software soon offsets any efficiency benefits that might have been gained from its use, through extra time spent training staff to use it, as well as time spent completing tasks, and the impact of any errors caused by the confusing software.
At RotaCloud, we strive to make our software as user-friendly as possible. We know that not everyone using RotaCloud is confident with technology, so we try to implement intuitive features like moving shifts by dragging and dropping, and colour coding shifts based on role.
---
We'll be at a couple of other events later this year: The Restaurant Show (30th September–2nd October), and the Independent Hotel Show (15th–16th October) — both at the Olympia London. If you're attending either of these shows, stop by and say hi!
Management advice & insights, straight to your inbox.
Enjoying the RotaCloud blog? Tell us your email address and we'll be in touch whenever we publish a new blog.
---
---