Has Covid-19 permanently changed UK holiday habits?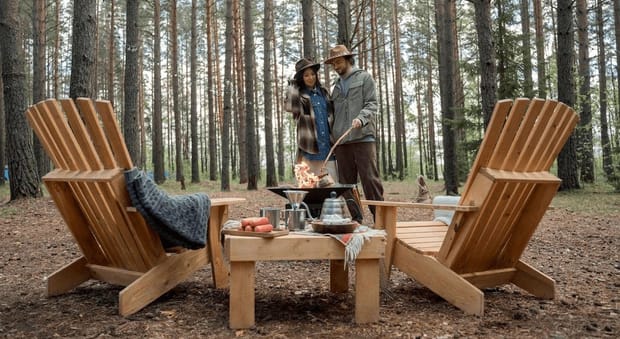 Two years ago, we could never have imagined how unexpectedly our lives were about to be changed. In fact, change was about the only constant of 2020 and 2021, with the Covid-19 pandemic altering everything from how we work and communicate to how we travel and shop. But how much of this change is permanent? In this blog, we're focusing on the hotel industry and speaking with managers about the impact of Covid-19 on British holiday habits.
With international travel uncertain or curtailed completely, domestic holidays have been a defining feature of the last two years. Covid has meant that the majority of us have holidayed much closer to home than in previous years. A report published towards the end of last year stated that "just over 406,000 international flights operated from the UK in 2021 compared with almost 1.4m in 2019 before the pandemic".
As well as influencing where we go, Covid may have also affected where we choose to stay and why — with anecdotal evidence pointing to changes in individual behaviour. Recently we spoke with a 'self-confessed backpacker and Airbnber' from North Yorkshire, who confirms her choice of accommodation has altered radically:
"Since the lockdowns, and so much time spent at home and not being able to travel, I've booked hotels for city breaks or long weekends. I don't want to have to worry about cooking or tidying up when going away feels so rare and precious. Against my normal nature, I find myself craving luxury."
So how have these societal and attitude changes affected hotels in the UK? We spoke to Liz Howe from Holdsworth House in West Yorkshire, and Charlotte Tuck at The Old Stocks Inn in The Cotswolds about it.
Can you describe your 'typical guest'?  Have they changed at all since Covid?
The Old Stocks Inn: Typical guests are professionals looking for a weekend escape from the city. Weekdays see more leisure-loving retirees or semi-retired guests, as well as younger couples on honeymoon and those without kids who aren't beholden to the school holiday calendar. This hasn't changed drastically for us, but our midweek trade has certainly been younger.
Holdsworth House: Our typical leisure guest is a discerning couple who has an interest in travel, food, wine, gardens and history. All are looking for traditional service and a friendly chat. Our typical corporate customer is someone who wants to stay somewhere a bit different and quieter, who is fed up with budget hotels but wants somewhere that isn't pretentious. We're lucky that weddings help fill any gaps the corporate market left during Covid. But the corporate market is showing a strong comeback, thanks to lots of TV filming in West Yorkshire.
What are guests looking for when they come to stay with you?
The Old Stocks Inn: Luxury, being looked after, a bit of design indulgence and some great food and drink.
Holdsworth House: A relaxing stay with great food. Many are very interested in the history of the manor – we have gone to great lengths to research this and have some wonderful leaflets or online information that guests can absorb. We have had many TV film crews visit too, so guests like to follow in the footsteps of their musical, stage or screen heroes. We hope they'll also be surprised when they get here to discover just what brilliant local attractions, history and scenery we have on the doorstep if they do want to venture out.
Are people looking for more luxury post-lockdown?
Holdsworth House: Demand is as keen at Holdsworth House as it ever was. People choose us as somewhere to escape to or as a base to explore Halifax or West Yorkshire. Holdsworth House offers history, comfort, great food and a fantastic team to welcome guests. We are the luxury offering in the area and ours is a formula that's not easily replicated. Therefore Covid hasn't changed holiday habits but availability is more scarce. As a popular wedding hotel, we've had to move so many weddings, which has tied up a lot of accommodation.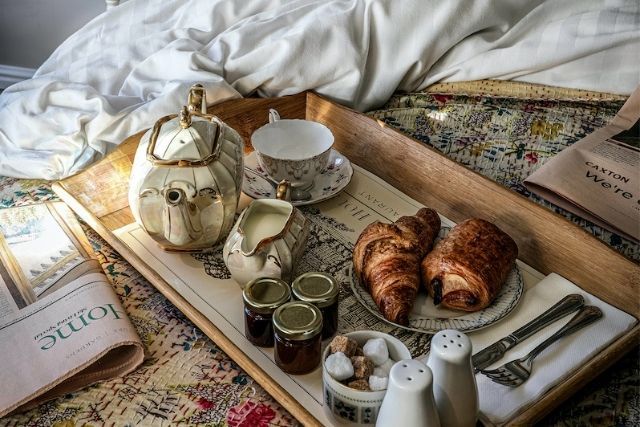 Have you witnessed any change in booking habits since restrictions eased? If yes, how have they changed?
The Old Stocks Inn: The lead time on bookings is a lot shorter, with guests preferring to opt to book a stay at the very last minute. We often go into a month with each week ahead selling out while we are in the one before. We used to enjoy much longer lead time bookings — especially from guests who were travelling from overseas. Since Covid, all of that has changed.
Holdsworth House: We have a lot of guests looking for a last-minute getaway, booking seven days or less out; with restrictions changing so frequently, leisure guests are putting off booking until the last minute. However, we put in place a clear cancellation facility to reassure guests that if they change their mind or become ill, they can cancel without penalty. Wedding guests are still keen to book their rooms, so booking habits here haven't changed.
"The lead time on bookings is a lot shorter, with guests preferring to opt to book a stay at the very last minute."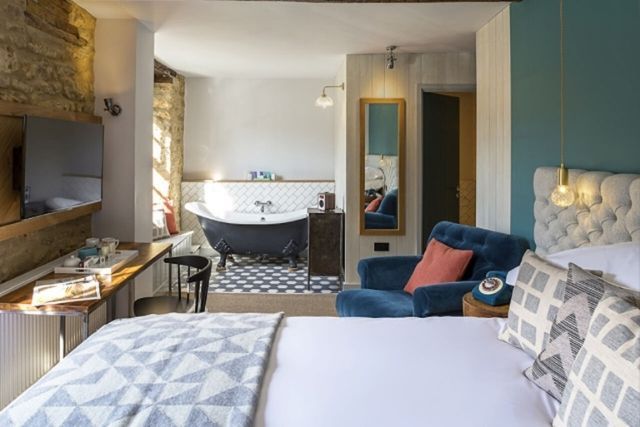 How did 2021 compare with the years before the pandemic?
The Old Stocks Inn: Since we were allowed to reopen, our occupancy has been vastly stronger than in 2019, and even an improvement on 2020 where we also enjoyed stronger occupancy as a result of people not being able to travel overseas. Most weeks are fully booked and our restaurant space has been fully booked all summer into winter. This was not the case (particularly midweek in autumn/winter) prior to the pandemic. Also, our most luxurious rooms seem to be booked very heavily, with guests wanting to treat themselves and push the boat out little and often, when they can.
Holdsworth House: 2021 was extremely busy because of weddings. All the couples who couldn't marry in 2020 had their dates amended, which had a knock-on effect for the rest of the business. In August 2021, our team worked flat out with a wedding 29 out of 31 days. Before the pandemic, we would have had a much larger share of the leisure market staying with us, which has an impact on the restaurant spend too.
"In August 2021, our team worked flat out with a wedding 29 out of 31 days."
Despite the disruption, worry and fear that the last two years has caused, our take home after talking to these two UK hoteliers is positive. There is still uncertainty for the industry, but we can identify some clear trends — namely:
Bookings have much shorter lead times — 'last minute' is now the norm
People are looking to escape reality and are opting for luxury when they can
Occupancy has stayed strong
And demand is high, if less predictable.
After so much time spent in our homes, people are placing greater value on going away and  domestic holidays are enjoying the sense of occasion normally reserved for more exotic trips. Cancellation policies and Covid-safe assurances are helping to maintain booking confidence, and holiday-makers are seeking out the luxurious, even when staying local.
It's going to be interesting to see what happens in 2022, and whether domestic travel remains the focus for most people. Behaviour will be influenced by restrictions and the national mood of course, but a recent global survey* suggests that developing and new travel habits will carry into the future. One of this survey's findings, for example, was that 'flying habits are set to change drastically for the long-term, with eight in 10 airline passengers (83%) not expecting to return to their previous travel routines".
We'll return to this topic later in the year, and check in with The Old Stocks Inn, Holdsworth House and others to see if things have shifted or changed significantly. If you're an accommodation provider who would like to feature in a follow-up article, please get in touch with us via Twitter, Facebook or our website.
---
Holdsworth House is a four-star hotel and wedding venue. This family-owned Jacobean manor is set in stunning, secluded gardens on the edge of the Yorkshire moors.
The Old Stocks Inn, in the heart of Stow-on-the-Wold, is a 17th-century coaching inn and beautiful boutique hotel.
*The 'Passenger Confidence Tracker' is the world's largest survey of airline passengers since the pandemic began. It reflects the views and attitudes of 9,500 respondents from 12 countries across the globe about the future of flying.
Management advice & insights, straight to your inbox.
Enjoying the RotaCloud blog? Tell us your email address and we'll be in touch whenever we publish a new blog.
---
---