There was a time when people management software was considered something that only HR managers concerned themselves with.
But today, people management software is a different beast entirely.
From small, independent cafes to hotel chains and multi-site care homes, people management software has become the backbone of businesses big and small, saving managers and owners time, money, and admin-related headaches on a daily basis.
Here are five ways that it could do the same for your business.
---
What is people management software?
People management software is a type of application that helps managers and business owners organise their teams more efficiently by streamlining a variety of common workplace processes.
These might include things like:
staff scheduling (aka rota planning)
managing staff attendance and timesheets
sickness and annual leave
budgeting and labour cost control
storing company or employee documents
generating payroll reports & exports
communicating with staff
By combining these activities into a single, easy-to-use platform, people management software helps managers save time and money while setting their staff up for success.
1. Cost & time savings
Arguably the biggest benefit of using people management software is the time-savings — which, when it comes to running a business, pretty much always translates to financial savings.
When performed manually or using things like spreadsheets and email, tasks such as planning and maintaining employee rotas, recording attendance, responding to holiday requests and calculating pay all eat into managers' valuable time.

By comparison, users of RotaCloud report spending an average of 66% less time on this same staffing-related admin — time that they can instead spend training their staff, interacting with customers, and generally growing their business.

People management software that bundles in things like labour cost control, payroll reporting, and digital document signing can increase time-savings even further, enabling managers to complete a wide variety of tasks in a matter of minutes rather than hours.
2. Better communication
The best people management software is cloud-based, where the softwarelives online rather than being installed on individual computers or phones.
The benefits of this are threefold:

1. Managers can organise their teams from anywhere, using virtually any internet-connected device.
2. Staff can access their rotas, timesheets, and booked/remaining annual leave whenever they need, without having to bother their managers.
3. There are never any "old" or duplicate versions of schedules, documents, or timesheets, helping to reduce confusion and staffing-related mixups.
Because of this, people management software makes communication between managers and teams significantly easier. Schedules are sent straight to employees' phones; staff are automatically notified whenever there's a change to their schedule; managers can send out company-wide memos and even receive confirmation when staff have read important updates.
Put simply, people management software ensures that managers and their teams are always on the same page — without the need for constant emails, WhatsApp groups, or phone calls.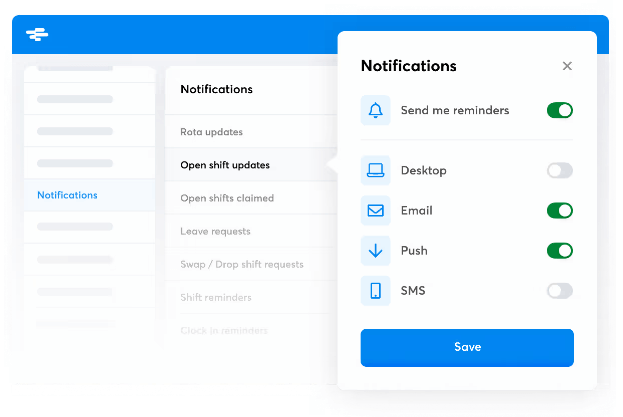 Automatic shift updates for your staff
No more mixups, no more missed shifts. RotaCloud's automatic notifications let your staff know the moment there's been a change to their schedule.
Explore RotaCloud
3. Happier, healthier staff
In today's competitive job market, and with many industries struggling with high staff turnover, employee experience matters more than ever.

The good news is, people management software doesn't just make life easier for managers and business owners; it makes work simpler for their staff too.
As well as being able to always access the rota and get advance notice of things like shift changes, staff whose employers use people management software like RotaCloud also get access to a host of self-service tools such as:
Staff can also mark their working availability ahead of when their manager plans the rota, communicating the days and times that they are — and aren't — able to work.
As well as reducing the need for managers to make changes to rotas after they've been shared, this also makes it easier for staff to establish a healthy work-life balance.
4. Easy attendance monitoring
People management software that includes time & attendance features makes it easy for managers to track and record when their staff are clocking in and out at work — without the need for messy paper timesheets and hours of calculations and data entry when it's time to run payroll.

In RotaCloud, for example, employees clock in and out of their shifts either by the RotaCloud mobile app on their phones, or by tapping in and out of a workplace tablet running the RotaCloud Terminal app.
Their start and finishing times for each shift are then automatically fed into their individual timesheets — with any late, missed, or early clock-ins automatically flagged — ready for managers to use to generate payroll reports.
With this information at their fingertips, managers can quickly spot problems with lateness and attendance before they begin to affect their business.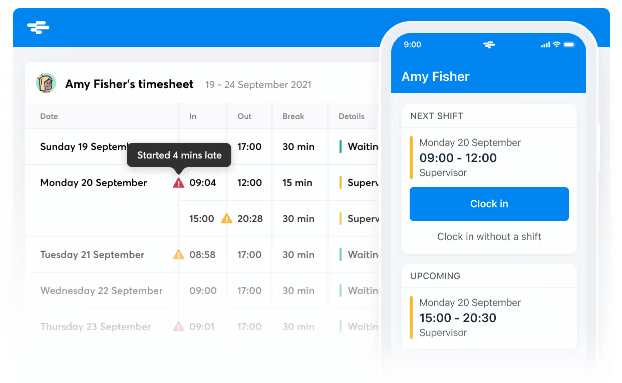 Automatic timesheets for your team
With RotaCloud, your staff's start, finish, and break times are stored automatically on their individual timesheets, ready for you to run payroll.
Timesheets in RotaCloud
5. Better staffing & business decisions
Finally, people management software takes the guesswork out of running your business.

Want to avoid overspending on staffing while still meeting customer demand? Pick a people management platform that includes revenue-based labour forecasting tools.

Struggling with an employee who keeps showing up late for work? Rather than basing your response on anecdotal evidence, generate an attendance report that you can review with your employee to work out a solution.
RotaCloud users also have access to a huge number of reports based on their account data to help them stay compliant with things like industry regulations and employment law, including:
Daily Totals. A summary and breakdown of hours and costs by day
Monthly Totals. A summary and breakdown of hours and costs by month
Location Totals. A summary and breakdown of hours and costs by location
Role Totals. A summary and breakdown of hours and costs by role
Working Time Directive. Compares each employee's average worked hours over the selected date range against the specified number of hours
Leave Totals. A summary and breakdown of the amount of holiday taken by each employee
Leave by Employee. A list of all Leave records which fall in a selected date range
Scheduled vs. Actual. Compares rota hours and costs against tracked hours and costs for each employee
People management software provides business owners and managers with a wealth of information to base their business decisions on, taking the guesswork out of staff management while helping to keep labour costs under control.
---
Wrap up
The thought of bringing in new software might be intimidating at first, but its integrated nature means that people management software could very well be the only application that your business needs.
By streamlining common people management tasks and bringing things like rota planning, attendance and leave management, document storage, and labour forecasting together in one application, platforms like RotaCloud save managers and business owners hours of staffing-related admin and help them spot opportunities to save money.
RotaCloud also benefits your staff, giving them greater visibility over their shifts, reducing shift-related mixups, and helping them to organise their work and personal lives better.
---
---