Since launching to the world back in June of 2014, hundreds of businesses have used RotaCloud to save tens of thousands of hours every month administering rotas and communicating with their staff.
But the rota, or schedule, is only half of the story. What happens after the shifts start? You still have to monitor lateness, absence, and the hours that your staff are actually working. As we all know, these rarely line up perfectly with what you had planned, and can be nothing short of a nightmare to keep track of. Scraps of paper, a multitude of Excel spreadsheets and a whole lot of frustration are often the order of the day.
It's hardly surprising then, that a simple and effective way of tracking employee working hours has been at the top of our feature request list since day one.
So, after months of research, planning, developing, testing and tweaking, we're very excited to announce the launch of our new Time & Attendance package.
With time and attendance you can accurately record the actual times your staff start work, feed these times onto a timesheet where latenesses and absences are automatically highlighted, and finally, prepare a payroll report to import into your payroll software or send straight to your accountant.
Clocking In
Staff can clock in using two different methods; with our mobile apps or using a web-based terminal.
Mobile Clocking in with GPS
The first option is to use the mobile apps on iOS and Android.
When a shift is approaching, a 'Clock In' button will appear within the app allowing the employee to clock in to their shift. At the end of the shift, they just tap 'Clock Out' and they're done.
You might be thinking "but what if my staff just clock in from home when they wake up?". Well we've got you covered! Using the GPS functionality within smartphones we can prevent your staff from clocking in from a location outside of one you specify.
Your staff will also get notifications when they are late to clock in, and you'll (admins & managers) get one later if they still haven't clocked in.
Web-Based Clocking-In Terminal
A terminal is a web-based keypad that you can set up in a fixed position on your premises. No need to buy any expensive equipment, simply load a web page on a tablet or computer and you're good to go.
When they arrive at work, staff will type their PIN, select the shift to clock in to, then type their PIN on their way out.
Timesheets
Each employee has their own timesheet that is automatically filled with their clocking in and out times, so say goodbye to messy paper timesheets and laborious data entry.
Compare Scheduled with Actual
Timesheets compare the times on the rota that your staff were scheduled to work with the actual clocked times and highlight any discrepancies, including absences, lateness and missed clock ins, with an icon that will differ in colour based on the severity.
Approval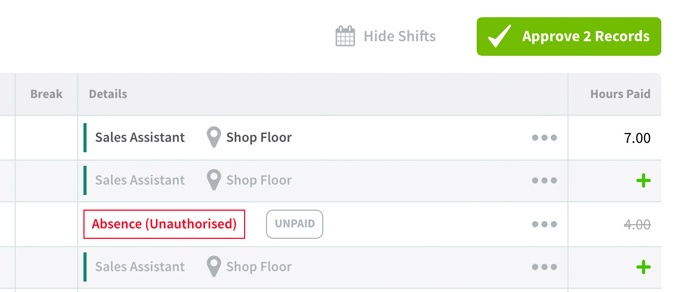 When you've finished checking over a timesheet, approve each record either individually or en masse so you know that everything has been checked and is in order. Manual changes and tweaks are a click of a button.
Leave and Absences
Leave and absences can be added on the timesheets as paid and unpaid, which will then be factored into the gross payroll calculation for each staff member. With Time & Attendance, you also get access to two new leave types: Authorised Absence and Unauthorised Absence.
Payroll Report
Once all timesheets have been approved, you can lock the pay period and view the payroll report. This report will detail all of the hours worked, any overtime hours, and paid and unpaid leave. Clicking on the total in the right hand column will present you with a breakdown of how this figure was calculated, should you need to query any of the numbers.
Whenever you're ready, just click the download button to export the report to a csv file, perfect for importing into your payroll software or sending to your accountant.
Extras
Adding Time & Attendance to your account also unlocks a series of new reports to the reports section of RotaCloud.
These include a detailed scheduled vs. actual report, attendance, lateness, and Bradford factor. As well as these reports, you'll see a few new fields within employee profiles, including payroll ID and overtime rate.
How can I try Time & Attendance?
If you already have a RotaCloud account, log in now to give Time & Attendance a try. If you've not yet given RotaCloud a go, there's no time like the present! Sign up for a free trial today.
If you have any questions or feedback, don't hesitate to get in touch.
---
---