Updated 29/07/20: The new Logbook feature has been added to Pro. Read more about it below.
Our goal with RotaCloud has always been to make work simple for everyone by providing the most robust, easy-to-use, and reliable staff scheduling solutions available.
We like to think we've come close to achieving this goal, but are always looking for ways to improve our products — which is why we're excited to be able to reveal what we've been working on for the past year.
Available now to try free, RotaCloud Pro adds a whole host of advanced scheduling, forecasting, budgeting and HR tools to our core Rota Planning product. It was built on feedback and feature requests we've received from our users, and has been designed as an optional extra for those who need it — while keeping our core Rota Planning product simple.

We appreciate that this is a difficult time for many businesses. But since these new features have been heavily requested by our users, we thought we'd quietly make Pro available as soon as it was ready — and if you want to use it, you can.
With that in mind, here's everything you need to know about going Pro.
What's included?
We like to think of our Pro tier as a 'boost' mode for our existing Rota Planning product. It's intended for managers and business owners who need a little extra from their scheduling software, and brings with it a number of tools and features that make handling larger teams and planning around varying budgets much easier.
Here's a closer look at what Pro has to offer.
Bulk actions
You've probably wished you had an easy way to changes hundreds of shifts in one go in RotaCloud. Well, here it is!
Instead of painstakingly changing every shift, with the Bulk Actions tool, you can apply a variety of changes to as many shifts as you like with just a few quick clicks.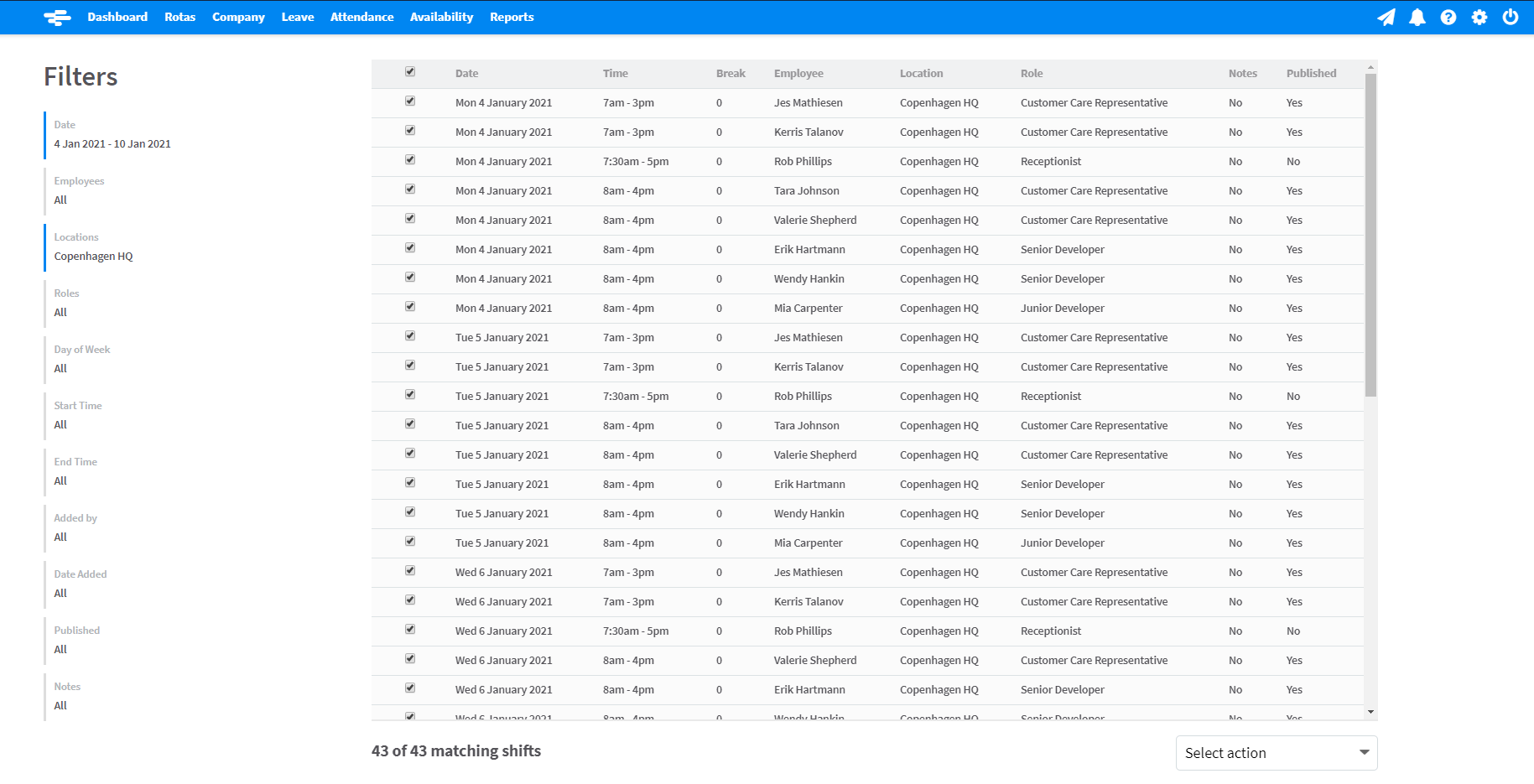 Almost a dozen custom filters — from role and location, to shift start time and who it's assigned to — make it easy to pinpoint and apply changes to entire batches of shifts, saving you hours of admin.  
So, the next time you change your opening hours, a member of your team moves on, or you realise you need more people working in a particular location, you can update whole weeks or months of rotas without breaking a sweat.
Labour forecasting
Another much-requested feature being introduced by our Pro tier is labour forecasting, which allows account admins and managers to plan shifts based on the expected revenue for each day.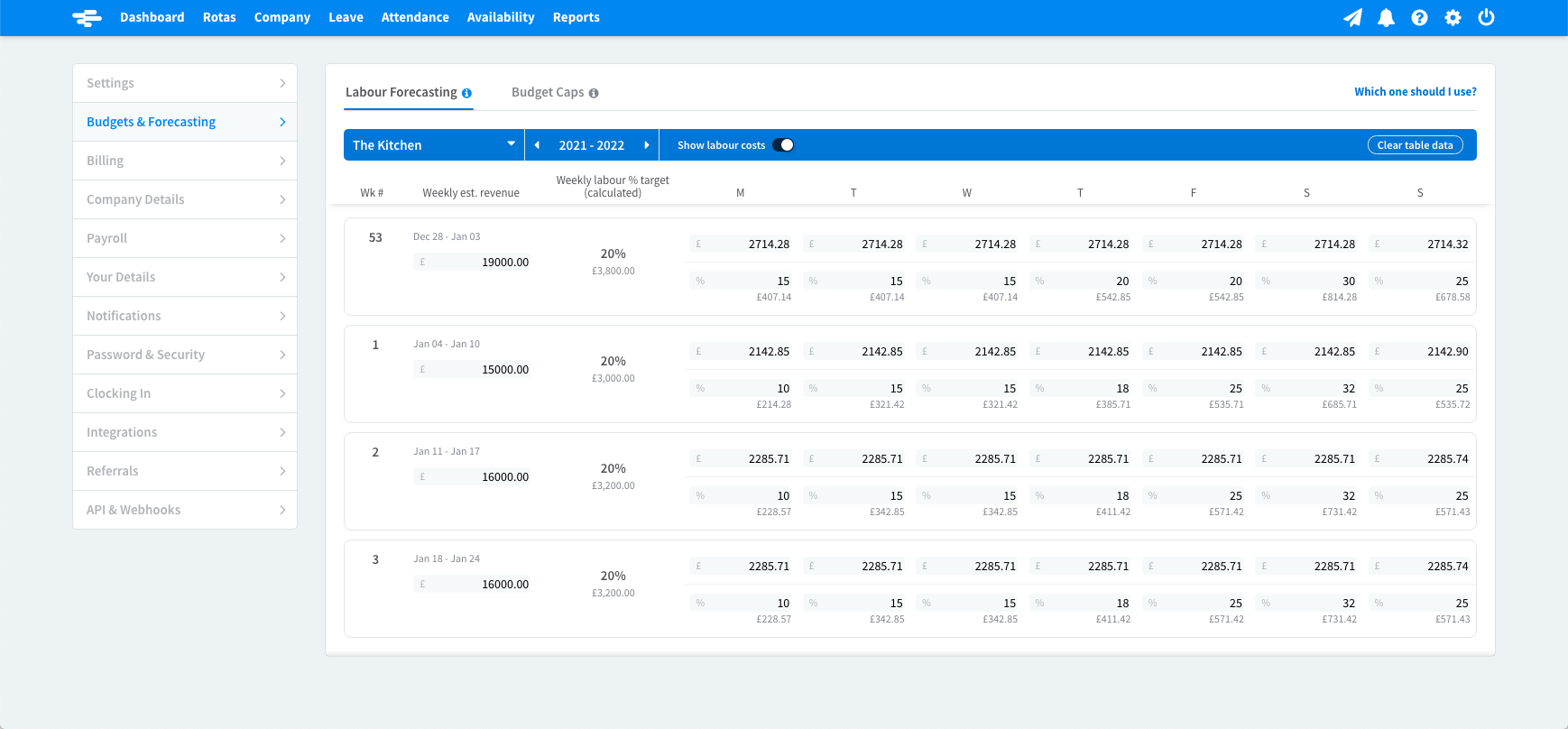 By adding your expected revenue into RotaCloud, your rotas will display labour costs in real-time as a percentage of sales for each day of the week. Admins can also decide the maximum percentage revenue they'd like to be spent per day on staffing, so they can be confident that managers are scheduling an appropriate number of staff.
Leave request rules
Save everyone's time by setting up custom leave request rules, so that only requests that meet the criteria you decide on will be submitted for approval.  
With leave rules in place, you can be sure that any requests that do come through won't negatively impact your rotas — or the rest of your team. Set up filters for everything from role, date, and location, to minimum number of employees to ensure that none of your departments ends up understaffed and that your company's policies are always adhered to.
Simply head into Leave → Tools → Request Rules in your Pro-activated RotaCloud account to set up leave request rules that work for your business.

Budget caps
Pro's new budget caps feature allows admins and permitted managers to set a labour budget for each day or week on the rota.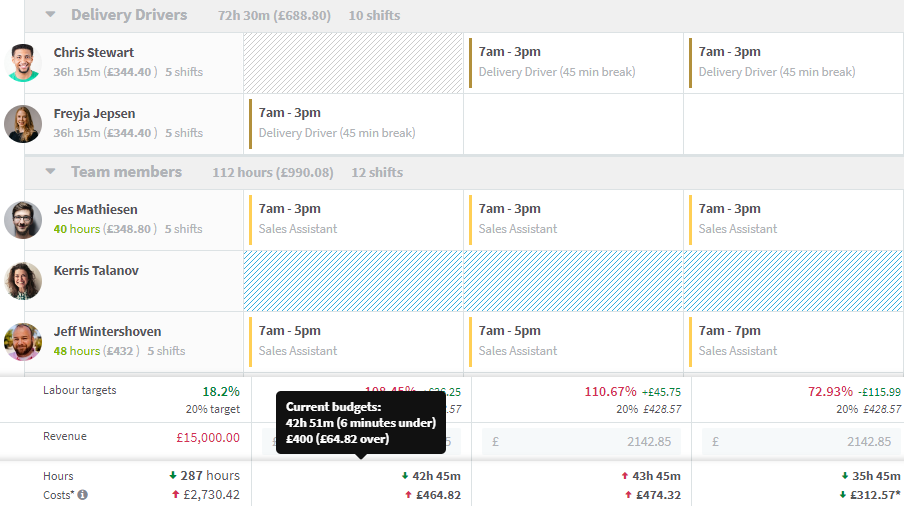 With a monetary cap in place, managers will be alerted whenever they're in danger of overspending while they're building their next rota, helping them to keep spending constant.
Budget caps can be set up by going to Settings, then clicking Budgets & Forecasting in any RotaCloud account where Pro is activated.
Document storage
There's nothing more annoying than having to rummage through your hard drive or filing cabinets to find one of those important — but only occasionally needed — bits of employee documentation.
So why not store them right where you can find them: in your employees' RotaCloud profiles?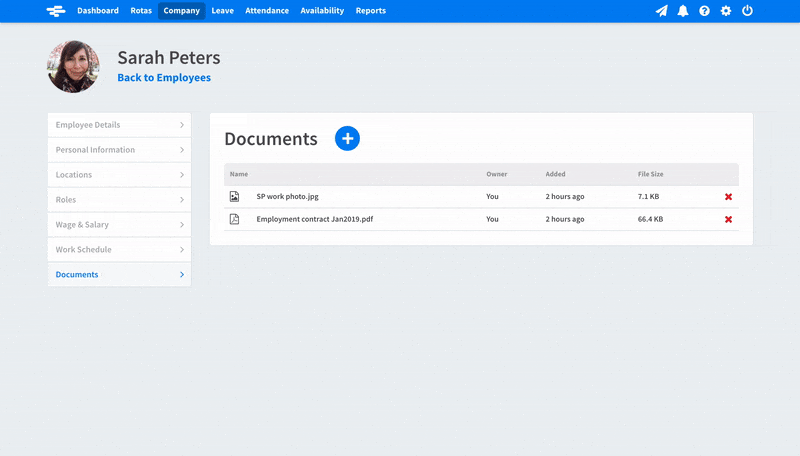 Pro users can make use of this facility by heading into any employee's profile (Company → Employees → employee name) and clicking the new 'Documents' tab at the bottom of the left-hand menu. Within in the Documents screen, you can use the familiar plus icon to upload anything from employment contracts to appraisal documents, saving them within that employee's profile for quick and easy access.
There's no limit to the number of documents you can add, but we've set a data cap of 100mb per employee, which should be plenty for documents of this kind.
Secure share links
You probably already know that you can share a read-only version of your rota with non-RotaCloud users with share links. But with Pro, we've upgraded this feature to give you a little more control over when the share link can be accessed, and who it can be accessed by.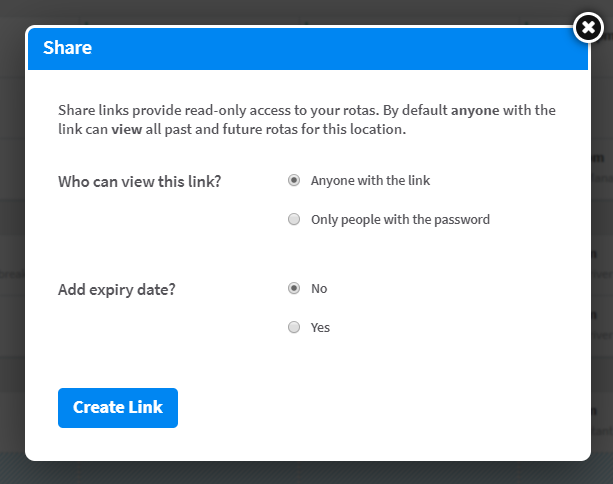 Pro users can now choose to add an expiry date and/or a password. With a password, when the link is shared, the viewer will be prompted to enter it.
Share links have always been a straightforward way to share rotas with friends, family, or clients — and now you can make them more secure.
Logbook - New!
From staff appraisals, to workplace incidents and grievances, to the expiry date on a certificate or license, the Logbook is your way of keeping a clear record of what's happening at work.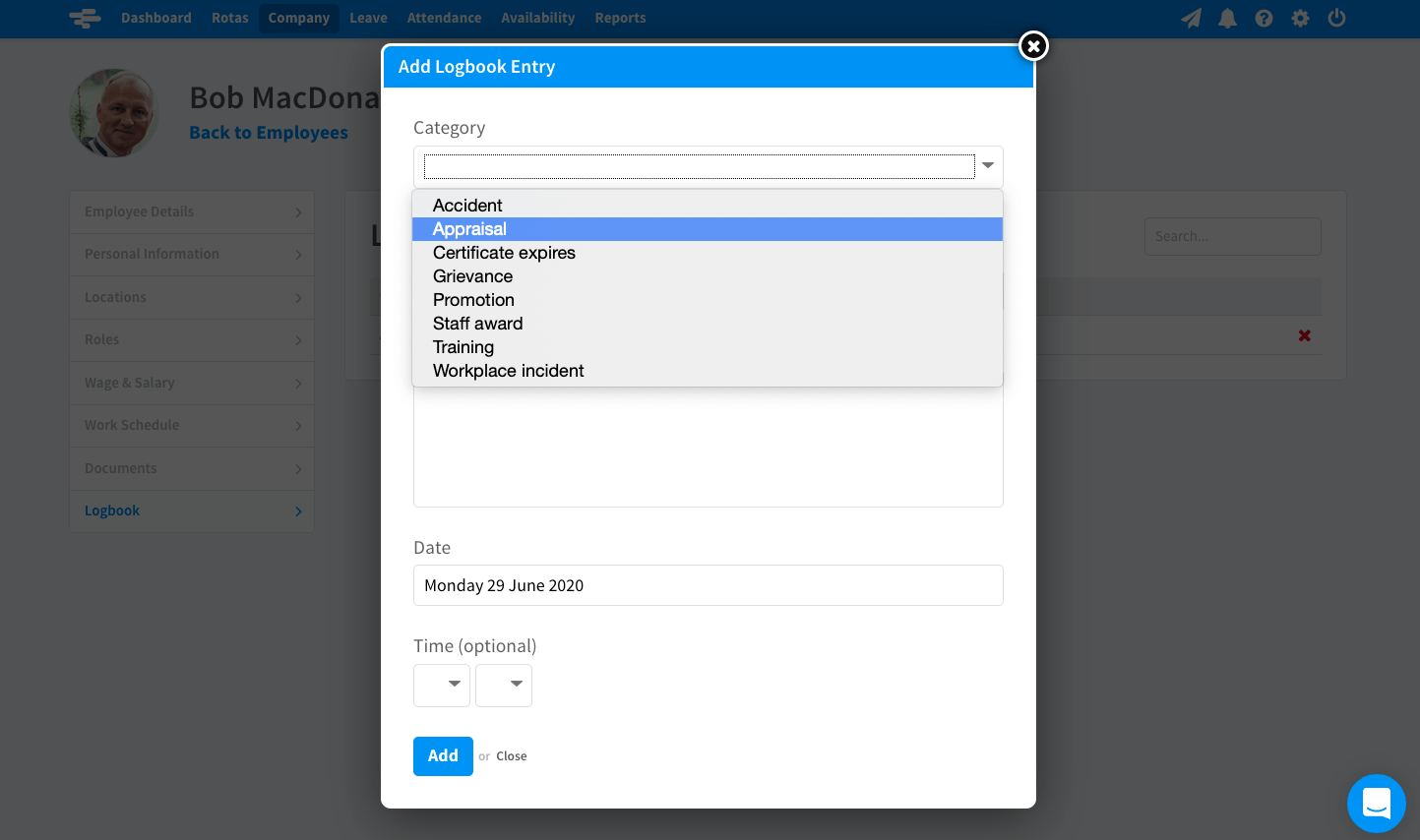 Logbook entries are visible only to admins and managers with the relevant permissions, and you can organise them in categories of your choosing. There's even a handy search function to help you find what you're looking for in seconds — and you can also see who last edited events, and when.
And there's more!
Our Pro tier will continue to grow over the months ahead — stay tuned for Pro-exclusive integrations and more!
---
We think you'll love what RotaCloud Pro has to offer, but don't just take our word for it: both new and existing RotaCloud users can try Pro free for 30 days.
Either start a free trial if you're completely new to RotaCloud, or if you're an existing user simply head into Settings → Billing to activate Pro's advanced features.
Have any questions? Read on for some FAQs below, or head over to rotacloud.com to start a live chat session with our support team.
---
Frequently asked questions
Who is RotaCloud Pro aimed at?
Our Pro tools were built mainly for RotaCloud users with larger teams and multiple departments, but also for those who need scheduling tools and features above and beyond what a typical workplace might.
Can I switch between Standard and Pro whenever I like?
Absolutely! Go to the Billing tab on the Settings page of your RotaCloud account, and you can add or remove add-ons and extensions whenever you like — we'll adjust your next bill to reflect any changes.
Do I need to use Time & Attendance to use Pro features?
Not at all — you can use our Pro features regardless of whether you use our Time & Attendance add-on.  We appreciate that not every manager needs their staff to clock in and out of their shifts, so Pro focuses solely on scheduling and forecasting.
Can my staff see documents I upload to their profiles?
No. Only account admins — and managers with the required permissions — can see or access the documents you upload.
How much does it cost to upgrade to Pro?
The exact cost will depend on the number of employees you have on your account. Head over to our Pricing page or start a live chat with a member of our team to get a quote for your business.
Why didn't you call it ProtaCloud?
Believe me, we tried.
---
---
---