5 ways to make your hotel more eco friendly (as shown by top UK hotels)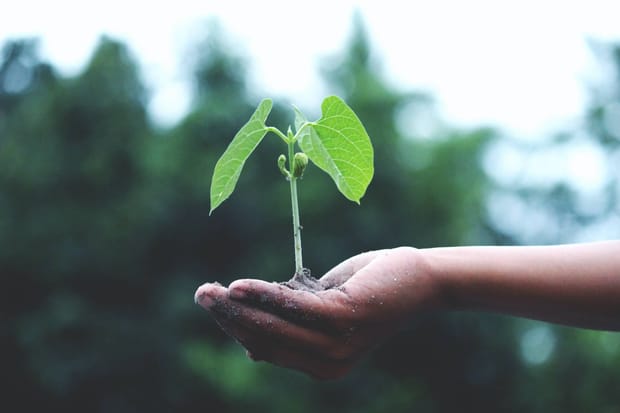 The plight of the polar bear might not be on many holidaymakers' minds as they slip into a hot tub or clink glasses in the hotel bar.
But that doesn't mean that travellers don't think about the environment when it comes to choosing their hotels or making plans for a week away.
In fact, according to a 2021 report from Booking.com, 61% of travellers said that they intend to factor sustainability into their future travel plans. They're willing to pay for the privilege too, with data from travel news site Skift showing that 53% of global travellers are prepared to pay more for an experience that's kinder to the planet.
With this in mind, today we're looking at five ways that hotels can become more eco-friendly and appeal to more environmentally-minded guests, with practical examples from hotels right here in the UK as inspiration.
---
1. Keep produce local
Conversations around sustainability and the environmental impact of the travel and tourism industry tend to focus on things like emissions from planes and the efficiency of hotel accommodation.
But the food, drink, and amenities served each and every day at hotels all contribute enormously to their individual carbon footprints, with produce often travelling hundreds of miles by air, land, and sea before ending up on guests' tables.
But it doesn't have to be this way.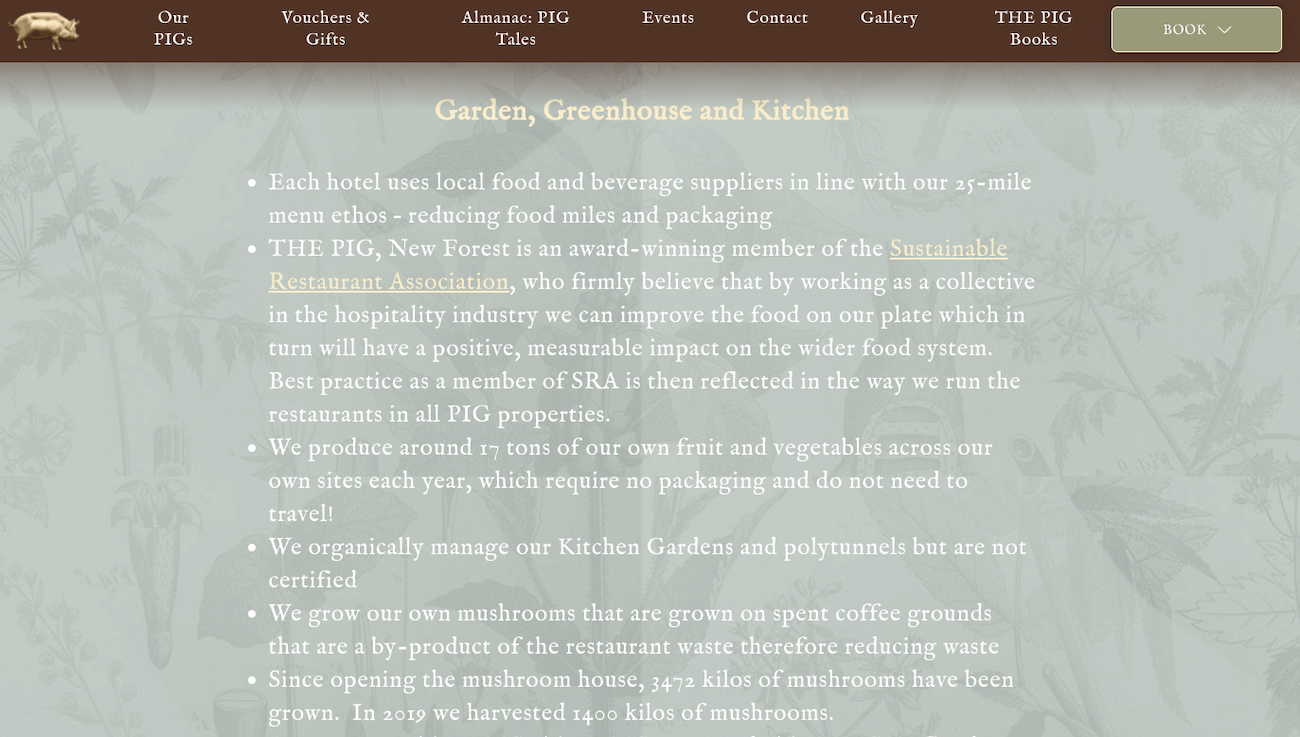 The Pig, a much-celebrated group of country hotels located along England's south coast, puts locally sourced produce at the very heart of its sustainability mission. Producing around 17 tons of its own fresh fruit and vegetables every single year, the hotel chain also limits the radius of the ingredients it serves to just 25 miles, significantly reducing its environmental impact as a result.
Rather than being a hindrance, this focus on locally sourced produce has become a key part of The Pig's identity and marketing, with the hotels championing the food and drink — including some pretty incredible English wine — produced by local businesses.
Of course, not every hotel has the luxury of a kitchen garden, but teaming up with local suppliers can drastically reduce the environmental footprint of any hotel or guest house, giving eco-conscious travellers peace of mind as they sit down for their breakfast or evening meal.
2. Fight the (fossil-fuel) power
The average hotel room creates roughly 31.1kg of CO2 per day. Factor in the energy required to heat, cool, light, and run the rest of your business, and it's clear that hotels' carbon footprints have the potential to be huge.
To combat this, many hotels are turning to more sustainable fuel sources.
Heckfield Place in Hampshire uses a biomass boiler — fired by sustainably sourced wood pellets — to heat guests' rooms, as well as to heat the water for their showers and baths.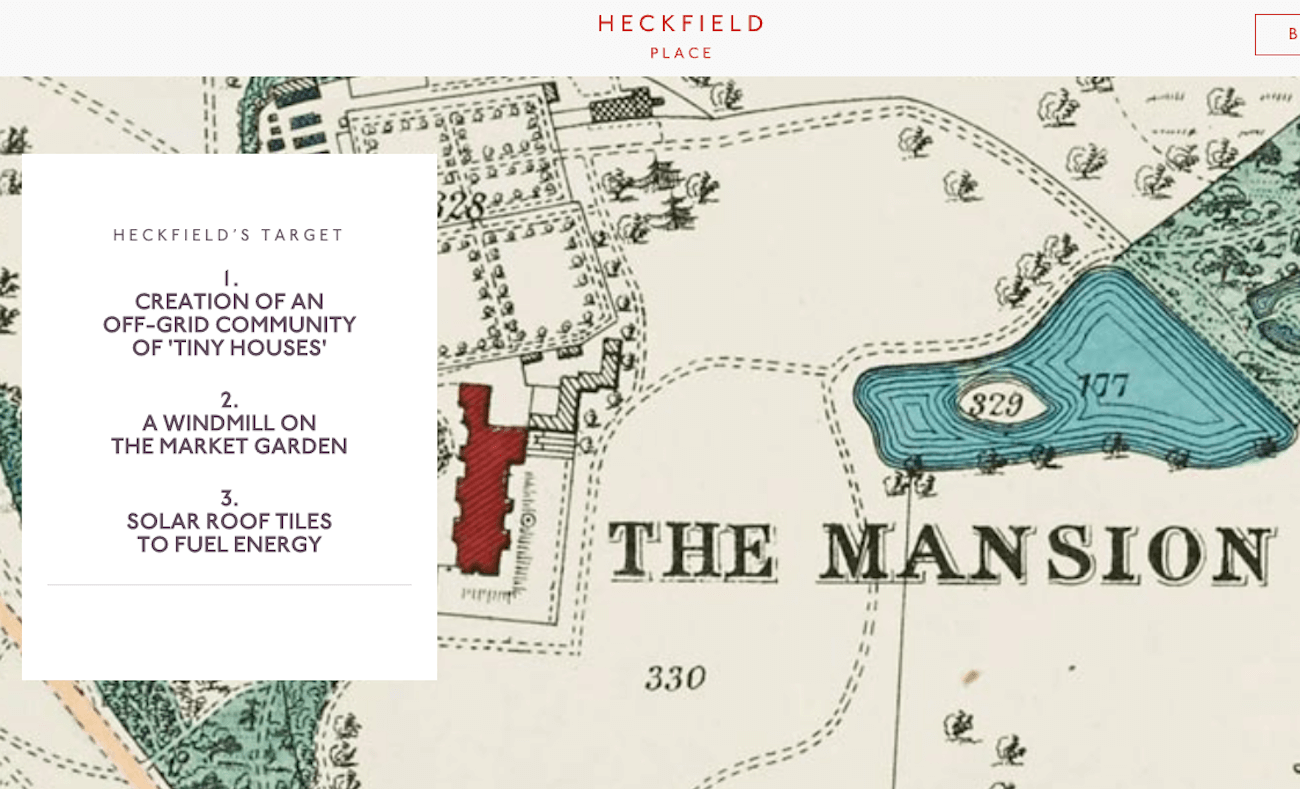 Award-winning eco lodge The Sanctuary, meanwhile, has taken its commitment to sustainability even further. In addition to the building itself being insulated with sheep's wool, the site is entirely off-grid, generating 100% of its own electricity through a combination of solar panels and a mini wind turbine.

The hotel also has a log boiler, with water from a borehole no less, to provide underfloor heating, while thermal tubes heat the water for guests' sinks and showers.
Finally, fellow eco-retreat The Scarlet took a more architectural approach to reducing its carbon footprint. Situated on the Cornish clifftops, the hotel's rooms are oriented in such a way that they're warmed by the low sun's rays during the winter and cooled by the sea breeze during warmer months, reducing the need for things like air-conditioning and heating from the outset.
3. Practise planet-friendly housekeeping
As we continue to recover from the impact of Covid-19, hygiene and cleanliness understandably remain a top priority for hospitality businesses especially.
But killing germs doesn't have to mean killing the planet, and there are a number of ways that hotels can adjust their housekeeping practices to cut down on carbon.
Steam clean. As well as requiring far less water, steam cleaning is great at killing off bacteria and germs, without the need for harmful, chemical-based products.
Install refillable soap dispensers. Individual eco-friendly soap bars are great, but many end up being thrown away as a result of not being entirely depleted during a guest's stay. Refillable soap dispensers, on the other hand, need only be topped up by housekeeping staff, and don't need to be individually wrapped.
Don't change the sheets. Rather than changing guests' bedsheets and towels every day by default, make this an option that guests must request during shorter stays. Just be sure to let your guests know in advance, and the reasons why.
Choose eco-friendly laundry products. Washing soda and soap nuts may seem a bit old-fashioned, but they're often kinder to skin and less harmful to the environment than chemical-based cleaning substances.
Source eco-friendly single-use items. If swapping single-use products for reusable ones simply isn't practical at your hotel, then consider swapping them for products made from easily recyclable or biodegradable materials.
Install aerators. Aerators can be attached to taps and shower heads to deliver a mixture of water and air, massively reducing the amount of water used when cleaning and bathing, often with no discernible difference in experience to guests.
Encourage shorter showers. Sometimes, it pays to make your guests a part of the difference you're trying to make. At The Sanctuary Cornwall, guests will find a wooden egg timer on the bathroom shelf, together with a label inviting them to help save water. "Guests love it," Co-Owner Karen Wells-West tells us. "Quite often they buy one when they get home."
4. Shrink your meat-based menu
With the raising of cows, pigs and other animals for food believed to be responsible for 57% of all global food production emissions, reducing the number of meat-based meals on your hotel's menu could be one way to help shrink your hotel's carbon footprint and appeal to more eco-minded guests.
Embracing this very idea is Scotland's Saorsa 1875, which opened its doors in 2018 as the UK's first "fully vegan hotel" and has been praised for its commitments to sustainability ever since.
Proudly proclaiming on its website that they're "driven to show the hospitality industry that there's another way," Soarsa serves an entirely plant-based menu, uses only animal- and eco-friendly cleaning products throughout the hotel, and even promises to plant a tree for every dinner it serves in its restaurant.
Similar to The Pig, all of Saorsa's food is also organic and sourced either from its own garden or from local farms, further adding to the hotel's eco credentials. Little wonder that it was named a 'Good Egg' in the National Geographic's Big Sleep Awards 2020 for being a "stylish, sustainable stay".
5. Write & publish an eco statement
It's not a direct action, but one of the most effective ways to go green is to publish your hotel's eco statement online for the world to see.
Not only will this encourage stakeholders at your business to remain true to your environmental goals, but it will also help travellers looking for eco-friendly accommodation discover your brand online, potentially leading to increased revenue.
Luxury estate and wedding venue Middleton Lodge's Sustainability Statement is a great example of how to do this well. Over the course of four pages, the hotel's statement covers everything from their position on air conditioning and upcycling, to its tree-planting programme and commitment to using local suppliers.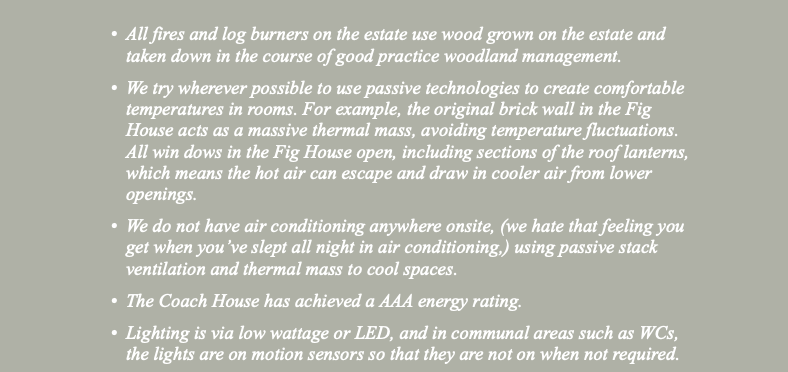 As well as being incredibly well written, Middleton Lodge's statement is also easy to read, presenting potentially complicated topics in a relatable, easy-to-understand way. The points it covers are realistic and easily measurable, too, meaning that guests (and no doubt the hotel's own employees) can easily check to see if these standards are being met.
Whether it's a permanent web page or a downloadable PDF document (the former being better for ranking in Google searches), be sure to make your own hotel's eco statement easily accessible online to help people find you.
Finally, but perhaps most importantly, don't be tempted to exaggerate or include anything in your statement that you might have difficulty proving to your guests if asked — as The Sanctuary's Karen Wells-West warns, "People are much more astute and aware than some companies believe, so don't think you can fob them off!"
---
Are you an eco-hotel owner with a tip to share? Have you ever stayed at a hotel, guesthouse or B&B that has gone the extra mile for the sake of the planet? Drop us a line on Facebook, Twitter, or LinkedIn.
Management advice & insights, straight to your inbox.
Enjoying the RotaCloud blog? Tell us your email address and we'll be in touch whenever we publish a new blog.
---
---