5 marketing tactics for hospitality businesses on Valentine's Day
Valentine's Day is a big date in the hospitality calendar, and the great thing is you can make it work for your business and attract the right sort of crowd for you. If you're in search of inspiration for this coming weekend, or already thinking ahead to next year, then we're sure you'll find some in the featured businesses below.
In this blog, we're highlighting five Yorkshire hospitality businesses who've tailored their approach to Valentine's Day, and offer something that fits perfectly with their business model and their clientele  And, as a company born and bred in Yorkshire ourselves, we thought it was only right that we celebrated the county we love the most for Valentine's Day.
Make it spectacular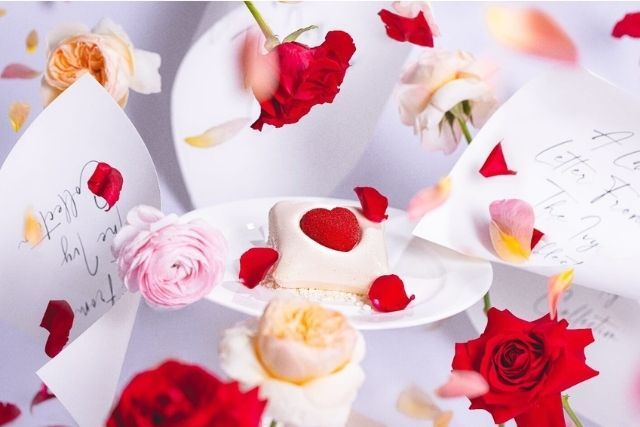 Where?
Leeds, West Yorkshire.
What?
Situated within the beautiful and historic Victoria Quarter arcade, this brasserie-style restaurant and bar is open for breakfast, weekend brunch, lunch, afternoon tea, light snacks and dinner, seven days a week. Stylish and sumptuous, it's popular with locals and visitors alike.  
Why we love it
The Ivy is relaxed yet sophisticated, making it the perfect setting for a chic and memorable Valentine's Day celebration. Admirers of quality interior design will also fall in love with the restaurant's onyx bar, pendant lighting and polished parquet flooring. It's a place that feels special from the moment you walk in.
How it's spectacular
Going all out for 2022, The Ivy Victoria Quarter has created an exclusive book called 'Love Letters from The Ivy' — a joint venture with Letters of Note — to give to their Valentine's Day diners. The book is compiled by Shaun Usher and features a collection of the most passionate love letters from history. It has been reimagined by The Ivy Collection with a bespoke cover and foreword, and will be offered to all guests who book a table in the restaurant on Monday, 14 February.
The Ivy has also created an extra special, bespoke cocktail menu and dessert to accompany the book. Their romantic cocktails are inspired by some of the love letters:
'Napoleon to Joséphine' - Altos Tequila Blanco, passion fruit and a splash of prosecco
'Oscar Wilde's Secret Affair' - Beefeater Gin, lemon juice and agave syrup
'His Immortal Beloved' - inspired by Beethoven, coffee liqueur, double cream and Amaretto.
And 'Pillow Talk' is an indulgent sharing dessert made from peach and raspberry parfait, white chocolate mousse, popping candy and a raspberry sauce. (The Valentine's Day specials are available from Friday, 11 February to Monday, 14 February.)
Take-away inspiration from The Ivy
Do something that makes Valentine's Day feel like an exclusive, extra-special one-off. This will attract guests who want to push the boat out, spend money and really celebrate — think 'engagement venue'.
Not all of us will be able to create a book, but you can echo the romance with love poems on your menus or blackboards. Perhaps diners could request a poem to be delivered to their Valentine at the table, along with a single red rose?
Love-inspired cocktails are always a winner and a great way to get guests to purchase a drink they might not normally choose.
A dessert made for two is the final romantic flourish!
Make it atmospheric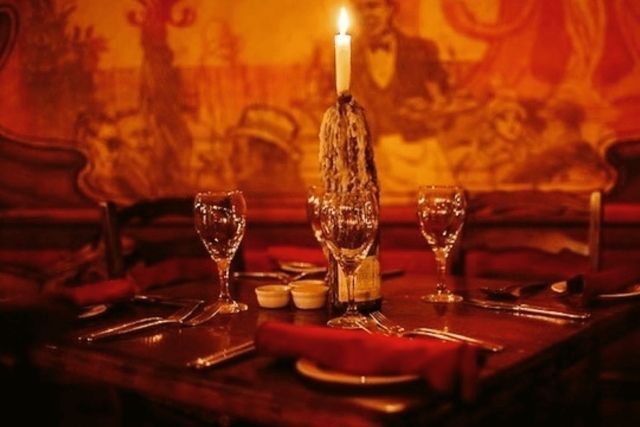 Where?
Leeds, West Yorkshire.
What?
Described as a "casual, informal place to dine with a focus on quality of food, wine and service within a French bistro atmosphere", Kendells Bistro is a family-run restaurant in the  thriving arts district of Leeds — not far from the West Yorkshire Playhouse and opposite Leeds College of Music.
Why we love it
A little touch of Paris in the heart of West Yorkshire, walking into Kendells Bistro is a bit like stepping into a film set. It's relaxed and fun, yet intimate — with blackboard menus, French artwork on the walls, and a cosy, romantic atmosphere from the flickering candles.
How it's romantic
The cuisine, the dripping candles, the Parisian ambience… Kendells Bistro is regularly described as the most romantic restaurant in Leeds. But don't take our word for it, as all you need to do is take a look at Tripadvisor:
"You know from the very first step through the door that you have found something so special, so magical."
"Wonderfully romantic experience!"

Take-away inspiration from Kendells Bistro
Create a destination and sell the experience. Diners return to Kendells over and over again, for the atmosphere as much as the food. It's romantic every day of the year, not just on Valentine's Day.
Sell what you love. Kendells' French vibe comes straight from the owners' experience and hearts, so it feels authentic – customers will always buy into that.
Never underestimate the romantic power of candlelight!
Make it family-friendly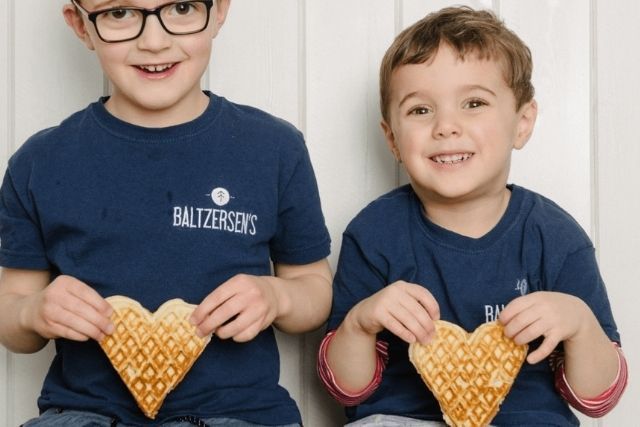 Where?
Harrogate, North Yorkshire.
What?
Baltzersen's is a Scandinavian cafe in Harrogate that seeks to emulate the Nordic cornerstones of existence: 'family, food, health, simple functional design and laid back effortless cool'. This popular venue serves up Yorkshire-sourced ingredients prepared with Scandinavian inspiration, and is open 9am-4pm every day.
Why we love it
The cafe's owners have created relaxed surroundings, a family-friendly menu and a warm welcome to make it a great choice for anyone spending Valentine's Day with their kids. At Baltzersen's, you can pile in with the whole family for breakfast, brunch, lunch, hot chocolate, coffee, pastries and good times.
How it's family-friendly
Baltzersen's is famous for its traditional Scandinavian heart-shaped waffles, making it the popular choice for a love-inspired family breakfast, brunch or lunch. Served with whipped cream and a choice of toppings, these edible love hearts are made fresh on 'vaffeljern' imported from Trondheim in Norway, and are a hit with young and old.
Take-away inspiration from Baltzersen's
Parents can have a fun Valentine's Day, even with the kids in tow! Be sure to regularly advertise how you happily cater for the whole family.
Baltzersen's Instagram feed is one to be admired and emulated. From perfectly posed foodie pics to school holiday ideas and cool interior design, follow it for social media inspiration.
Offer something that feels special at multiple times during the year. In addition to Valentine's Day, Baltzersen's heart-shaped waffles may tempt people in on birthdays, Mother's Day and Father's Day, anniversaries and more.
Find your theme and be true to it.
Give it broad appeal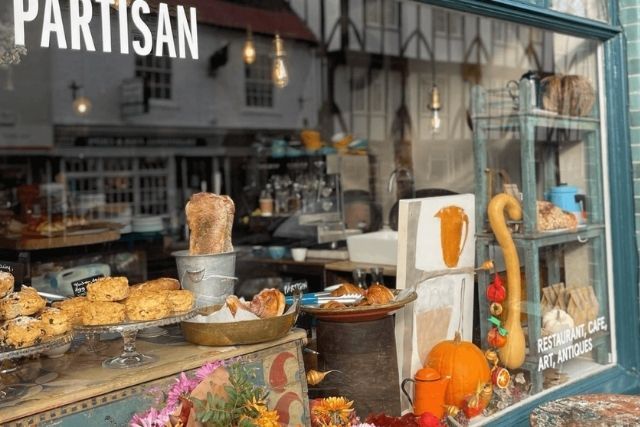 Where?
York, North Yorkshire.
What?
Partisan is a vibrant, independent coffee shop, licensed restaurant and arts space on Micklegate in York. Open Monday–Sunday during the day, Partisan is the local (and celebrity) choice for breakfast, brunch, lunch or afternoon tea.
Why we love it
Some people may not buy into the gimmick of Valentine's Day, and Partisan's a place where guests can either avoid or embrace it. It's a great spot for a quiet coffee, but also caters to those in search of a romantic lunch. This artistic cafe has also kept its Covid-adaptions in place, so guests can choose to sit in the fairy-lit, heated marquee.
How it has broad appeal
Born out of the lifelong dream of its creative owners, Partisan's point of difference is supporting local — whether that's produce, growers, producers or artists. The menu changes almost every week, as their chefs like to work with the seasons. As well as supporting local producers, Partisan grows a lot of their own herbs and vegetables. It's a place likely to attract those seeking to avoid Valentine's Day's madding crowd, who prefer to support local, ethical businesses.​
However, with their array of delectable cakes and baked goods, Partisan is also the perfect spot for a daytime date. Plus, there's the option of boozy lunch as it's fully licensed. They offer a gorgeous selection of flavoured bellinis, some of which are pink and therefore perfect for that social media 'V Day pic'.
Take-away inspiration from Partisan
Live and advertise your values — your vibe attracts your tribe.
People eat with their eyes first, so follow Partisan's lead and create a delicious Instagram feed.
And remember, romance is not for everyone (and also not just for the evening).
Ensure timeless elegance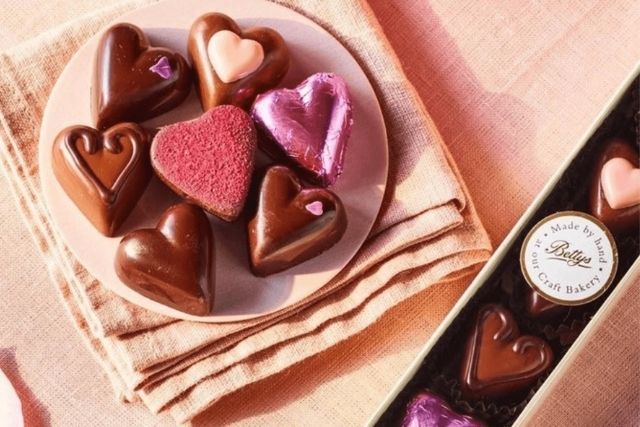 Where?
Locations right across Yorkshire — Harlow Carr, North Allerton, Harrogate, Ilkley and York.
What?
A Yorkshire institution, Bettys is as synonymous with the region as flat caps and whippets.  The first Bettys opened in 1919, but in many ways it's the same today. They change their menus with the seasons, and use fresh produce that's sourced from Yorkshire wherever possible.
Why we love it
Bettys' tagline is 'Making life lovelier since 1919' and we think it does just that. Its inclusive take on Valentine's Day may also appeal to those who'd normally baulk at the idea:
"Love means many different things - from that special someone, to a beloved best friend, to a family member who means so much."

How it's elegant
Everything about Bettys is quintessentially Bettys — it epitomises timeless elegance. A brand over a hundred years in the making, it's not easily copied, but it will always be a source of inspiration to anyone in the hospitality industry.
Bettys fully embraces Valentine's Day and has a delectable assortment of love-inspired chocolates and treats in its shops. Plus, there's the option of a romantic breakfast, lunch or afternoon tea at any location over the weekend or on the day itself. All of which can be made that bit more special by adding prosecco or champagne.
Take-away inspiration from Bettys
Valentine's Day is about love in all its forms.
Whatever you offer, make it beautiful, tempting and something to be treasured.
Quality will always feel special and timeless.
---
Do you run a hospitality business that's doing something unique and exciting for Valentine's Day? Tag us on Instagram or Twitter and we'll share it with our followers.
Management advice & insights, straight to your inbox.
Enjoying the RotaCloud blog? Tell us your email address and we'll be in touch whenever we publish a new blog.
---
---