Customer story: Lake Country House
How Lake Country House Hotel & Spa cut their admin and ditched the data entry with RotaCloud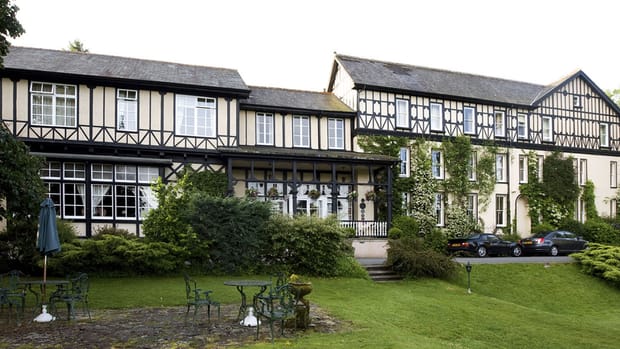 Operating since 1983, Lake Country House is a privately owned hotel and luxury spa located near Builth Wells, Wales.
Set in idyllic countryside surroundings, the hotel offers a true retreat experience for its guests, who can enjoy luxurious spa treatments, walks in the surrounding woodland, delicious afternoon teas, and five-star dining experiences.
The challenge
We spoke with Luke Marriott, General Manager at Lake Country House, about the challenges of operating a 32-room hotel, and why RotaCloud has been his staff scheduling platform of choice since 2017.
"I was fed up of Excel spreadsheets, basically," Luke laughed when we asked what originally prompted him to look for a rota planning solution.
"I was just fed up with printing out rotas, scribbling on the rotas on the board, and having to distribute that information to staff," he continued.
Keeping track of the hours staff had worked was also eating into Luke and his fellow managers' time.
"Timesheets were all done by hand," Luke told us. "It was all added up manually on a sheet of paper with 'name', 'in', and 'out' written on it.
"We were collating hours for people in the hotel but also the spa building, which is 200 metres away, so that was all done separately," he told us. "It just wasn't efficient — we knew there were better ways of doing it."
Always on the lookout for software that can make his business more efficient, Luke took his search online. It was then that he discovered RotaCloud.
For a business of our size especially it's fantastic. I think the price point is really fair — it's great value.
Luke Marriott,
General Manager, Lake Country House Hotel & Spa
The solution
"The thing that appealed to me was the user interface," Luke said of RotaCloud. "It was way ahead of anything else that I came across."
The ease with which RotaCloud allowed him and his team to create and share rotas also proved to be a bit of a game-changer.
"We used to use spreadsheets, print them out, [then] take pictures and send them as text messages to people who weren't in," Luke explained.
"The real difference is that there's an informality to that [old] process — they were receiving the rota as a picture or as a message. Whereas on RotaCloud it's much more official. We try to do our rotas three weeks ahead, and they've got the information instantly."
RotaCloud's Availability tool, which allows staff to communicate when they're free to work, has also helped formalise that process.
"I use Availability for some of our core part-timers," Luke said. "I can say to staff, 'You need to update your availability three weeks ahead so it's ready to go', and I build my rotas based on that."
RotaCloud's Time & Attendance add-on has also helped Luke and his team, allowing staff to clock in and out via their phones or a fixed tablet, with zero data entry for managers.
"We did change over to a clocking-in system just prior to RotaCloud," Luke told us. "It was that typical old tech: a card scanner on a wall. But we wanted to get away from legacy hardware that does just this one job, [and] I saw that you were that much further ahead — it certainly makes it a less painful process, scheduling and doing the timesheets."
Finally, we asked Luke whether he would recommend RotaCloud to other hotel businesses.
"Yep, I would," he said. "For a business of our size especially it's fantastic. I think the price point is really fair — it's great value."
"Excel's got its place," he said in closing, "and it does a good job at what it's built for. "But I think if you've got a product that's purpose-built to solve a problem it's inevitably more efficient, and you don't know what those efficiencies are until you've used a product like RotaCloud.
"You've gotta give it a try."