Customer story: Shoreham & Southwick Primary Care Network
How RotaCloud was essential to Shoreham & Southwick Primary Care Network's Covid-19 vaccination rollout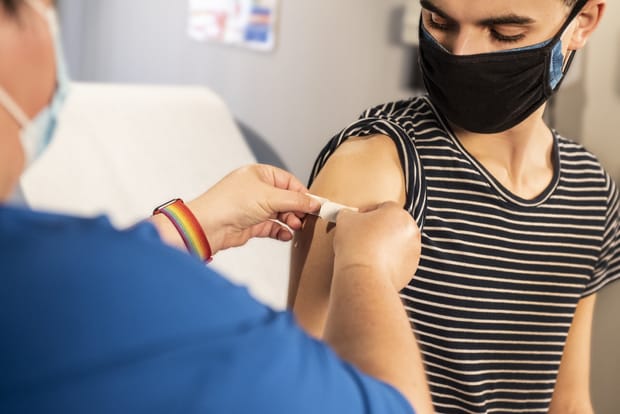 At the start of 2021, Shoreham & Southwick Primary Care Network were tasked with rolling out a mass Covid-19 vaccination programme to thousands of local residents, swiftly followed by a booster programme in December 2021.
We spoke with Primary Care Network Manager Teresa Anderson about the staffing and scheduling challenges she and her team faced during this difficult time, and how RotaCloud became integral to Shoreham & Southwick PCN's vaccine delivery.
The challenge
Returning from annual leave just as the first vaccination clinics were being organised across the UK in the fight against Covid-19, Teresa Anderson found that Shoreham & Southwick had an enormous task on its hands.
"The first clinic we ran was at the end of January, just as I was coming back from annual leave," Teresa told us via a Zoom call.
"We had one practice manager whose job was to organise everything with a couple of other people, and it took up their whole week — setting out the rota, working out the shifts and phoning people up — the vaccinators, the marshalls, the internal stewards — asking them, 'When are you available to work?'
"It was basically a spreadsheet and loads of phone calls," she continued. "Everything was done manually and it was totally impractical."
As the pressure continued to grow, Teresa and her team urgently needed to find a way to automate the clinic's schedule so that staff could quickly find and claim shifts — without the need for the practice manager to manually book them in.
"We needed a slick, robust infrastructure," Teresa explained. "We had to work very quickly and responsibly to get everything done."
It was then that one of Teresa's peers, who had used RotaCloud at another primary care network, recommended taking out a free trial.
RotaCloud underpinned everything — without RotaCloud it would have been chaos.
Teresa Anderson
Primary Care Network Manager
The solution
"We signed up for a 30-day trial, but by the time I'd got the end of the first month, we realised we actually couldn't manage without it," Teresa said of RotaCloud's scheduling and attendance tools.
"It's so user-friendly and intuitive. It's something that you can teach yourself, [but] there are loads of how-to videos there as well."
The clinic's staff, too, took to using RotaCloud quickly.
"It was a breeze," Teresa told us. "I had no resistance from anybody — not even our most staid GPs. They just went on it and claimed the shifts."
"Everybody was saying, 'This is amazing,'" she added.
With RotaCloud in place, Teresa was able to organise her teams quickly and easily. Her team could claim shifts directly via their phones, while Teresa herself could find cover whenever staff fell ill or were unable to work a shift that they'd previously picked up.
Timesheets & clock-ins
RotaCloud's Time & Attendance tools, meanwhile, helped Teresa keep track of the hours staff had actually worked, as opposed to what was on the rota.
"Before RotaCloud, everybody had a paper timesheet," she said. "But when you have over 100 shifts a month, all those timesheets have to be manually entered, it was just extra work for payroll — it was really difficult."
"The timesheets in RotaCloud are very, very good," she added. "It gives you all the information you need — if someone clocked in late, clocked in early, if the hours they worked are different to what's on the rota.
"And at the end of each month, I just run the report on employee totals, and I send it to payroll. It's just an amazing time saver — it's worth every penny."
The ultimate test
Then, at the end of 2021, Teresa and her team were faced with arguably their biggest challenge yet: a national Covid-19 booster rollout, announced live on air by Prime Minister Boris Johnson.
"The Prime Minister made the national call in early December for everybody to get boosted before the end of December," Teresa recounted.
"We had to rally round — within a week, we had to mobilise everybody; all of our reserve staff. We offered 4,500 appointments in two weeks. The total for December was 7,500. Every now and then I used to sit back and think, 'Thank God I've got RotaCloud.'"
"I don't know how we did it," she continued, "but we were on adrenaline and we did it.
"And RotaCloud underpinned everything — without RotaCloud it would have been chaos," she added.
"It's just as important to us as a vaccinator," Teresa said as we wrapped up our conversation. "Without a vaccinator you can't run a clinic. So we couldn't have done it without RotaCloud."
"RotaCloud played its part in the national campaign and in the war on Covid."
We'll chalk that one up as a win!