Customer story: Seven Stories
Seven Stories said "the end" to inefficient rotas with a central system that works for staff and managers alike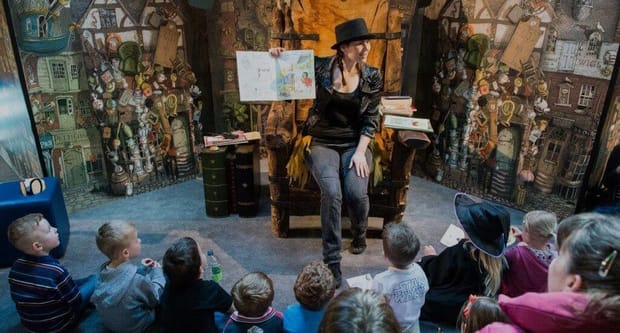 Based in Newcastle Upon Tyne, Seven Stories is the National Centre for Children's Books. The charity was founded in 1996 to collect, champion and celebrate Britain's wonderful children's literature heritage, and since its inception has expanded to three sites, including an award-winning visitor centre.
The challenge
"Departments were managing their own rotas independently," Katy Bolton, Administrative Assistant at Seven Stories told us.
"Spreadsheets were printed off and handed out; the problems occurred when the rotas were constantly edited with sickness and holidays."
The fragmented nature of the rotas caused wider issues for Seven Stories.
"The lack of a central view of the rota meant that every department was segregated, making it hard to see who else was working in the organisation."
Katy and the team also wanted a more efficient timesheet system for visitor centre staff.
"Our paper timesheets ate up hours of admin time — chasing staff to get them completed, signed off, handed in on time, and then digitally entered into the system."
[RotaCloud] has simplified our whole staffing rota and saved hours of admin time.
Katy Bolton
Administrative Assistant
The solution
Seven Stories looked for a low-cost solution for their rota problems that wouldn't require hiring a rota manager. RotaCloud ticked all the boxes for Katy.
"RotaCloud is intuitive even for the non-technical mind — and the helpful support staff are always on hand to assist in any questions or query."
"The facility to have everything — the rotas, timesheets, holidays, sickness records and payroll — all in one place was a great plus. It's simplified our whole staffing rota and saved hours of admin time."
The benefits of rota visibility extended to employees, too, thanks to RotaCloud's free mobile apps.
"The app is one of the biggest pluses," Katy told us. "Staff are now able to access the rota wherever they are and are notified about any changes."
And Seven Stories' new system has averted a few staffing disasters.
"When a staffing emergency occurs, all we have to do is put an open shift on the rota which can be claimed by any available staff member. It's saved the laborious task of ringing around everyone!"
Overall, RotaCloud has provided Seven Stories with a centralised rota system that unites the organisation and improves visibility for everyone — without having to hire another member of staff.