Customer story: Flooring Superstore
Flooring Superstore solved their annual leave headaches by swapping their paper rotas for RotaCloud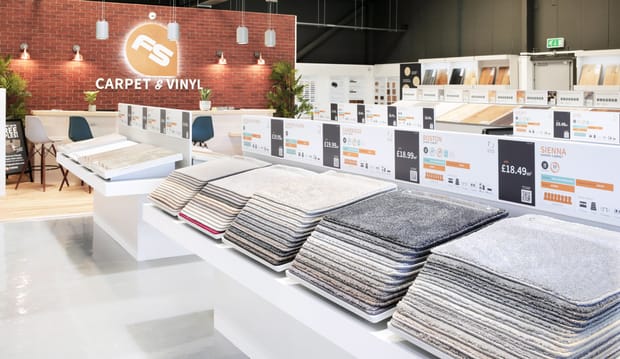 Once solely an online retailer, Flooring Superstore now has brick-and-mortar stores all over the UK, with plans to open even more in the future. Sourcing and supplying a vast range of floor coverings, the company also delivers as much as 90% of customers' orders via their very own transport network.
The challenge
We talked to Michael Roy, General Manager at Flooring Superstore, about the scheduling and admin challenges that the company faced before making the jump to RotaCloud.
"Prior to using RotaCloud, we operated with paper timesheets submitted [by staff] and approved by managers each week," Michael explained. "We also had a completely separate annual leave system, based in Excel."
This two-pronged approach left a lot to be desired, however, with managers finding that paper timesheets could easily be abused, and that simple human error was to blame for a number of scheduling and payroll-related mixups.
"We were getting discrepancies between shifts and the annual leave system we were running," Michael told us. "It became more and more labour-intensive to monitor and maintain."
What they needed was an all-in-one system that would make recording annual leave simpler, as well as provide a way for managers to reliably record and trace employees' shifts.
We've benefited greatly in terms of time saved processing staff rotas, leave approvals and month-to-month payroll.
Michael Roy
General Manager
The solution
After trialling a number of HR and staff scheduling platforms, Michael and his team ultimately opted for RotaCloud.
"The RotaCloud interface, ease of use, permission structure and combined approach to rota, employee and leave management was what swayed our selection over the competition," he explained.
"As a national retailer, we needed the flexibility of different locations within the system and an approval structure that would allow the managers of each store, depot or department to approve the clock-ins for their own staff, while limiting their view of important financial or personal data," Michael continued.
"RotaCloud provides the option of defining our own location structure, with a system that was simple to integrate with our existing processes."
By utilising both RotaCloud's Rota Planning and Time & Attendance features, Michael and his team found that they were spending much less time on paperwork and admin.
"We've benefited greatly in terms of time saved processing staff rotas, leave approvals and month-to-month payroll," he told us.
"All of these were becoming a major headache for us as we expanded, but with the introduction of RotaCloud, we've been able to add dozens of new staff without any hiccups. The scalability will continue to benefit us as we keep growing."
Another clear benefit of using RotaCloud is that the system is flexible enough to accommodate the variety of shift types that staff at Flooring Superstore work.
"We offer flexible working, static shifts, paid and unpaid overtime and different terms for various groups of staff," Michael explained. "We've been able to work around all of these variables using RotaCloud."
And of course, keeping track of employees' annual leave also became much easier.
"RotaCloud has allowed simple requests and approvals for us in processing staff annual leave. All of the approval traces we need are also to hand, and there are plenty of reports which provide all of the information we need for our complex payroll and contract scenarios."
Clearly, Michael and his fellow managers were very happy with the system. But what of their staff? We asked Michael how the Flooring Superstore team had taken to RotaCloud.
"Staff are able to easily log in and process leave requests wherever they are using the RotaCloud app on their smartphone, laptop, or home computer," he told us.
"With their rota information to hand, they can easily use this as a reference point for their shift times and leave days. The staff are comfortable clocking in and out of the system as well as managing their breaks, with new starters finding the system is simple and quick to learn."
Sounds like RotaCloud has proved to be a big hit all round.