Customer story: Fiit
How online fitness platform Fiit use RotaCloud to keep their customer service team in peak condition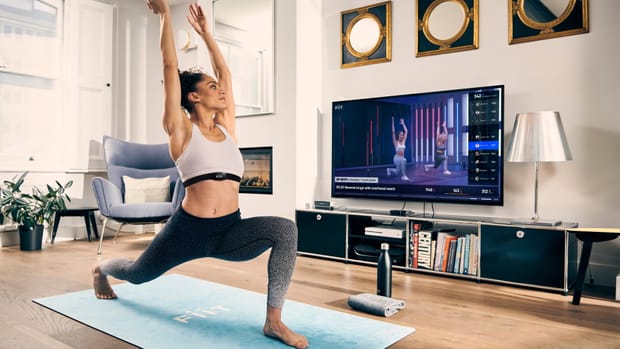 Founded in 2017, online fitness service Fiit provides its members with access to more than 600 pre-recorded and live home workout sessions and classes, each hosted by world-class personal trainers. Its customer success team provide not only health and exercise advice, but also technical and subscription-related customer support, seven days a week, via live chat and email.
The challenge
We spoke to Hayley Joseph, Customer Success Team Lead at Fiit, about why the company switched its rota planning and holiday management to RotaCloud, as well as the challenges they'd faced previously.
"We're open from 6:30 in the morning until 9:30 in the evening — the conversations are constantly coming in," Hayley told us. "We break the day down into three shifts, with four people on every five hour shift."
Towards the start of the pandemic, the demands on Fiit's customer support team became even greater when gyms closed and people, looking for a way to stay in shape while stuck at home, flocked to Fiit. After taking on additional staff to meet demand, Hayley knew she needed a better way of managing her team.
"Before RotaCloud, we had three staff on the customer success team — everything was handled on a spreadsheet," Hayley told us. "But as the team grew, organising everything on a spreadsheet became difficult.
"We needed to be able to make sure everyone got the right amount of hours," she continued. "And we like to move things around so that nobody has the same shifts every week. The spreadsheet was just too clunky and hard to read."
Finding cover for staff who were sick or unavailable was also becoming difficult and increasingly time-consuming, with conversations taking place across multiple channels.
"We've got a team WhatsApp group, so we'd send out a message when we needed [cover]. We'd also put it on the team notice board on [business communication platform] Slack. It's great to have loads of channels to communicate with the team on but when it just means you have responses in all different places…"
Managing shift swaps, too, was becoming a real drain on Hayley's time.
"[Staff] would organise swaps between them, but then they'd have to send me a Slack [message]. Then I'd go on the spreadsheet and change the hours around, delete hours, put reasons in boxes…
"I'd probably spend a good 15 minutes a day on the schedule — moving things, adding things in, but I've got better things to do!"
Urgently in need of a faster, more professional way of managing their team and processing schedule changes, Fiit turned to RotaCloud.
It's probably about half an hour of my day, every day, that I'm saving.
Hayley Joseph
Customer Success Team Lead
The solution
With RotaCloud's drag-and-drop interface and one-click publishing, Hayley now gets her rotas done in record time, letting her get back to helping Fiit grow.
"It's one less thing to think about," she said of planning rotas in RotaCloud. "You could literally copy and paste every week, and not change anything if you wanted to. But equally, you can move things around really easily.
"If I think about all the little bits and pieces that would have needed to be done, it's probably about half an hour of my day, every day, that I'm saving."
Much of this, she told us, was down to how easy RotaCloud is to use.
"I've never had to contact your [customer support] team or ask any questions, and the rota has never been a thorn in our side, ever. I think it speaks volumes for the app itself, which has been an absolute breeze."
Since switching to RotaCloud, Hayley says her team have also become much more proactive at keeping track of their rotas.
"It's self-service; you've got an app, you get a notification, you can log on at any point and see when you're meant to be working. If you want to swap a shift, you go in and request it — you don't need to keep communicating with me and asking questions all the time."
Hayley has also found that RotaCloud has made it much easier to fill gaps in her team's rota.
"If you had extra shifts that needed covering, it used to be a case of messaging everybody, 'Hey, guys, we've got these shifts we need filling,'" she said. "Whereas now, something pops into the Open Shifts [section] and everybody gets notified."
Hayley is also a big fan of RotaCloud's Leave Embargoes feature, which lets managers select specific dates or date ranges where managers need all hands on deck — any leave requests are automatically rejected.
"We're really busy at certain points of the year, where it's just not realistic to grant leave," Hayley explained. "So to be able to put a message on there to say, you know, 'due to business demands, unfortunately you can't have leave at this time,' is a really useful tool. It stops the conversation going back and forth — there's a set of rules in place."
Finally, we asked Hayley what she'd say to other businesses looking for a way to streamline staff scheduling and leave management for customer service teams like hers.
"It's only enhanced how we operate as a team," she replied. "For my team to be able to take ownership of their shifts, book their own leave, look at what shifts they're on... the amount of time that I save frees me up to be more valuable to my business."
It certainly sounds like we're a great fit for each other!