Customer story: Clothes2Order
How RotaCloud saved Clothes2Order's managers up to 3 days of admin every month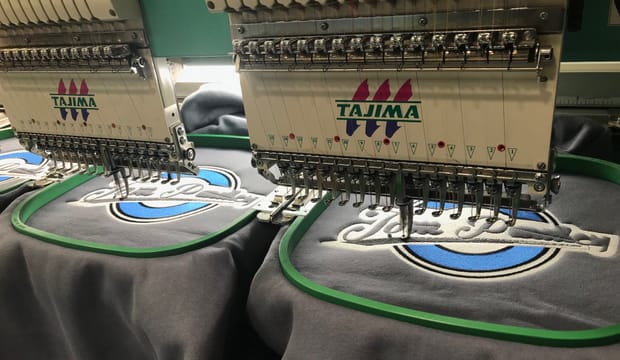 Manchester-based retailer Clothes2Order creates personalised clothing for businesses, charities, and groups of all sizes. Founded in 2000, the company has clients ranging from individuals looking for custom-printed t-shirts for special occasions, all the way up to companies like Microsoft and Google, who rely on them for uniform and team workwear.
The challenge
Prior to using RotaCloud, Clothes2Order's three separate departments would each manage their own rotas, building them in Excel before printing and displaying them on staff notice boards.
As well as taking their respective managers four to five hours a week to plan "at the very least", this method of planning and distributing rotas meant that communication between teams was difficult, to say the least.
"Departments would keep the rotas to themselves," Human Resources Business Partner Darren Longworth told us.
"One department wouldn't know what the other one was doing, and HR wouldn't know what the other department was doing in terms of shifts."
"If there were any issues surrounding payroll, overtime and such, then each team leader would have to fill a report out and give that to HR at the end of the month, which as we continued to grow was a logistical nightmare."
Tracking the hours staff worked was also becoming a bigger and bigger headache for the company.
"We needed a way to really monitor who was in and what they were doing," Darren said. "And also to make sure that we fairly administered things like break times, overtime, clocking in and out."
That's when he discovered RotaCloud.
We're saving about two or three days out of the month for each department — it's a massive saving.
Darren Longworth
Human Resources Business Partner
The solution
After taking it for a spin, Darren and his team opted to adopt both elements of RotaCloud — Rota Planning and Time & Attendance — to tackle the problems they'd been having. The former element, Darren told us, resulted in a dramatic reduction in the time managers were taking to plan and manage their rotas.
"We're looking at maybe half an hour a week depending on department now," he said.
"Our production department, for example, runs in a three shift cycle: 6–2, 2–10, and 10–6. So, because we know what cycle that is, they can use [RotaCloud's] copy and paste function to paste further on."
"I'd say we're probably saving about two or three days out of the month for each department. It's a massive saving."
Cross-department communication has also been drastically improved both due to rotas being sent directly to employees' phones, and because managers all access the same system.
"[Before] we were relying on people — on one person — to get everything right for their team," Darren told us. "Whereas now it's much more of a collaborative effort; everybody gets to see each other's rotas, so if we know that there's an issue in there, then we can jump on it straight away."
For Darren personally, though, the best thing about RotaCloud is the level of transparency it provides him.
"I'm all for making sure that anything that we do, we do fairly. And I know now that, if I look at one person's rota and I look at their absence record for example, or their time management record, I know that it's fully up to date. If there's an issue there, I can fairly administer our procedures for it."
We're delighted that RotaCloud's proved such a useful tool for Darren and his team!