Customer story: Carrosse DeLouis
Carrosse DeLouis reduced missed trips to zero and improved customer satisfaction with RotaCloud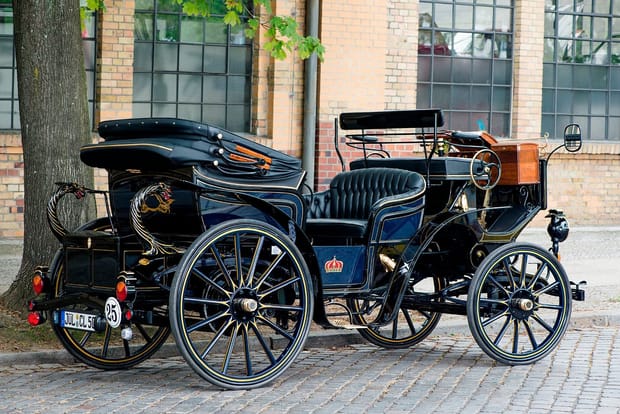 For tourists looking for an experience a little different to the typical city tour, Carrosse DeLouis offer a range of sightseeing trips on electric carriages. The carriages combine the elegance of a classical carriage with state-of-the-art components of a modern car, providing Carrosse DeLouis's customers with a truly unique city tour experience.
The company started operating Dresden, before expanding their offerings to Berlin. With plans to further expand the business in Berlin and enter new cities across the world, the team are determined to maintain high levels of efficiency during rapid growth.
The challenge
We spoke to Peter Jumpertz, owner of Carrosse DeLouis, about the challenges associated with growth — particularly regarding scheduling employees.
"Initially we were doing rotas manually, on paper," Peter told us. "Communication was done in person, or via telephone. Clocking in wasn't done at all, and drivers handed in handwritten timesheets at the end of the week."
Peter and the team identified two issues in particular with rotas and their business model.
"First, our business is highly dependent on dynamic aspects like the weather, short-term customer demand and so on, so we must be able to react in a highly agile fashion when it comes to operational HR. Communicating shift changes via telephone is, therefore, a real drawback and puts enormous stress on the organisation, all the way through to the customer."
"Second, personnel are our biggest cost driver. Therefore, we need to manage clocking in and out accurate and keep a tight control on expenditures." Peter explained. "This is basically impossible when timesheets are on a sheet of paper."
We have saved significant money from day one. We were able to reduce the number of missed trips from unassigned shifts or unavailable chauffeurs to zero.
The solution
When searching for an improved rota and time-tracking system, Peter chose RotaCloud over the competition for two main reasons: ease of use, and minimal cost of ownership.
"RotaCloud's user interface is the most intuitive we could find. Functions are presented in a highly logical pattern, and terms and icons are self-explanatory. We didn't have to study lengthy manuals or take expensive training courses when we began to use the system."
Ease-of-use was particularly important for Carrosse DeLouis as many of their German chauffeurs aren't digital natives and aren't fluent in English.
RotaCloud's pricing structure was also appealing to Peter, given the company's plans for growth. "RotaCloud can be installed quickly with virtually no set-up costs, and the system is fully scalable at a very low marginal cost. We can take RotaCloud along our growth path across countries and geographies with minimal effort."
Once RotaCloud was rolled out across the business, Peter was immediately struck by the cost savings. "It is clear that we have saved significant money from day one — we can use this cash to grow our business by investing in marketing and sales."
The customers of Carrosse DeLouis have also benefited. "We were able to reduce the number of missed trips from unassigned shifts or unavailable chauffeurs to zero. And we could also increase chauffeur resource utilization by more than 25% due to improved shift planning."
"Overall, RotaCloud has a very positive business case, with a payback period of less than half a week!"