Customer story: Abington Park Veterinary Group
How Abington Park Vets cut down on overtime and improved communication between staff and managers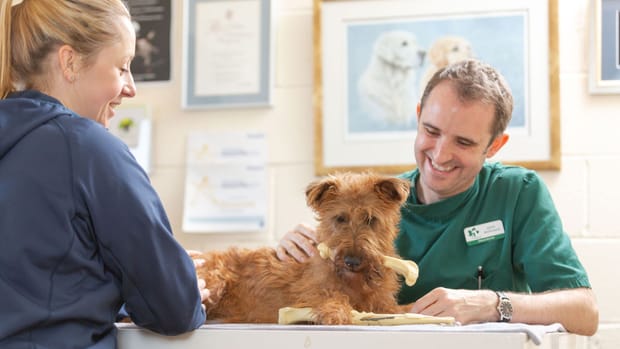 Based in Northampton, Abington Park Veterinary Group provides a wide variety of veterinary care services and support for a wide range of animals. The group is highly regarded by its customers, and has three sites across the town.
The challenge
Like so many businesses, managers at Abington Park Veterinary Group once created their staff rotas in Excel, with staff required to access the company server to see them.
While this worked to an extent, things quickly got complicated whenever changes had to be made to the schedule, or when holiday and sickness were recorded.
"We wanted to get rid of the Excel sheet-based rota," Practice Manager Agnes Szabo told us via video call. "Staff holiday and sickness were being managed on a completely different platform, which caused issues because the rota wasn't updated on time."
To book a holiday, Abington's staff were previously required to email their line manager, who would then either approve or deny the request before emailing the HR department to inform them of the change. The team's rotas, however, rarely reflected none of this until it was too late.
The fact that Abington's staff often work across three different sites only exacerbated the situation.
"People who were rotating between places were requesting holiday from one line manager, but they were actually scheduled to work [on another site]," she said. "Holidays had been approved without cross-referencing each other's rota."
Finally, the Abington Park team also needed a clocking-in solution to replace their antiquated, often inaccurate method of having staff sign in on a paper timesheet.
"We had to manually clock in and clock out," Agnes said. "Everybody just entered the time when they arrived, and I put a signature on and as well as when they left."
In need of a time- and stress-saving solution, Agnes began looking for a solution.
It's really logical and easy to learn — the other systems were too complex.
Agnes Szabo,
Practice Manager
The solution
After putting a few different rota planning platforms through their paces, Agnes ultimately opted for RotaCloud.
"We went with RotaCloud because it's very user-friendly, very easy to navigate, and very easy to build a rota," Agnes said. "It's really logical and easy to learn — the other systems were too complex."
With RotaCloud being an online platform, Abington Park's individual practice managers can see what's going on at the other sites, eliminating the possibility of staff being double-booked or scheduled for a shift when they're supposed to be on holiday.
"It's a live system," Agnes said, "so whatever changes have been applied, they're visible for staff members, line managers, the director — everybody's aware of what the staffing level is."
Making use of RotaCloud's optional Time & Attendance add-on, Abington Park's staff now clock in using either the RotaCloud app on their smartphones, or via a fixed terminal on-site, depending on their individual preferences. This, Agnes told us, had an immediate impact on the staff's habits.
"I've noticed that overtime has dropped significantly. Since people are expected to clock out on time, they can't just hang around and then put a time on the checkout sheet."
"Line managers approve the timesheets at the end of each week, rectifying any overtime, and by default only the contracted hours are paid. It's a decent amount of money being saved."
The new clocking-in system has also made life easier for the group's payroll department.
"Previously, because we didn't have a system in place to monitor sickness absence or holidays, every single day the clock-in data needed to be cross-referenced. It's much more efficient now."
Finally, Agnes praised RotaCloud's leave request rules, which managers can set up to automatically filter out holiday requests that might result in a site being left short-staffed.
"There's less conflict between staff and managers now," she said. "Especially in a smaller team, It was difficult to refuse holiday requests. But now the system is doing that, by default, they do not need to be involved. It's made life much easier for the managers."