Yorkshire legends: Businesses that went the extra mile during lockdown
It's a well-known stereotype that Yorkshire folk are, shall we say, careful with their money. But that doesn't mean they're not generous in spirit — as has become abundantly clear in the weeks following the outbreak of the coronavirus (COVID-19) and our collective responses to it.
That's why today, in an effort to bring a little extra light into our readers' lives during this difficult time, we wanted to take a moment to celebrate some of the businesses in our area that have gone above and beyond by adapting and supporting others during this time of need.
We know that not everyone is in a position to do this — nor do we expect them to. But in the spirit of banding together and making our appreciation known, we wanted to take off our flat caps and applaud these fine folk for the work they've been doing.
Here, in no particular order, are just a few of the businesses that have made RotaCloud proud to be Yorkshire during the COVID-19 crisis.
The Supper Collective
Our hometown of York is known for its plethora of cafes, restaurants, and bistros — many of which have been sorely missed over the last few months.
To our delight, however, a number of our favourite spots joined forces during the coronavirus lockdown not only to remind us of what lovely people they are, but to feed those most in need.
The Supper Collective — which comprises Skosh, The Whippet Inn, Brew & Brownie, Dough-Eyed Pizza, Source, Chopping Block, Haxby Bakehouse, Daughter Cafe and York's famous Pig & Pastry — have for the past few months been preparing and delivering free meals to those who are vulnerable, self-isolating, and NHS frontline staff.
And we're not just talking about a couple of cheese sandwiches here...
To date, the group has delivered thousands meals to those in need, paid for by the generosity of the various businesses' usual patrons and supporters, and safely delivered all over the city by volunteers.
Free rooms for NHS workers
Despite being closed to the general public, the Dean Court Hotel, which is situated just opposite the magnificent York Minster, opened its doors to NHS staff, offering them a free night's accommodation — plus breakfast the following morning.
During this time, the hotel operated with just five volunteer staff, with generous members of the public helping cover the cost of NHS staff's stays — which amounts to £20 and covers the cost of essential things like cleaning, laundry services, and of course the food served at breakfast.
The stays were warmly welcomed by York's hospital staff, many of whom had been unable to return to their homes at the end of their shifts for a variety of logistical and healthcare-related reasons.
The scheme wound down at the end of May when demand (thankfully!) began to drop off. In total, 38 NHS staff — amounting to an incredible 360 nights — stayed at the hotel for free.  
Morrisons going the extra mile
Yep, Morrisons, as in the supermarket chain.
Even if you're more of a Tesco/Sainsbury's/Waitrose kind of person, it's hard to deny how impressive Morrisons' response to the COVID-19 crisis has been.
Some of the steps the supermarket chain took to help people out include:
Offering a 10% discount for NHS staff on all orders
Providing food box deliveries, with priority for elderly & vulnerable customers.
Set up a dedicated online portal for NHS staff to order food boxes, plus collection points at hospitals
Started a telephone shopping service with next day delivery for elderly/vulnerable shoppers
Teamed up with food courier company Deliveroo to expand their delivery options
To quote one of my colleagues, "it feels like they're adding a new initiative every other day!" and we couldn't help but admire the steps the company took not only to help out our hardworking NHS staff, but to help protect the country's most vulnerable residents.
Free bicycles for NHS staff
Another business local to us here at RotaCloud, Recycle York, went the extra mile — or should that be the extra 162 miles — by literally giving away 162 free bicycles to NHS staff.
With some public transport running less often during the early days of the pandemic, and many people not wanting to use it due to fears of coming into contact with a person carrying the virus, these bikes proved to be essential for many — and the fact that they were given away for free is just incredible.  
But that's not all. After this small, independent business ran out of free stock, they then pledged to offer a 50% discount to any NHS staff in need of transport, and are offered discounts on bicycle repairs too.  
What a (Bistro) Guy!
Another Yorkshire eatery that put smiles on our faces during lockdown was Bistro Guy, who delivered 50 of their delicious wood-fired pizzas completely free of charge to York Hospital for hard-working staff to share.
Then, as if serving up oodles of free pizza wasn't enough, Bistro Guy provided free meals for those who were self-isolating in the owner's village of Strensall.  
Fruit & veg to go
Bert's Barrow, a popular farmshop in Hillam, North Yorkshire, not only turned their shop into a contactless drive-through to keep people safe during the lockdown, but began operating special NHS-only hours to ensure that hospital staff are able to get their fruit, veg, and eggs after a long day's work.
They also started taking in produce from a wide variety of local farms and providers to sell to the public, both increasing choice for their customers and helping other local businesses stay afloat during a very difficult time.
Happy faces, and stomachs, at home
It's not all about free food and discounts: Yorkshire-based tapas chain Ambiente has been keeping spirits high right through the lockdown by taking to social media with tips and tutorials, helping self-isolators cook up a storm at home.
Proof that Ambiente's videos are more than just social media foodporn, the partner of one of our very own teammates followed the instructions to the letter, turning what could have been another night stuck at home into this delectable feast: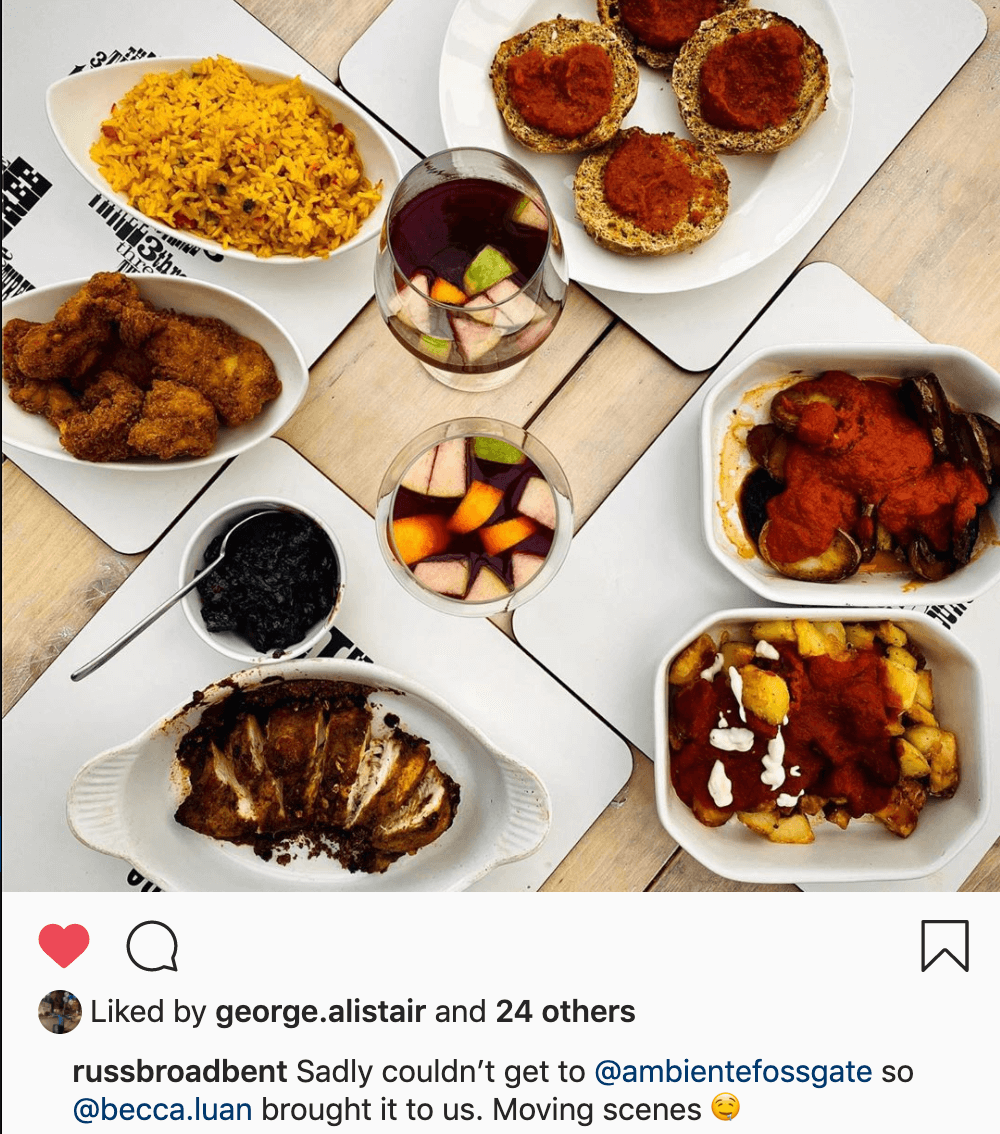 Some non-Yorkshire shoutouts
We couldn't share a post like this without acknowledging at least a couple of the businesses outside of Yorkshire that have done incredible things over the past few weeks to help those in need.
After all, we can't all live in God's Own Country.
The Umbrella Cafe
They might not be able to welcome patrons inside like normal, but the staff and owners of community cafe Umbrella Cafe haven't lost sight of their values during this crisis, and have been preparing meals for people in their community.
The cafe's owners even launched a Justgiving campaign to raise funds to pay for the food they're providing, with their wonderful patrons donating thousands of pounds to keep more than 1,300 local people fed.
Chicken & Blues
Fellow RotaCloud customer Chicken & Blues also outdid themselves during the crisis by making food deliveries to NHS staff — and even launched a pay-it-forward campaign for frontline workers.
Consider yourselves honorary Yorkshire folk!
---
At times like these, even the smallest gesture of support and kindness can go a long way. We appreciate that not every business is able to do things like those above, and that many others are doing their bit but didn't make it onto our list. But when the public mood is still, understandably, very sober, we wanted to take a moment to share some positive spirit with you here today.
If you know of any other businesses that have gone above and beyond — whether they're based in Yorkshire or not — and would like to give them the shout-out they deserve, do please leave us a comment below.
Until then, thank you to everyone who has gone the extra mile to help others during these unprecedented times. Your efforts won't be forgotten.
Stay safe, everyone!
Management advice & insights, straight to your inbox.
Enjoying the RotaCloud blog? Tell us your email address and we'll be in touch whenever we publish a new blog.
---
---