"Why use staff scheduling software when spreadsheet rotas are free?"
It's a fair question, especially when you've never had the chance to go hands-on with an advanced staff scheduling solution.
Ask pretty much any RotaCloud user the same question, however, and they'll inevitably tell you that one of the main reasons they use scheduling software is because of the time-savings.
In fact, in a survey of over 1,000 business owners, 91.2% said that RotaCloud's scheduling and attendance software saved them time on a daily basis, with the average person saving an incredible 166 hours on rota-related admin each year.
Here's how.
---
Unlike spreadsheets or paper rotas, staff scheduling software is built for one specific purpose: managing staff and automating people management processes.
It should come as no surprise, then, that scheduling software should save users so much time each and every day.
Here are a few examples of how RotaCloud can help you reclaim your workday.
Build rotas — fast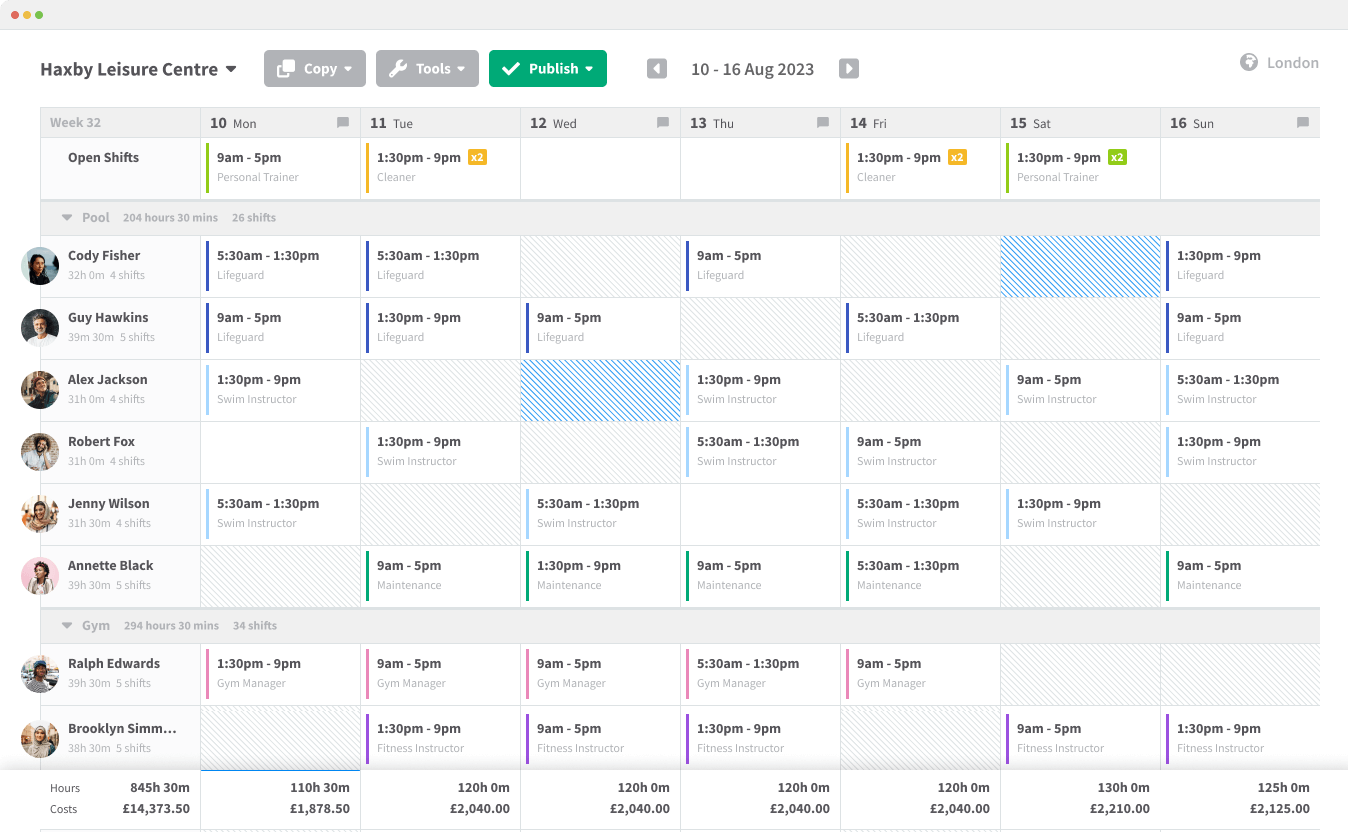 RotaCloud is built to help managers create and share rotas quickly, with as little fuss as possible. It's packed full of time-saving tools and features, including...
User-friendly interface
There are no formulas to remember in RotaCloud — just click, drag, and drop shifts where you need them to be.
You also have access to a variety of time-saving copy-and-paste tools, including the ability to duplicate individual shifts with a single button press, or to select an entire range of shifts for specific employees and paste them across weeks of future rotas.
Rota templates
One you have a rota pattern that you know works well for your business, you can then use RotaCloud's Templates tool to build future rotas based on part or all of that rota.
You can create as many templates as you like, switching between them at different points in the week, month, or year, perhaps — or even creating templates for specific employees to reduce your rota planning time further.
One-click sharing
With RotaCloud, there's no need for print-outs, WhatsApp groups, or email attachments when it comes time to distribute your rota.
Simply click the "Publish" button and RotaCloud will notify your employees by email, SMS, or push notification that their new rota is ready.
Easy updates
Because rotas in RotaCloud are stored online rather than your personal computer or company hard drive, you never have to worry about your staff referring to a duplicate or outdated version of the schedule.
Even better, whenever you make a change to your rota, RotaCloud will automatically notify any employees whose shifts have been affected. You can also turn on shift acknowledgement to make doubly sure that they got the message.
---
Spend less time on timesheets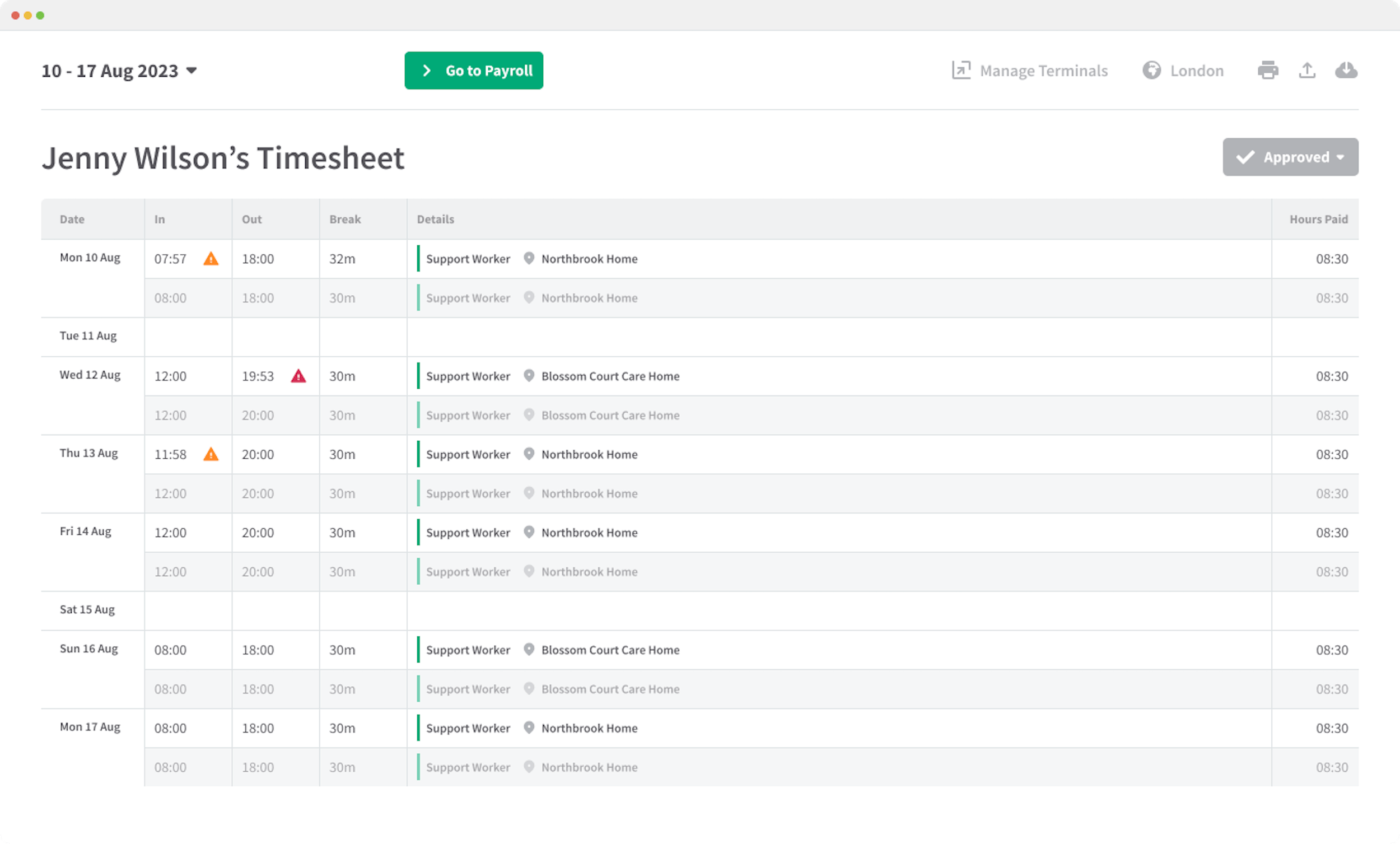 Managing staff timesheets is frequently reported as one of the most tiresome (and time-consuming!) tasks that people managers have to endure. That was, until RotaCloud came along...
No more data entry
With RotaCloud, your staff clock in and out of their shifts either using their own mobile phones or via an iPad or Android tablet running the RotaCloud terminal app.
This data is then automatically fed into their individual timesheets and stored securely online — that means no more hours spent typing numbers into spreadsheets, and no more budget-breaking data entry errors.
Automatic lateness flagging
Aside from the data entry, one of the biggest time-sinks when it comes to timesheets is calculating hours and dealing with any anomalies in your employees' hours.
RotaCloud eliminates this problem by automatically highlighting any instances of lateness and overtime on employees' timesheets when they occur, making it easy for you to spot — and amend — discrepancies either at the end of the day or at the end of the pay period.
Generate reports
Ready to run payroll? Once you're happy with your team's timesheets, simply generate a payroll report from within your RotaCloud account. This can then be exported as a CSV file ready to import into your accountancy software or forward to your bookkeeper — job done!
---
Effortless annual leave management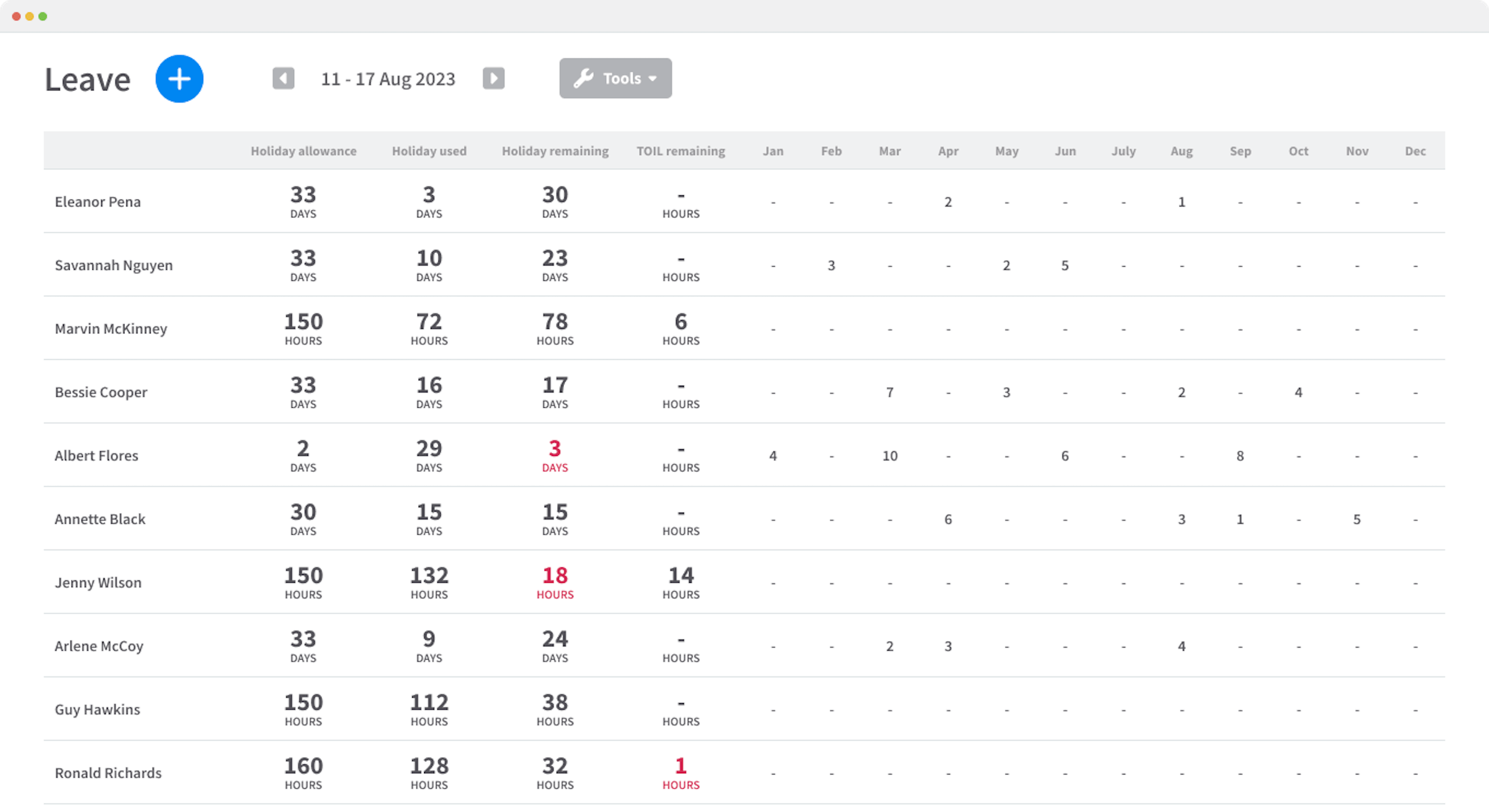 Just when you thought you'd built the perfect staff rota, someone comes along and asks for time off. Not to worry — we've got you covered here, too.
One-click approval
In the past, staff requesting annual leave used to look like this:
An employee comes to you in person, sends you an email, or fills out an annual leave request form asking for time off.
You check their remaining annual leave allowance.
You compare their request against any pre-booked leave.
If approved, you amend the employee's remaining leave allowance.
You contact the employee to let them know that their request has been approved.
You manually update any future rotas or make a note of the booked leave so you don't accidentally schedule the employee to work.
For RotaCloud users, the process is far simpler.

Your staff request time off straight through the Rotacloud mobile app, and can only do so if they have enough annual leave remaining. When the request arrives in your RotaCloud account, all you need to do is click Approve or Deny and RotaCloud will update the rota — as well as the employee's remaining leave allowance — automatically.
Done!
See who else is on leave
When processing leave requests, RotaCloud allows managers to quickly compare holiday requests against leave that has already been approved for other members of staff.
This makes it much easier — and quicker — to know whether approving a team member's holiday would put undue pressure on other team members or leave you short staffed.
Leave request rules
RotaCloud also lets you create leave embargoes for specific days (for example, if you have a big booking or an important event is due to be held) to prevent staff from requesting leave on that date.
You can also create bespoke leave request rules such as:
Minimum available employees
Minimum available employees on location
Minimum available employees assigned a role
With these rules enabled, only leave requests that won't negatively impact your business will be permitted, cutting your admin time even further.
---
Find cover in minutes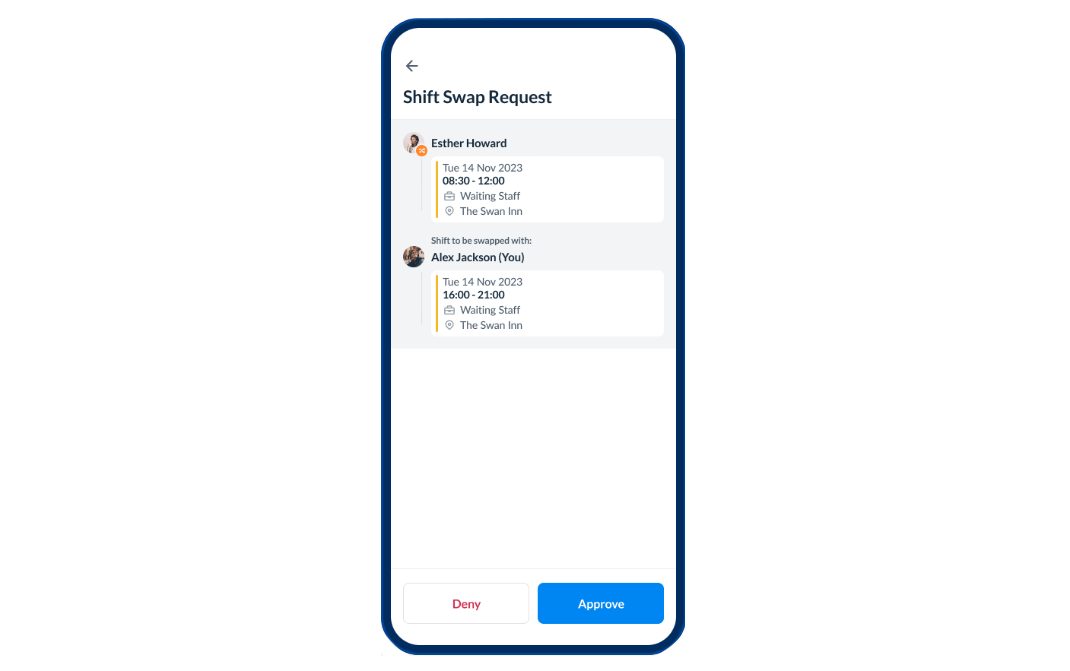 Creating the shift roster is only part of the battle — you then have to maintain it and deal with last-minute changes...
Open shifts
When a gap opens up in your rota, the last thing you want to do is spend all morning ringing around your team or sending out WhatsApp messages trying to find cover.
In RotaCloud, you can simply drag any shift that needs filling to the top of your rota to mark it as an open shift, free for all eligible employees to claim as their own.
Your team will also receive a notification about the shift, saving you the trouble of ringing around, and RotaCloud will let you know the moment that someone claims it — so you can stay focused on other areas of your business.
Company memos
Need to get in touch with a member of your team in a hurry? Don't waste time switching between WhatsApp, email clients, and what you're working on — RotaCloud's built-in Memos tool lets you send important messages straight to employees with a couple of clicks.
You can also reach out to your entire team if you need to — great for when there's a sudden change at work or a policy that everyone needs to be aware of.
Self-service shift swaps
What's better than filling gaps in your rota? Letting your staff fill them for you!
RotaCloud's shift swap feature gives your team the ability to organise their own swaps and cover in the event that they can't work one of their shifts. Once they agree, the proposal is then sent to you for review via your RotaCloud account — simply click "Approve" if you're happy with the swap, and your rota will be updated automatically.
---
---
---