Friday face-off: Should you hire a social media agency?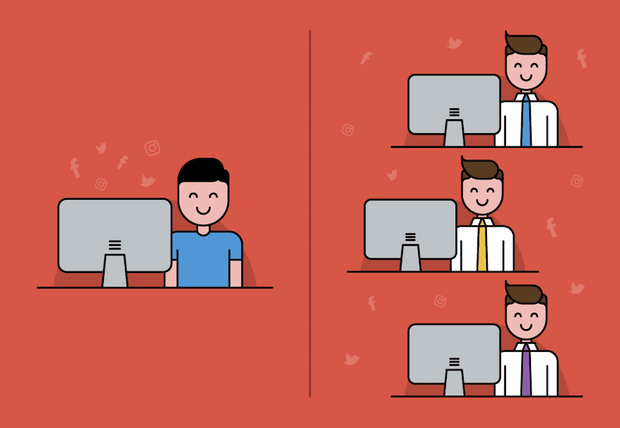 You don't have to be a social media mogul to know that it makes good business sense to have a strong social media presence.
Far more than just a place to share the odd status update or link to your company blog, social media today is often the first port of call for customers when they have questions or complaints to make.
For others, your Facebook, Twitter and Instagram posts will be the very first time they'll encounter your business, with the content you share and the manner in which you share it significantly influencing people's opinion of you.
But keeping your social media channels up to date can be a real challenge when you're trying to run a business. After all, you've got customers to serve, books to balance, rotas to plan...
It's at times like these that many small business owners think about outsourcing their social media activities, asking a specialist agency to handle all of those tweets, posts and Instagram pics on their behalf.
But is this always the best course of action?
In today's Friday Face-Off, we're talking about what it is that social media agencies actually do, why some business owners turn to them, and examining the pros and cons of doing so.
If you've ever wondered whether outsourcing your social media management is right for you, this is the post for you!
Jump to:
Why use an agency? | The Pros | The Cons
What Do Social Media Agencies Do?
The services that social media agencies offer can vary greatly depending on their size and area of expertise. Some will focus solely on numbers, working to increase the size of a client's online audience and sending traffic to their website. Others will take a more holistic approach, working with you to create eye-catching advertising campaigns and attempting to establish or maintain your company's unique "voice" online.
Some of the more common tasks that social media agencies will handle on your behalf, however, include:
Developing a strategy to meet your particular social media goals
Providing metrics on demographics and followers' behaviours
Running promotions and

advertising campaigns

Answering customer queries on your behalf
Measuring and monitoring social media trends and data
You'll need to do your homework if you do decide to outsource your social media activity — not all agencies are created equal!
Why Do Businesses Use Social Media Agencies?
No two businesses use social media in exactly the same way. The reasons that many small business owners turn to social media agencies for help, however, are usually one or a combination of the following:
1. Lack of time — They're too busy doing other things to find the time to keep their social media accounts up to date.
2. Lack of confidence — They're concerned that they'll make a mistake that will make their business look amateurish or harm its reputation.
3. Lack of knowledge and skills
— They don't know how to use the various tools that social networking sites make available.
Ideally, you'll be taking at least a few minutes each day to monitor your various social media channels — that or you'll have someone on your staff whose job it is to maximise your social accounts' potential to engage with new customers and support existing ones.
If a lack of time precludes you from learning the ropes, however, or you don't have the budget to hire a dedicated social media manager of your own, then you might consider hiring a social media agency.
Pros of Using a Social Media Agency
Save time. The most obvious benefit of outsourcing your social media management is that you'll be able to reclaim the time you previously spent keeping everything shipshape. You get to focus on the day-to-day running of your business, safe in the knowledge that someone else is keeping an eye on your social media channels and engaging with new and existing customers.
Efficient management. Yes, it costs money to employ a social media agency, but the time they spend managing your accounts will almost always be better spent than if you (unless you're a social media pro) did it yourself — not to mention yeilding better results.
Expert knowledge. Facebook, Twitter, Instagram, Pinterest, Google Plus... There are a lot of social media platforms out there, and they're all different. The staff at social media agencies are paid to know all of these networks inside-out, saving you the bother of having to work out how to use all of their respective functions and which platforms are the best fit for your business.
Expert tools. Agencies have access to paid versions of software and tools that everyday users seldom do. This means that the content your social media agency produces for your channels — be it images, videos or written content — will generally be much more professional-looking and tailored to fit the platforms they're shared on.
Cons of Using a Social Media Agency
Cost. Depending on the agency you choose, hiring a third-party company to manage your social media activity can be quite expensive. Sure, you could always shop around for a cheap deal, but when your business' reputation is at stake (remember: every tweet and post that goes out will have your name on it), taking the discount option is not something that we'd always recommend.
Generic. Obviously the best social media agencies will work with you to establish a voice and try to match the tone of your website and/or existing content, but at the end of the day there's only one true you. Content, tweets and posts prepared by agencies often have a habit of feeling bland and generic — arguably missing the point of social media entirely.
Risk of misrepresentation. If you hire someone to speak for your company, then there's always the fear that they'll say something online that you wish they hadn't. The best agencies will give business owners to chance to edit or veto messages and content entierely, and require them to sign off on campaigns before they're rolled out. But even so a level of trust is involved, so you'll need to have total confidence in the people representing your business online.
Lack of industry knowledge. If a customer asked you a question via Facebook or Twitter, you'd probably try to provide the most accurate and detailed answer you could. When you've passed such duties on to an agency, however, there's a good chance that the person in charge of your account will have only a handful of scripted responses or the information on your website to fall back on. That or they'll have to contact you for clarification, begging the question of why you hired them in the first place.
The Verdict
Unless you're so busy that you find it impossible to manage your social media channels or even learn the basics, then we'd always recommend retaining full control of your social media channels.
Social media agencies are very good at what they do. They know all the networks inside-out, have access to various tools that the average user might not, and can provide their customers with valuable insights into user data.
But social media is all about personality. It's about showing the general public that your business is different from the rest and allowing your quirkiness to shine. An agency might be able to provide a rough approximation of your personality online, but ultimately that's all it'll ever be — a simulation.
Rather than hiring a faceless company to manage your socials for you, set aside some time to get to grips the networks you use. Better yet, hire someone to be your full-time social media manager or allocate certain social media duties to an existing member of your team.
There's nothing wrong with turning to the professionals for help with a particular project or advertising campaign, but for day-to-day activities, we think it's infinitely better to retain that close connection with your customers and to really listen to what they're saying.
Good luck!
---
Are you a small business owner who has employed a social media agency to manage your Facebook or Twitter account? We'd love to hear your experiences! Leave us a comment below.
Management advice & insights, straight to your inbox.
Enjoying the RotaCloud blog? Tell us your email address and we'll be in touch whenever we publish a new blog.
---
---