7 social media tips for café owners & restaurateurs
With so many of today's internet users relying on websites like Yelp and TripAdvisor to find places to eat and drink, individual business' home pages rarely get the kind of traffic their owners were hoping for.
No matter how stylish or informative your website, the only real way to get word out about your tasty offerings is to take the conversation directly to the public.
And that means using social media.
The platforms you use to promote your business are entirely up to you, and each one has its pros and cons. But failing to make regular, effective use of social media can result in hundreds, if not thousands, of potential customers slipping through your fingers.
But what exactly should you be doing to connect with people on social media? And what kinds of posts work best for creating buzz about food and drink?
Join us as we explore the ways that successful cafe owners and restaurateurs use social media platforms to reach new audiences — and convert them into paying customers.
1. Make Mouths Water
Let's start off simply. If you're in the business of making delicious things, then you should make it a priority to get plenty of pictures and videos of them onto the web for people to see.
Reports have shown that social media posts that include images are engaged with — and in some cases served to — significantly more users than text- and link-based posts. So be sure to keep that smartphone or camera handy at all times and show people what you have to offer, remembering to include the names of any dishes or drinks in your posts so that people know what to ask for.
Unlike those of us who sell things like staff scheduling solutions, cafes and restaurants have the advantage of working with visually stimulating subject matter, day in, day out, so be sure to make the most of it!
2. Document the action behind the scenes
The great thing about social media is that it lets members of the public to get closer than ever to the people and businesses they're fans of. We can now get in touch with our favourite celebrities, companies and even world leaders as if they lived next door — and sometimes even hear back!
You might not want to invite all of your customers into your kitchen or let them shadow you while making lattes, but one thing you can do is give your online followers a sneak peek at life behind the scenes to make them feel involved.
Here are a few examples of businesses doing just that:
Chefs skilling up at healthy eating restaurant Filmore & Union :
Jamie's Italian remind customers of their commitment to sustainability:
The chef at Robinsons, one of our own Industry Experts, reminds us of the work that goes into running a successful cafe:

Use your social media accounts to document the work that goes into making your dishes. Introduce members of your team to the public. If you head out to the market or meet with one of your suppliers, get some shots of all that great produce.

People love seeing the inner workings of businesses— especially if they get to enjoy the fruits of that same labour.
3. Go Live
Yes, it's scary going live, but people can't get enough of the excitement and immediacy that real-time broadcasts provide.
Facebook and Instagram now allow users to stream live video to their followers, with the option to save the entire broadcast either on your device or company page for latecomers to watch afterwards.
You'll need to do a little preparation before hitting the record button, but providing that you choose visually stimulating subject matter and are recording a process that you're a dab hand at, you should have nothing to fear.
You could even take requests in real time from your viewers and give them a shout-out when they comment. Check out what US-based food channel Tastemade did last year with their latte art livestream: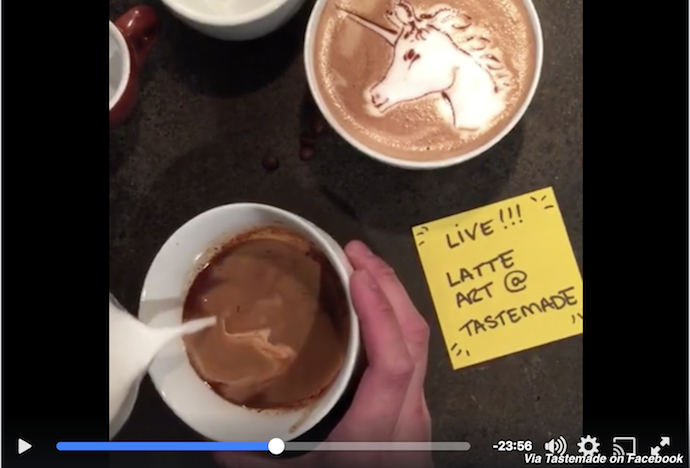 Your own broadcasts needn't be quite as elaborate as this, but there are plenty of ways to entertain online audiences, be it the process of mixing and twisting dough into pretzels, icing a fresh batch of cupcakes, or crafting the perfect cortado.
These things might seem routine to you, but for your customers it's like watching a magician at work.
4. Don't Use the Instagram App
At least, not when actually taking your pictures or video.
It's often better to use a good quality digital camera or your smartphone than it is to shoot within the Instagram app itself. The reason being that, if you take your pics or video inside the app, you'll be bound by its square image format and have access to only limited editing tools.
Plus, by shooting videos outside Instagram, you'll be able to crop them to whatever length you like (videos shot within Instagram cannot currently be cropped without using a third-party app).
The easiest way to get any media not shot on your smartphone into Instagram is to upload them to some form of cloud-based storage (we use Google Drive here at RotaCloud) via your computer, then download them using your mobile phone.
Once the files are on your mobile device, fire up the Instagram app and access the file(s) from your library. Easy!
5. Get creative
Speaking of taking pictures...
No matter how beautiful your pastries, puddings or lattes, people are eventually going to get bored of seeing the same thing in their Facebook, Twitter or Instagram feeds. Try mixing things up by playing around with the presentation of your pics so that they stand out from the crowd.
Need some inspiration? Check out this little lot!
Tease incoming products:
Don't be afraid to be imperfect:
Savour the little moments:
Or think outside the box:
Play with colour:
Have fun with light:
Food with a view is always a winner:
People love to see happy faces together with tasty treats:
And then there are those weird little moments worth sharing:
If you have a new dish or sweet treat to show off, don't just snap a picture of it in the exact same spot as the last — think about how you can present it in an original and eye-catching way and inspire people to hit that 'share' button.
6. Promotions and offers
People love a good deal, and being privy to the latest offers and product announcements is one of the biggest reasons why they follow brands online.
You may not want to discount your food or drinks, since doing so can have the effect of devaluing the product in some people's eyes. But social media is a great way to way offer freebies and announce special events.
Why not offer a complimentary muffin with any main meal providing that customers show you the discount code or picture you shared online? Or perhaps publicise the fact that you're giving away free glasses of bubbly on Mother's Day.
Encourage your followers to reply to and share your promotional posts and get people — and their friends — talking about your business.
7. Use Calls to Action
You may have noticed that Facebook allows businesses to customise a blue call-to-action button on their profile page in order to invite users to engage with them in some way.
Here at RotaCloud, we use the CTA button on our Facebook page to invite users to sign up for a trial of our software. But businesses like restaurants and cafes might want to consider configuring their buttons to invite customers to place bookings or start an online chat.
Baltzersen's, a popular cafe in Harrogate, has done something slightly different with their CTA:
Mobile users (who now account for more than half of web traffic, incidentally) can use the button on Baltzersen's Facebook page to call the business directly, going from viewing the company's profile page to dialling the cafe in mere seconds. It's a great way to engage with customers, and removes the need for them to look up the business' phone number.
Exactly how you use calls to action like these is up to you and the type of business you run — just be sure to make use of them!
Final thoughts
Social media is one of the first points of contact customers will have with your business, so be proactive and make sure that the tone and content of your posts reflect the company's values.
By all means, keep those delicious photos and videos flowing, but don't be afraid to try out the various tools that the platforms have to offer. After all, it's better to have a couple of your posts flop than it is to miss out on opportunities simply because you're afraid to try something new in the world of social media.
---
Want more tips on how to promote your business? Head over to the Marketing section of the RotaCloud Blog now!
Management advice & insights, straight to your inbox.
Enjoying the RotaCloud blog? Tell us your email address and we'll be in touch whenever we publish a new blog.
---
---