Using social media for customer service — 7 tips for small business owners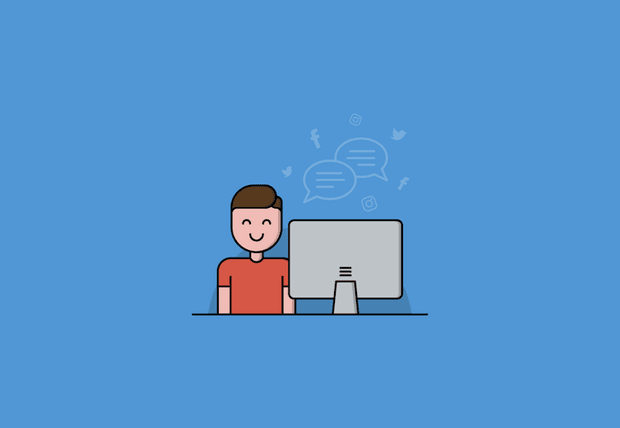 How many times have you asked a question or made a complaint to a business via one of its social media channels?
Marketing consultancy J.D. Power and Associates found in 2013 that almost 70% of the 23,000 consumers they surveyed said they had used social media for customer service reasons at some point. That percentage has no doubt grown since then, as social networking sites like Facebook and Twitter have become go-to points of contact for consumers in search of businesses.
The level of support you offer your customers via social media can be the difference between them becoming ambassadors for your brand or badmouthing you to all of their followers.
With this in mind, today on the RotaCloud Small Business Success Blog we're exploring several ways small businesses can use social media to offer unparalleled customer service.
Ready to up your social media support game? Let's go!
1. Be where your customers are
Whether or not you originally intended to use your social media channels to provide customer support, it's highly likely that your customers will expect it.
That might sound daunting, but the more support you provide via social media, the more likely it is that your customers will return to you in the future, so it pays to be present on the platforms that they use.
Of course, you should really have considered this when deciding which social media platforms to use, but if you haven't done so already it's worth looking into which of the bigger social sites your main demographics favour and establishing a presence there.
2. Respond quickly
A 24-hour turnaround might be considered quick when responding to an email enquiry, but when it comes to social networks, a 24-hour response time is sluggish.
When they ask a question or post a prickly comment to a business' social media page, customers generally expect a response within a few hours. But even if they were willing to wait a little longer, consider the negative impact that a complaint about your business could have if it were left unanswered for days on end and in full view of the public.
Even if you're not able to provide a solution to a problem right away, it's important to at least acknowledge the customer's comment within a few hours of it being posted.
If need be, offer to discuss the matter in more detail via private message (more on that later), but never leave people hanging.
3. Keep an ear to the ground
It's not just the questions, comments and complaints fired directly at you that should be responded to on social media — any social media manager worth their salt will perform daily searches for mentions of their business online.
They might not be using your username or Twitter handle when they do it, but comments (be they positive or negative) written about your business should not go unseen.
If you do stumble upon a negative (public) comment about your business, you're entitled to politely interject and attempt to offer a solution — or an apology if need be. Some people will simply want to vent following a negative experience, so won't actually expect you to do anything in particular, but taking the time to engage with unhappy customers will at least show that you care.
Be careful not to become drawn into a tweet battle with someone who's simply out to discredit you, however. The last thing you want is to become publicly swept up in their negativity...
4. Be polite — but human
The tone you use when responding to customers can have a big impact on how smoothly your conversations go — not to mention the public's perception of your brand.
Companies are generally a little more informal on social media, especially when they're working with a limited character-count on sites like Twitter. Care should still be taken, however, to be courteous and to proofread your responses before hitting the 'Send' button, as spelling and grammatical errors could give customers the impression that they don't have your full attention.
Try to use people's names when responding to them, and never shy away from accepting responsibility where it's due. You should also avoid using canned responses and remember that, unless your conversations are conducted via private message (more on that in a moment), everything you say will be publicly visible.
Finally, if you have more than one person managing your social media accounts, then it's a good idea to agree on a 'company voice' and stick to it. Customers value consistency and will expect the same level of service regardless of the member of staff they're dealing with.
5. Go private when necessary
There will inevitably be some conversations that, whether they're particularly toxic or just plain complex, should be conducted privately rather than on your page or in public.
If you anticipate that a conversation might get messy or that you'll need to ask for sensitive information such as a person's name, phone or order number, then invite them to discuss the matter via private message.
I'm sorry to hear you haven't received the other email, Ruth. To enable me to send you another copy, can you please send through a private direct message and include your billing address and order number? Thanks, I look forward to hearing back from you. ~Jamie

— House of Fraser Help (@HouseofHelpers) December 1, 2017
Beware making the conversation private without stating your intention to do so, however, otherwise you'll be left with a customer queries that, to the casual observer, went completely ignored.
Remember to respond to the initial message publicly to ensure that a) the customer sees it and b) that anyone browsing your page can see that you did, in fact, come to their aid.
6. Support — don't sell
You should view your social media interactions as an opportunity to present your business to the world in the best possible light (you're giving real-time examples of your excellent customer service, after all).
What you should never do, though, is attempt to turn your responses to customer queries into mini advertisements or use them to generate additional sales.
There are few things worse than feeling like you're being sold to when all you're after is a simple answer to a question.
Stay on-topic and remember that you're dealing with a real person — you might not make any money out of the exchange, but providing first-class customer service will likely result in multiple future sales.
7. Use dashboard software
As great as social media can be, keeping track of all your tweets, mentions, comments and likes can be extremely hard work.

Businesses with more than a few dozen followers on social media or who operate predominantly online are advised to take advantage of web-based social media management, or 'dashboard', software to help keep things organised.
Paid software like Sprout Social can be invaluable for larger organisations, but the majority of small business owners will find that free social media 'dashboard' sites like Tweetdeck and Hootsuite will more than suffice.
As well as allowing you to schedule posts and tweets for publication at a later date (it's important to keep your account active, remember), dashboard sites like these make it easy to monitor conversations and set up feeds that search for specific keywords that might be relevant to your business and which you should be responding to.
You can even use it to connect your various social media channels in one place, saving you the trouble of navigating to multiple sites to post messages or monitor activity on your page.
Just be sure not to share the exact same content across all of your channels — that's a big no-no in the world of social media.
---
Final thoughts
When you have a business to run and staff to manage, finding the time engage with customers on social media can be difficult.
But in many ways, the customer service you offer over social media can be thought of as a kind of marketing in and of itself. The way you deal with requests and handle complaints will not go unnoticed by the general public, and will often have as much impact on them as advertising and the promotional material you produce, so it makes sense to dedicate a portion of your day to your social media channels.
Your customers are watching — make sure you put your best tweet forward!
Management advice & insights, straight to your inbox.
Enjoying the RotaCloud blog? Tell us your email address and we'll be in touch whenever we publish a new blog.
---
---