RotaCloud's 2020 in review
It's about this time of the year when we normally sit down to write about the progress we've made and all the exciting changes that have happened here at RotaCloud over the past 12 months.
It's probably fair to say, though, that 2020 hasn't gone exactly as expected for most businesses around the world — and that includes our own.
With that in mind, instead of doing our usual stats roundup, in this year's look-back post, we've decided to tell the story of how the Covid-19 pandemic shaped our year, the challenges it threw up, and how we managed to find some silver linings amongst the gloom.
As you might expect, it's been a bit of a strange one…
Locked down
Just before the pandemic hit, we were on the cusp of doubling our office space at RotaCloud, and had already put in a bulk order for a whole pile of office furniture.
But then, like every other office-based business, we suddenly had to start working from home.
Having our team spread across North Yorkshire instead of being gathered together at our York HQ meant that we had to think on our feet, putting new measures in place to keep our team connected — not to mention continue to offer the same level of service we always have. As a completely digital company, however, we considered ourselves lucky, since many of our existing processes could continue to be relied on when working remotely, and it didn't take too long for us to slip into a comfortable routine of working, and supporting our customers from our homes.  
For many of our customers, however, responding to the pandemic wasn't quite as simple as telling their staff to work from home. Our customer support team spoke to hundreds of managers and business owners all over the UK who, due to lockdown and various restrictions thereafter, were forced to furlough many of their staff and in some cases put their accounts on hold.
When March's lockdown began, the number of visitors to the RotaCloud website, blog and web app fell by around 50%. Hospitality, retail, tourism, leisure — all these industries were pretty much closed overnight, and rota planning was, for obvious reasons, off the agenda.
To protect the business, all RotaCloud team temporarily went down to four-day weeks, with the co-founders forgoing more of their pay. This wasn't an easy decision to make, but we felt that it was the right one, as it meant that we could protect our team's jobs right across the board. It also meant that we didn't have to furlough any of our staff, allowing us to keep working on the product and providing the best possible level of customer support during lockdown — as well as it standing us in good stead for when lockdown began to ease.
Looking out for our customers
However difficult March & April were for us, we knew that many of our customers were in a far tougher position.
Data from the RotaCloud database showed that clock-ins, or the number of shifts that were actually worked, fell to around 5% of normal levels in the hospitality and leisure industries at the height of lockdown. Retail was down to around 30% of shifts. Even during summer's brief covid reprieve, shifts in these industries didn't reach pre-lockdown levels.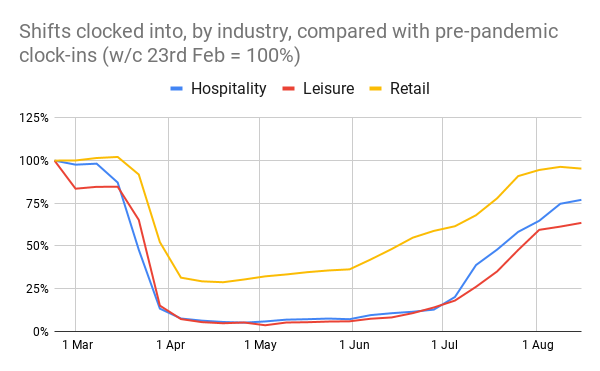 We immediately put in place a range of measures to support customers, including offering the option to pause their subscriptions. We also published a range of free resources to help with not just rota planning, but general small business management during this time — most notably our plain-English guide to the UK government's Coronavirus Jobs Retention and Job Support schemes.
Finally, our development team worked quickly to add 'furlough' as a leave type in RotaCloud itself within days of the furlough scheme's announcement, to help businesses keep clear records of which staff had been furloughed within their RotaCloud accounts.
Overall, during this crucial few weeks, we had over a thousand conversations with customers on live chat alone.
Business in the 'new normal'
As spring progressed, we started to readjust to life in a pandemic. The biggest question for us was how to handle the release of RotaCloud's biggest feature update in years: Pro.
Pro — a suite of advanced tools and features — was the result of years of research, design, and coding, so we were excited to get it out into the world. Releasing it while many of our customers were having to close or furlough their staff felt odd, but ultimately we knew that Pro's features would be genuinely useful for many of our customers, so decided to make it available, minus a lot of the fanfare we had originally planned.
Internally, the Pro launch was a huge success — we worked together across every department, remotely, to deliver a seamless, bug-free launch.
Around the same time, we also decided to offer RotaCloud free for six weeks to all new customers. We did this because we wanted to help out businesses who may not have used a rota previously, but now needed some way to manage different 'bubbles' of workers to help keep their workplace safe, as per the government guidance.
Both these projects hugely tested our new, remote-working processes — and we're really happy with how they turned out.
Throughout the year, we also updated RotaCloud with plenty of other new features, from the Deleted Shifts page, to the new logbook feature for our Pro customers.
Internally, we spent some time putting our mission, purpose, vision and values onto paper. The whole team contributed to the initial brainstorming process, and the co-founders and creative teams turned all those ideas into final statements and values. We shared the values with the entire company at a meeting in the summer, and received fantastic feedback, including an impassioned speech from one member of the team who said how proud the process of establishing our company values had made him feel. Getting the whole team together online to talk so positively about the future, and about the values that guide us, was a real morale-booster.
Finally, here are a couple of stats to show how hard the customer success team have worked this year...
Up to December 1st, this team of just four people handled 16,703 customer live-chat conversations — with hundreds more phone calls and chats on Google Meet. Despite this enormous number, a whopping 97.9% of customers rated those conversations positively.
What's next?
At RotaCloud, we're going to carry on building the best employee scheduling software we possibly can, just like we've always done. That means new features, new improvements, and regular rounds of tweaks and polishing.
We can't go into too much detail about some of the features we have planned, and we won't upset our development team by putting launch dates down here in black and white, but we can reveal that the much-requested holiday accrual feature will be making an appearance in RotaCloud very soon. You'll also soon be able to integrate your RotaCloud and Xero Payroll accounts, and we have a bunch of updates for our already much-improved mobile apps planned.
We don't yet know when we're going to be able to get the entire team back to RotaCloud HQ, or get back to anything like normal.
What we do know is that this winter will be incredibly tough for some of our customers, with restrictions tightening once more. At least this time, however, vaccinations are underway, and there is light at the end of the tunnel. And of course, we'll be here to support our customers in every way we can along the way.
Hopefully this time next year, we can look back on 2021 as a more positive year for everyone — including all our wonderful customers.
Until then,

Merry Christmas & a Happy New Year from all at RotaCloud!
Management advice & insights, straight to your inbox.
Enjoying the RotaCloud blog? Tell us your email address and we'll be in touch whenever we publish a new blog.
---
---
---