Five ways to manage your small business' online reputation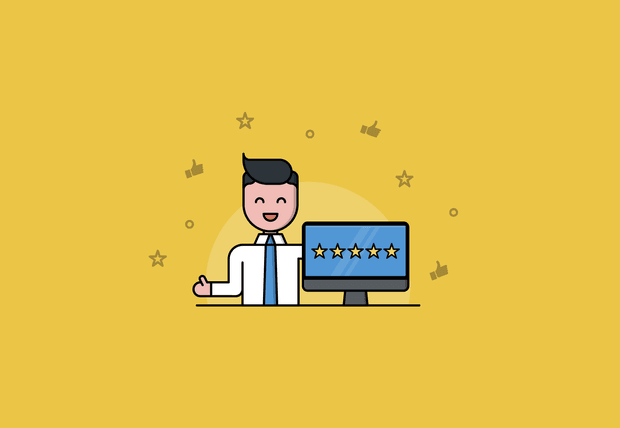 Every good business owner knows that it's important to keep abreast of what people are saying about their brand. What's also important to remember, however, is that the type of conversations people have about your business can vary drastically depending on the way you present your brand to begin with.
Online reputation management, or ORM, should be a crucial part of any small business owner's marketing strategy.
But what's the best way to go about shaping those conversations in the first place? And what's the difference between managing your online reputation and simply monitoring what people say about you on social media?

Today on the RotaCloud Small Business Success Blog, we'll be discussing just that.
Jump to our five tips for managing your online reputation
Why Does Online Reputation Matter?
There was a time when, barring some kind of media scandal, business' reputations were seldom impacted by the opinions of individual customers. With enough advertising clout, even the most mediocre of brands could present themselves in a positive light. Today, however, the balance has shifted dramatically.
With the rise of social media and aggregate review sites like TripAdvisor, Yelp, and even Google reviews, customers have the power to make and break businesses from behind their keyboards. If you aren't paying attention to the conversations that are being had about your business, then it's likely that any advertising or promotions you run will fall on deaf ears.
Online reputation management is about fostering trust in your brand and minimising the impact caused by negative comments or reviews. Rather than just responding to what people say about you online, however, ORM requires you to take an active, rather than reactive, role.
You'll never be able to control the conversations that people are having about your business online (nor should you try to!) but by keeping up with those conversations and taking steps to always cast your business in a positive light, you can at least ensure that you get off on the right foot and minimise the impact of negative comments when they happen.
5 Ways to Manage Your Online Reputation
It's not enough to respond to what's being said about your business online — you need to be taking an active role in its development.
There are numerous ways you can go about taking control of your business' online reputation, and the approaches you take will vary depending on your particular industry.
Generally speaking, however, there are five key things that you should be doing:
1. Claim your online profiles
The first thing to take care of is making sure that you've claimed ownership of your business on all of the major review sites.
Claiming your business online will enable you not only to add things like opening times and contact information for the public to see, but will also give you the option of being notified when people rate or comment on your business. You'll then be able to respond to customer reviews (more on that in a moment!) and, if you feel that something potentially damaging or unfair has been written about your business, request that it be removed.
How RotaCloud appears on Google search results pages
There may also be other, industry-specific sites that you should also claim your business on, but the following four sites should not be missed.
Without keeping track of what people are saying about your business online, there's no way you'll be able to spot problems you weren't aware of or minimise the impact of any particularly toxic comments that could otherwise be putting dozens — if not hundreds — of people off your business.
Conduct regular online searches to find out what people are saying about your business. If you're short on time or resources, you can set up Google Alerts to receive notifications whenever someone posts something about you online.
2. Be socially responsible
There's no denying that the term corporate social responsibility, or CSR, sounds a lot like one of those irksome business buzzwords that look great on paper but don't mean an awful lot in real life.
As a small business owner, however, being open, honest, and most importantly vocal about your values and responsibilities can have a big impact on the public's perception of your brand — not to mention sales.
Increasingly, people care not just about the products and services they're paying for, but the people and processes behind them. Consumers want to know that their money is going to people who deserve it and that they are not inadvertently doing harm by patronising a particular business.
See https://t.co/kmv2tOYZmI for our latest blog about the #lattelevy plus this week's beans and lots more pic.twitter.com/LvOpOIOrH1

— Bean & Bud (@BeanAndBud) January 8, 2018
Independent cafe Bean & Bud took to the web to join the "latte levy" discussion in early 2018, showing customers how they're doing their bit for the environment.
Use this to your advantage by making your company values plain for all to see and engaging with your customers and fellow businesses on a personal level.
Get involved with your local community. Take part in fundraisers and sponsor events. If you use local produce in your cafe or restaurant, shout it from the rooftops both online and off, and celebrate your fellow independent businesses.
3. Maintain a strong online presence
Of course, without a strong presence on the web, you risk all the good you're doing offline being missed.
There's no need to become an internet guru overnight, but not having an informative, professional-looking website will almost certainly result in lost sales — either because people will struggle to find your business online or, if you do have a website but it's slow or difficult to navigate, write you off as outdated or amateurish.
At the very least, your website should:
Be clearly branded
List your opening times
Show contact information and address (with a Google map embedded)
Say a few words about what you do
Have clear links to your social media accounts so that people can follow your business online or tag you in relevant discussions
If you have time and space to host a business blog, then even better — you'll need to be constantly producing quality content that will help your business rank higher in Google searches and gain authority online.
On top of having a website you'll need to establish yourself on social media networks — we'll talk more about this in point #5.
4. Encourage reviews
We all know that disgruntled customers are far more likely to take to their keyboards than those who enjoyed their experience. As part of your online reputation management strategy, it's your job to get those happy people posting about your business.
There are numerous ways you can go about encouraging reviews, from providing links to review sites via your social media channels, to giving your (clearly elated!) customers the kind of 'review reminder' cards that can be obtained free of charge from TripAdvisor once you've claimed your business on the site.
Your goal is to flood the web with as many genuine positive reviews as possible. That way, even if something does go wrong and a customer leaves you an absolute stinker, you have plenty of glowing reports to redress the balance.
Don't be shy about asking for reviews if you know your customers have had a good experience with you — the majority of people will be happy to leave one, provided you give them a gentle nudge and make it easy for them to do so.
5. Embrace social media
Social media can be a bit intimidating at first, but it's essential that you're present on the same platforms that your customers are active on.
As well as the potential advertising opportunities that social media can provide, sites like Facebook and Twitter have become immediate ports of call for customers in need of support, singing business' praises, or venting about their negative experiences.
You need to be there to respond to all of them.
What's most important to remember about using social media for business is that every tweet, post, image or link will affect the public's perception of your brand. Whether you're sharing a fun news article or responding to a negative comment, therefore, it's essential that you choose your words carefully and stick to your brand's 'voice'.
As well as this, of course, you should be using social media to start conversations of your own and becoming aligned with the kinds of stories that would benefit your business. Make connections; share and retweet your fellow small businesses; give people a glimpse behind the scenes at your business...
You and you alone are in control of your social media output, so make it count and ensure that the messages people are seeing online are positive ones.
Need help getting started with social media? Get our FREE in-depth guide.
Final Thoughts
Online reputation management requires business owners to be constantly vigilant, scouring the web for mentions of their brand names and responding appropriately.

But it's also about looking for new ways to engage with audiences and start the kind of narratives that you want your business to become synonymous with. Remember: online reputation management is an exercise not just in damage limitation, but in creative thinking and proactive online behaviour.

Be bold, take the lead and start shaping perceptions of your brand before people — unrelated to your business — shape it for you.
Management advice & insights, straight to your inbox.
Enjoying the RotaCloud blog? Tell us your email address and we'll be in touch whenever we publish a new blog.
---
---