Instagram: is it right for your small business?
By now, pretty much every small business owner knows the value of maintaining a strong social media presence. But attempting to be present on every social media platform out there is a recipe for disaster — and could actually do your business more harm than good.
One platform that many business owners seem to struggle with is Instagram.
With more than 800 million registered users worldwide, you'd be forgiven for wanting a piece of the action. In the right hands, Instagram can be a hugely effective marketing tool, driving customers your way and allowing you to showcase your wares, policies, and achievements with relative ease.
But the truth is, while some businesses absolutely shine on the platform, others would be better off steering clear.
So, before you commit to the world of photos, filters, and hashtags, check out this quick guide to Instagram, what it can — and can't — do, and how to tell whether it's worth investing your time in.
---
Part 1: A Quick Intro to Instagram
Founded back in 2010, Instagram is a social media platform that focuses on the sharing of photos and video. Created by a pair of programmers from the US, the platform quickly found success with audiences worldwide thanks to its simple interface, stylish, photo-enhancing filters, and artistically minded user-base that gravitated towards it.
The platform was acquired by Mark Zuckerberg's Facebook in 2012, who vowed to leave its key features intact while integrating it with Facebook itself as a way of expanding both platforms' reach.
Since then, Instagram has unveiled a number of new features, including Instagram Stories (photos and video, all of which can be decorated with stickers and effects, that disappear 24 hours after posting), and Instagram Direct, which works as a simple private messaging function for users.  
Today, Instagram is used by everyone from selfie-snapping teens to multinational conglomerates promoting their products and brands, occupying a space that somehow manages to juxtapose pics of what someone had for breakfast with works of genuine artistic merit.
---
Part 2: Three Things to Bear in Mind
So we know that Instagram focuses on photos and video, but marketing on the platform is a little bit different from marketing on Facebook and Twitter.
Before diving in, it's worth outlining what makes Instagram unique — and how your usual social media marketing strategy needs changing for the platform.
1. Links aren't allowed
Unlike on Facebook and Twitter, it's not possible to include links in the descriptions of your posts (you can share URLs, but users will have to copy-paste them into their browsers) to individual pages on your site. You can have one link in your Instagram account bio, but that's it. For this reason, Instagram isn't really a platform for generating website traffic so much as it is for raising your business' profile and starting conversations online.
2. It's mobile focused
Sure, you could argue that most social media platforms put an emphasis on mobile platforms, but Instagram takes this to a whole new level. While it's possible to log into an Instagram account and do things such as 'like' another user's images or leave comments, the platform's key selling point — i.e. the sharing of images — is supposed to be done via mobile devices.
This doesn't mean that everything you share on the platform needs to be created on a mobile device (big brands routinely shoot their Instagram content on DSLRs), but you will need to jump through a few hoops in order to get your content onto the platform.
3. You can't schedule posts through the app
At least not yet. Unlike Twitter and Facebook, if you're an Instagram user, there's no way to schedule posts to go live later in the day — you need to be there to push the button. This might seem like an inconvenience, but the need to be physically present to push the 'post' button in many ways adds to Instagram's charm, and — along with the minimal link sharing — is part of the reason that it remains free of the kind of clickbait content that has come to plague so many other social platforms.

(N.B. Some paid social media management platforms will allow you to schedule image posts, but not videos or ads.)
---
Part 3: Is Instagram Right for You?
Now we get down the the crux of the matter: deciding whether focusing on Instagram really is the best use of your time.
You'll know your business best, of course, and will likely already have a few ideas of how you'd use the platform. But before committing time and energy, you should ask yourself a few quick questions.
Can you regularly produce engaging visual content?
Time and time again, we see businesses — seemingly without anything to photograph — sharing stock images on Instagram. Then there are the 'inspirational' quotes and horrendous blocks of text pasted onto random backgrounds. And they wonder why no one follows them...
If you can't create original, visually compelling content, then your should steer clear of Instagram entirely. There's no shame in admitting that a platform isn't right for you, and the last thing you want to do is make your business look amateurish by shoehorning it into a platform that it's not suited to.
Can you wield a camera?
Or, at the very least, can you take decent-looking pics with a smartphone?
Using Instagram doesn't require you to be a professional photographer, and social media is generally much more forgiving when it comes to showing the rough edges. But you're representing your business with every pic you share, so blurry, poorly lit images and unflattering selfies aren't going to do you any favours.
Are your customers on Instagram?
You might have an incredibly photogenic team, and may even be a dab-hand at taking pictures, but if the majority of your customers aren't actually on Instagram, is there any real point creating content for it?
Different audiences will naturally gravitate towards different platforms, and for that reason so should the businesses that court them. Banking group HSBC, for example, has upwards of 170k followers on Twitter, but less than 21k on Instagram — despite the latter platform having about three times as many monthly active users overall. True, HSBC's Instagram follower count is not to be sniffed at, but it just goes to show that some platforms will be worth investing more of your time in than others.
That being said, if you can spot an opportunity to generate some buzz about your business on Instagram, then by all means go for it. Reynolds Kitchens, a kitchen foil company from the US who amassed a following of more than 32,000 people with its innovative "never-ending table" Instagram campaign back in 2016, then never added another single snap)...
Do you have a set style or theme?
A page that's a hodgepodge of colours, styles, and filters won't strike a chord with your audience, and will do nothing to raise brand awareness.
Even if the subject matter varies from picture to picture, it's important to stick to a theme with your posts, whether it's through the use of colour, locations, or tone.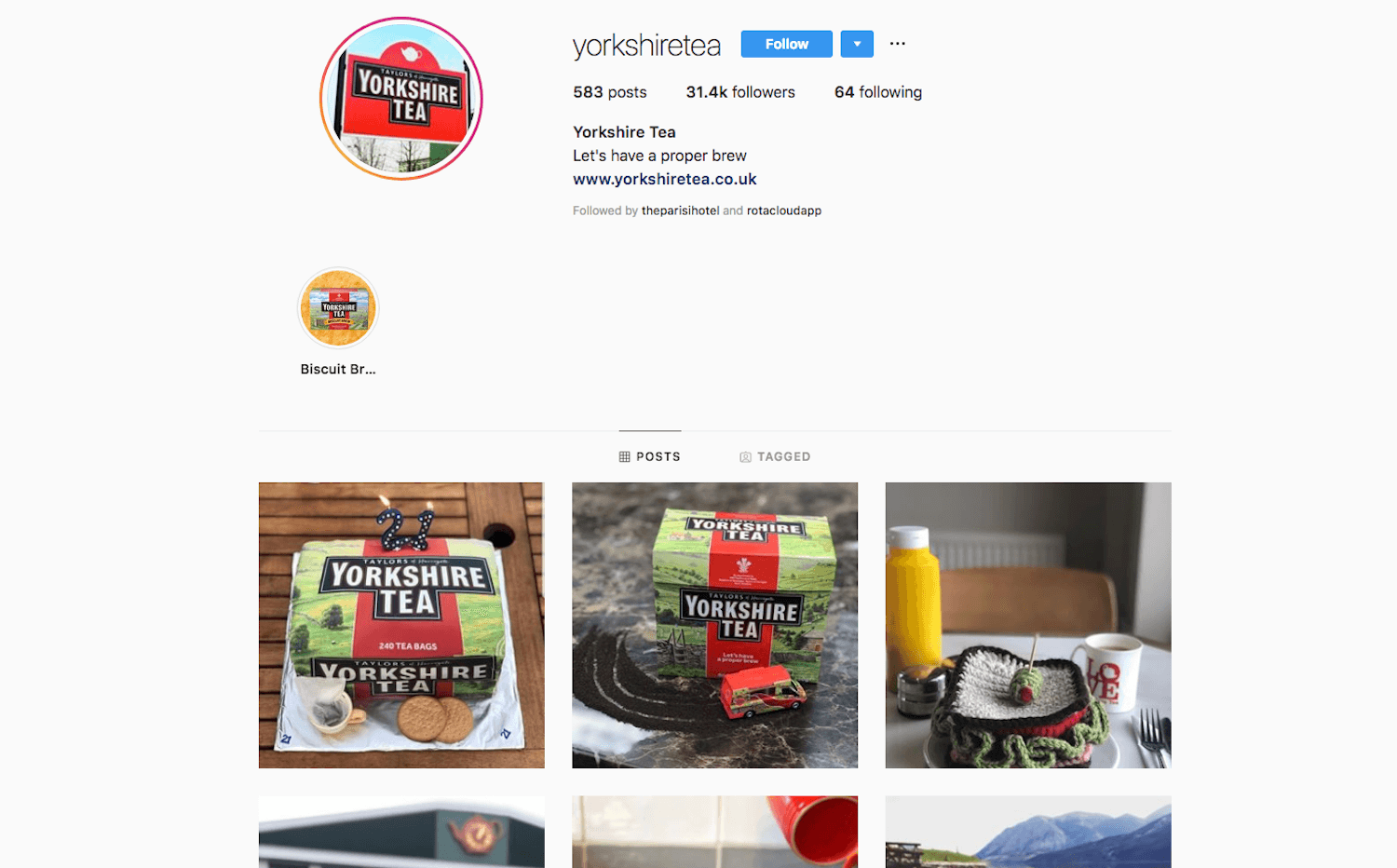 It's OK to switch your themes from time to time, just make sure there's a bit of rhyme and reason on your page!
If you don't think your brand has any particular colours, tones or themes, try to decide on some before committing to Instagram!
Part 4: Ways to Use Instagram for Business
So, you're confident that you could make good use of Instagram as a marketing platform. What now?
The best way to learn the ropes is to check out how some of the bigger players are using the platform.
Showcase products & services
The most common way that businesses use Instagram is to feature their wares in an enticing way. This might sound a bit uninspired, but there's no denying that a well-placed picture can work wonders, and Instagram users can't get enough of those decadent pics and videos of food, drink, shiny smartphones, and more...
Food, for obvious reasons, is perfectly suited to Instagram, but you'll need to put some thought into how best to shoot your subject in order to get mouths watering.
It doesn't have to be food, however. Some sexy closeups of your products — in pics or video — will also give followers something to pore over, so don't be shy about spending some time with a camera and your top-selling trinkets!
Tease upcoming products and events
Alternatively, you could use the platform to tease something new.
Brands like Starbucks (below) do this regularly, showing off seasonal drinks days, sometimes weeks, before they're available in stores to drum up interest.
Give customers a look behind the scenes
But what if you don't have a physical product or a glamorous location to showcase on your Instagram account? You really can't take photographs of rota-planning software (hello, there!) or a cleaning service...
In such cases, giving your customers a cheeky peek behind the scenes is usually the way to go.
Behind-the-scenes pics like these also have the benefit of reminding your customers that, while your product might not involve a lot of human interaction, there is a team of real people working away on the products and services that they use.
This can also have the knock-on effect of improving relations between customers and your staff whenever they interact via phone or email, as your clients will be able to put faces to names.
Besides, who doesn't enjoy seeing where all the magic happens?
Make your customers the stars
This one requires a little more effort, but can start some incredible conversations if you get it right.
By involving your most loyal customers in your Instagram output, you not only make them feel like internet royalty, but encourage them to share your posts with their own followers and spread the word about your business.
You'll have to be careful who you choose to star in your pics, of course, but you know your customers best and will have a fair idea who would and wouldn't be receptive to appearing in your feed.
Final Thoughts
Used wisely, Instagram can be a powerful tool in your marketing arsenal. Creating an account for the sake of it, however, will result in a stream of messy content that does little to sell your brand, and will be a poor use of your time. By all means, claim your Instagram handle so that no-one else steals it — but set the profile to private, or post a single image directing followers to another social channel.
Consider who your target demographics are, what you hope to achieve using Instagram, and the kind of content you'd realistically be able to share. Ask yourself how the content you produce for Instagram will fit in with your existing social media strategy.
Ultimately, there's no 'wrong' way to use your business' Instagram account. But you need to ensure that you're getting enough out of it to justify the time and energy you're investing in it.
Good luck!
Management advice & insights, straight to your inbox.
Enjoying the RotaCloud blog? Tell us your email address and we'll be in touch whenever we publish a new blog.
---
---