How to build a brand from scratch [+ checklist]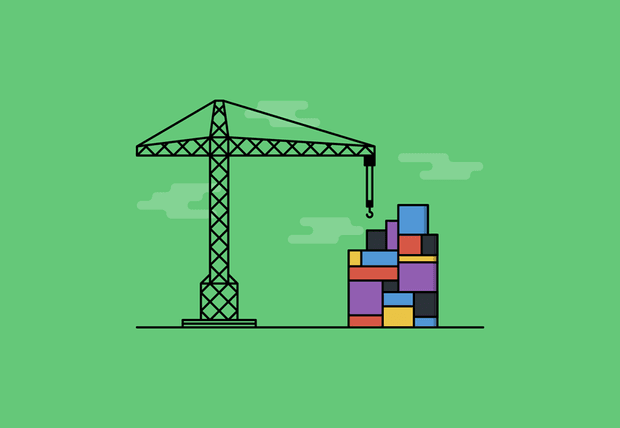 Building a brand from scratch is one of the most challenging tasks you'll face as an entrepreneur.
Get it wrong, and your company will be indistinguishable from the rest of the market and you'll struggle to gain ground.
Get it right, and your company will quickly make a name for itself and win loyal brand advocates for years to come.
Not sure where to start? Here's our complete guide to building a brand from scratch.
What is a brand, anyway?
To non-marketers, a brand is shorthand for a business, product line or product. Coca-Cola is a brand. Tesco Finest is a brand. RotaCloud is a brand.
For marketing purposes, brand has a slightly (but significantly) different meeting.
A brand is the combination of images, terms, and values that are associated with a specific product, service or business.
Brands are about more than physical characteristics.
For example, we associate Yorkshire Tea not only with its logo and brand colours. It's also friendly, comforting and familiar.
Compare it with Twinings tea - a very similar product. The Twinings brand feels more luxurious and refined.
The point is: neither product is necessarily superior (or drastically different from the other), but different audiences are drawn to each brand, and our purchasing decisions are influenced by that brand. Yorkshire Tea might be our everyday brew, for example, but we might buy Twinings as a birthday present.
(Just to clarify: we aren't dissing Yorkshire Tea here. We love them both.)
To summarise: a brand is more than just a logo.
Why is branding important?
The tea comparison above shows that a strong brand can fundamentally change customer perception of your product, and create connections with your target market.
But at its most basic, branding promotes customer recognition. If you don't define your brand, customers won't recognise your product or service. A consistent visual brand will have the biggest impact on recognition, but other aspects of your brand are also important.
If your brand communications veered between super-friendly and super-formal seemingly at random, customers would struggle to associate both personalities with the same product.
Recognition is the minimum you should hope for when building your brand.
The next step is to make sure your brand differentiates your product from your competitors. A strong brand helps you claim a specific portion of the market, giving potential customers a reason to choose your product over another. This is essential if your market is highly competitive.
As we mentioned above, a strong brand creates an emotional connection between your product and customers. This connection means that customers are more likely to tell their friends and family about your product. Your brand almost acts as a referral scheme.
A well-defined brand means that it's easier for your business to remain focused - not just in all things marketing, but also when making bigger business decisions.
How to Create a Brand
The process of creating a brand essentially comes down to these steps:
Research competition
Research target audience
Define your buyer personas
Define your voice, mission, and values
Plan visual elements
Implement
Create style guide
Maintain, track and adjust
Let's look at each of these stages in more detail.
#1 Research your competition
Your first step should be to research existing brands in the market. Do a thorough analysis of the main players and any companies who might be smaller but operate in your niche or your local area.
Make a note of their branding, pricing, voice, and marketing activities.
Search for company reviews (if applicable), and find out where the competition excels, and where they fall flat.
Pay close attention to 'about us' pages on their websites. These should communicate their brand values clearly.
You'll need to find a way to differentiate your brand from those of your competitors, so don't rush this step.
#2 Research target audience
At this stage of the process, you may well have an idea of how your brand will stand apart from others in the market, but if there's no consumer demand for your brand you won't make it very far.
Speak to customers who already buy products in your market. You can do this via online surveys, focus groups, or simply by asking friends and family to contribute.
Ask questions such as:
What do you think of Competitor A/B/C?
Why do you buy their products?
What's missing from the market?
What would you like new brands to offer?
What pricing and features would you expect from newcomers to the market?
If you can, gain some demographic information, too.
Finally, do your best to research audience psychographics, too, as these tend to provide a deeper insight into buying habits.
At the end of this stage, you should feel confident that there's a market for your brand, and that you understand purchasing patterns amongst your target audience.
#3 Define buyer personas
This step is often skipped by startups, but we'd recommend taking the time to create buyer personas if you're still a little uncertain of exactly who you're trying to reach out to.
A buyer persona is a fictional profile depicting your ideal customer. Personas contain demographic information, but that isn't what you should focus on. Instead, focus on including these attributes:
Current challenges
Current problems with existing solutions
Barriers to purchasing
Preferred sources of news/information
Preferred communication preferences (with vendors)
When combining these characteristics, you should be able to gain a clear understanding of your ideal customer's buying habits - and how you might win them over.
We recommend defining up to three different buyer personas that represent different sections of your target audience.
Personas can be used by marketing, sales, and your product team to craft an offering that appeals to these specific types of customer.
How to Define Buyer Personas
You can draft buyer personas with nothing more than your imagination and instincts, but if they're not an accurate representation of your customer base, they won't be effective.
Ideally, you need to carry out thorough research to define these personas.
The audience research you completed previously will provide much of the information you need, but you may need to dig deeper. A series of interviews with individuals will give you the time (and honesty!) that you need to build these personas.
Remember: you can always adjust and build on your personas at a later date, once you've gained more customers.
#4 Define your voice, mission, and values
At this stage, you should know where the gaps in the market are, and you should know what your potential customers want.
Now you need to consider how your business will fulfil this need - and, importantly, how you'll communicate that you'll fulfil this need!
This isn't the place to talk business plans, so we'll focus on communication.
Your Mission
Your brand should have a mission - in other words, a goal, or an objective that points to the wider purpose of the business, rather than a sales target or growth goal.
Head to any 'about us' page on a website of a popular brand, and their mission should be immediately obvious.
Let's look at a couple of examples.
Innocent Smoothies make it clear what their priority is: "We're here to make it easy for people to do themselves some good (whilst making it taste nice too)."
Their brand is all about making healthy food and drinks the easy, tasty option. We can see this mission mirrored in their products and marketing campaigns.
Lego's "About Us" page also communicates its philosophy: "good quality play". Made.com's mission, meanwhile, is to deliver great furniture designs at great prices.
When crafting your own mission, be certain that it's a genuine reflection of what you want your brand to achieve. You can't claim your main priority is reducing the environmental impact of your sector if you don't make packaging recyclable or biodegradable, for example.
Your Values
Your mission should be reflected in your company values.
Brand values are words or phrases used to guide everything your company does and communicates what you stand for.
As a business owner, you probably have some brand values in mind already - but before you skip this part of branding, consider your buyer personas and market research.
Your brand values should help you differentiate your brand from your competitors while providing a connection with your target market, and your employees.
We can't tell you what values you should choose! If you're stuck for ideas, here's a list of hundreds of suggestions.
Choose three to five values to get you started. Try to expand on the generic values in the example list we linked to, so that they're personal to your brand.
Your Voice
Your brand's 'voice' is the style of communication used by your brand.
It should reflect your company values and your brand's personality.
It'll be used in all external communications including on social media, email, advertising, over the phone, and at events.
If your voice sounds the same as everyone else's, no-one will listen!
Here's an example of how important a brand's voice can be.
Let's say you've ordered a product online at Retailer XYZ. These are several different confirmation emails you might receive.
A
Thank you for your order. This email is to confirm that your order is currently being processed.
Your order will be dispatched within 48 hours.
Kind regards,
Retailer XYZ
B
Thanks for placing your order with us! This email is to confirm that your order is currently being processed, and will be dispatched within two days.
Thanks again for shopping with Retailer XYZ!
C
Hi [First name],
Good news - we're processing your order. The team will pick, pack it, and pop it in the post over the next couple of days.
Ta-ra for now!
Jake from Retailer XYZ
These three emails represent three very different brand voices: one formal, one friendly, and one informal. None of them are necessarily 'better' than the others - it all depends on the brand that's sending it.
When deciding on your own brand voice, the important part is to remain consistent - and make sure it fits with the rest of your brand.
You wouldn't expect the Economist to start tweeting memes, or Cadbury to produce NSFW adverts.
Decide on a voice that works for your brand.
#5 Visual elements
Only now can you turn to creating the visual elements of your brand. These include:
Logo (and variations)
Brand colours
Typefaces
You also need to decide on a consistent visual style for your brand, particularly if you want to use illustrations or animations in your marketing materials.
We highly recommend working with a designer during this part of the branding process. If you don't have a designer on your team, work with a freelance designer. You can either search for local freelancers or use a site like Fiverr or 99designs to work with designers from further afield.
A good designer will be able to build logos and colour palettes using your brand values and your design preferences, making adjustments based on your feedback until you've found a design that works for your brand. They should also take into account design best practices and colour psychology.
#6 Implement
Now that you know precisely what your new brand will look and sound like, the next step is to launch it.
If your new brand is a rebrand rather than a new product launch, the implementation process is particularly challenging.
Your implementation timeline will depend on your circumstances, but here's a rough guide of what you need to tick off:
Set a target launch date
Create website
Prepare cover images and profile photos for social media
Print business cards
Print leaflets/flyers/booklets (if applicable)
Order and install physical signage
Update staff uniform/badges (if applicable)
If changing brand name, inform customers
If changing brand name, update all website and blog content with the new name
If changing brand name, update business listings on Google and elsewhere
Send updated brand information to partner organisations
Update brand information on review sites (and similar)
Adjust email copy to reflect new voice
#7 Create style guide
The hard work is done - but if you want your brand to remain consistent into the future, you need to establish a style guide and brand guidelines.
Sure, your current crop of employees may know your brand like the back of their hand, but you need to consider how future employees will maintain your brand.
If you're not sure how to create a set of brand guidelines, look online - there are endless examples from which to take inspiration.
Your style guide should be clear and thorough, so that there are no misunderstandings in the future.
Make sure to include:
Complete information about typefaces and colour palettes
Guidelines on logo usage
Design dos and don'ts (including examples)
Your brand values (and how to apply them)
Examples of brand voice (which words/phrases to use, and which to avoid)
Your brand guidelines should be easily accessible to all your employees.
#8 Maintain, track and adjust
Remember: when your new brand has 'gone live', it isn't 'finished.'
Maintaining the effectiveness of your brand is a continual process that includes:
Ensuring all new brand assets follow the style guide
Receiving feedback on the brand from customers, clients and employees
Making adjustments based on feedback
Monitoring your changing market and target audience
Tweaking your brand to reflect shifting market conditions
Measuring engagement with your brand
A/B testing to refine your brand
Regular surveys/focus groups to determine public perception of your brand
Even though you've invested so much time and money into building your brand, don't turn away from criticism. Your brand isn't fixed - it must evolve based on changing market conditions and customer feedback.
Building a Brand: Common Mistakes
Before you start the brand building process, learn from the mistakes of others...
Doing Everything Yourself
It's understandable that you want to keep costs to a minimum when brand building, particularly if your business hasn't started trading yet. But trying to handle every aspect of brand creation in-house isn't the best route to take unless you have both a designer and a copywriter onboard.
You can't afford to scrimp on these crucial creative elements of your brand, so work with a freelance designer and copywriter if you find yourself short of these skills.
To get the most out of your designer and copywriter, you need to provide them with a detailed brief explaining your new brand's values, voice and target audience. Without these details, you may struggle to get the results you're after without having to go through dozens of revisions.
Misreading Your Audience
You probably don't remember much about Tropicana's ill-fated 2009 rebrand - that's because it only lasted a month before the company switched back. The new design may have been more aesthetically pleasing and better-designed than the old packaging, but Tropicana's loyal customers didn't want the brand to move away from its old values (and appearance).
Their audience felt a strong connection to the classic brand, and the new brand confused them. Sales plummeted and the rebrand had to be shelved.
Even if you're starting a brand from scratch, the lesson from Tropicana's debacle is clear: misunderstand what your target market wants and your brand will fail.
Copying Your Competitors
The market leader must be doing something right, so it's all too tempting to follow their lead and take a similar approach to branding.
While this approach could work in certain markets, it's unlikely to be effective for most new entrants.
If you're offering the market more of the same, there's no reason potential customers would opt for you (a tiny startup) instead of your trusted, established competitor.
Instead, give the market something new.
If you can't think of a way to differentiate your brand from others in the market, you might as well not enter it in the first place.
Not Adjusting Voice for Different Channels
Your brand voice must be consistent, but you must also acknowledge that different communication channels require different tones.
For example, letters require a more formal tone than social media posts or phone communications.
Think about how your brand's voice might need to shift slightly on channels like email, video advertising, help pages and knowledge centres, various social media channels, and even when meeting clients face-to-face.
Letting the Brand Build Itself
"It does seem a lot of effort to build a brand from scratch, so why not let the brand built itself organically?"
The short answer is: you'll struggle to find customers.
The long answer is: without a defined brand, your company's values and target market can shift at will. While you might see this flexibility as a positive, interested customers will view it as a negative. If your brand keeps changing, customers become confused and even annoyed - there's no chance of them connecting with your brand.
Sure, you can amend your brand as your business grows, but we highly recommend having a concrete set of brand values and a brand voice before you open for business.
Building the Brand for Yourself
You're super passionate about your business idea because the concept appeals to you as a consumer as well as an entrepreneur.
You build the brand so that it appeals to you, because plenty of other people must have the same problems, needs, and preferences, right?
Wrong. You really shouldn't assume anything about the existence of your target market based on your own experiences and nothing else.
Don't skip market research.
Final thoughts
Creating a brand from scratch is a daunting task.
But if you get it right, your brand could become your company's most valuable asset.
A strong, well-defined brand is invaluable to your marketing and sales team, and your business as a whole.
But your brand is just the beginning: the next step is to shout about it.
Want a handy summary of this article? Download our brand building checklist!
Management advice & insights, straight to your inbox.
Enjoying the RotaCloud blog? Tell us your email address and we'll be in touch whenever we publish a new blog.
---
---