How to Choose the Best Social Media Channels for Your Business
Updated July 2018.
Many businesses are fed up with being told they need to pay more attention to their social media pages.
Other businesses struggle to justify the time investment.
Even more companies are overwhelmed by social media and don't know where to begin.
Let's go back to basics.
When starting out with social media (or evaluating your strategy), you need to choose your platforms.
In an ideal world, you'd maintain a brand presence on every social media channel in existence.
But in reality, you've got a limited budget and even more limited hours to play with.
You have two options.
Create accounts on numerous channels and spread your efforts thinly.
Focus on one or two platforms and ignore the others.
If you opt for option one, you'll struggle to share content regularly and maintain high quality feeds. Viewers won't be impressed by lacklustre, abandoned social media feeds - and might even assume your company has folded if you haven't posted in months.
Instead, we recommend the alternative. Be realistic about your resources and concentrate them on a small number of platforms. You'll stand more chance of crafting successful social media campaigns if you're dealing with a manageable number of channels.
Here are some more benefits of this focused approach:
Content can be tailored to your chosen platform. You don't need to tailor content to half a dozen different platforms.
Your social media managers only need to learn the ins and outs of a couple of platforms.
Customers looking for social media customer service know which platforms you're active on, and won't accidentally send a message through a site you barely monitor.
Reporting on social media campaigns (and their success) to management becomes far easier.
If we've convinced you of the merits of choosing only a couple of business social media platforms, you'll want to start exploring your various options.
In today's article, we talk you through the benefits and drawbacks of each of the most popular social networks to help you decide which is right for your business.
Facebook
Facebook remains the king of social media, having maintained its position as the most popular global social network for almost a decade - that's an age in internet years!
Pretty much everyone seems to have a Facebook account - including teenagers, grandparents, and even a few pets!
As the go-to social network for most of us, it's often an obvious choice for businesses, too.
Facebook lets you share almost every kind of content on your company page - from links and photo albums to gifs and native video content.
It's also easy to populate your business Facebook page with plenty of information about your company - plus you can create custom tabs if you'd like to display content that doesn't fit into any of the default tabs.
Despite all these great features, Facebook isn't particularly business-friendly if you're looking only to post content for free. The site continues to adjust its algorithm in favour of personal posts rather than posts from businesses, meaning it's becoming less likely that your followers will see your content on their news feeds. In fact, there are whispers that all non-paid business content will be hidden from news feeds soon.
Additionally, Facebook is a crowded space already. You'll have to work hard to gain traction and build up the following that your competitors have.
Demographics
30 million people in the UK are active Facebook users - that's over half of the teenage and adult population. The site boasts 2 billion(!) monthly active users worldwide.
Facebook doesn't release any specific demographic statistics, but third parties estimate that 67% of men and 69% of women have a Facebook account. Usage falls from 88% in the 18-29 bracket down to 36% for the over 65s. Usage varies little depending on education level and urban/rural locations.
Paid options
Naturally, Facebook makes it very easy to pay for advertising space. You create an ad and target it to specific demographics and users at certain locations or with certain interests and connections.
You also have complete control over budgets, so you can easily boost your ads or posts to promote seasonal events or new product lines, and hold back when you've maxed out on reservations or are struggling with stock levels.
Works best for:
Although Facebook is one of the most versatile social media platforms out there, it works for some brands better than others.
B2C. Some B2B brands may flourish here, but B2C content will always fare better.
Informal, personal brands. The news feed algorithm likes fun, positive, shareable content - not distant, dry content.
Visual and video content. Now that smartphones are ubiquitous, anyone can be a photographer. If you can figure out how to create high quality visual content for your brand, it'll do well on Facebook.
Live streaming. Facebook Live lets you 'broadcast' to your followers.
Avoid if:
You have a specialist B2B brand.
You are unable to produce visual content.
You won't be able to respond to public negative feedback quickly and professionally.
Twitter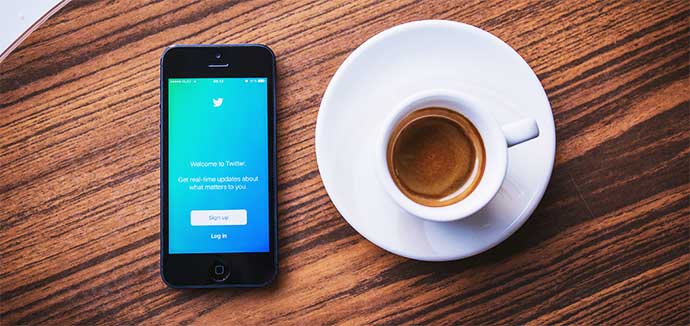 Twitter is a popular social media platform with a twist: every tweet is limited to 280 characters of text.
That means it's perfect for sharing quick updates from events, snippets of info on breaking news stories and brief interactions with customers and companies.
Twitter's also known for pioneering the hashtag, a now ubiquitous system that groups tweets of the same topic together.
Companies can set up their own Twitter profile and post tweets containing text content, links, photos, video and/or gifs in the same way an individual user can.
There's limited space on your Twitter bio for company info, but you can add a link and a brief description.
There are downsides. Twitter isn't seen as being particularly user friendly, and its user base is rather stagnant.
Twitter is one of those networks where your success will be demographic-dependent: some demographics simply don't use Twitter.
Demographics
Twitter has 330 million monthly active users [PDF], with 82% of them active on mobile.
The gender split is roughly equal, and users skew towards higher incomes and education levels.
In terms of age, 30% of internet users aged under 50 use Twitter - compared with 11% of over 50s.
Twitter can be equally effective in both B2B and B2C.
Paid options
Want to spend a little extra on Twitter marketing? You have plenty of paid options. Twitter offers a number of ad campaign options based on goals - whether it's increasing your followers or improving website traffic.
Twitter also has plenty of targeting options and monitoring tools so that you can fine-tune your campaigns.
You can also promote your brand in the 'Trends' section.
Works best for:
Companies looking to build networks with clients and customers
Companies with at least one social media savvy employee who keeps up with trends and memes
Brands that take part in (or host) industry events
Companies looking to provide customers with quick customer service responses
Avoid if:
Your audience isn't particularly tech-savvy or doesn't match the demographics we mentioned above.
You'd rather keep your social media efforts structured instead of reactive.
LinkedIn
LinkedIn is the social network for professionals. It's a networking hub for employees and employers across the globe, and gives B2B companies a great platform to reach out to potential clients.
Use your LinkedIn company page to share content including links, photos and text content.
Individual LinkedIn users (eg. company employees) can join groups ranging from general to sector-specific, where you can share content with thousands of like-minded users.
However, LinkedIn isn't seen as a particularly user-friendly site - and it'll take time to build the trust of its most active and discerning users.
Demographics
LinkedIn has 530 million registered users - however, it's estimated that only around 25% of them are active each month.
Although a higher percentage of 18-29 year olds use LinkedIn compared with older age groups, the gap is small - the age spread of LinkedIn users is relatively consistent. The user base is even more heavily skewed towards university-educated individuals than Twitter (49% of college educated US adults use LinkedIn compared with only 9% of those with a high school diploma or less).
Usage figures increase along with income.
Paid options
LinkedIn offers robust advertising options. Companies can target ads based on job title, industry, company size and seniority.
Companies can choose to publish sponsored content (with links, likes, and comments) or text ads.
LinkedIn Sales Navigator is another paid feature that helps companies find prospects and gain sales insights through LinkedIn. It's perfect if you want to use LinkedIn to secure new business.
Works best for:
B2B
Companies with plenty of employees who are active LinkedIn users (and have large LinkedIn networks).
Companies with niche or specific target markets
'Influencers'
Startups
Avoid if:
You're in B2C.
Your target market doesn't fit with the demographics mentioned above.
You're reluctant to spend time on online networking.
Instagram
Instagram's now the second most popular social network, so it's becoming increasingly important for businesses to pay attention to Instagram if they're trying to market their brand to young people.
Instagram is a visual social network where users post photos and videos to their followers, who can like or comment on each post. Hashtags are common - the character limit is far, far more generous than Twitter's.
It's less easy to share others' content on Instagram than it is on other social networks - you'll need to use a third party app or other workarounds.
Additionally, businesses can't include links in standard Instagram photo captions. Instead, you can add a single link to your profile.
The most popular Instagram content is visually rich - think food, travel, fashion and art.
Demographics
Instagram has over 800 million monthly active users, heavily skewed towards young adults - 59% of 18-29 year olds use Instagram, compared with just 31% of 30-49 year olds.
Usage is roughly even across education and income groups.
Paid options
You can create sponsored Instagram photo, video and carousel content. Instagram ads have similar targeting options to Facebook's.
Works best for:
Highly visual brands
Brands targeting a youthful audience
Product-based companies
Avoid if:
You want to be able to post content from desktop PCs.
Your brand is service-based or your product isn't particularly visually appealing.
Your goal is to generate website traffic.
Pinterest
Next up is another visual social network: Pinterest.
Pinterest lets users 'pin' photos to virtual 'boards', creating collections of related images that can be 'repinned' (shared), liked and commented on.
Businesses should opt for business accounts instead of personal accounts. From their business page, businesses can carry out all the same tasks as personal users, with a few minor tweaks.
Pinterest is a social network that aims to inspire - popular boards cover topics such as wedding ideas, DIY, fashion, recipes and life hacks.
Demographics
Pinterest is perhaps the most female dominated social network out there, with women more than twice as likely as men to use the site.
Although Pinterest aren't as open about user numbers as other networks, it's estimated that it has around 200 million monthly active users - that's comparable with LinkedIn's numbers. Interestingly, a higher percentage of people living in suburban use Pinterest than urbanites.
In terms of age brackets, Pinterest is roughly equally popular in the 18-29 bracket as the 30-49 bracket (32-36% of adults).
Paid options
Pinterest ads are in the form of 'promoted pins'. Choose a pin, promote it, set up targeting and pay for the results.
Works best for:
Highly visual brands
Businesses with products or services that have the potential to inspire or amaze.
Brands with new products to showcase each season.
Avoid if:
You're in B2B.
You want to reach a male audience.
Your product doesn't look good!
Google+
For all of Google's successes, they still haven't managed to create a successful social media platform.
Google+ was their most recent attempt. If you look at the official figure of 2.5 billion users, it'd be the biggest social network in the world. However, it's estimated that 90% of these users have never used the social network - instead, they had an account automatically created for them when they created their Gmail account.
Google+ is most easily compared with Facebook. You create a page, share content, and message other users. Instead of liking content, you '+1' any content you approve of.
Given how inactive the network tends to be, it's mostly only used for SEO purposes. However, even those credentials are now in doubt after the company ditched Google Authorship and renamed Google+ business pages to Google My Business. While +1s used to be a strong SEO ranking factor, it's unclear if they're quite as important today.
The focus of Google+ has now shifted to communities (groups).
Demographics
Of its estimated 110 million active users, 73% are male.
Paid options
You can promote Google+ ads directly from each post, via AdWords.
Works best for:
Technology brands
Brands looking to eke out SEO benefits
Local businesses - via My Business
Avoid if:
You're deciding between Google+ and any other network!
YouTube
While we're on the subject of Google, let's look at YouTube - the Google-owned video platform. While not strictly a social network, it's still a corner of the internet where you might be considering investing some time and effort.
Businesses and brands can create YouTube channels where they can publish and manage video content. You can also host live streams via YouTube.
Depending on privacy settings for each video, viewers can like, share, and comment on them. Popular YouTube channels may opt to monetise their content by showing ads in their videos.
Demographics YouTube demographics vary significantly depending on the channel, but the audience is generally skewed towards young people.
Paid options Any video uploaded to YouTube can be used as an advert. Setting budgets and targeting is done in much the same as it is on every other platform.
Works best for:
Brands that can produce relevant 'how-to' content such as makeup tutorials or DIY guides.
Companies with video production knowledge or the budget to hire a video production company.
Avoid if:
You don't have the budget to create high quality video content.
You'd rather not compromise on core areas of your social media strategy.
Snapchat
Snapchat's now the third most popular social network for young people and overall, approximately joint with Twitter in terms of monthly active users.
Over 170 million people share photos and videos ("snaps") every day through the platform, with the twist being that they are only temporarily viewable. Snapchat's many filters, stickers and lenses allow users to customise each snap in a unique and often amusing way. The app's "stories" feature consists of chronological collections of snaps that remain available for 24 hours.
Brands can create their own Snapchat account, publish stories, and team up with Snapchat influencers to promote their brand.
Snapchat famously turned down a $3 billion offer from Facebook in 2013 - now the app is undoubtedly worth many times more than that!
Demographics
Snapchat is the app to go for if you want to reach millennials - an estimated 60% of Snapchat users are under 25 - however, 50% of new users are 25 or over.
Paid options
Despite being amongst the youngest networks on this list, Snapchat has some of the most robust and effective monetisation options.
Brands can use video ads of up to 10 seconds that show up between stories. Users can swipe up to see more information. This option is still being rolled out and isn't available to all brands yet.
Sponsored geofilters are useful options for events - these filters show up when users take a snap at location (and date) of your choice.
Sponsored lenses are a more expensive option. These lenses augment or animate the user's phone screen when taking snaps and/or after a certain action such as the user raising their eyebrows. For example, a Taco Bell sponsored lens transformed the user's face into an animated taco.
Users not only find these lenses and filters fun to use, but they'll want to show their friends, too - and the novelty hasn't worn off yet.
Works best for:
Fun, quirky brands
Businesses with well-loved products
Companies with access to designers and video producers
Avoid if:
You're in B2B.
Your brand values are serious and professional.
Reddit
Reddit differs from the other social networks on this list in that's it's more of a collection of forums rather than an individual network. Reddit consists of thousands of 'subreddits' - communities dedicated to specific topics.
Users post relevant content to the subreddit from elsewhere on the internet, or they can create self-posts to start discussions. Other 'Redditors' upvote posts they think are relevant and interesting, and comment on individual submissions. Other users can then upvote or downvote comments.
Each subreddit has its own team of moderators and admins who set subreddit rules - including those that govern business users and self-promotion.
Be sure to check subreddit rules before posting, and apply for a company 'flair' if necessary, so that users can see the brand you represent.
As a general rule, self-promotion is frowned upon on Reddit. Unless a user specifically asks for your business name, it's best not to give it!
Businesses can try and fly under the radar and act like normal users and only occasionally sprinkle a promotion in - but this is extremely risky. If you are found out, your account will be banned and links to your site could be blacklisted across individual subreddits or the whole platform.
Demographics
Reddit doesn't collect much information on its users and demographics vary significantly between subreddits, but third party estimates suggest that 70% of Reddit users are male, 60% are aged between 18 and 29, and 43% of users would describe themselves as liberal.
Paid options
Brands can submit ads to Reddit and target them based on subreddit and/or user location. Ads function in a similar way to other Reddit posts, although they appear above all other subreddit submissions. Users can comment on the advert to discuss the ad itself, or the brand behind it. Sometimes this can be a source of valuable feedback and provide a chance for you to reply to interested users.
Works best for:
Brands looking for an authentic connection with their customers.
Community-focused brands.
Tech companies.
Avoid if:
You aren't willing to respond to criticism.
Your brand is controversial or unpopular with the general public.
You don't have time to review and follow subreddit rules and brand guidelines.
Which networks are right for you?
We hope we've clarified the different social media options available to you.
With the variety of networks available to your brand, you're spoilt for choice. Despite the dominance of Facebook, we'd argue that it's not essential to have a Facebook page if other social networks better meet your needs and your market.
To make things even more complicated, the demographics and features of social media platforms are always in flux. Some teenagers fled Facebook when their parents started adding them as friends, and now that there's a similar movement towards Instagram and Snapchat, it seems likely that the cool kids will jump ship to another network.
Still, us social media marketers must make the best decisions we can based on current information - with one eye on the future.
How did you decide which social networks to focus your efforts on?
Management advice & insights, straight to your inbox.
Enjoying the RotaCloud blog? Tell us your email address and we'll be in touch whenever we publish a new blog.
---
---