Shadowing at RotaCloud: A future developer reflects on his time with us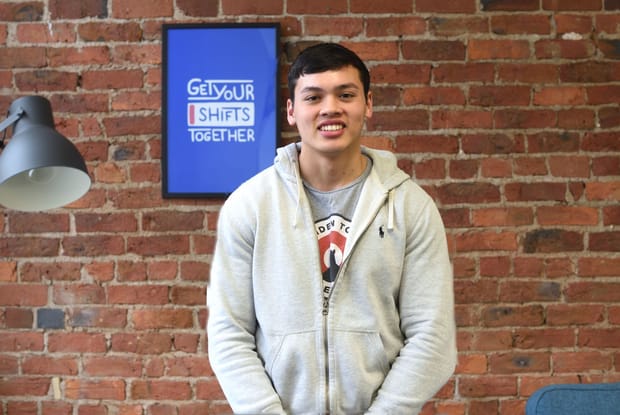 It might still be known more for its Vikings and Victorian vistas than its software and mobile apps, but York is currently going through something of a renaissance with regard to its tech scene.  
Perhaps growing tired of London's crowded commutes, or simply looking for a more relaxed working environment than those of Leeds and Manchester, more and more developers are slowly gravitating towards York — no doubt fuelled by the number of tech startups and agencies that have begun to spring up in recent years.
Always keen to help cultivate York's tech scene, we at RotaCloud have recently begun opening our doors to aspiring developers, providing them with an opportunity to learn about the various roles that exist in the development world, and to pick up a few new skills.
Charles Brown, a chemistry and physics student currently in his third year at Imperial College London, recently spent one such week with us after becoming interested in coding at university. On his final day, we sat down with Charles to quiz him about his experience here, and find out whether, after meeting our dev team, he still finds the idea of a career in coding appealing.
Here's what he had to say.
Q. Tell us a bit about yourself.
A. During my first two years at uni, we got introduced to Python programming, which I'd never been exposed to before. I didn't really know anything about coding back then, but as we went through some modules, I learnt some basic things and found myself really enjoying it.
I started exploring it more and more in my own time, and quickly realised that the things you can do with programming are pretty much limitless. In fact, I started enjoying it probably more than the other content in my degree up to that point!
Two years later, we were using [programming] in lab reports a lot; in data analysis and to extract data in our research, spotting trends and stuff, and we actually built a simulation as well, so I started thinking that I might want to make a career out of coding at some point.
Q. What prompted you to apply to RotaCloud?
A. I live in York, and over the summer I was thinking, "How can I get myself somewhere I can learn a bit more about the different sectors within the programming industry?"
Obviously, the industry is pretty huge, so I wanted to understand the different sectors and get some scope into what people actually do, and what the different roles are. So I started googling companies in York, and came across RotaCloud. I wrote you guys a quick email, introducing myself and asking RotaCloud runs any kind of shadowing schemes, and the rest is history!
Q. Was your time here what you expected it to be?
A. I didn't really know what to expect, if I'm being honest! I'd emailed a few companies and all that it really turned into was just, you know, go in for a chat, have a coffee, hear about what they do — there was nothing hands-on. But here, I got the best response; straight away, from the first email reply, I just knew that it was going to be a good experience. Straight off the bat, it was really professional, and the responses I got — I came in here, and there was a whole timetable worked out for me, I got to spend time with different departments, and everyone was really welcoming. You made me feel like a lot of time and thought had gone into having me here, and that was just great.
Q. Did you learn anything that surprised you during your time at RotaCloud?
A. Initially, when I came in, I thought I'd just be sitting with some developers, and they'd talk to me about what they did. But being here, I actually got a really good overview of the whole company — the different sectors and what it is that the people in different departments actually do! That was really interesting, because I've never been exposed to this kind of thing — it's quite interesting to see how all the different sectors contribute to the company as a whole, and how they all fit together and support each other. I've definitely learnt a lot more than I thought I was going to!
Q. Have you enjoyed your time here? Do you still think you'll pursue a career in programming?
A. Definitely! Sitting with the web developers, and getting a chance to work on the web app makes me feel a lot more confident that this is something that I want to do as a career. I've learnt that there's a lot to learn, but all of it interests me!
---
Curious to know what life is like at RotaCloud? Follow us on Instagram for a look behind the scenes at arguably the world's best staff scheduling platform.
Management advice & insights, straight to your inbox.
Enjoying the RotaCloud blog? Tell us your email address and we'll be in touch whenever we publish a new blog.
---
---